On Thursday September 19, 2019, the suite of sketches related to Jenn Ravenna's Murderous Rider was sold on the MTG Art Market. The final work sold for $3,100, while the four associated sketches sold separately for a combined $2,525.
Murderous Rider by Jenn Ravenna is a digital work over an incredibly detailed work of ink and gouache measuring 16 inches by 20 inches. It is one of the new "Showcase" alternative variants for Throne of Eldraine, Magic's newest set where the worlds of Camelot entwine with those of Grimm's Fairytales. Each Showcase artwork is a departure from what we're used to seeing on a Magic card; and in this particular case lets Ravenna's unique artistic style really shine.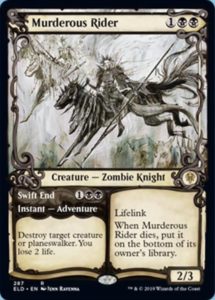 If you remember Jenn's Eldest Reborn sketches that sold earlier this month; her process involves creating several highly detailed versions, and then using bits and pieces of each to create the final work. In the case of Murderous Rider, there are four fabulous sketches that were sold alongside the final, with the auctions run on the MTG Art Market by Vorthos Mike acting as agent for the artist. Look close at each to find the elements that were adopted for the final work:
The first sketch sets the tone of the pale face, the white flowing hair, and the breastplate and spaulder design. It sold for $600.
The second sketch (and my personal favorite) is a study of intensity, and lends the lance and some of the breastplate design. It was the top lot of the four, selling for $800.
The third sketch made the rider float, further reinforcing movement with the flowing hair and adding the demonic cavalry in the background. It sold for $600.
Sketch #4 solidified the final pose and brought back the lance, as well as functioning as a shading study for the background without any other figures. It sold for $525.
From these preliminary works came digital composite sketches: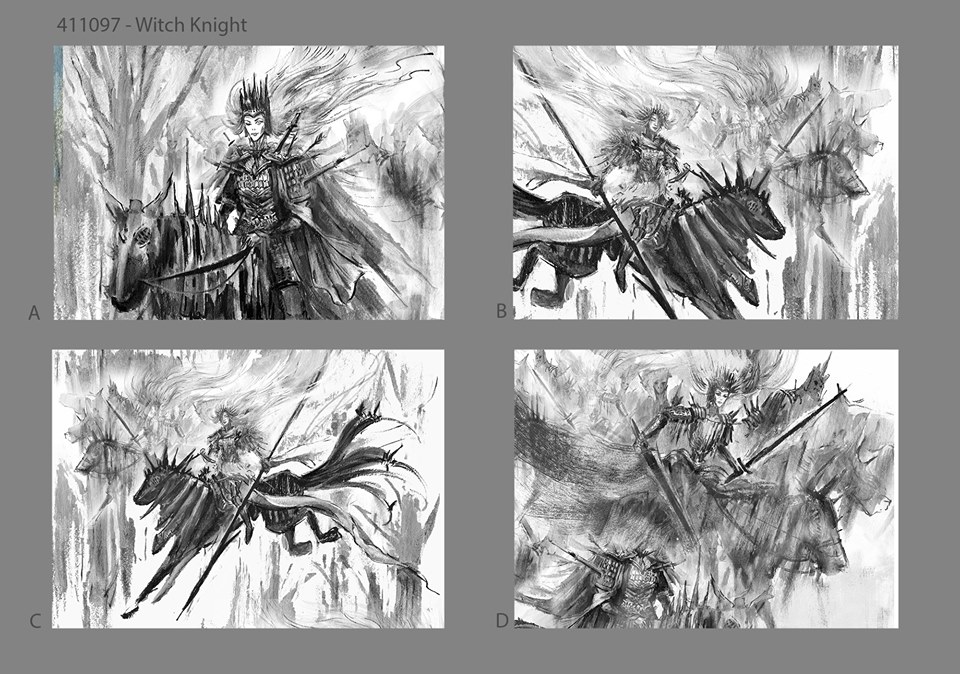 From here, the final traditional work was created. We take one more step to the digital final as it appears on the card: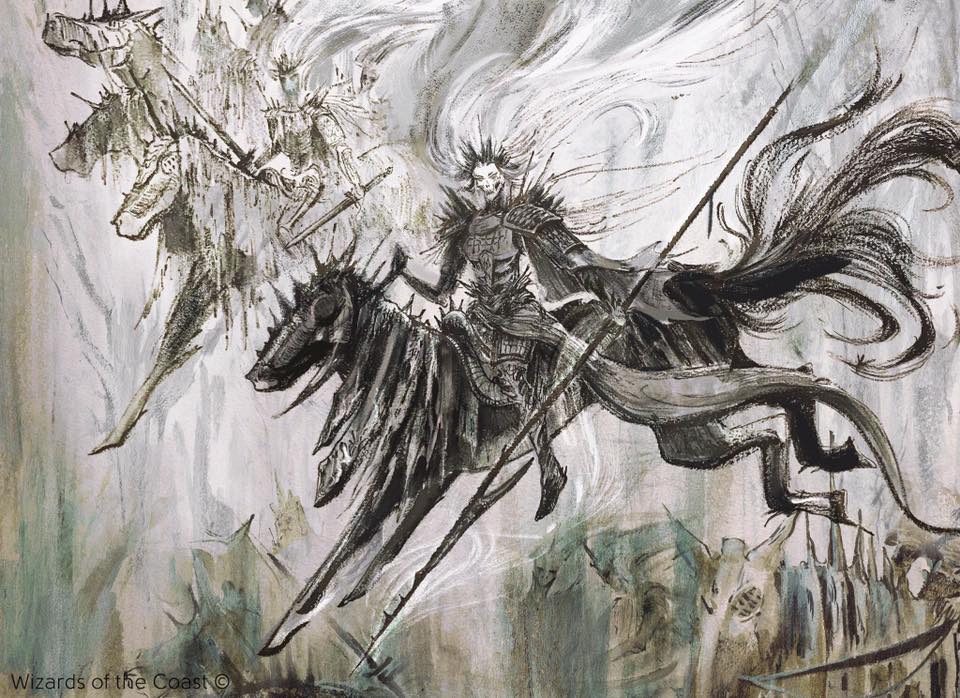 This is a beautiful illustration and the collecting community responded accordingly. One of Ravenna's thirteen Magic cards, it is yet another example of Wizard's Art Director Cynthia Sheppard letting an artist flex their stylistic muscle with an incredibly appropriate commission for this set.
I think I speak for a lot of folks when I say: We Want More.