On Wednesday, September 11, 2019, the original painting and sketch for Volkan Baga's Basic Plains from Throne of Eldraine was sold via auction on the MTG Art Market. The painting sold for $5,550, and the associated pencil sketch sold for $500.
Plains by Volkan Baga is a work of oil on board measuring 16 inches by 22 inches, and has a matched pencil sketch of graphite on grey-toned paper of the same size. This is a larger than average work for the artist, and was commissioned as one of the basic lands for Magic's Fall expansion, Throne of Eldraine. It is Baga's version of storybook, and a beautiful example of what part of this world is supposed to look like.
The auctions were run by the artist's agent Mark Aronowitz, being offered at the same time but each within their own auction post. The painting opened at $3,000, and several hours later had climbed to a first day total of $4850. As has happened with almost all of the original art from Throne of Eldraine, and war of sorts at the end would have significant impact, pushing this painting all the way to $5,550 as its final price. The sketch would receive a bit less action, opening immediately and closing with just one more bid at $500.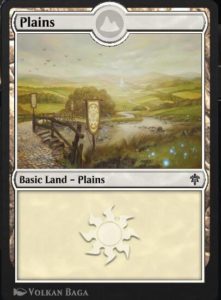 Baga's Plains is another of the "Banner Basics" from Throne of Eldraine; can you find the rest of them? There is one is each basic land type, so make sure you look close!
About the Artist:
Volkan Baga is one of Magic's most prolific artists, creating work for almost every set since he began in 2006 and having illustrated some of the most important objects in the game over his 150 card history. This is his third basic land commission, and is yet another shining example of why he is consistently ranked among Magic's top illustrators.