It's been a while, hasn't it?
Last time y'all saw me, I embarked on a quest to make the best showing I possibly could at the fighting game world championships, also known as EVO. While I established myself as one of the best players in New York, I've also found myself with an itch.
An itch to sling spells.
I'll save you the filler, but long story short, major Dragon Ball FighterZ tournaments are a bit spread apart, and I took a dab into the MTG tournament scene. A bunch of new faces, some old ones, and a slew of bad beat stories my friends were trying to tell me when I was trying to catch up on life with them.
I missed it.
. . . a little bit.
After an SCG Regionals event, a couple of FNM's, and a whole lot of MTG Arena, I was pretty confident in asking:
What the hell happened!?
First, we got a one-mana Divination in Light Up the Stage, a tailwinded Rift Bolt in Skewer the Critics, and . . .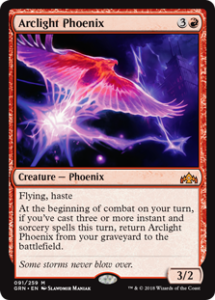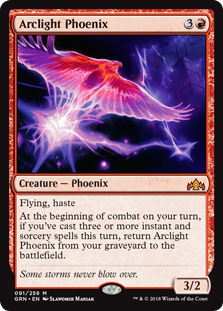 Wait what does this ca . . .
Okay, this is my most favorite card of all time.
This card is the epitome of my Magic career. A four-drop hasty creature (monsters) that enables casting a bunch of spells (Delver/Geist) and can be brought back (Burning Reanimator), enabling resilience and staying power through your inherent gameplan (Chandra).
I was initially trying to plug this card into various Expansion // Explosion combo decks, but there was too much tension between the two. The combo wants you to hold spells, while Arclight Phoenix wants you to use them. Eventually, I scrapped the combo, but kept Ral, Storm's Conduit. Ral was one of the best cards against Grixis, as it does an excellent job at bullying opposing planeswalkers. However, I eventually decided to downcurve into Saheeli, Sublime Artificer.
As of this article, there are two distinct builds you can go with an Arclight Phoenix archetype. The first is a more sturdy, more attrition based build:
Izzet Phoenix Take One
Or a heavy tempo build, emphasizing burn spells:
Izzet Phoenix Take Two
I'm not sure which version is better, but it's important to recognize the strengths and weaknesses of both.
An attrition-based build is much better at actually playing a long game against the heavy control decks (and arguably better inevitability compared to them). It is the best version for powering through your deck, getting to your threats, and diversifying your spells. You'll be harder pressed on dealing with Narset, Parter of Veils, and you're a lot more prone to drawing air and being unable to contain Red decks.
The burn version gives you a ton of room to actually fight aggressive decks, while also doubling as a way to cross the finish line more quickly against midrange decks. You can more quickly capitalize on your opponent's missed land drop, tapped land draw, or any other slight stumble. You are softer to non-creature threats and tend to stumble more yourself, however.
A third, hidden, forbidden, Legends of the Hidden Temple version that I may play at SCG Syracuse if I decide to go through with this deck looks something like this:
Izzet Phoenix Synthesis
I've debated adding a third color for specific answers; white for Deafening Clarion as a clean answer to aggressive decks and both Teferis, and black for discard and more unconditional removal. Ultimately, if you are going to go with a third color, white is the way to go; but you're likely hurting your actual gameplan more than you're helping the matchups you want the colors for.
This is the part where I give you a conclusion, but I'll be frank. I'm just playing this deck because Arclight Phoenix is one of my favorite cards ever. It does have a strong track record of winning so far in this early season, and I do think the deck is very goo; but it is still very much a work in progress.
Anthony Lowry is a multi-game competitor, breaking into the FGC as a high level DBFZ player in less than a year, a well-established MTG player, and many other accomplishments.