Update: We now know that there are 13 cards in Unstable with variants!
On Today's Minute: Now we we know why Unstable has 216ish cards! Alternate art and multiple text boxes. Plus, the MTG Arena Closed Beta officially started yesterday.
Unstable, the third Un-set, releases this Friday December 8th, 2017. According to Wizards of the Coast, the set contains 216…ish cards. Last night, local games stores began opening their shipments of Unstable and finally discovered exactly what that "ish" means. Apparently, at least a few cards have multiple different versions that can appear in Unstable packs. Some cards have four different pieces of art, such as Extremely Slow Zombie, Amateur Auteur, and Target Minotaur. But in an even crazier twist, it turns out that some cards have alternate text boxes! Very Cryptic Command, for example, has been found to have at least three different sets of four options, helping the card live up to its name.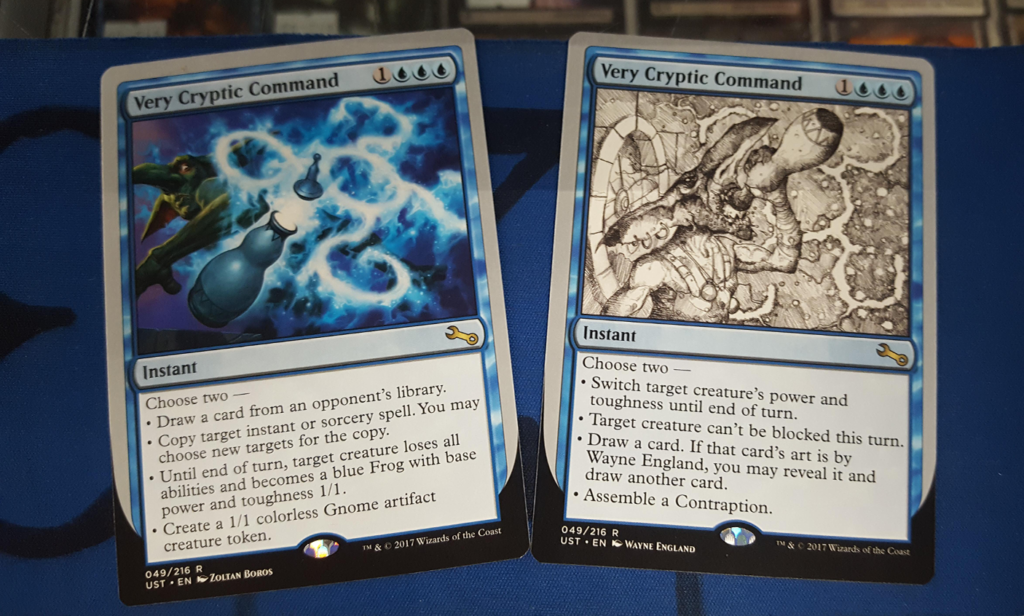 Yesterday marked the official beginning of the Magic: the Gathering Arena Closed Beta. Invites started going out to those at the top of the priority queue and will continue going out over the next month or so. The entire Closed Beta period will be governed by a Non-Disclosure Agreement that will prevent Beta testers from discussing or streaming MTG Arena, but Wizards of the Coast has stated that they plan to transition to an Open Beta period without an NDA sometime in early 2018.
Subscribe!
The Magic Minute is the best way to quickly catch up on the day's Magic: the Gathering news. Only have a few minutes to pay attention to MTG today? We've got you covered. You can find us wherever you get your podcasts

Find Us On Here, Too!
We have an Anchor.fm station as well, a YouTube channel, and a SoundCloud feed. Check them out!
Links!
Our logo features art from the very talented Matt Jones. You can find more of his work here: www.studiomattjones.com.