Eldritch Moon offers some nice token illustrations. Matt offers up his top five!
No. 5—Human Wizard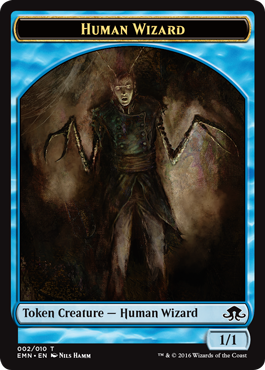 I mostly posted this one because I miss playing Magic with Li Xu, a blue mage who at some point loved playing Delver decks. Maybe I'm getting that wrong, maybe he hates Delver. I know he likes mongooses these days, the nimbler the better. Anyway, Nils Hamm keeps up the good work with his excellent and unique-to-the-world-of-Magic-illustration (if you don't remember Drew Tucker) style. Keep delving, Nils.
No. 4—Spider

Very standard scary, foggy, misty, venomy spider art here. Just so happens that very standard, scary, foggy, misty, venomy spider art is awesome and expertly handled by Christine Choi. The skull with mummified skin on it helps.
No. 3—"Come Get Some" Zombie

This is the zombie I'm least likely to mess with. He's obviously a pirate and we all know from … childhood? … that one does NOT mess with pirates. His eye is purple despite his Eldrazi immunity. He's got one dangly hand and one hand that says "Come Get Some" in its best Bruce Campbell voice. Yes please. Also the art is bomb.
No. 2—Human

This guy is as high on here as he is because of his audacity. Everything around him is on fire and he's all smiles, lunging at us with his short sword, like he's not a 1/1 creature. What nerve.
No. 1—Zombie

This illustration is gorgeous. The colors are so so good. The composition is pretty standard, centralized figure, etc., but oh what Seb does with that standard composition. And look at the excellent damaged Avacyn logo on that tombstone. I hate Avacyn's logo. WELL DONE Seb McKinnon.
Matt Jones is an artist living in Manhattan and working in Brooklyn. He still has that Unlimited Black Lotus for sale … www.mattjonesrules.com