I'm about to play the 8PM Sealed Daily. Last night Papa Longo, Dan-O, and I opened five or so sealed pools. Those guys are both very good at Magic and my time with them was fruitful. This is an attempt to put it the practice and advice to use.
The Pool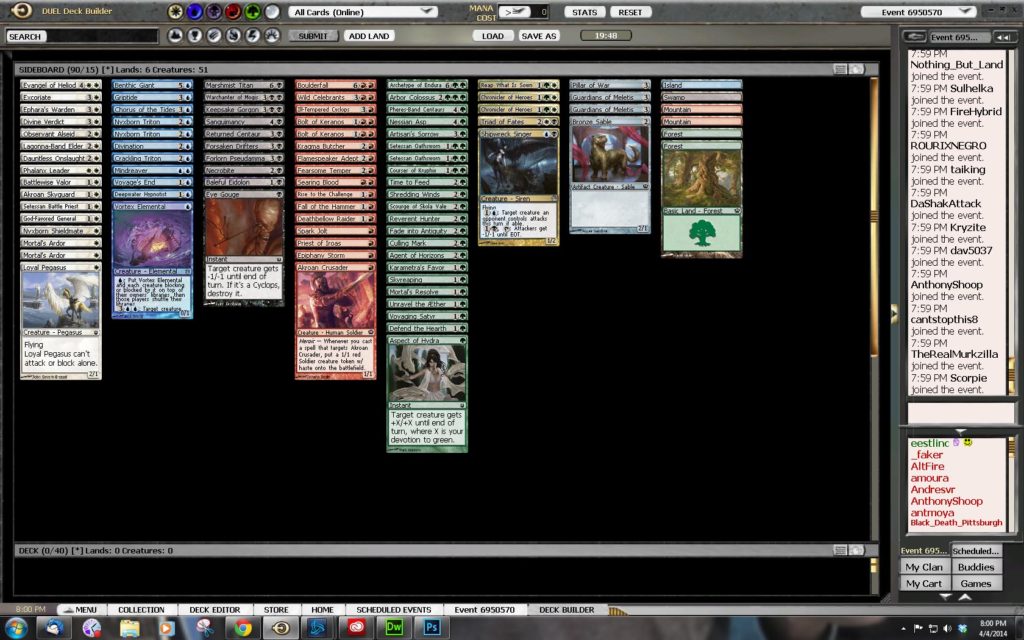 It was immediately emailed to a draft/sealed mailing list. "This is a pretty easy GW build, right?" And I felt good reading this because I had a GW build laid out in front of me. However, I had a few questions:
1. Do I play Excoriate? It seems maybe like I'm hedging if I do. Maybe I needed to go all in on heroic.
2. Do I play Pegasus? When asked, Dan said there are 24 playables without counting Pegasus and Mortal's Ardor(s).
3. What's the right heroic creatures to targeting spells ratio?
The other colors didn't appeal to me so I didn't bother building them at all. The 24 playable cards still haven't surfaced in my mind. 24 auto includes? Certainly the deck has conditional requirements. Is it a heroic deck? Is it a three drop beat down deck?
The Deck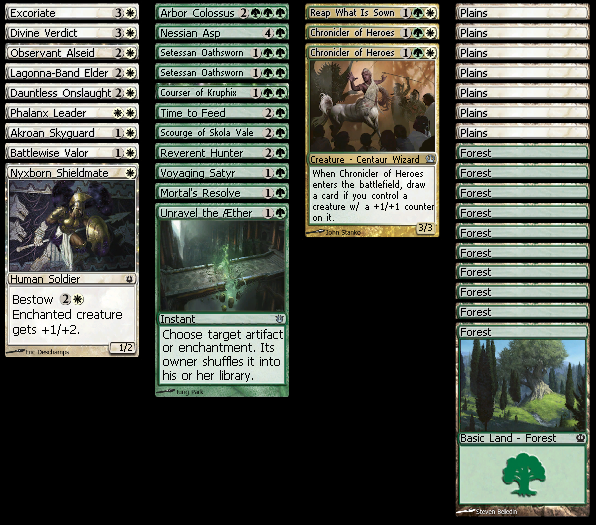 Round 1

Do you keep this hand?
I did. I figured it's lands and spells. I remember hearing Paul Reitzel say something like, "Does this hand have lands and spells? Yes? Then I'm keeping it." He went on to talk about percentages of drawing lands or spells but my brain blanks out as soon as it processes any reference to numbers.
I ended up drawing well  though I punted when I didn't Unravel the UW God when I should have (allowing my opponent to draw a gillion cards).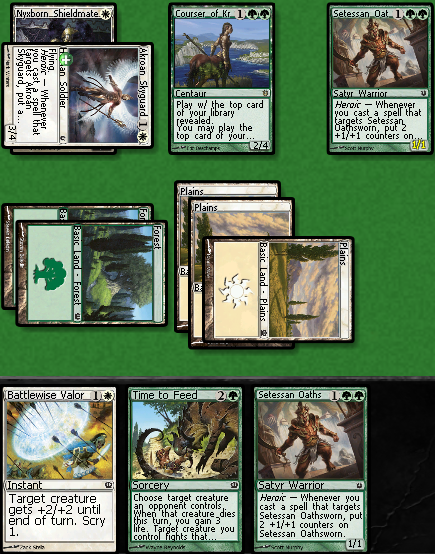 Game two I crushed with Skyguard and other awesome things. The image above displays our sweet board during the game two stomp.
Game three I flooded after keeping a four lander with a Skyguard and two heroic triggers (on the draw). Four lands were pulled from my deck before I drew a spell. Setassan Oathsworn. Fuck that guy. The games my opponent won featured an Archetype of Flying and me never drawing Asp or Colossus.
Round 2
I crush my BUG playing opponent game one.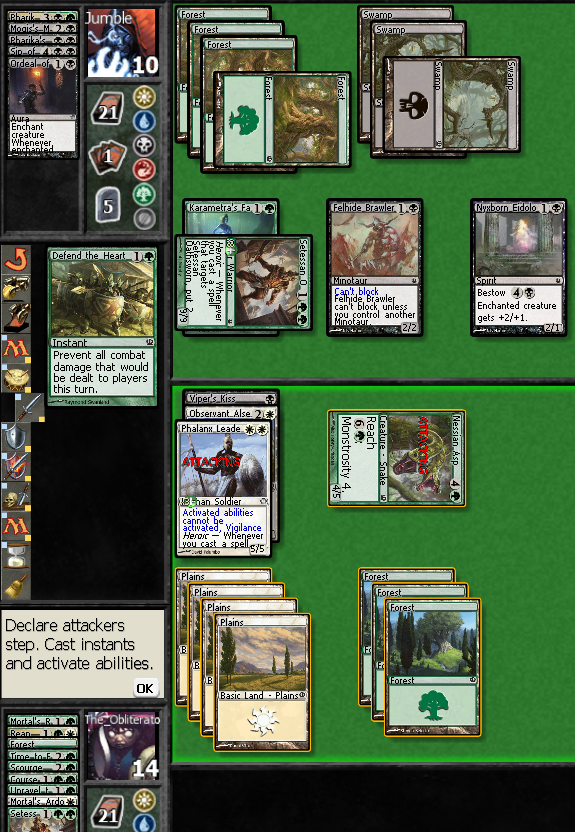 Game two s/he Defends the Hearth and on the following turn casts UB Mill God with 13 power in play his/her side and 20 cards in my deck. I was dead on his/her upkeep.
Game three I time out. I didn't exactly flood but things weren't sweet either.
I'd drop from the tournament but my girlfriend won't be home for another, jeez, three hours so why not keep playing. (She must've turned the heat up last time she stayed over 'cuz it's about 200 degrees in my apartment.)
Round 3
F6 is a demon when you're sleepy. I scooped game one after F6'ing through my mainphase two and fucking up the two following turns in some way, too. Game two I have two consecutive one landers and keep five but never draw a forest and I'm left with a board state and hand that look like this: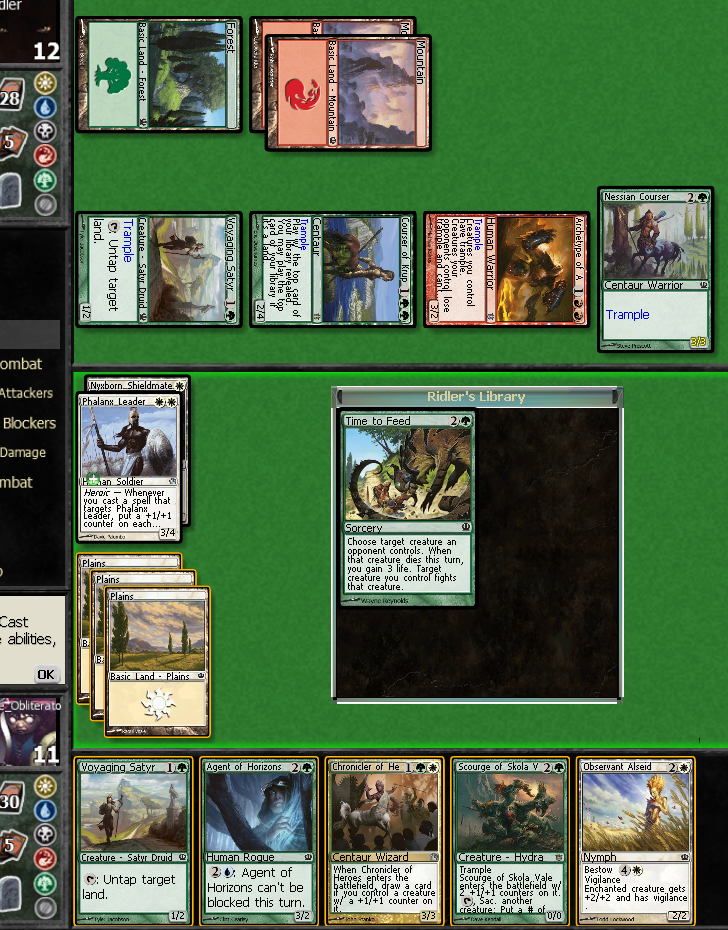 Speaking of demons, I'm going to play some Diablo three between this round and what will probably be a bye.
Round 4
I did not have a bye! I blew out my round four opponent with Dauntless Onslaught, twice! Here's a photographic record of my time with 'truck' in round three: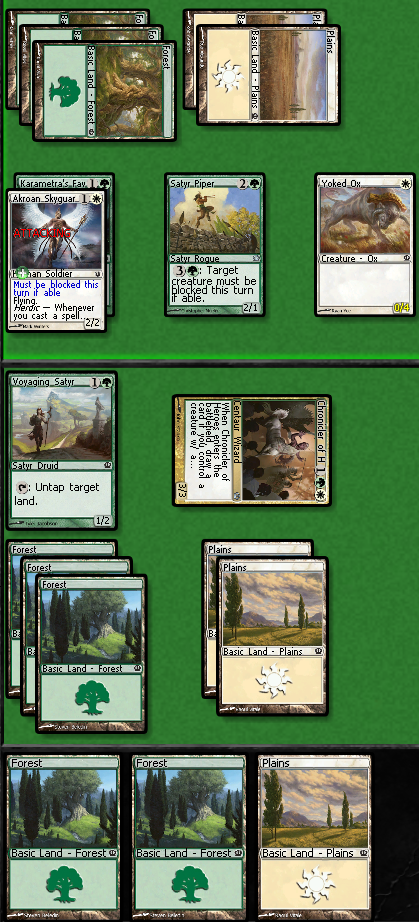 The Akroan Skyguard must be blocked if able. "No worries," said Voyaging Satyr. "I ain't got no wings."
Seeing as I'm super sleepy and a big jerk I forgot to do the screen grab anyway. The overkill involved me targeting my three creatures with Reap What is Sown which I drew off of that 3/3 Centaur Wizard. Fuck. Really needed to screen grab that. So … disappointing now.
Conclusion
Quit playing MTG when you're tired!
I'm once again taking 13 people to a PTQ in a van. It'll be amazing. Abe will once again Top 8. See you in Philly.
Love to all,
Matt Jones
MTGO: The_Obliterator
Twitter: Die_Obliterator
Twitch: twitch.tv/mattjonesrules
Matt Jones is a sometimes PWP grinder, all the time spell slinger, and one passionate dude. He started playing at the end of Revised and quit at Exodus. Upon sobriety and running out of self-help groups to join, Jones picked Magic back up at New Phyrexia, found his favorite non-Necropotence card, Phyrexian Obliterator, and earned himself a nickname. He loves Constructed and tolerates Limited.
*BONUS*
I don't have much to say about the 15 passanger van PTQ experience, maybe a little next week when I write about yesterday's PTQ in Somerville, but I'll say this: traveling with a group of humans that you enjoy, respect, and love as much as I enjoy, respect, and love last Sunday's group fills one with endless gratitude. Thanks to all who joined. Hopefully Abe Top 8'd yesterday, too! Here's a photo essay of the experience documenting opponents and funtimes. OH! And thanks to Lloyd who joined our team draft at the end of the day! I somehow missed uploading his picture when I played him at GP Pittsburgh (?) and he nicely reminded me. You'll find yourself in the photo feed, Lloyd! Thanks for being a good sport!
These are in a totally arbitrary order.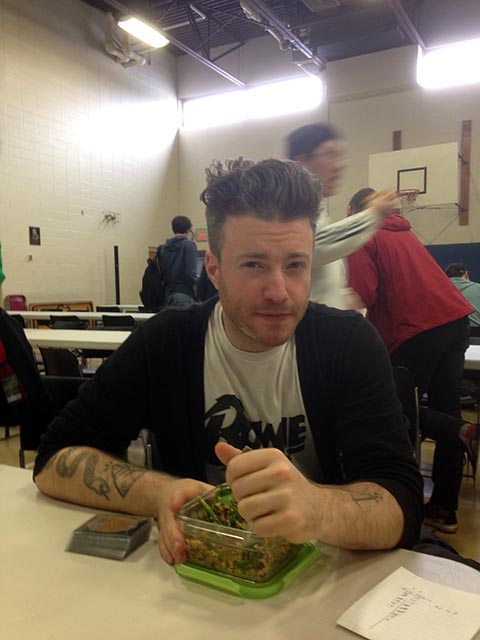 Forker brings veggies to tournaments. And couscous.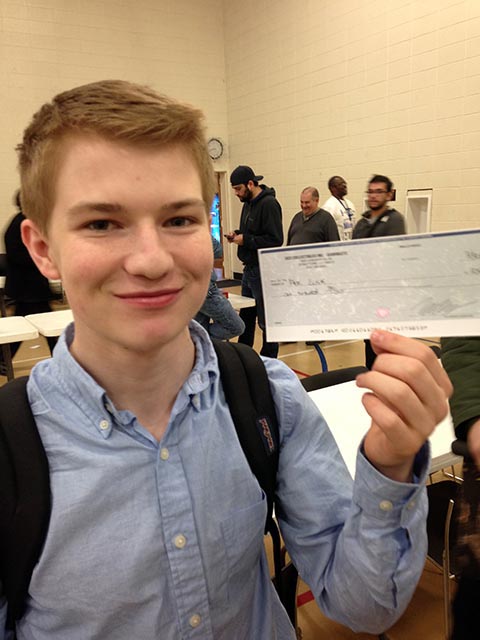 Abe was number one seed going into Top 8. Amazing. He lost in the quarterfinals. Here's his $100 check.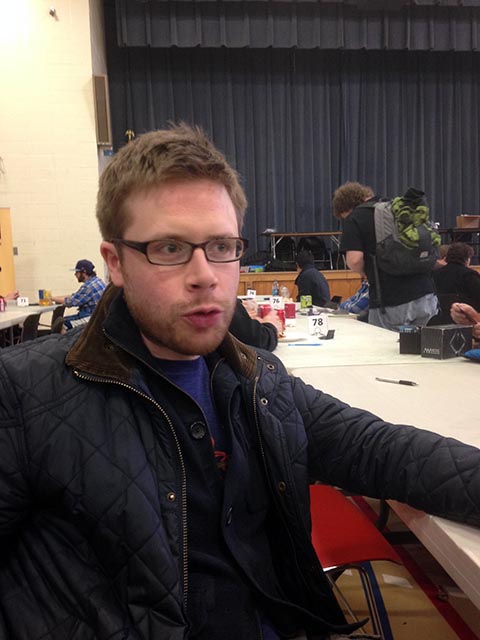 I love when Birdlaw attends tournaments.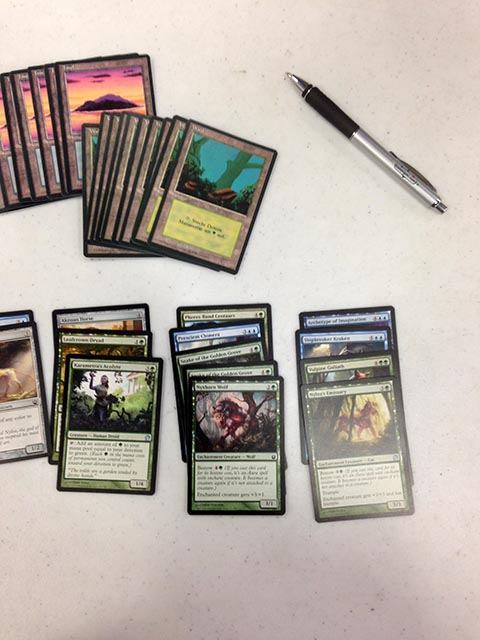 One half of a winning draft deck.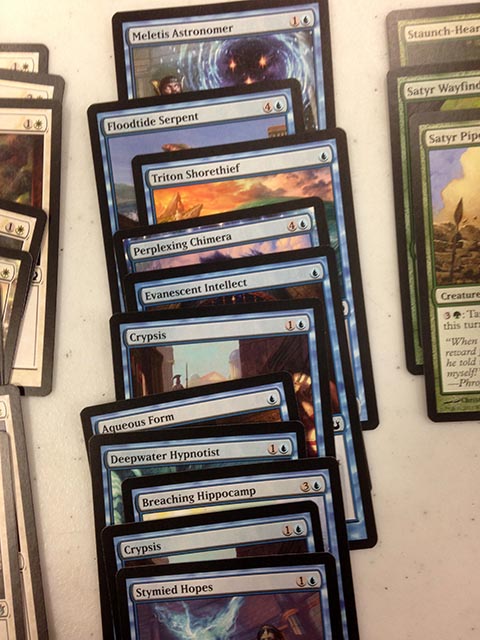 Part of my sealed pool.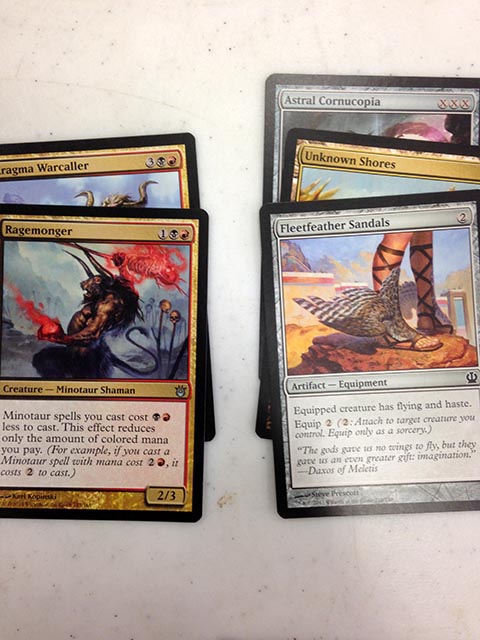 Another part of my sealed pool.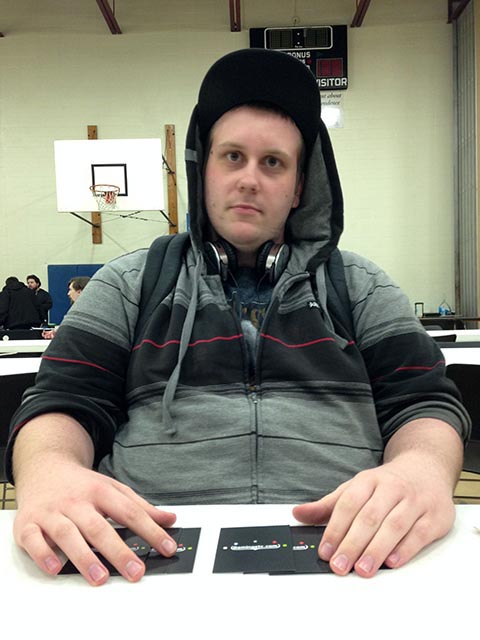 Lloyd!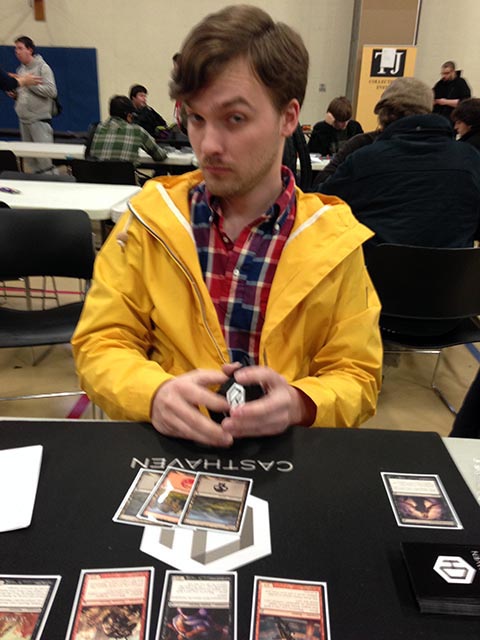 Some team draft match vs. Bones.
Kadar eating cheese (didn't prove to be as disastrous as it usually is).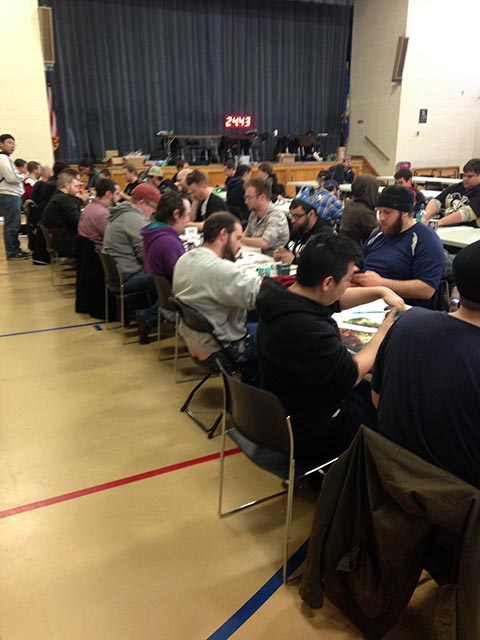 Round three players.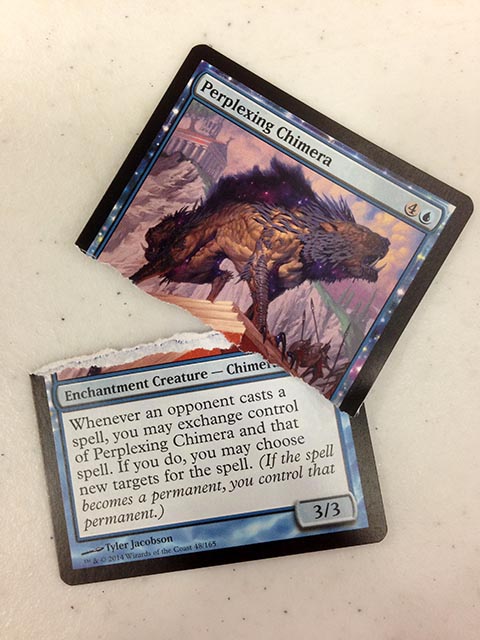 Despite the art being great this card fucking sucks and I hope it dies.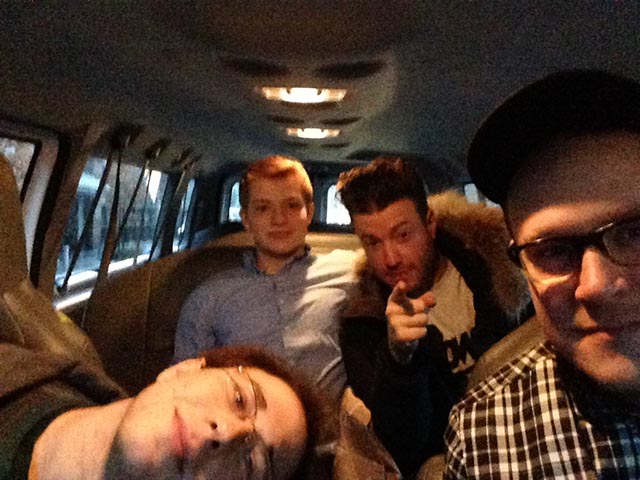 These guys  were first to the van.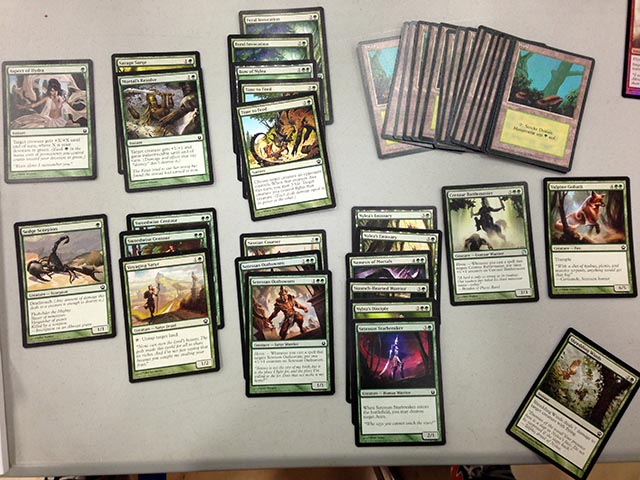 Team draft deck number one.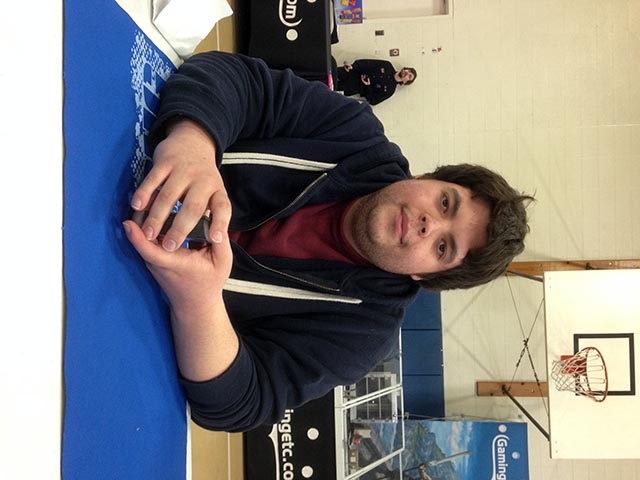 Lost to this guy round two of the PTQ then dropped. I'm too tired to rotate his photo. Just so you know, he wasn't sitting on the wall.
This is the quietest tilt of all time.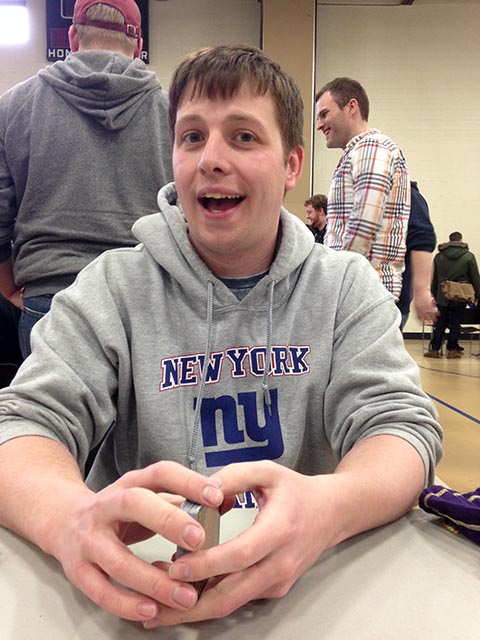 I beat this guy to make the finals with Bones in a post-drop draft.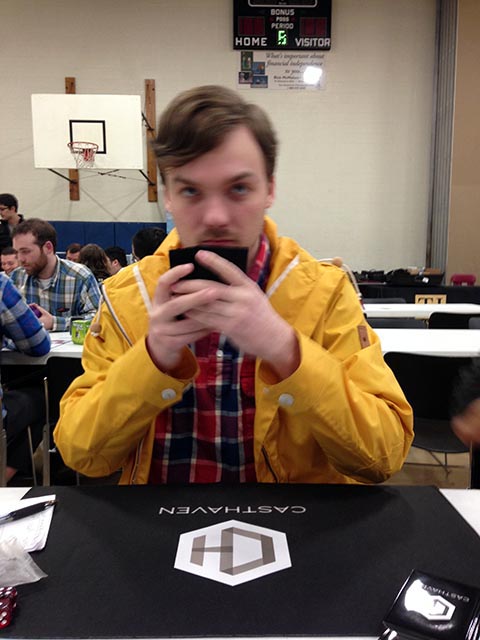 Another team draft match against dave.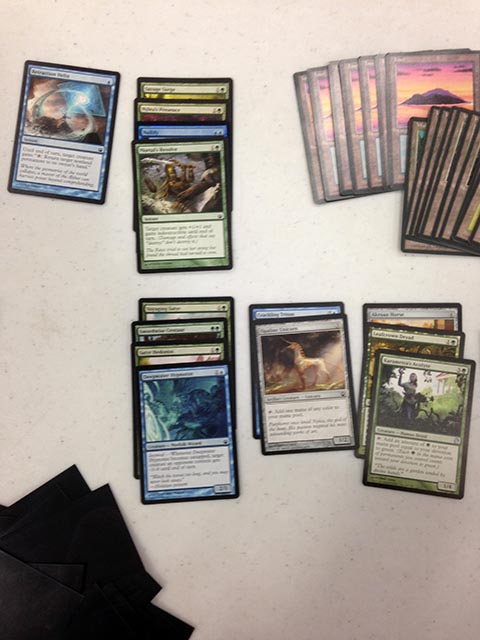 The other half of that sweet draft deck that never faced an aggro deck so was totally awesome.
Some more of my shitty sealed pool. To quote Abe, "Your sealed pool sucks, man. I'm sorry."
Pre-PTQ crowd.
Post PTQ drop draft round one opponent.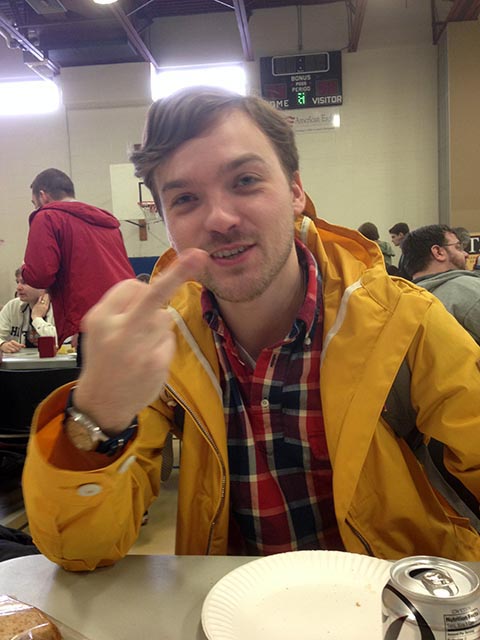 Dave hates pizza.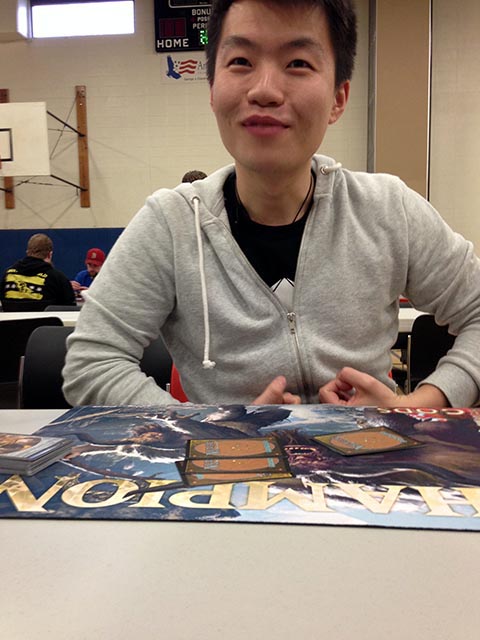 Richard "Handsome" Tan (last one to the van).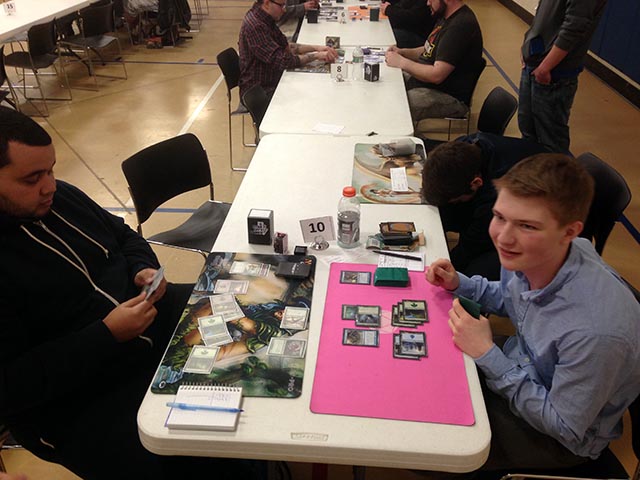 Abe fought through two Hunter's Prowess to beat this guy.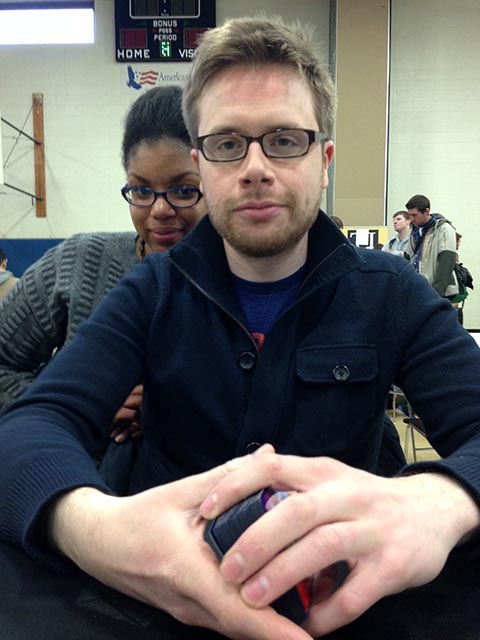 Rob beat the shit out of me when I was rocking the mono green team draft deck that "couldn't lose".
More of my shitty sealed pool.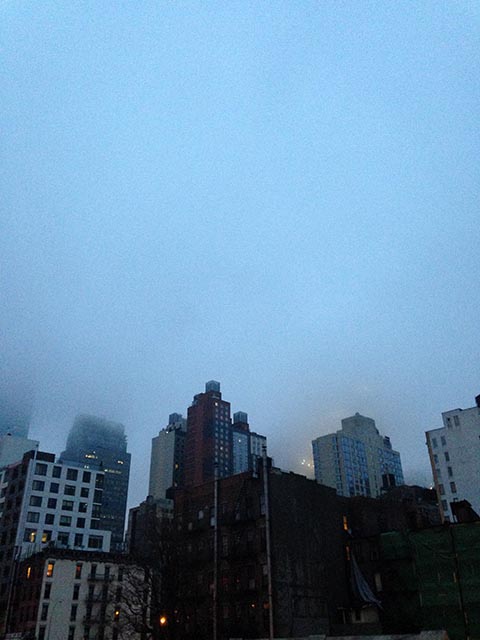 NYC was foggy that morning.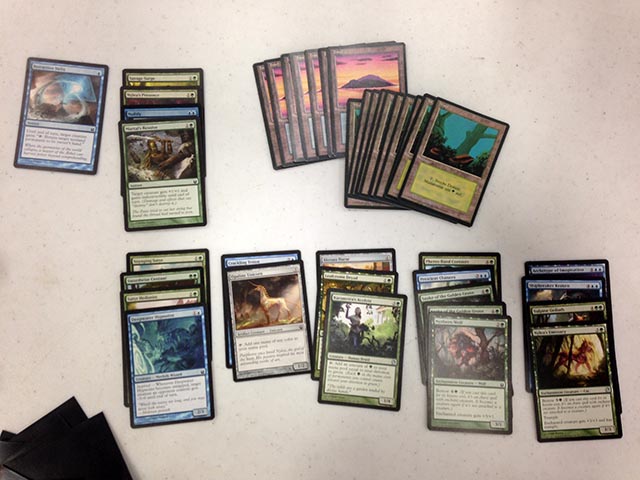 Second team draft deck.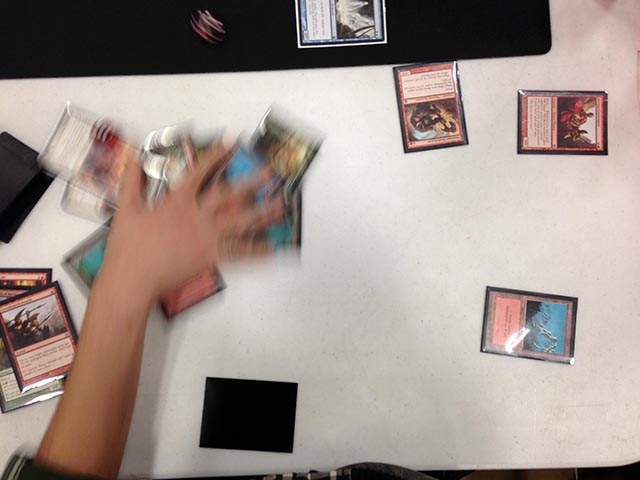 I tried to take a photo of a sweet board state but Matt Ferrando fucked it up. Thanks Ferrando.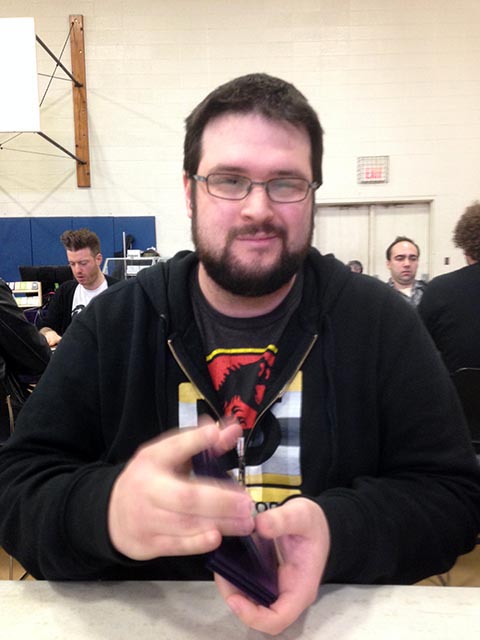 This guy beat me round one of the PTQ. His deck was like mine 'cept his deck had the upgraded good cards.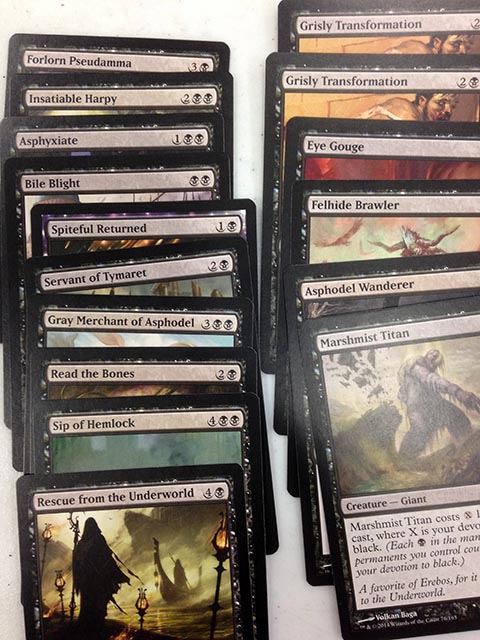 Here's the black portion of my shitty sealed pool that Jon opened. Thanks Jon.
And that was Abe telling us what it's like to be a good Magic player. YAY ABE!