This weekend I went with my girlfriend to the New York Renaissance Faire to get away from the city, eat turkey legs, and celebrate my just-passed birthday. It was magical, but it was muggy out. I'm going to illustrate the story of my trip to the Renaissance Faire through the use of Magic cards, so buckle in as we journey to Tuxedo, NY for this week's Scrub Report!
First of all, the whole place looks like it's surrounded by a:
But in reality, I think Tuxedo, NY is really just one big:
I guess that would make entering the park akin to driving through a:
The park itself was spread out to accommodate tons of people and tons of vendors. As you first enter the main walkway of the park, you're assaulted by sights, sounds, smells, and people in costumes. There was a dude dressed up like a gargoyle playing a massive chime-machine. I don't know how better to describe it. He was sitting at a piano in the middle of a giant box filled with bells and chimes, and he played along to a funky pre-recorded bass line. I think, in his mind, the dude thought his performance was akin to:
Or maybe like all bad-ass and metal and goth, like an:
But, in reality, it was more like this:
Ding-a-ling-ding, dude.
As you enter, you walk down a road that's been made to feel like an old Renaissance marketplace. There were people yelling at us to buy pickles, there were people telling us to buy puppets, you could get your hair braided, buy a wooden training sword, of buy a bunch of pewter miniatures (I did). And there were oils, lotions, scents, and sundries. It really felt like a cash grab a classically-styled old-timey market!
(Damn, that's exactly what the marketplace looked like. Did they model it after Festival of Trokin?) As I mentioned, I ate a huge turkey leg. That's sort of what the Renaissance Faire is famous for, right? Aside from the onion blossoms, the cheesesteaks, the fruit and cheese plates, and the barbecue sundaes (yes, for real, bbq made out to look like an ice cream sundae), the real show stopper is the turkey leg. A giant, roasted and grilled leg of bird, served as is and ready for you to grab hold of with one hand. I wonder how the turkeys got such strong legs to begin with. Maybe they exercised with this dude:
We went to the Faire expecting to see great costumes, and we definitely weren't disappointed. There were plenty of people dressed up like:
and rogue-lovers sporting outfits like:
There were creepy dudes with mustaches who kind of looked like:
And women in awesome costumes sporting wild hair like:
I saw a wild, bearded dude looking way cool dressed something like:
And, much to my delight, there was a guy on goat-legged stilts walking around looking like a: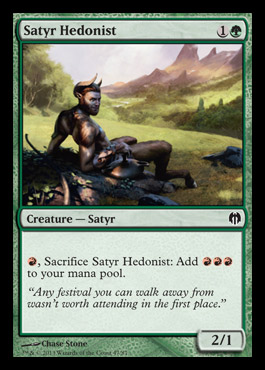 But what we didn't realize was that we accidentally came on "Steampunk Day!" So, while we saw plenty of old MTG Legendary Creatures people dressed in classic Ren Faire garb, we also saw people sporting looks like:
And people walking around who I could have sworn were specifically cosplay-ing:
All in all, we had a great time. It's fun to go to a huge festival and feel unembarresed and unencumbered by social norms. You could be a total weirdo, talk with a shitty British accent, pretend it's not all a big messed up amalgamation of Renaissance times, and eat turkey and be jolly. And while you're there, it will feel like you're part of the:
Even if, in the cold hard light of the following morning, you realize you looked like the: