On March 2 2023, online auction house PWCC's March Premier auction was launched, with Lot #1 being a PSA 10 Graded Black Lotus card from Magic: The Gathering's very first set Limited Edition Alpha, signed on the case by the late artist Christopher Rush.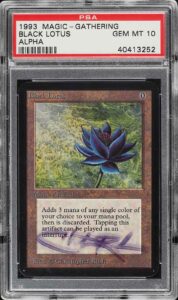 The card began at an opening bid of $1,000, and at the time of writing, had already risen to $42,000, not including a 20% Buyer's Premium. Bids were actively being placed as this piece went to print.
Peter Petipas, Manager of TCGs at PWCC, said in an email provided by the company "The Alpha Black Lotus is one of the first examples of a grail card in TCGs. The fact that this copy is signed on the case by the legendary Christopher Rush makes it all the more special."
This Black Lotus card was graded by PSA (Professional Sports Authenticator), and according to PWCC is one of only a handful. They said in an email "Out of the 105 examples graded by PSA, only six have earned this high of a grade." Hipsters of the Coast verified this statement with the PSA POP (Population Report), and was able to verify that there are in fact only 6 PSA 10 Alpha Black Lotus cards graded by the company. It is unknown how many of those may be signed on the case, outside of this card and an example sold in 2021.
While not being the exact same card, it is of like kind and quality to that PSA 10 Graded & Signed Black Lotus sold on eBay for $511,100 two years ago in January 2021. Hipsters of the Coast covered that sale both pre and post sale, and will be watching closely for the results of this latest offering. 
In addition to this Alpha Black Lotus, 14 other PSA 10 MTG Alpha cards will be featured in the March Premier Auction, including Power 9 pieces Ancestral Recall, Time Walk, and Mox Emerald, Pearl, and Ruby, as well as other signature cards, like Birds of Paradise. The auction closes on March 16, 2023.
Donny Caltrider (he/him) is a Senior Writer at Hipsters of Coast writing about all things related to the art of Magic: The Gathering and the larger imaginative realism genre. He has an M.A. in Museum Studies from Johns Hopkins University and enjoys telling stories about art, objects, and the intersection of fantasy with real-life. When he's not writing for Hipsters or working with artists, you can find him traveling with his wife, petting his two cats, and watching the Baltimore Orioles.