An incredibly rare piece of Magic: the Gathering history, a Gem Mint PSA 10 Alpha Black Lotus signed by artist Christopher Rush, went up for auction this evening on eBay. It is only one of seven known Black Lotuses with a PSA Gem Mint 10 grade.
UPDATE: The card sold for a final price of $511,100.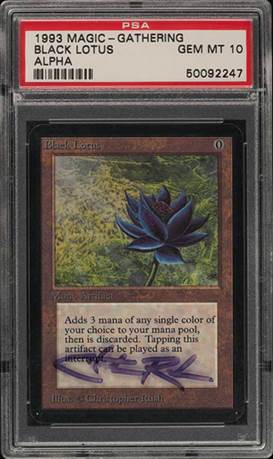 The card is being sold by top trading card retailer PWCC on behalf of the card's owner, David Edwards. The auction will run on eBay for 10 days, from January 17 to January 27.
Mr. Edwards owns DM's Alpha Set on the PSA Registry, a complete set of graded Alpha cards where only 32 cards are not graded at Gem Mint 10, and many are the top or only graded Gem Mint 10 in existence. He has been an avid collector of PSA 10 graded Alpha magic cards for the past 13 years.
Through an eBay representative, I was able to interview Mr. Edwards and ask the questions that beg answering: where did this card come from, what's its story, and why is now the time to sell it?
Donny Caltrider: Tell me about how you came to this card?
David Edwards: I bought this and its brother already graded in late 2008, one from West Coast Sports and one from Daniel Chang of Vintage Magic around the same time. I'm not sure which came from which source because the e-mails I've retained don't specify that. The West Coast Sports one was listed on eBay throughout the year of 2008 so if anyone can harvest old auctions they'd be able to compare the cert #'s to specify which was which. I have been the sole owner of both since then and the other Lotus can be viewed on the public PSA set registry in "DM's Alpha Set."
It was signed at GP Chicago in 2014, and Christopher Rush was kind enough to post about the event to his personal Tumblr.
DC: Why is now the time to let it go?
DE: I was just a kid who spent my childhood playing Magic every free moment, and then spent every dollar I made in my 20s buying all of the cards I could never manage to acquire as a child. It has been a wonderful 13 years being able to cherish this card, but after you have a few kids it becomes less about you and more about them. I've had my fun and nostalgia out of owning it. Hopefully selling it will allow me to create new memories and enjoy life a little more with my three young children, and college isn't getting any cheaper. If I'm lucky, the timing is right for a new record sale. PSA Pokémon cards have been on fire and many people believe cryptocurrencies rally in 2017 fed back into Magic cards..
---
The current record for a Gem Mint PSA 10 Alpha Black Lotus signed by the artist is $250,000, which sold on eBay in July of 2020. The owner of that Black Lotus was Daniel Chang of Vintage Magic, one of the vendors where this Black Lotus was possibly acquired more than a decade ago.
Wrapping Up
Again, the auction for this Gem Mint PSA 10 Alpha Black Lotus signed by Christopher Rush will run for ten days from 1/17/2021 to 1/27/2021, and can be found on eBay. There is a very good chance that we'll see a record breaking auction—do you think this Lotus will surpass the $250,000 threshold? Stay tuned.