Good morning everyone, and welcome back to the now monthly feature covering the 2022 Unbound set here in Masterpiece Theater, only on Hipsters of the Coast! This adventure continues today as the set rolls on, and we mark 25% completion on the set as a whole.
This set is once again an Upper-Deck ePack exclusive, illustrated entirely by French artist and illustrator Fred Roy and his studio assistant Ian. Working traditionally in oils in the comic industry for nearly a decade, you can find their sketch cards in various Upper Deck sets as far back as 2017, and they've reprised their role in trading cards with that unmistakable hyper-realistic style for this new 2022 Unbound
As a reminder, Unbound 2022 is a bit different than its predecessor in both blueprint and breadth. The time is the same: at 9am PST every week on Upper Deck's ePack trading platform the cards are released, but this time it's 1999 packs. Collectors may purchase a maximum of two packs per transaction, and could open any of the following: A Base Card, numbered to 999, a Canvas Parallel numbers to 299, an unnumbered Rainbow Foil (estimated at approximately 646 each week), a Gold Autograph Parallel hand signed by fred.ian and numbered to only 50, one of four different 1/1 CMYK printing plates, or a 1/1 hand drawn sketch card, often corresponding to that week's character!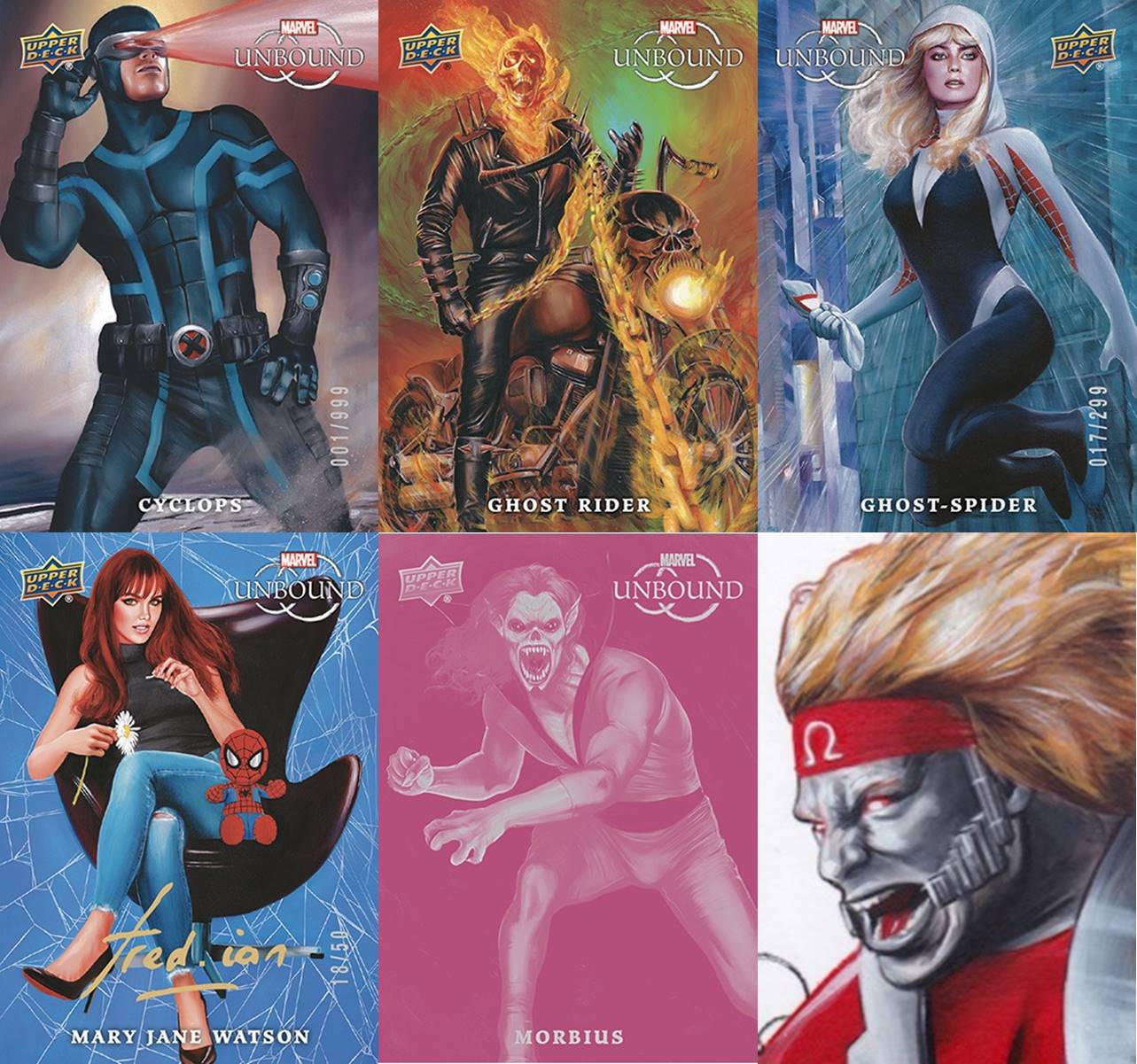 Complete sets of each parallel can be redeemed each quarter for Quarterly Achievement Cards, and then those four Quarterly Achievements within a parallel series can be redeemed at the end of the year for even more scarce and exclusive cards.
As we're now monthly we've got four artworks, four sketch cards, a new Battle Scenes Achievement, and that burning artist interview question to discover! This is Weeks 13-16 of 2022 Unbound, and cards #65-68.
Unbound Year 2: Cards #65-68 & Weekly Sketch Cards
#65 Hela
Hela, the Goddess of Death and Enemy #1 for Thor of Asgard leads off this group, and was the final piece of the puzzle for the first quarterly achievement (which we'll cover closer to the end). From the intricacies of her suit to her headdress that terminates in that smoky skull background, this is frighteningly good. I love how she appears out of that deathly and mysterious background, and Fred's green as a color choice is second to none.
#66 Iron Lad
How can you make a robot…look young? That was exactly the question Fred and Ian asked themselves when tasked with the Iron Lad, but have managed to convey a freshness and sense of youth even amongst his metal plated expression and shiny facade. It's yet another character we don't see depicted very often, but as you've come to know, that's exactly the specialty of the one and only fred.ian as they continually create dynamic portraits of characters we never knew we needed.
#67 Ares
A quasi-deep cut, Ares, the Greek God of War, has been an opponent of Thor, Hercules, and the Avengers since his inception in Marvel Comics in the 1960s. This is his first trading card since Marvel Flair 2019, and the artist's have shown him just as we'd expect to find him: angry, insatiable, and ready for WAR! Pay attention again to the background; the flames of war are simple but sumptuous, and really make the menace of this character ring true.
#68 Demon Bear
And just when you think the set can't go further into left field, we get Demon Bear! It's a pretty wild story, but what we see is a deep tale unfolding, as the Demon Bear appears in the dreams of Danielle Moonstar (seen in the foreground). She stands with bravery and resolve against the phantasmic foe, and it's not often you get a full-fledged story at trading card size. Fred and Ian really did something special making Dani a part of this card.
Quarterly Achievement #1: Daredevil vs. Wilson Fisk
At the end of each thirteen weeks, collectors can redeem their sets for a Battle Scenes Quarterly Achievement card.
Our very first Battle Scenes appeared following Hela and Week 13, and features Daredevil vs. the larger than life Wilson Fisk, aka Kingpin! The composition provides for an interesting juxtaposition, almost layering Daredevil over Fisk and then over the background. In doing so it creates a story of beauty vs. brute force. Kingpin's eyes certainly mean business, and as such, was the very first thing Fred painted into this picture.
Weekly Sketch Cards Inserts
Where last year required 52 weeks of perseverance and collecting autographed parallels, in 2022 a single sketch card is released at random amongst the 1999 packs each week. They are showcased each Saturday with the Base Card for that week.. Here are the four most recent sketch cards for these Weeks 13-16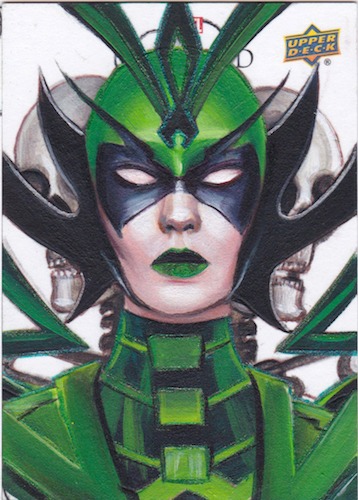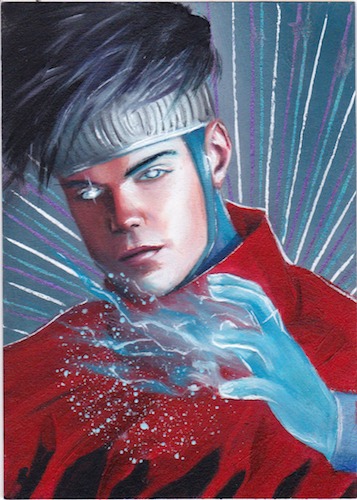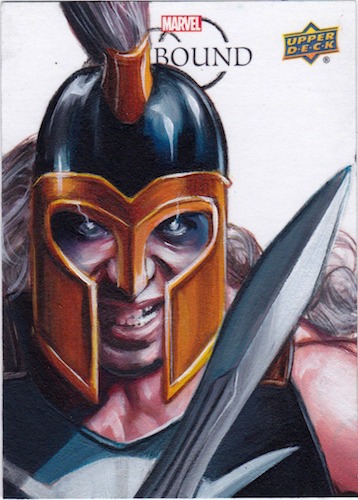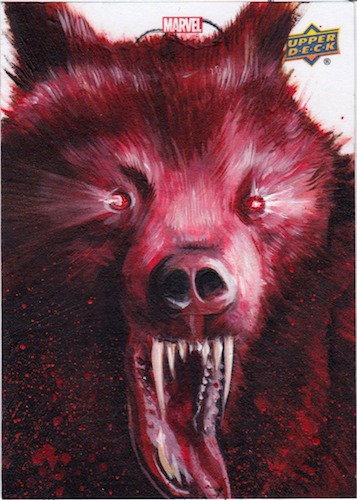 Week 13 Hela, Week 14 Wiccan, Week 15 Ares, Week 16 Demon Bear
This run invoked that disclaimer we saw at the beginning, wherein the sketch card character for the week might not match the card character themselves, with Wiccan turning up during the Iron Lad week. There's no way to know why, but it does make things a bit extra exciting for character collectors, and give another opportunity to acquire a piece by one of the top sketch card artists working today.
Ask Fred
As I mentioned in my first article, each piece covering this set will have an interview question for Fred and Ian. Today I asked them:
"How do you develop your compositions? We've now seen both single character and multi-figure works- what goes into these decisions?"
First of all, we talk a lot about each project with Ian, and we document a lot because we don't necessarily know all the characters thoroughly. Who is the character? What is their experience? What are their powers and how did they obtain them? And finally what is the living environment?
Starting from all this, we define together a direction, and a bias; that is why the works are signed with our names, one does not go without the other. It is from these discussions that projects arise even though I am alone in painting. 
For his compositions, we try to highlight the power of the character. and we fight against our first desire to make a character facing front, in a museum pose. We try to offer as much variety as we have already said. The challenge of trying to find this variety and get out of our usual ways is really an impounding engine. We never stop learning, and fortunately!
Wrapping Up
We've bustled our way through another month of Unbound, now through the first quarter but with plenty to go before we reach the end. I've still been able to keep up with my set, though it's certainly not getting any easier chasing those /299 Canvas Parallels week after week. I'll see back in another month with more delicious artwork, and as always, thanks for reading!
---
Donny Caltrider (he/him) is a Senior Writer at Hipsters of Coast writing about all things related to the art of Magic: The Gathering and the larger imaginative realism genre. He has an M.A. in Museum Studies from Johns Hopkins University and enjoys telling stories about art, objects, and the intersection of fantasy with real-life. When he's not writing for Hipsters or working with artists, you can find him traveling with his wife, petting his two cats, and watching the Baltimore Orioles.