Good morning everyone, and welcome back to the now monthly feature covering the 2022 Unbound set here in Masterpiece Theater, only on Hipsters of the Coast! This adventure continues today as the set rolls on, a 13th of the overall collection of the now seminal 52 new base cards.
This set is once again an Upper-Deck ePack exclusive, illustrated entirely by French artist and illustrator Fred Roy and his studio assistant Ian. Working traditionally in oils in the comic industry for nearly a decade, you can find their sketch cards in various Upper Deck sets as far back as 2017, and they've reprised their role in trading cards with that unmistakable hyper-realistic style for this new 2022 Unbound
As a reminder, Unbound 2022 is a bit different than its predecessor in both blueprint and breadth. The time is the same: at 9am PST every week on Upper Deck's ePack trading platform the cards are released, but this time it's 1999 packs. Collectors may purchase a maximum of two packs per transaction, and could open any of the following: A Base Card, numbered to 999, a Canvas Parallel numbers to 299, an unnumbered Rainbow Foil (estimated at approximately 646 each week), a Gold Autograph Parallel hand signed by fred.ian and numbered to only 50, one of four different 1/1 CMYK printing plates, or a 1/1 hand drawn sketch card, often corresponding to that week's character!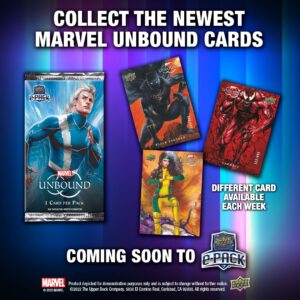 Complete sets of each parallel can be redeemed each quarter for Quarterly Achievement Cards, and then those four Quarterly Achievements within a parallel series can be redeemed at the end of the year for even more scarce and exclusive cards.
As we're now monthly we've got four artworks, four sketch cards, and that burning interview question to discover. This is Weeks 9-12 of 2022 Unbound, and cards #61-64.
Unbound Year 2: Cards #61-64 & Weekly Sketch Cards
#61 Black Panther
Today we start with the legendary Black Panther, crouched against an orange sun with his gold finery of Wakanda glinting in the light. It's a pose of pure power and fills the frame entirely, making the character appear regal and larger than life at the same time. 
#62 Brother Voodoo
I would have never guessed that Brother Voodoo, of 1970s Strange Tales fame, would not only appear in this set. But it immediately become one of my favorite artworks across the both years thus far. There is a ton going on in this image, from one fred.ian's noteworthy backgrounds, shrouded in smoke and secrecy, to the coolest magical effect (albeit hidden behind the Unbound logo). This is an early contender for one of the set's strongest artworks, and we're not even a quarter of the way through. 
#63 Abomination
Who is big, and green, and bad, and not the Incredible Hulk? It's his #1 antagonist, the Abomination! Posed similarly to other larger than life characters (like Rhino from earlier this year), the bulky brute charges the borders of the card frame with as much anger as you'd expect from a gamma-exposed guy with an agenda. 
#64 Gorr the God Butcher
Made famous in the MCU by the latest Thor movie Thor: Love and Thunder, Gorr returns to trading cards for the first time since 2020. He was featured in both the Masterpieces set from that year as well as one half of the 2020-21 Annual Battle Booklets. For this depiction the artist has placed his ivory white hide against a background of blood twinkling sky and utter darkness, and with quite a compelling pose. He reaches his hand out, almost as if to ask you to join him. Will you?
Weekly Sketch Cards Inserts
Where last year required 52 weeks of perseverance and collecting autographed parallels, in 2022 a single sketch card is released at random amongst the 1999 packs each week. They are showcased each Saturday with the Base Card for that week, and so far have mostly corresponded to the character that appears on the card. Here are the four most recent sketch cards for these Weeks 9-12
This slideshow requires JavaScript.
Week 9 Black Panther, Week 10 Brother Voodoo, Week 11 Abomination, Week 12 Gorr the God Butcher
The white background continues with these four standard sketches as well, and I think at this point it's safe to assume most will be that way. It provides a nice way to separate these cards from the previous years, and provides a certain clarity to the characters depicted. And the bonus She-Hulk with the more traditional colored background was certainly a nice surprise.
Ask Fred
As I mentioned in my first article, each piece covering this set will have an interview question for Fred and Ian. Today I asked them:
"What is the key to being able to consistently and cohesively capture the diversity of characters needed for this set"
"Before we answer your question, we are going to take this opportunity to re-establish a truth that many seem not to know: we do not choose the characters or their costumes for Marvel Unbound; we still receive reproaches or thanks for the choice of this or that character, or requests to paint another one. If Upper Deck gives us total artistic freedom on how to represent these characters, a list approved by Marvel is submitted to us.
What makes it possible to make a coherent set, in our opinion, is first and above all a matter of style then a constant medium (oil painting for us), and finally size: we paint on two formats only, 12″X16″ (approximately) and 16″X20″.
Then and above all, when the artworks are created, we think about the fact that they are destined to become cards, small format, and must remain legible and clear; that is important.
Somewhere for us, the Marvel Unbound project allows us to create our own illustrated encyclopedia of Marvel characters; the nice thing about it, between others, is that the former readers we are have discovered new characters that we loved, and loved to paint."
Wrapping Up
I hope you enjoyed this fast and furious look at the last month of Unbound; I quite like these bite sized pieces, as well as the opportunity to talk to Fred and Ian on the regular and share a bit more insight behind the process. I'm keeping up with my set as things release, and remember, it's never too late to jump into the chase!  I'll see you all back here at the end of next month, and as always, thanks for reading!
Donny Caltrider (he/him) is a Senior Writer at Hipsters of Coast writing about all things related to the art of Magic: The Gathering and the larger imaginative realism genre. He has an M.A. in Museum Studies from Johns Hopkins University and enjoys telling stories about art, objects, and the intersection of fantasy with real-life. When he's not writing for Hipsters or working with artists, you can find him traveling with his wife, petting his two cats, and watching the Baltimore Orioles.