On January 19, 2023, a BGS 10 Lord of the Pit from Magic: The Gathering's very first set Limited Edition Alpha was sold for a total of $105,000, inclusive of a 20% buyer's premium. The card was sold through online auction house PWCC in their January Premier Auction.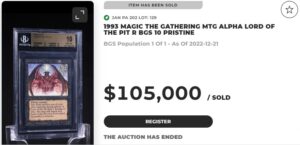 It is the highest price realized for a non-Black Lotus graded Magic: The Gathering card sold at public auction. The record for any MTG card is still held by the PSA 10 Black Lotus, signed by late artist Christopher Rush, that sold for $511,100 two years ago in January 2021.
This Lord of the Pit card, slabbed by Beckett Grading Services (BGS), received a rare Pristine 10 condition with almost perfect 10 subgrades, being docked only slightly with an Edge grade of 9.5. It is a POP (population) 1, meaning it is the only Alpha Lord of the Pit that has received this grade among the 84 graded examples by the company, according to PWCC. Many cards produced today do not grade Pristine 10 out of the pack, and to have a card from 1993 be virtually untouched in 30 years is quite the rarity. Its previous owner and collection were not made public.
Peter Petipas, Manager of TCGs at PWCC Marketplace, said in an email provided by the company "A first-print Lord of the Pit in Pristine condition is nearly impossible to come by. "This is one of the most powerful monster cards released in the Alpha printing so it's rare to find a copy that hasn't sustained damage due to heavy play."
Hipsters of the Coast reached out to PWCC for more information on the consignor of this card as well as the purchaser, but both parties declined interviews at this time. Hipsters has previously been able to add insight into these landmark sales through interviews with those behind these collections, and will be watching closely for further information. 
6The PWCC February Premier auction has not been posted as of the writing of this article, and the closest current comparable card on the site is a BGS 10 (POP 4) Beta Mox Sapphire. Although one set "newer," the moxen of Magic: The Gathering are often only second to the Black Lotus in desirability and scarcity. It is listed with a Fixed Price of $49,000.
Donny Caltrider (he/him) is a Senior Writer at Hipsters of Coast writing about all things related to the art of Magic: The Gathering and the larger imaginative realism genre. He has an M.A. in Museum Studies from Johns Hopkins University and enjoys telling stories about art, objects, and the intersection of fantasy with real-life. When he's not writing for Hipsters or working with artists, you can find him traveling with his wife, petting his two cats, and watching the Baltimore Orioles.