The first big expansion is coming to Magic Spellslingers, and with it come 160 brand-new cards to explore.
This first full expansion, called Helvault Unsealed, is based on the plane of Innistrad, which has been the home of some of the most popular sets among Magic: The Gathering players. In Helvault Unsealed, players will find familiar faces and mechanics, though with a Spellslingers twist.
A firm release date for Helvault Unsealed has not yet been announced, but developers have promised an "early November" release date, so it will be sooner rather than later. Since Helvault Unsealed takes place on Innistrad, players can expect werewolves, vampires, and more things that live in the night.
(Content Manager Sin Black here! I'm having fun editing Ryan's piece, so when you see parentheticals like this one later in the gallery, they're comments from me. Enjoy the spoilers!)
---
New Spoilers Added to Original Post, by Date
Monday, Nov. 7: Delver of Secrets // Insectile Aberration, Grim Echoes, Olivia Voldaren, Triskaidekaphobia
Tuesday, Nov. 8: Miracle explained; Captain of the Guard, Suppress, Wrong Turn
---
White
Avacyn, Unsealed
Avacyn turns every creature you play, once it's on the board, into a random angel. The card pool is currently pretty slim, as there are only 7 angels in the game before the release of Helvault Unleashed, so transforming a late-game 1 mana creature into an Akroma, Angel of Wrath is going to feel pretty good.
Captain of the Guard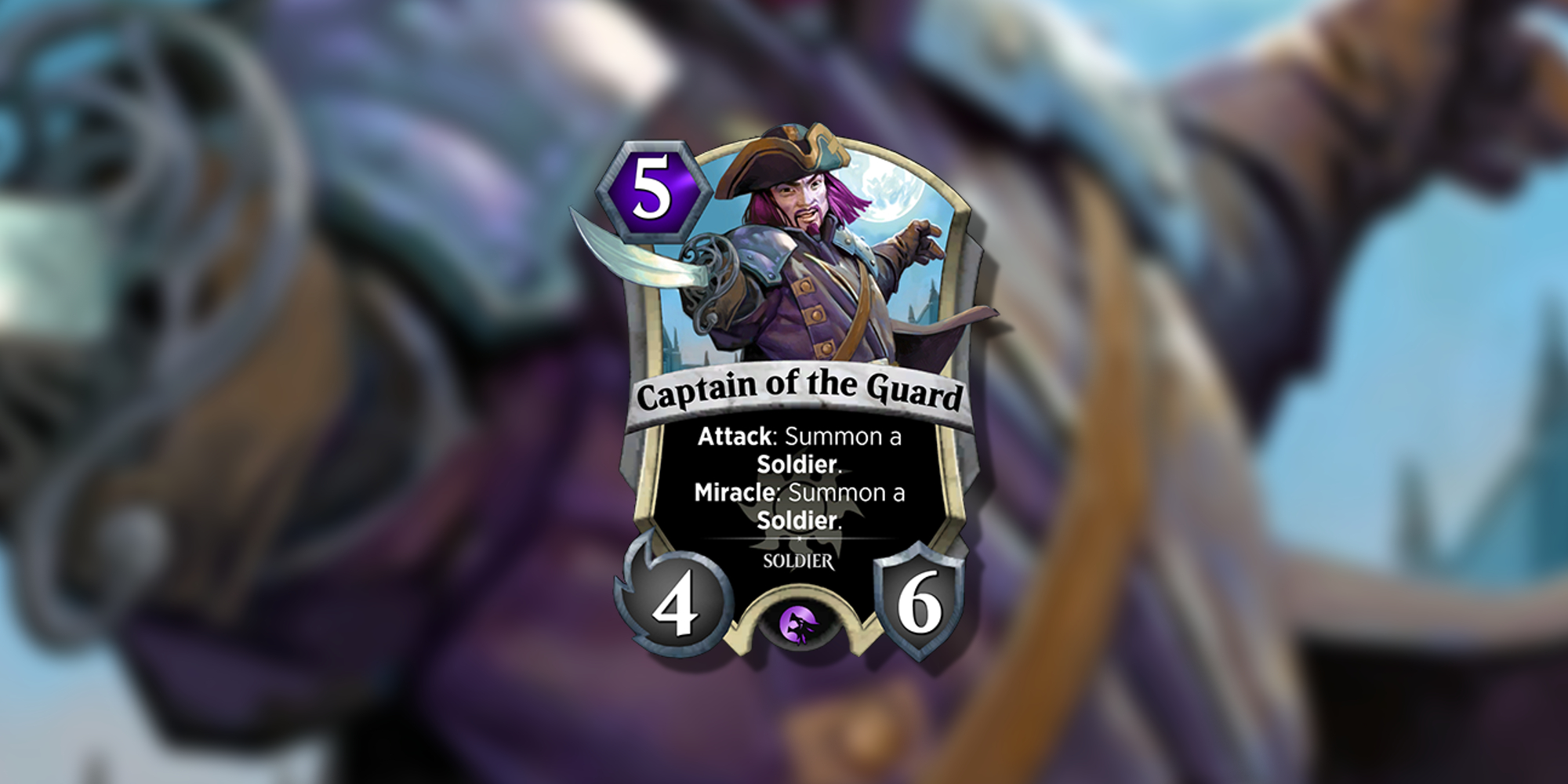 A creature that rewards you for drawing it and then continues to gain value the more you attack. With the above Avacyn, Unsealed in play as well, you could gain a new free angel every turn.
Desperate Prayer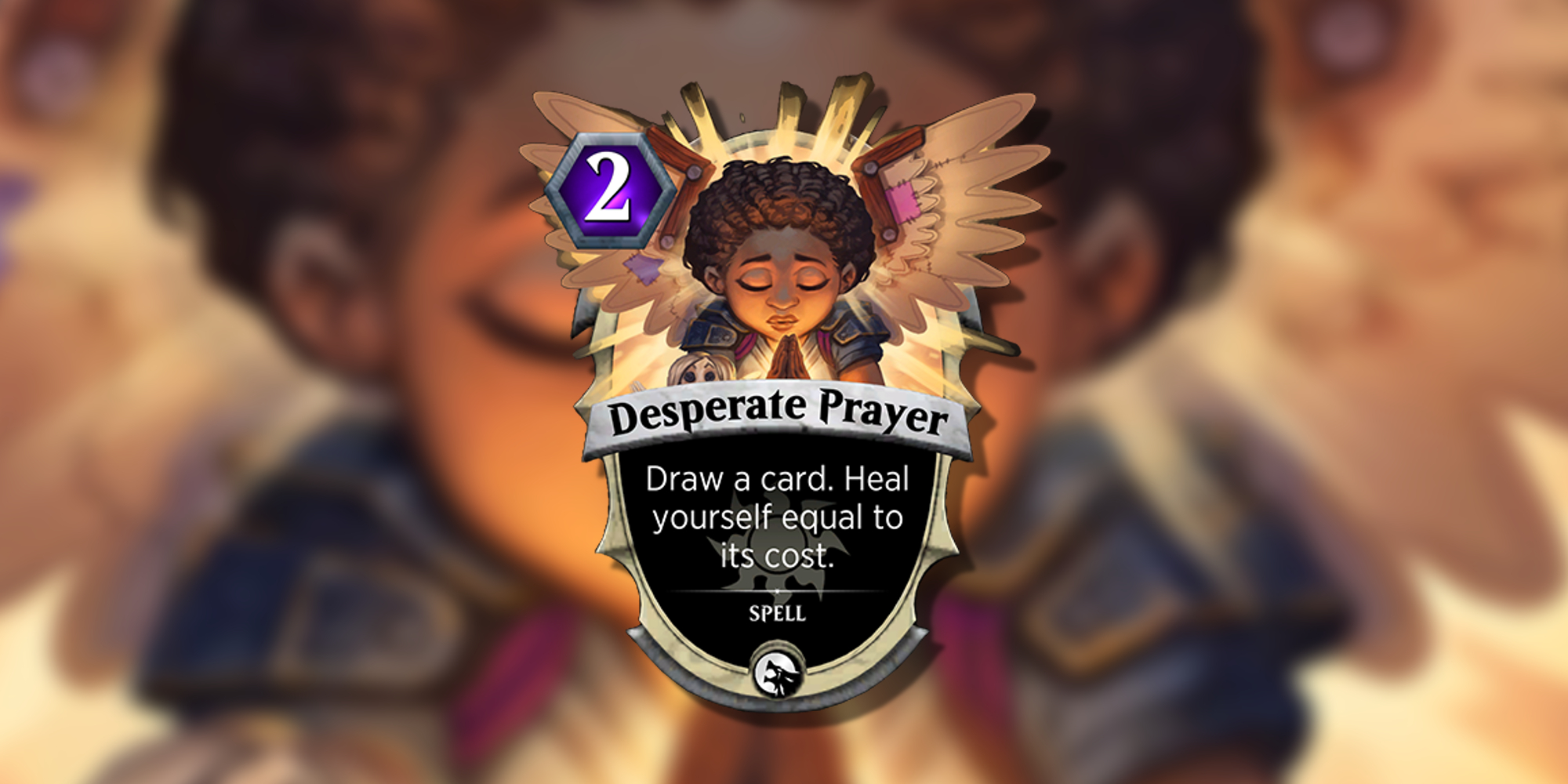 Not much going on here other than a solid cantrip in white. Gaining life off of it is likely going to be relatively minor, but a hard draw Spell for two is still really good.
Raise the Guard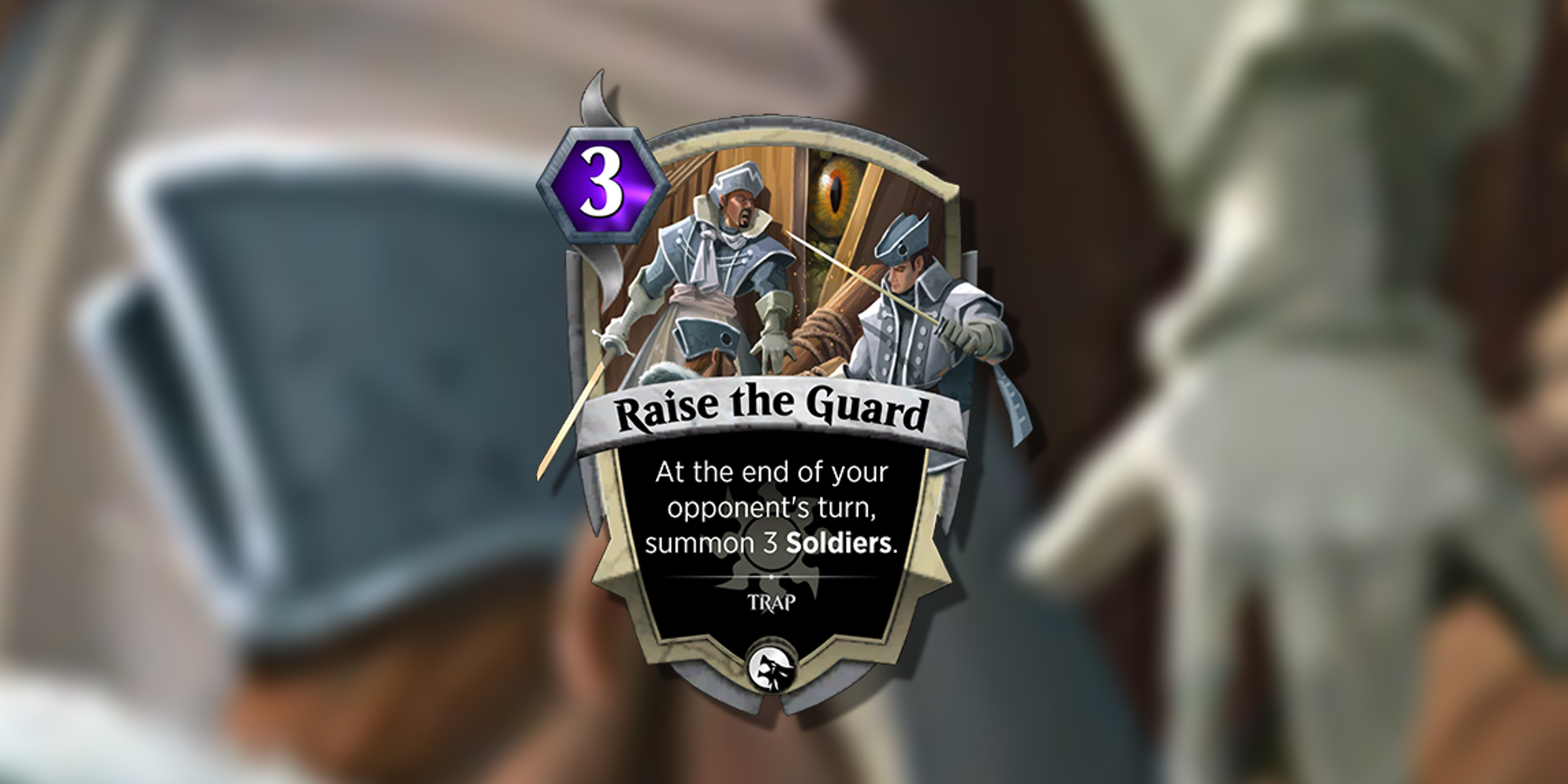 A relatively unimpressive card, Raise the Guard summons three soldiers. As a trap, it's not a bad way to make three creatures and would pair nicely with Avacyn, Unsealed.
Restoration Angel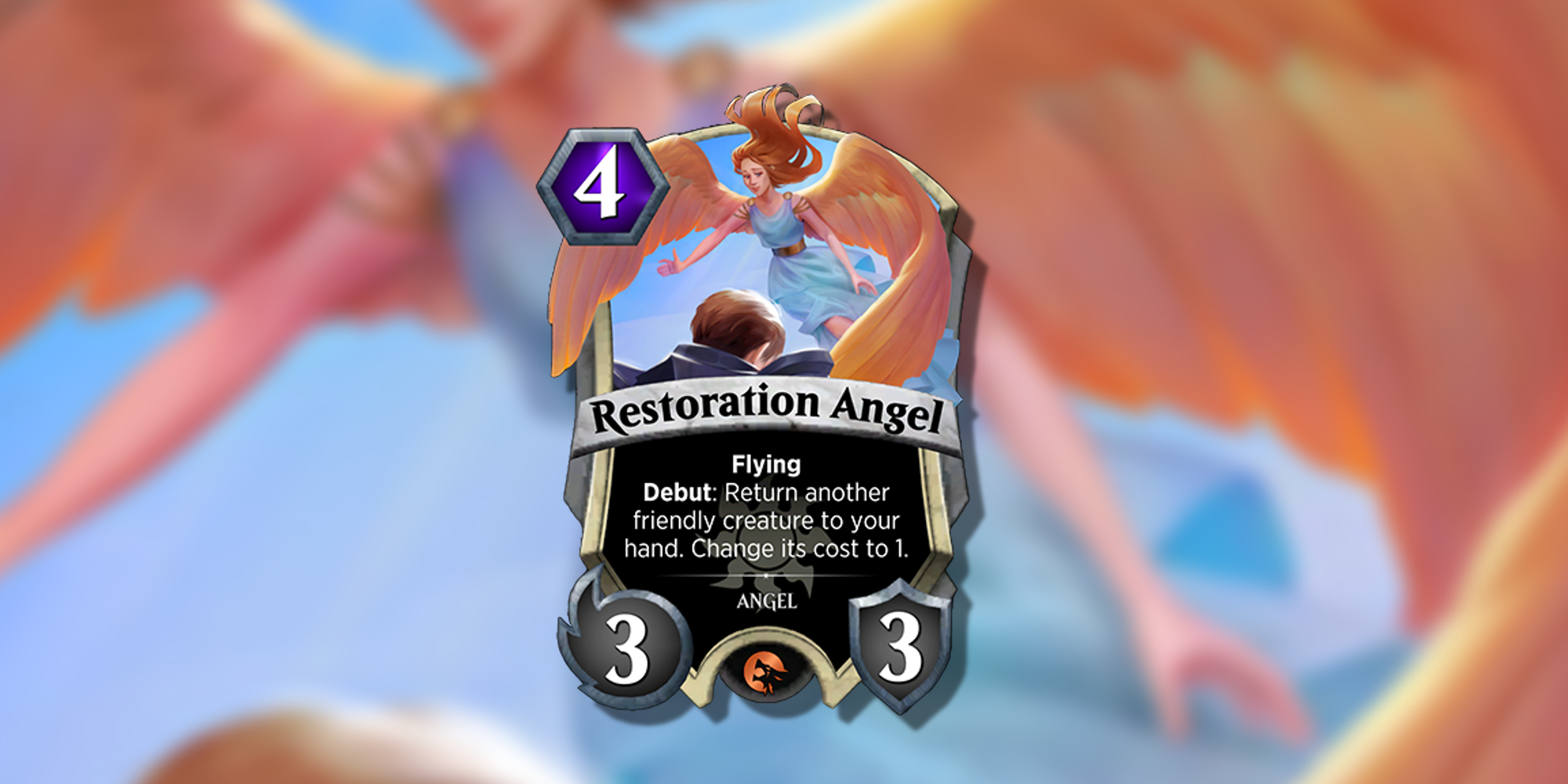 A great way to reset a creature for just four mana, Restoration Angel can save a beefy attacker or give players a way to retrigger a debut ability.
Suppress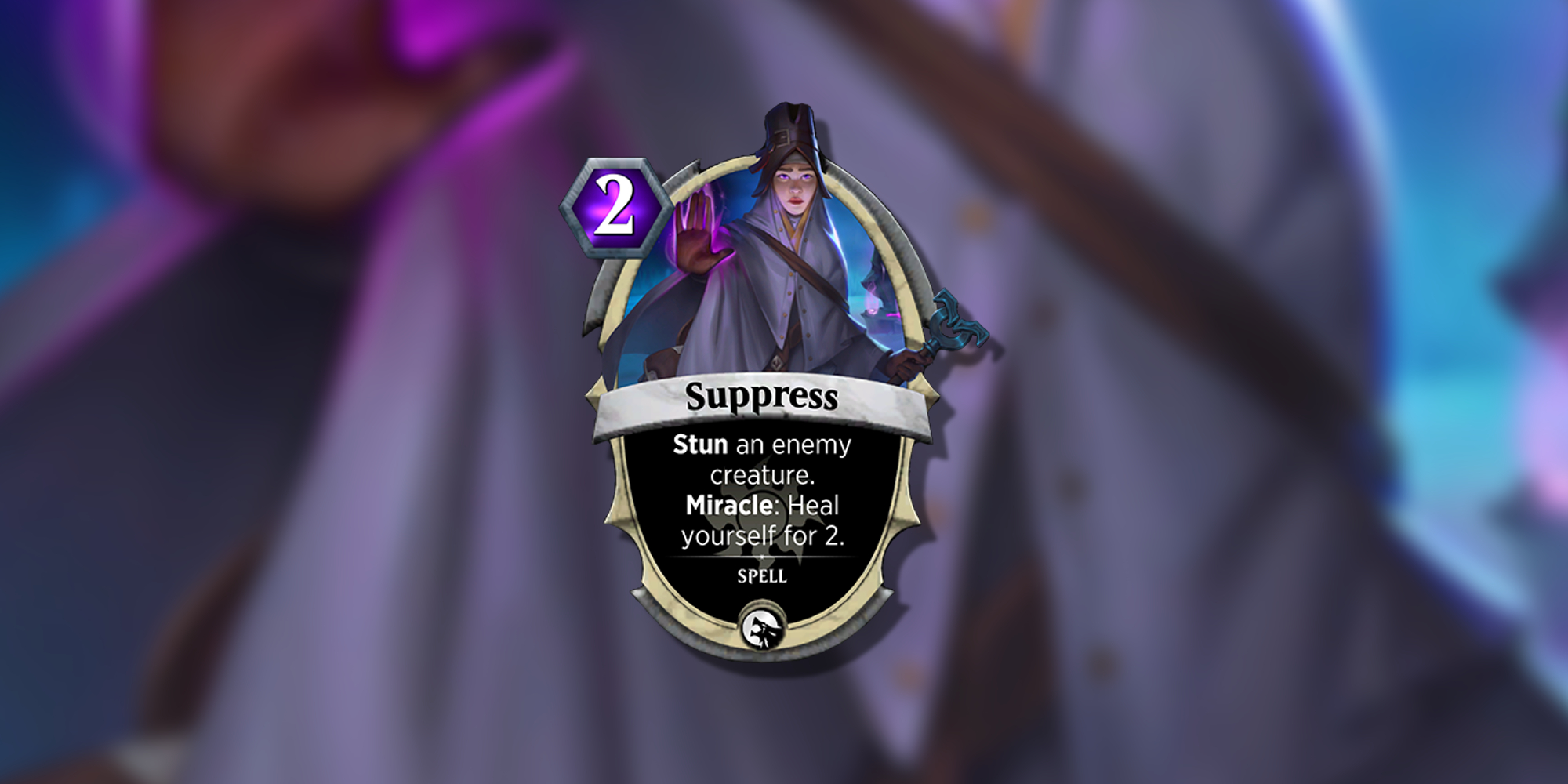 We now know how the Miracle ability functions: as soon as you draw a card with Miracle, you get the effect. So when you draw Suppress, you immediately gain 2 life, and you don't have to do anything else — you just gain the life. Two mana to stun a creature is fine, and gaining two life from the Miracle is okay too. Might find a home in a W/x control deck.
Be careful though! Miracle cards will likely give away tons of information to your opponent on what your draw for the turn is.
Thalia, Guardian of Thraben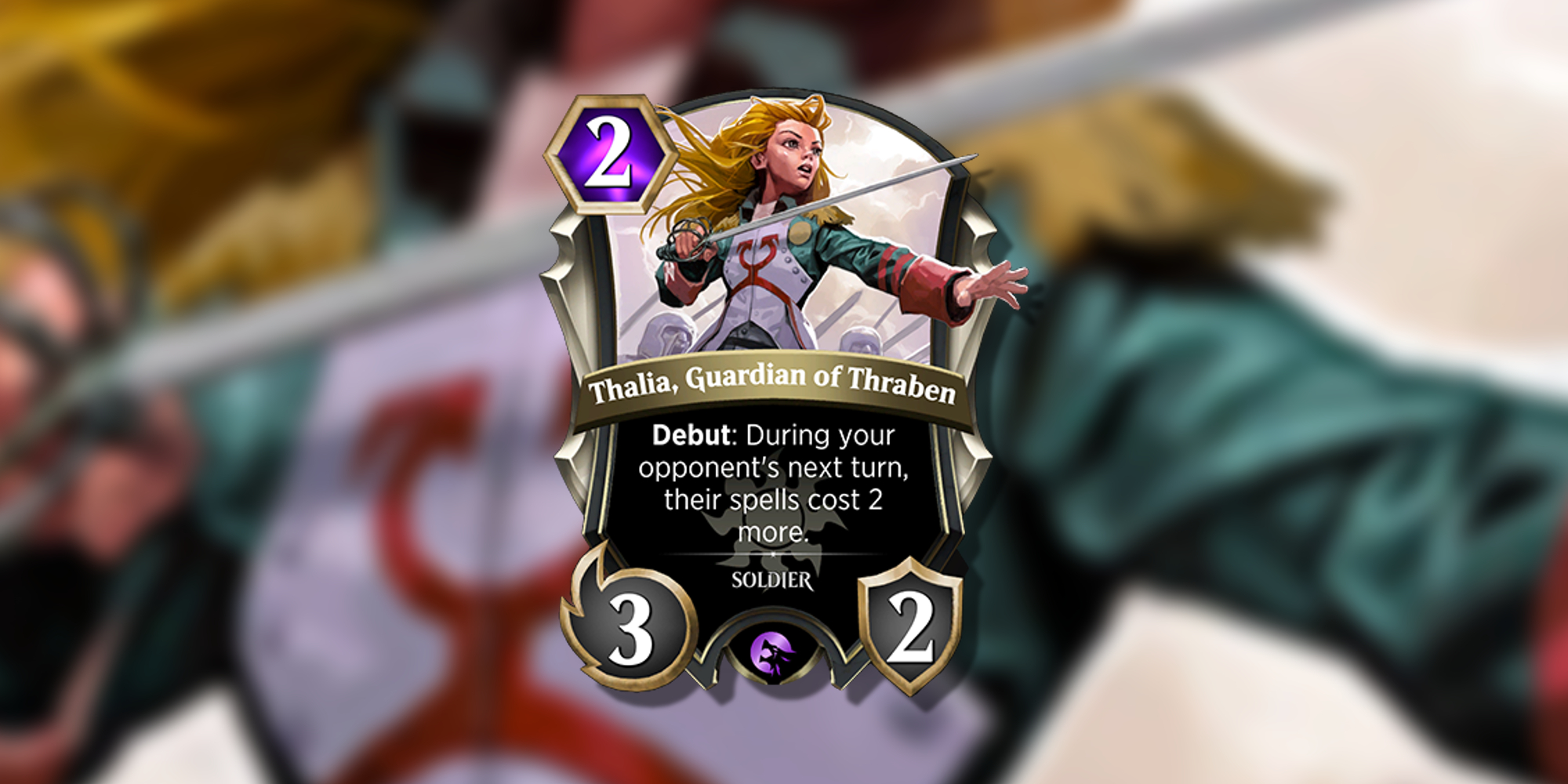 A great target for Restoration Angel, Thalia, Guardian of Thraben increases the cost of all the opponent's Spells by 2 mana for one turn. Thalia will thrive in blue and white tempo and control decks.
---
Blue
Fatetwist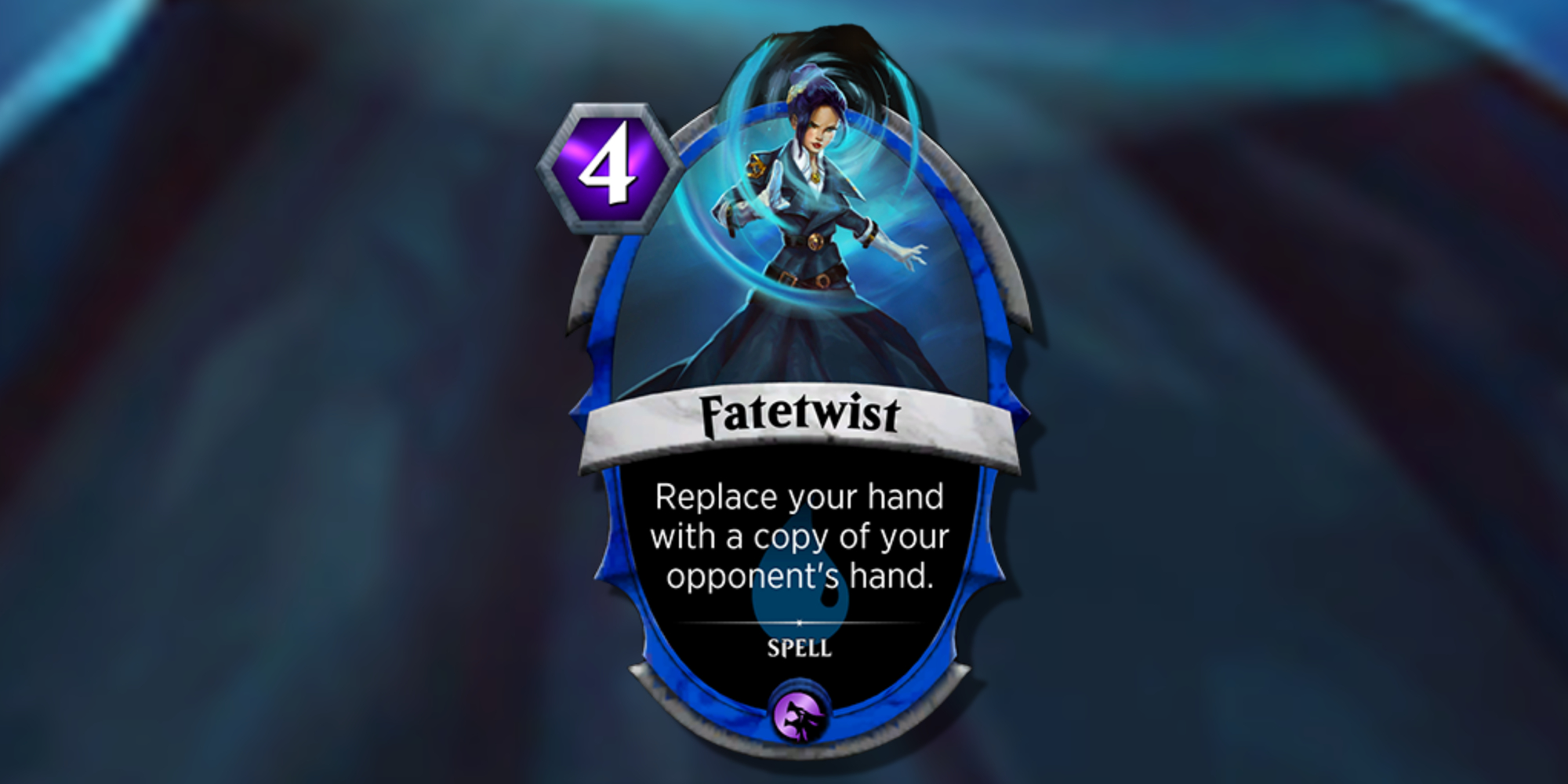 A weird little card that might find an interesting space in Ashiok lists. Once a player runs out of cards, and assuming their opponent has a few cards left, they can reset their hand and keep going.
Delver of Secrets // Insectile Aberration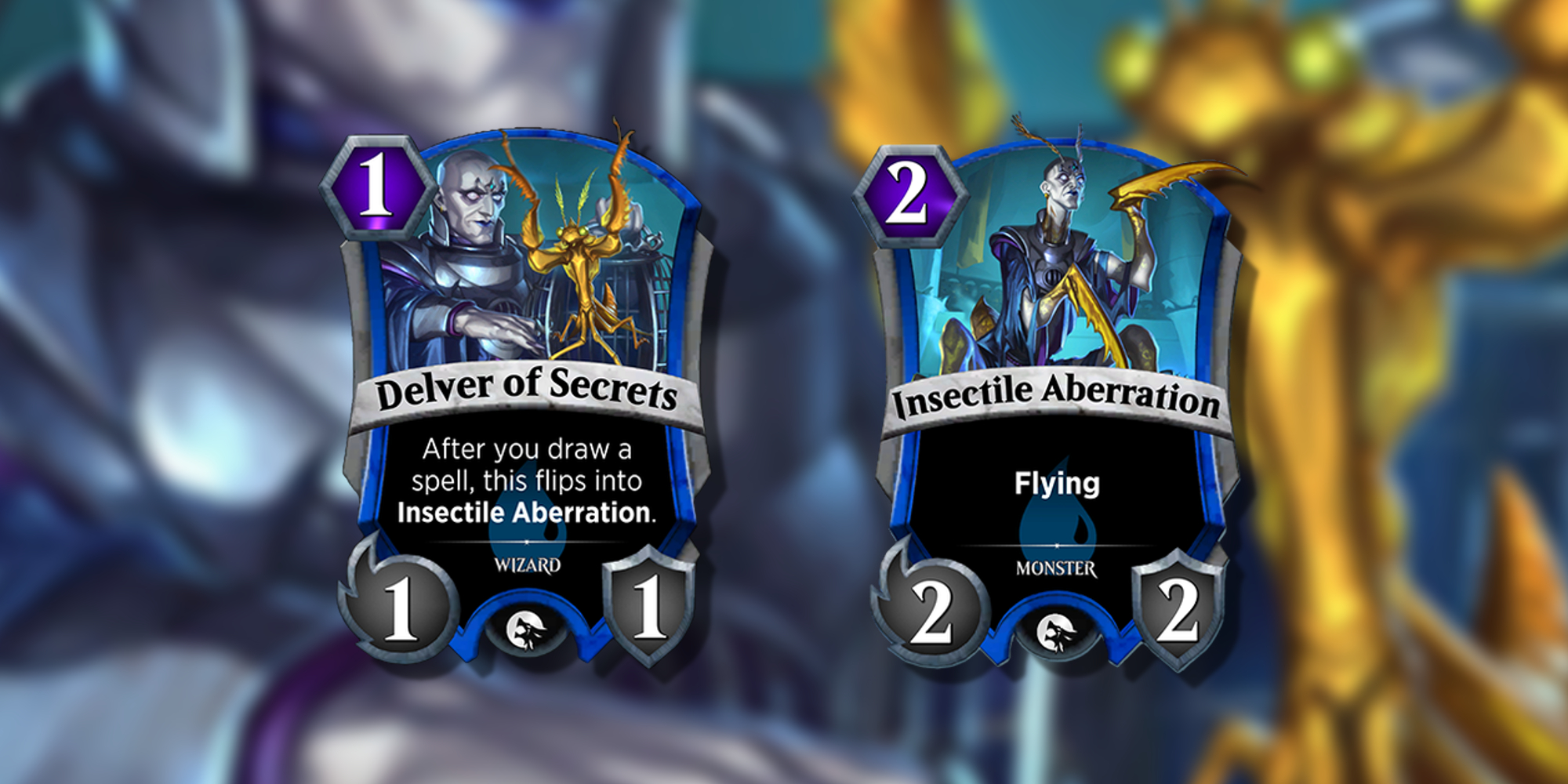 Delver of Secrets is one of the premier threats in Magic: The Gathering, and in Spellslingers its an easy 2/2 flying creature to slip plenty of damage through.
Fear the Grave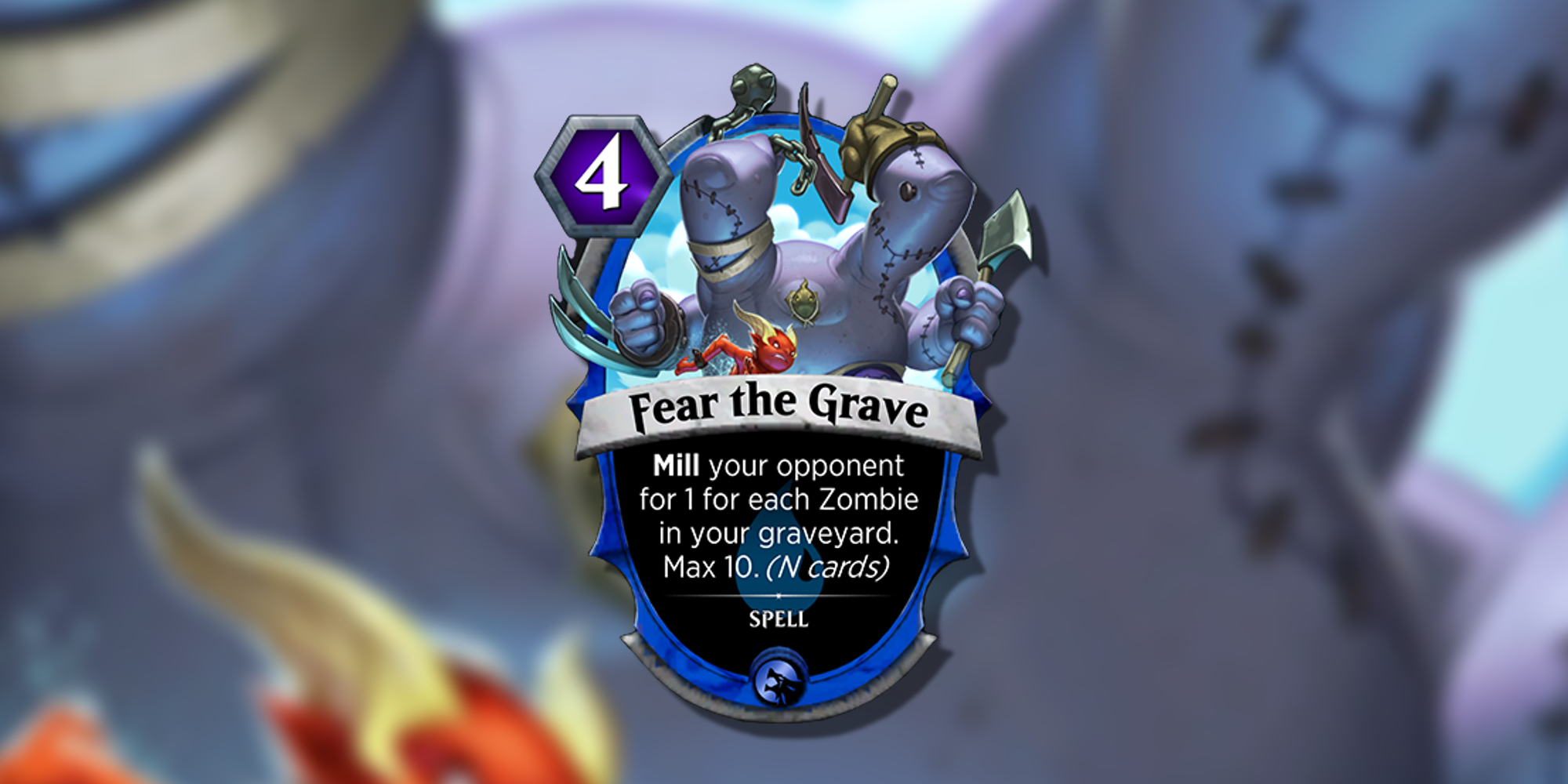 Fear the Grave hints that there are going to be more blue and black zombie cards coming in Helvault Unsealed. Keep in mind that this Spell only targets an opponent.
Laboratory Maniac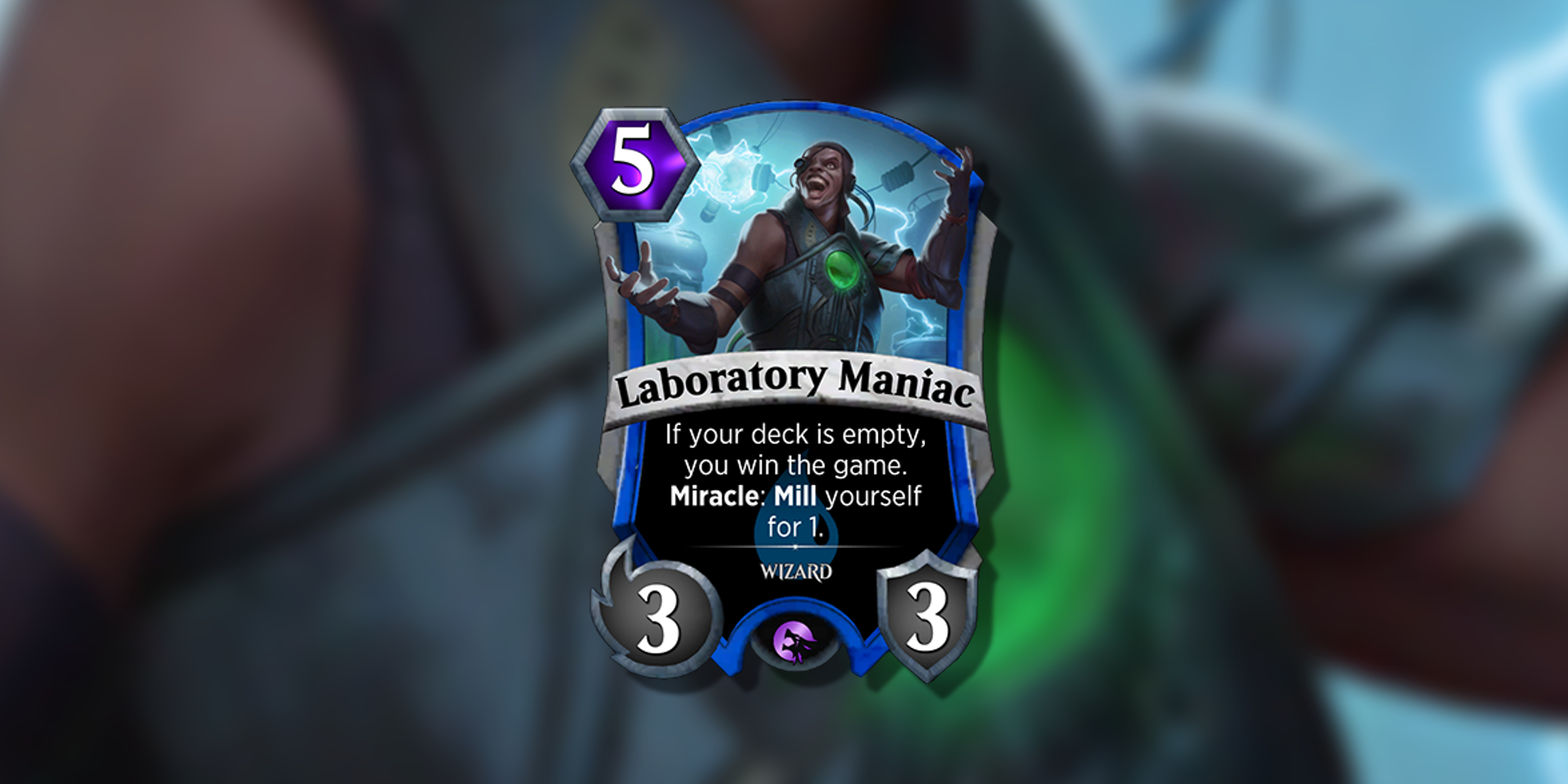 An alternate win condition for players looking to infuriate their opponents. While self-mill might not have a bunch of support currently, it could grow as more Spellslingers sets are released.
Update: We now know how the Miracle ability functions: as soon as you draw a card with Miracle, you get the effect. 
Thing in the Ice // Awoken Horror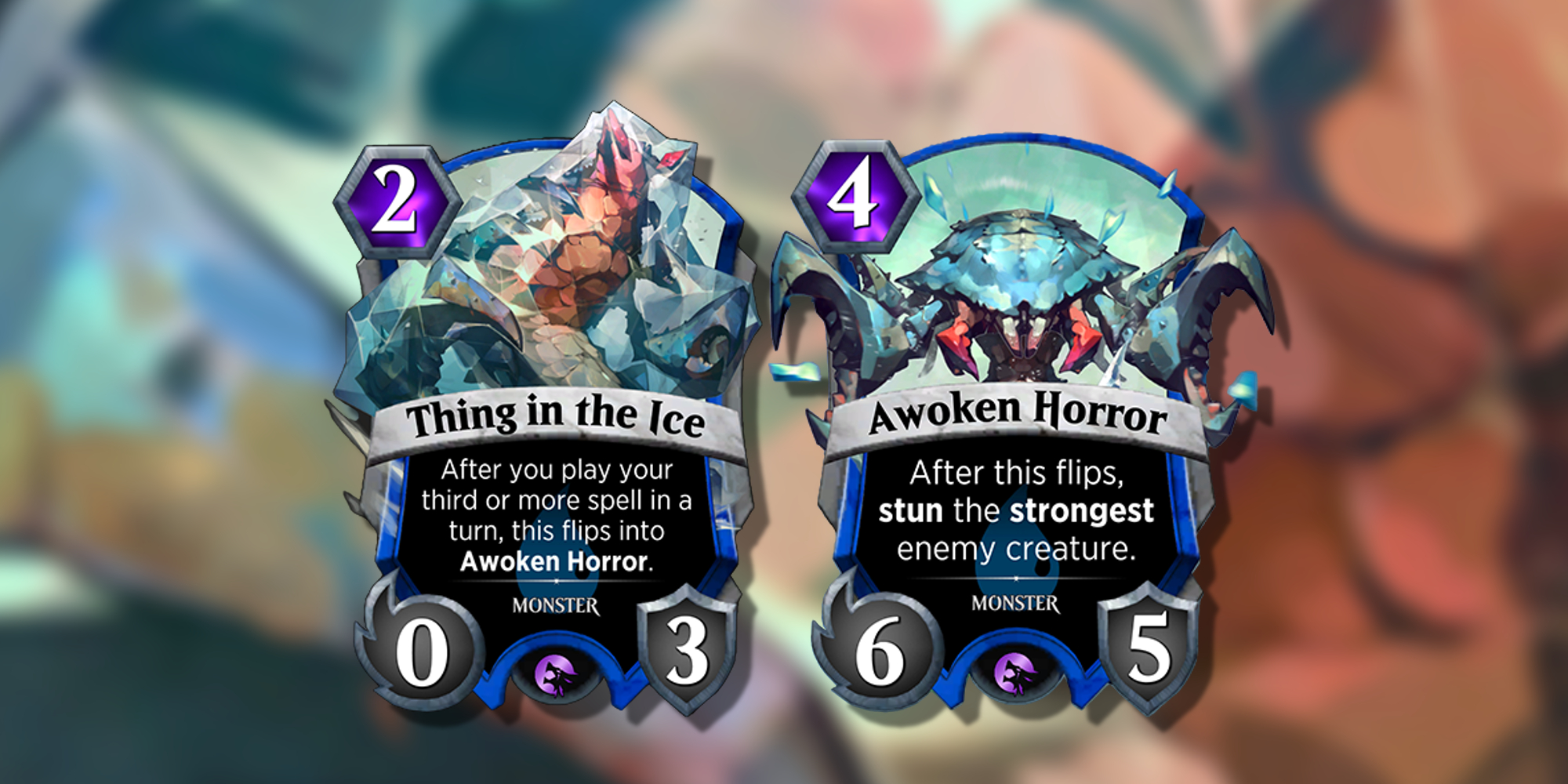 Potentially slotting right into Ral decks, Thing in the Ice rewards you for playing tons of cheap Spells. Once it flips to Awoken Horror, it will stun the strongest enemy for a turn, likely giving players a chance to sneak some damage through.
---
Black
Champion of the Perished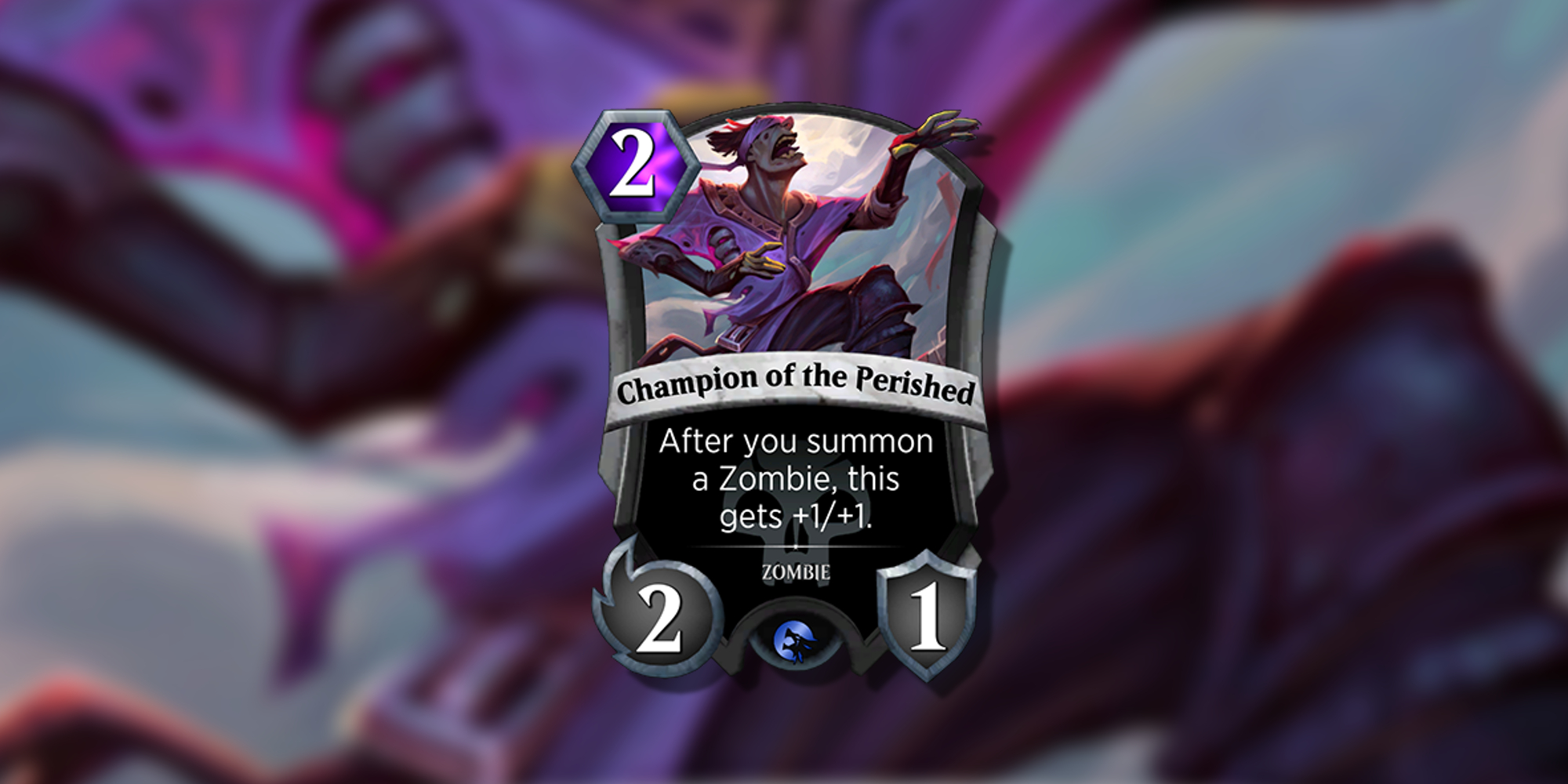 Set Champion of the Perished in play early and watch it grow. Find a way to generate Zombie "tokens" to give Champion a boost.
Death's Shadow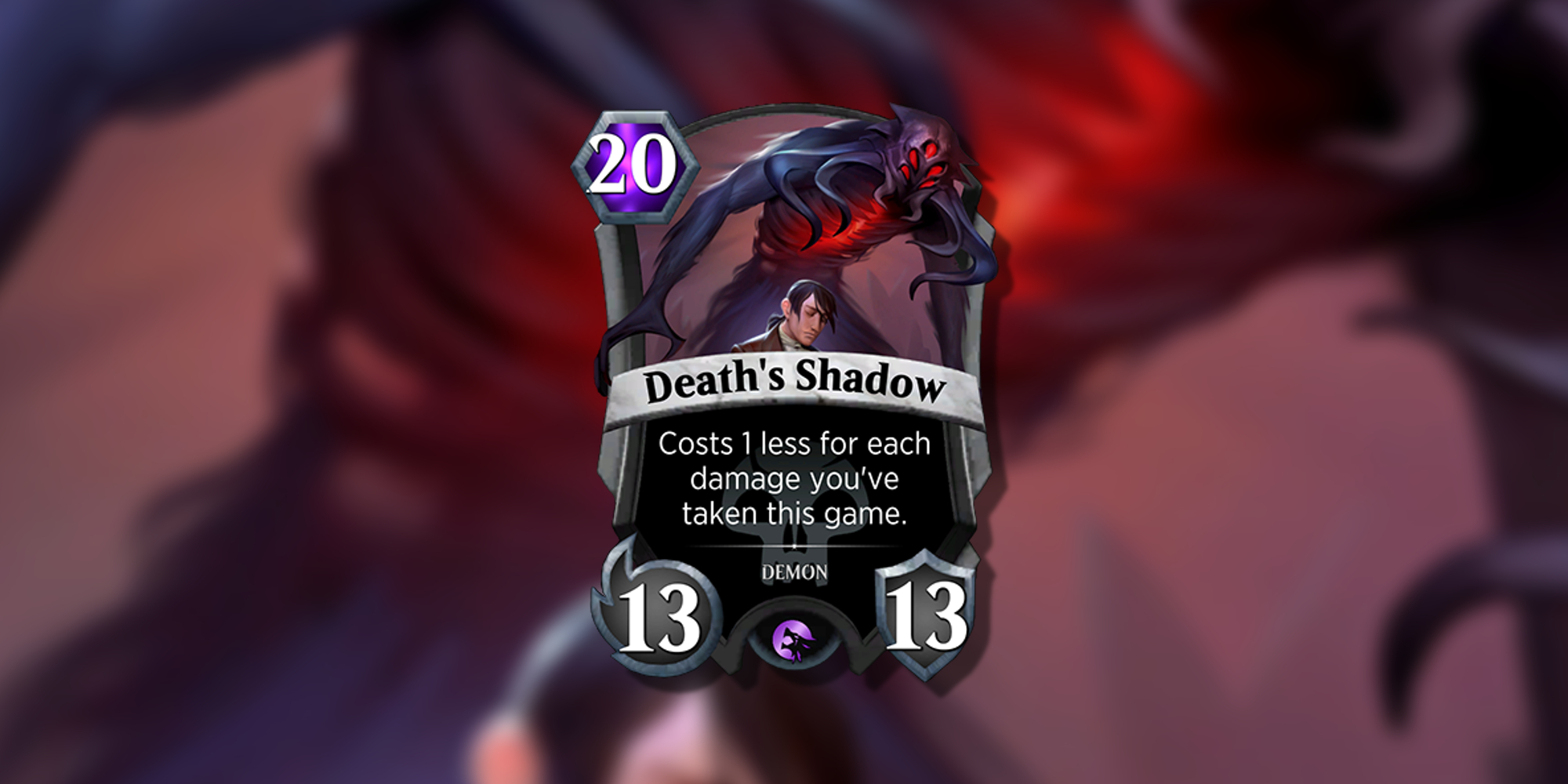 One of the strongest cards in Magic comes to Spellslingers with Death's Shadow. Interestingly, this version only tracks damage you've taken, not your current life, so if you can reliably heal yourself you could be fine.
Demonic Priest
Speaking of healing, Demonic Priest introduces a Spellslingers version of the lifelink mechanic. This card is created by the land Westvale Abbey // Profane Palace, which you'll find at the end of this gallery.
Griselbrand, Unleashed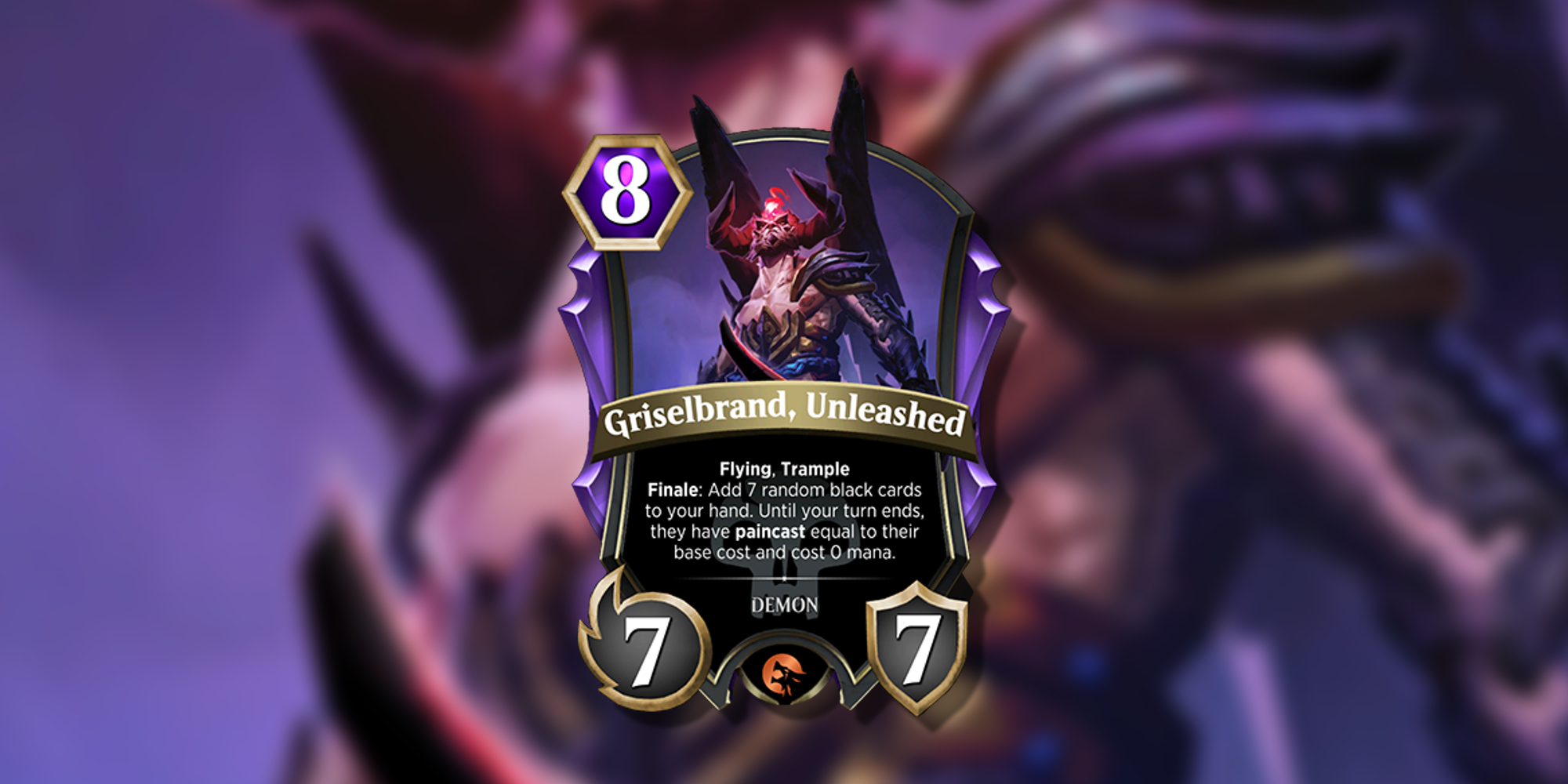 A wild Mythic card with flying, trample, and a powerful finale ability to add seven random black cards to its controller's hand. Those cards cost zero mana and gain a new keyword called paincast, and while not yet explained, we can probably safely assume they'll each cost you life equal to the card's original casting cost.
Triskaidekaphobia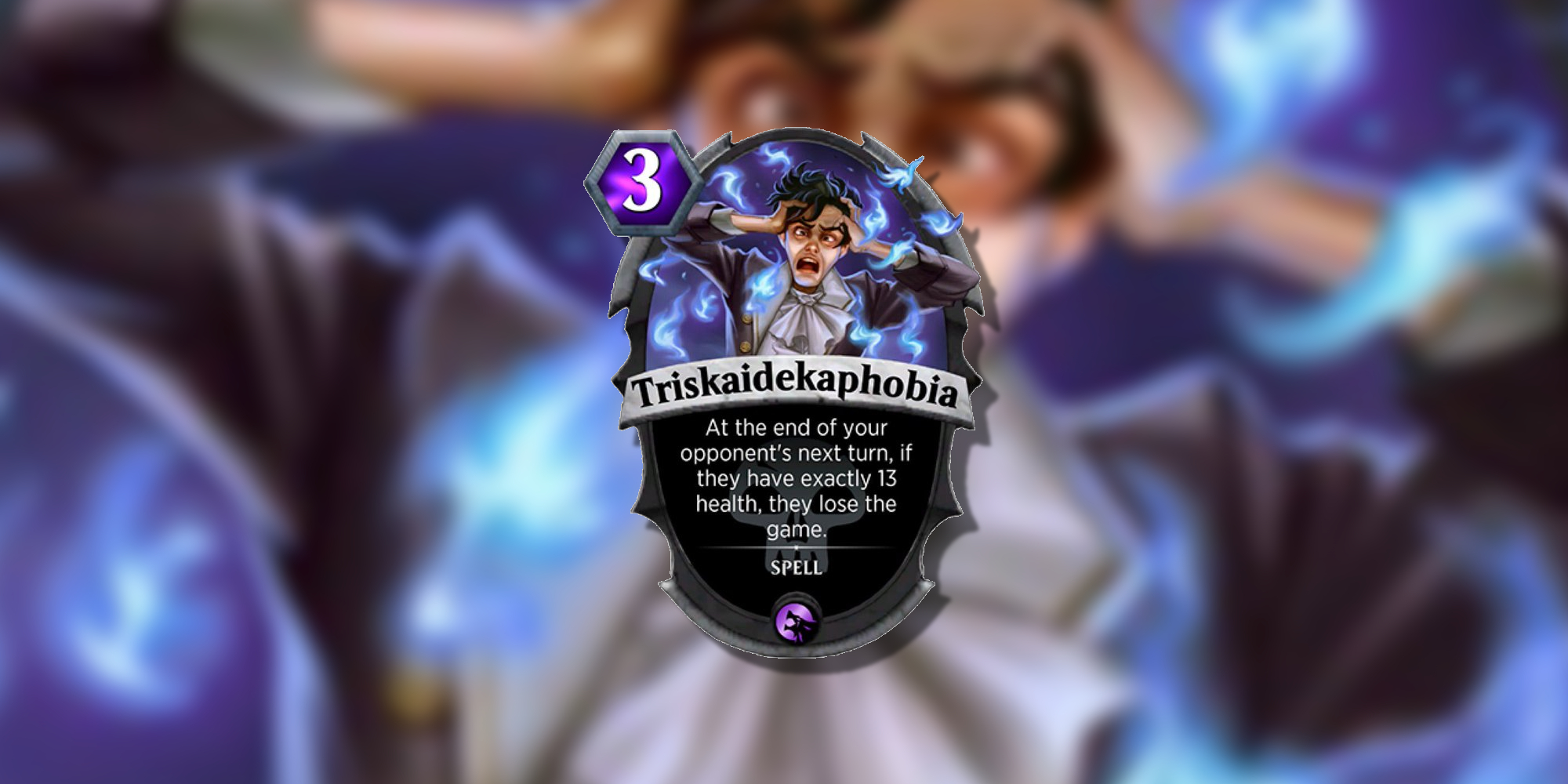 Another alternate win-condition, Triskaidekaphobia gives your opponent just one turn to change their life total if it's at 13, otherwise they straight up lose.
(This card is my first-ever personal spoiler reveal! WotC staffer and Spellslingers dev Lukas Litzsinger reached out to me via Twitter DM and gave me this card to reveal on my personal Twitter. Big thanks!)
Voldaren Drainlord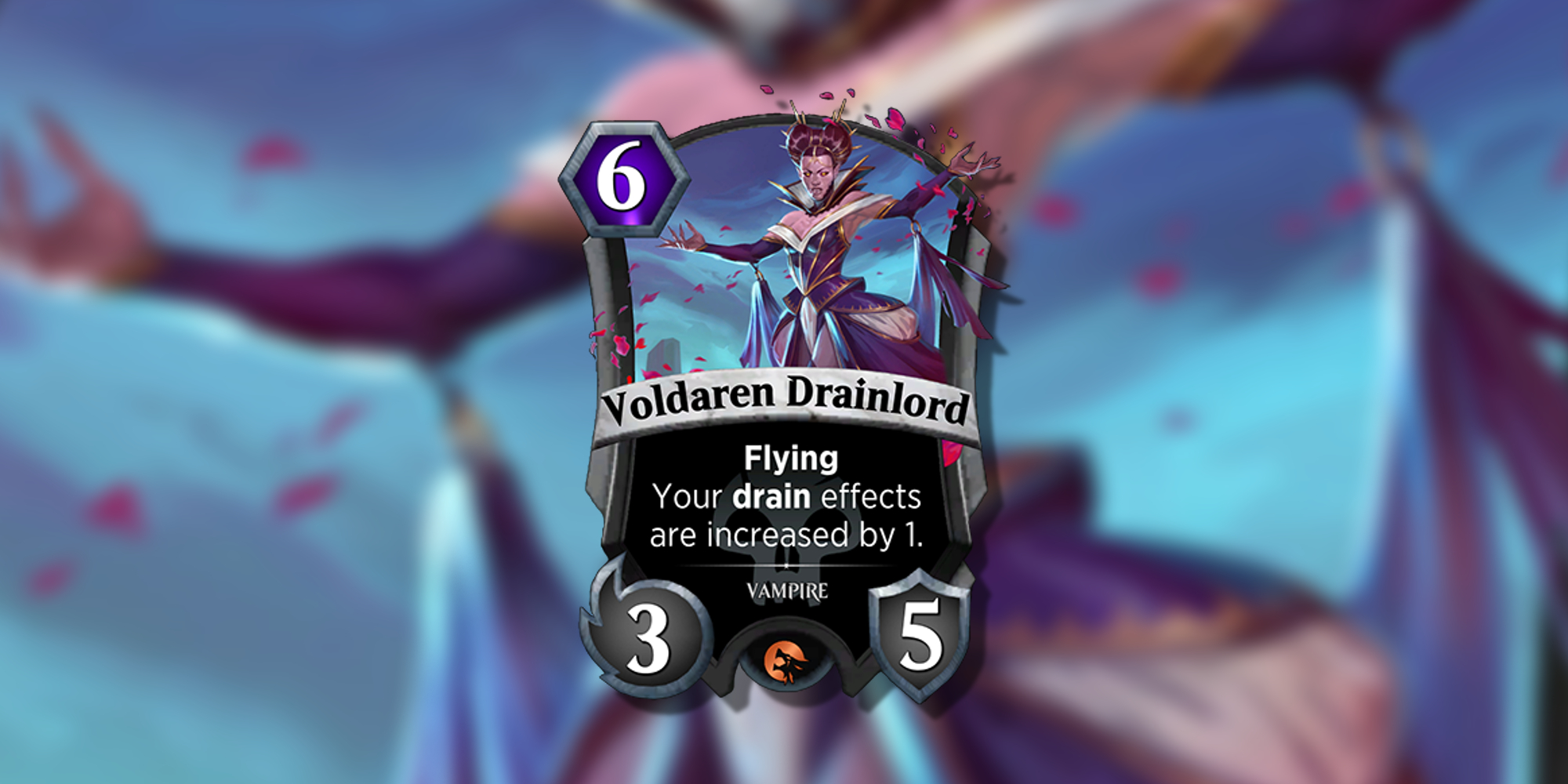 A fairly straightforward card, Voldaren Drainlord increases drain effects by one.
(Between this and some of the other cards both above and below in black and/or white, we could be seeing the genesis of a fresh new pain/gain/drain archetype!)
Wrong Turn
A six-mana kill spell is fairly mana intensive in Spellslingers, but a three-mana one is amazing. Will very likely see play with Flagrant Foul, if not replace it.
(Fun to note that the devs described this card as their homage to the way Miracles work in Magic.)
---
Red
Archwing Ravager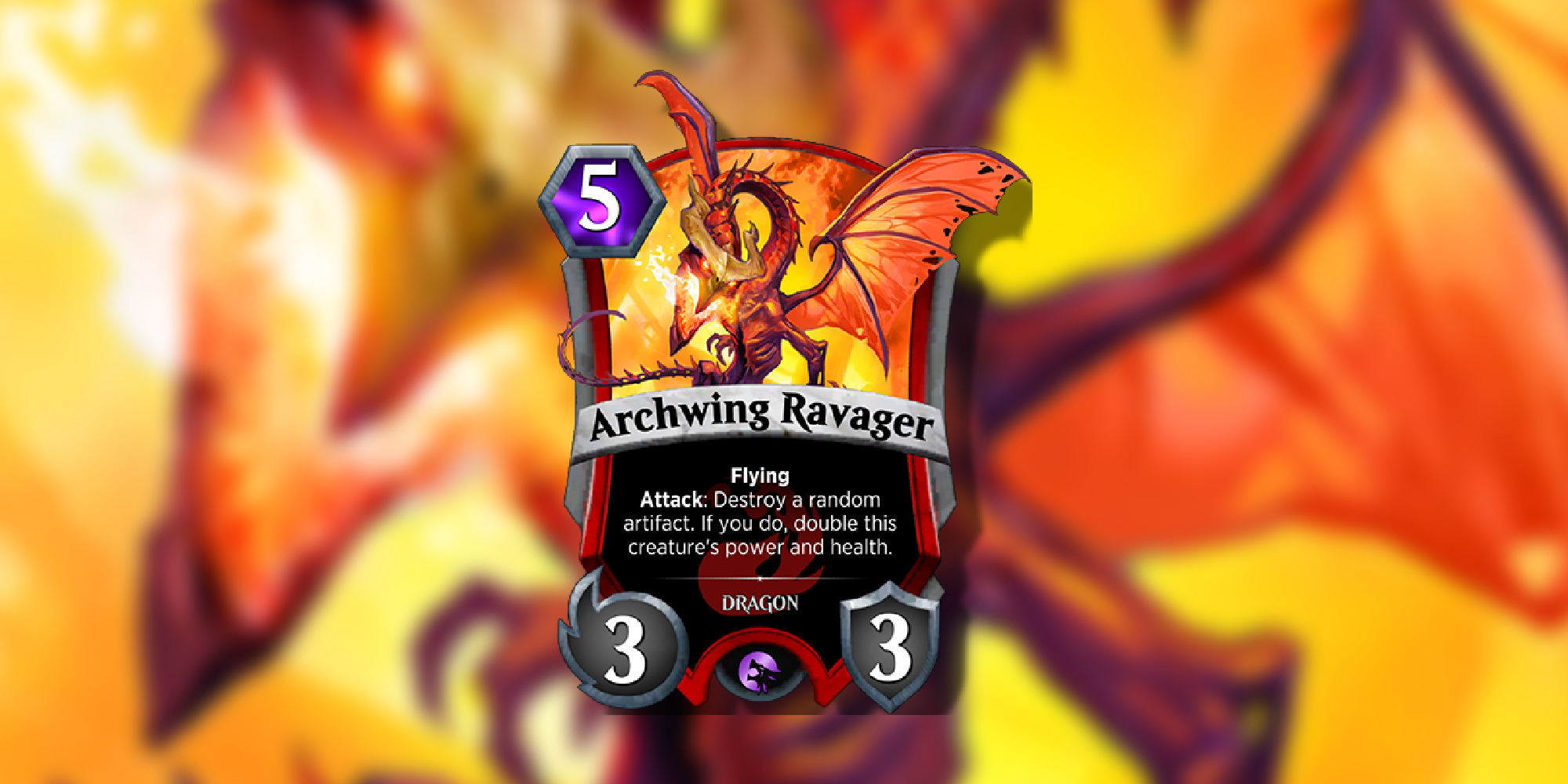 Keep playing cheap artifacts with Archwing Ravager and you'll increase this card's power and toughness a ton. While artifacts have yet to make a major impact in Spellslingers, it could be worth running more with the Ravager in play.
(The best "artifact" card in red so far is definitely Inferno, who generates one every single turn. With them both being Dragons, this could even be the basis for a viable Dragonspeaker archetype.)
Emberling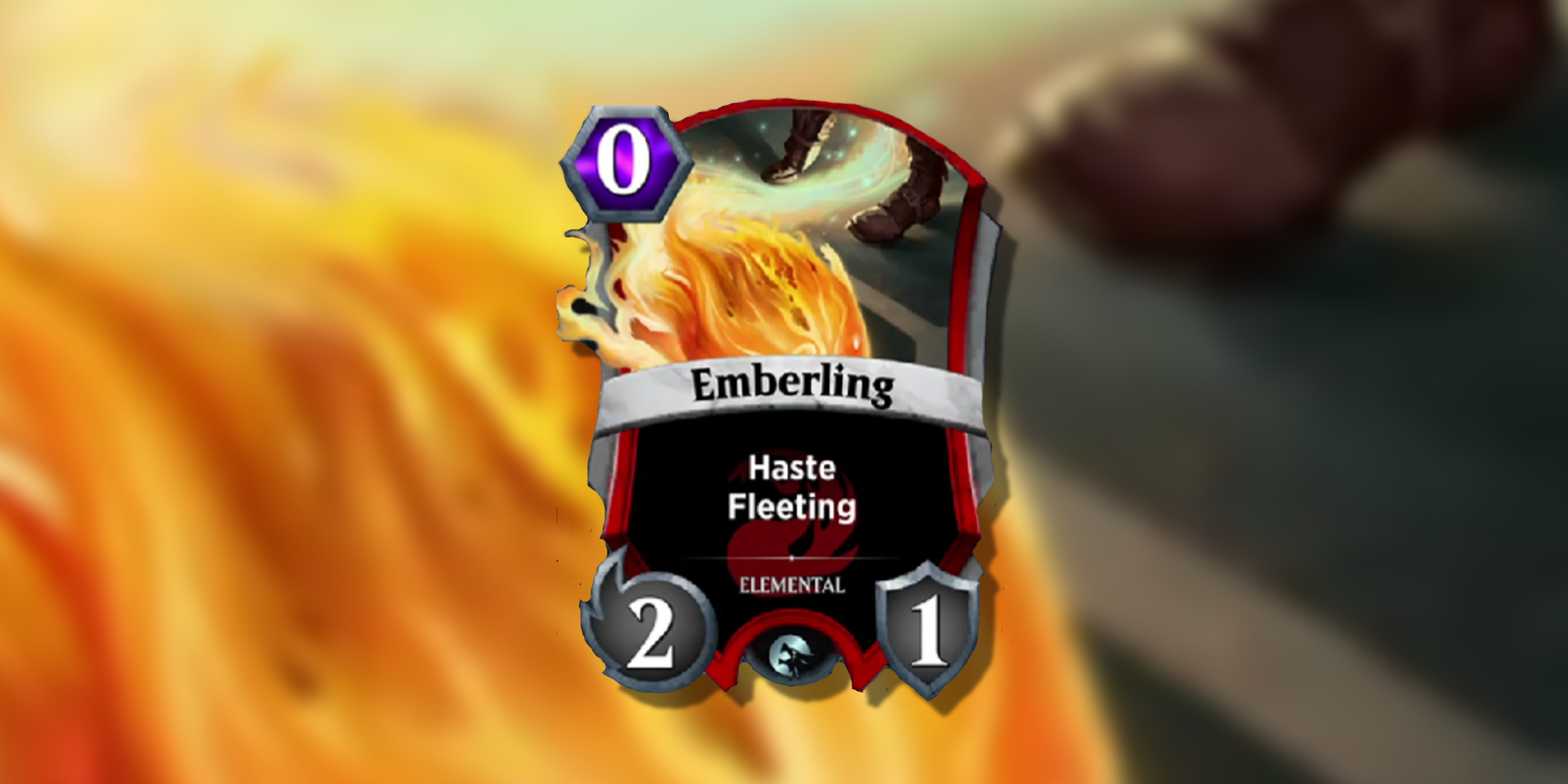 A card made from the Spellslingers version of Young Pyromancer, which you'll find below, this free 2/1 creature is a temporary card with haste and can put pressure on your opponents for every Spell you cast.
Eternal Phoenix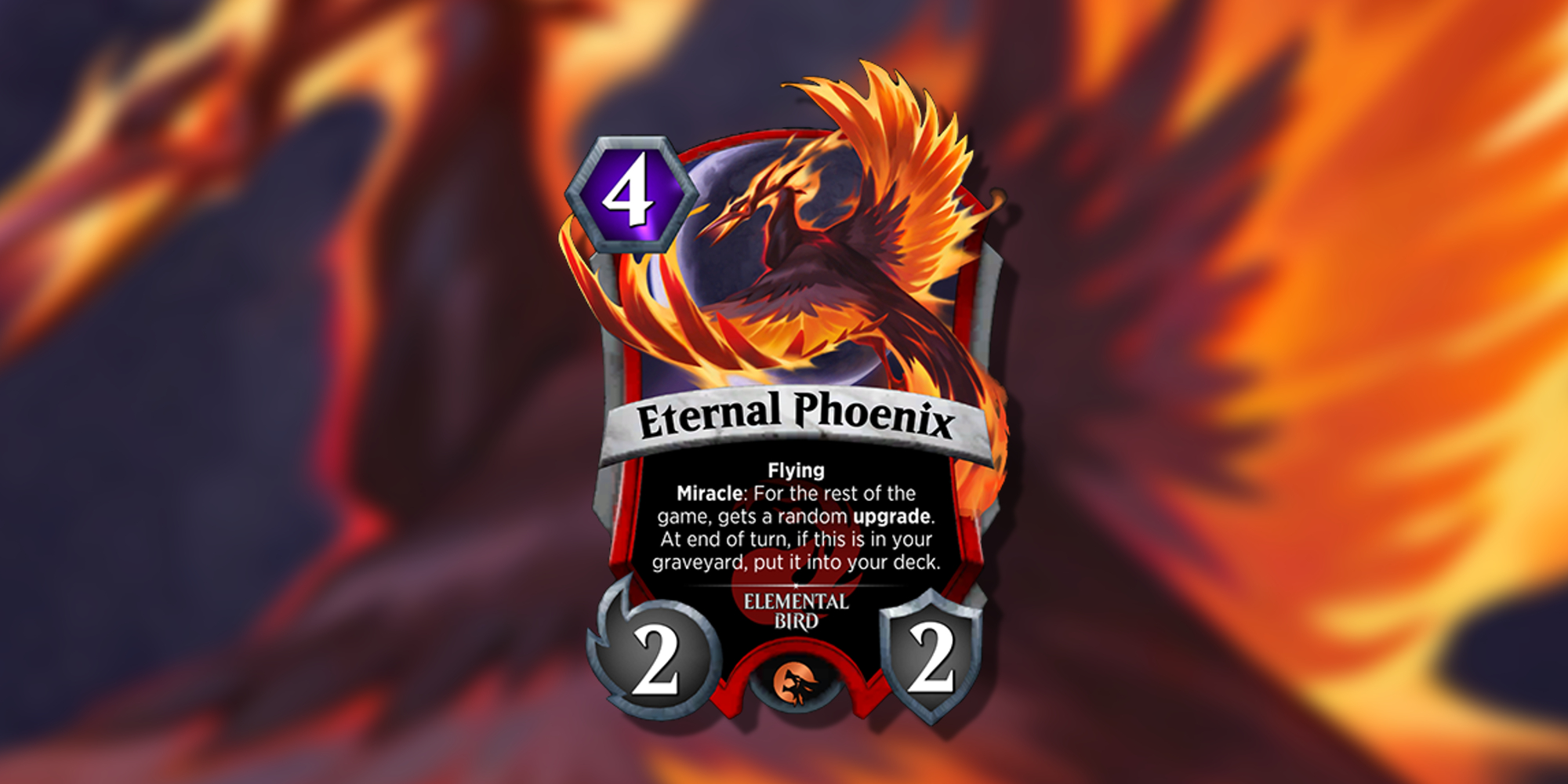 Eternal Phoenix comes with a new mechanic, Miracle. It doesn't seem like too much of a leap to assume it gains the Miracle effects if you cast it the turn you draw it.
(Given the way Miracle works in Magic, another guess could be that abilities like this one or Laboratory Maniac's will trigger automatically when you draw the card from your deck. Also…does this card just single-handedly protect you from losing to mill? Could be a metagame call if Fear the Grave becomes competitive.)
(Update: I nailed it!)
Gatstaf Agitators // Gatstaf Plunderers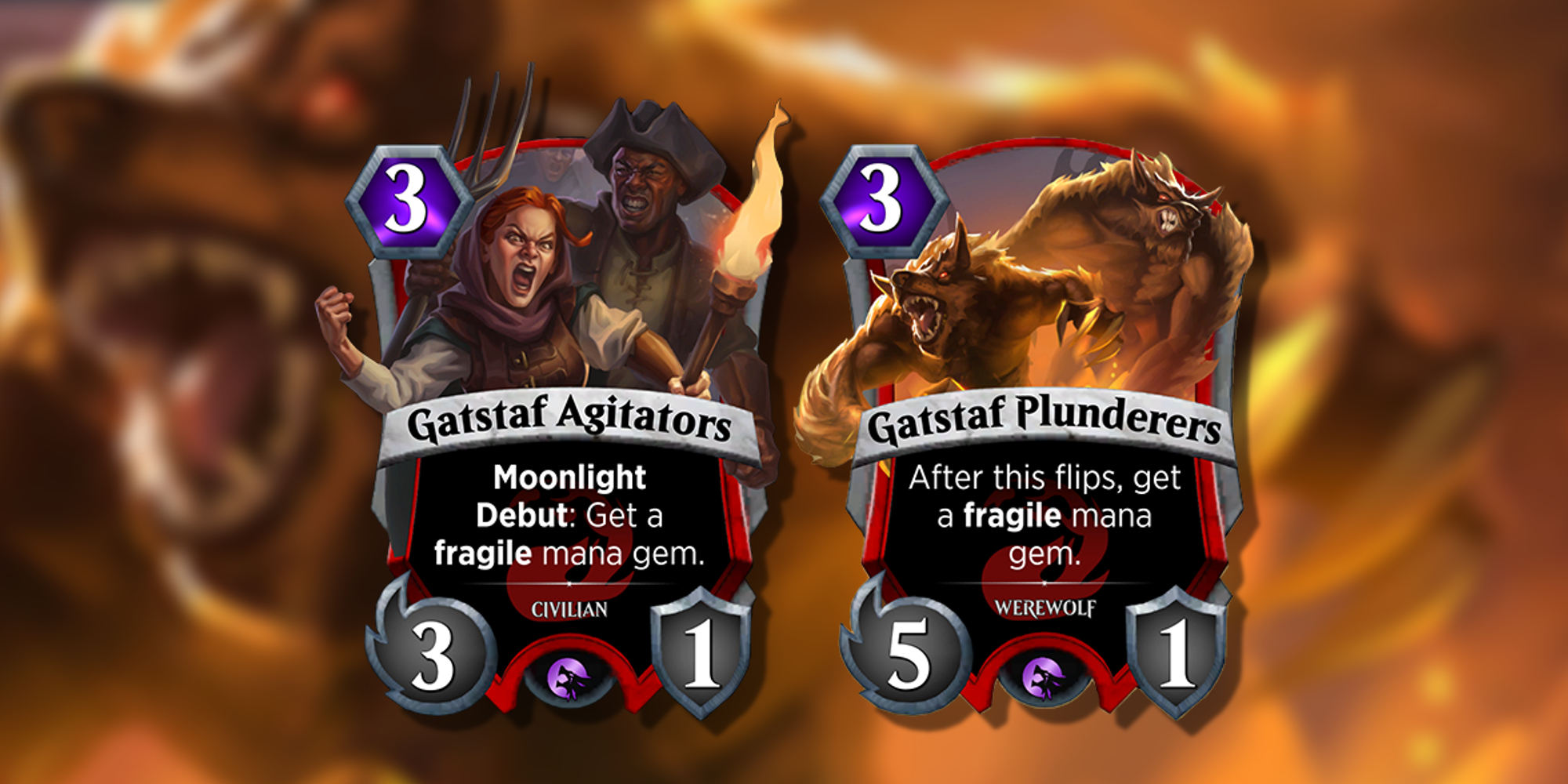 The first werewolf card in the game, Gatstaf Agitators will help red ramp up to bigger plays. If you end your turn with two mana available, all your cards with Moonlight will flip.
(It's not yet confirmed whether Moonlight will still trigger if your unspent mana is committed to a Trap, but I think it's safe to assume that's how it will work, considering otherwise it would reveal your Trap information.)
Young Pyromancer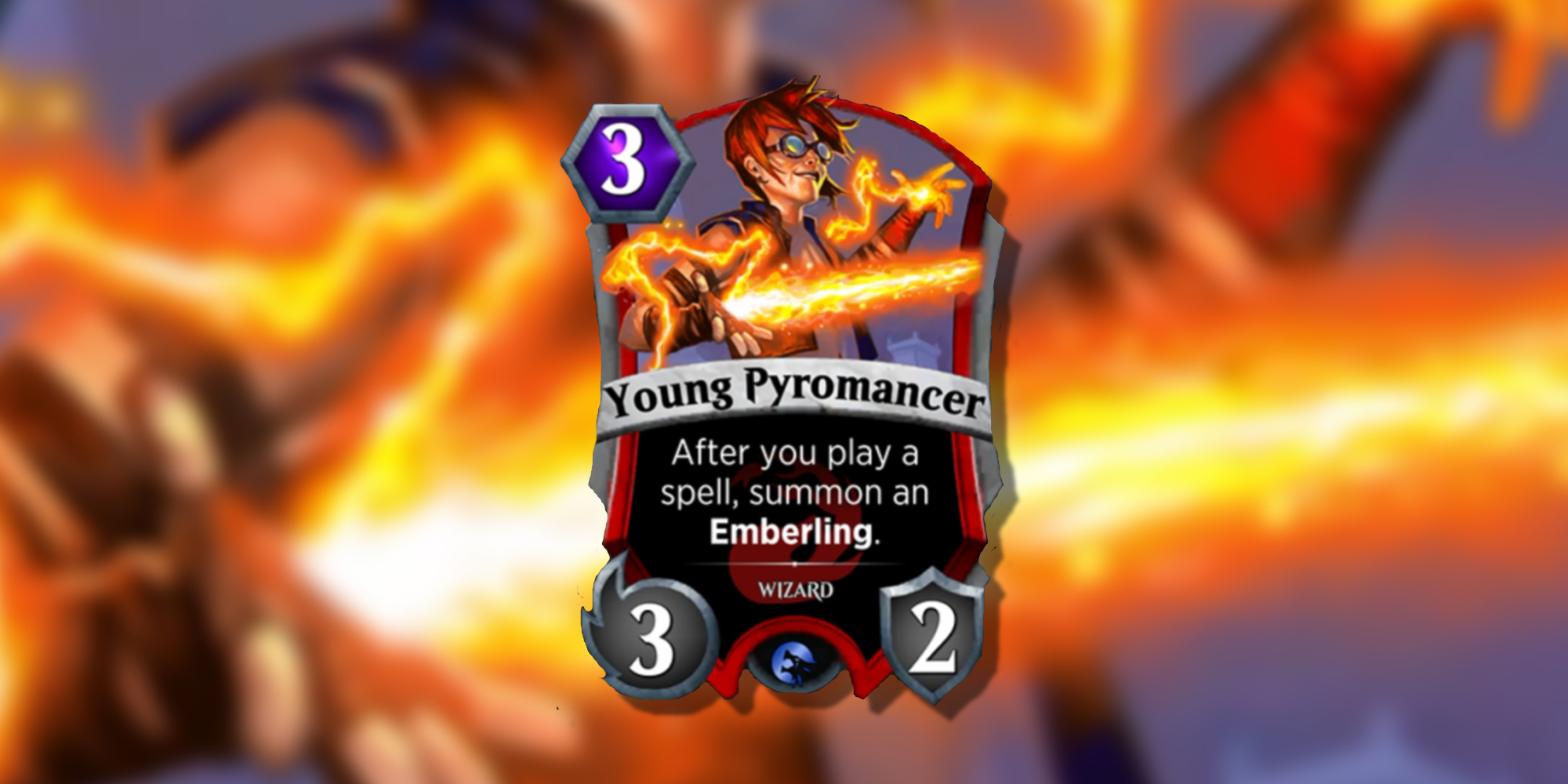 The origin of the Emberling creatures seen above. Every time you cast a Spell, you gain a free temporary creature with haste, which is pretty good for red-blue decks.
---
Green
Beastkeeper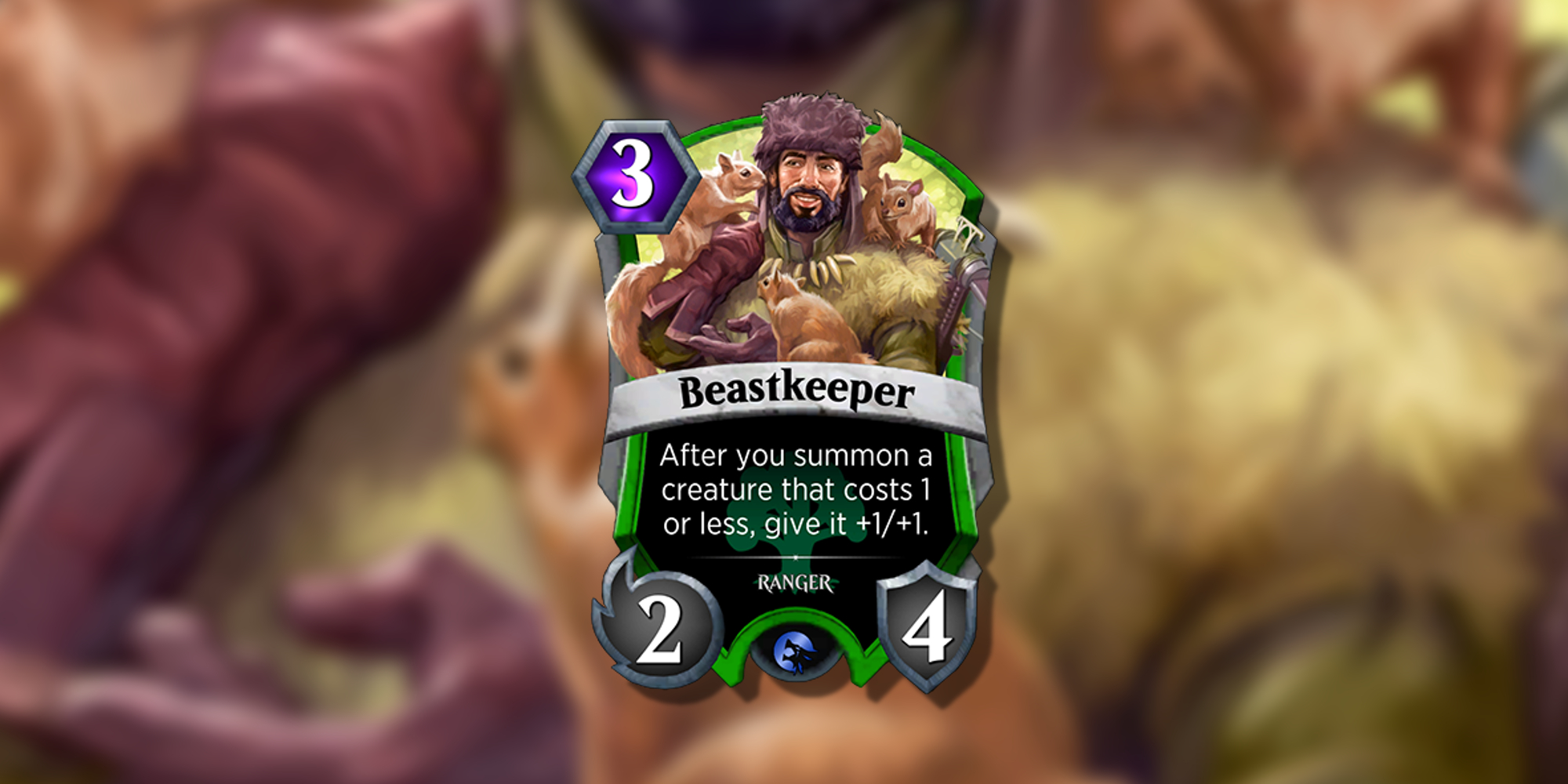 A kind of an odd card that rewards players for playing one-mana creatures by giving them +1/+1. It doesn't seem like enough of a boost to make it worth running, but it might have a place somewhere.
(Don't forget that even "tokens" in Spellslingers count as "summoned," so this will work with Raise the Guard soldiers as well as Young Pyromancer's Emberlings.)
Craterhoof Behemoth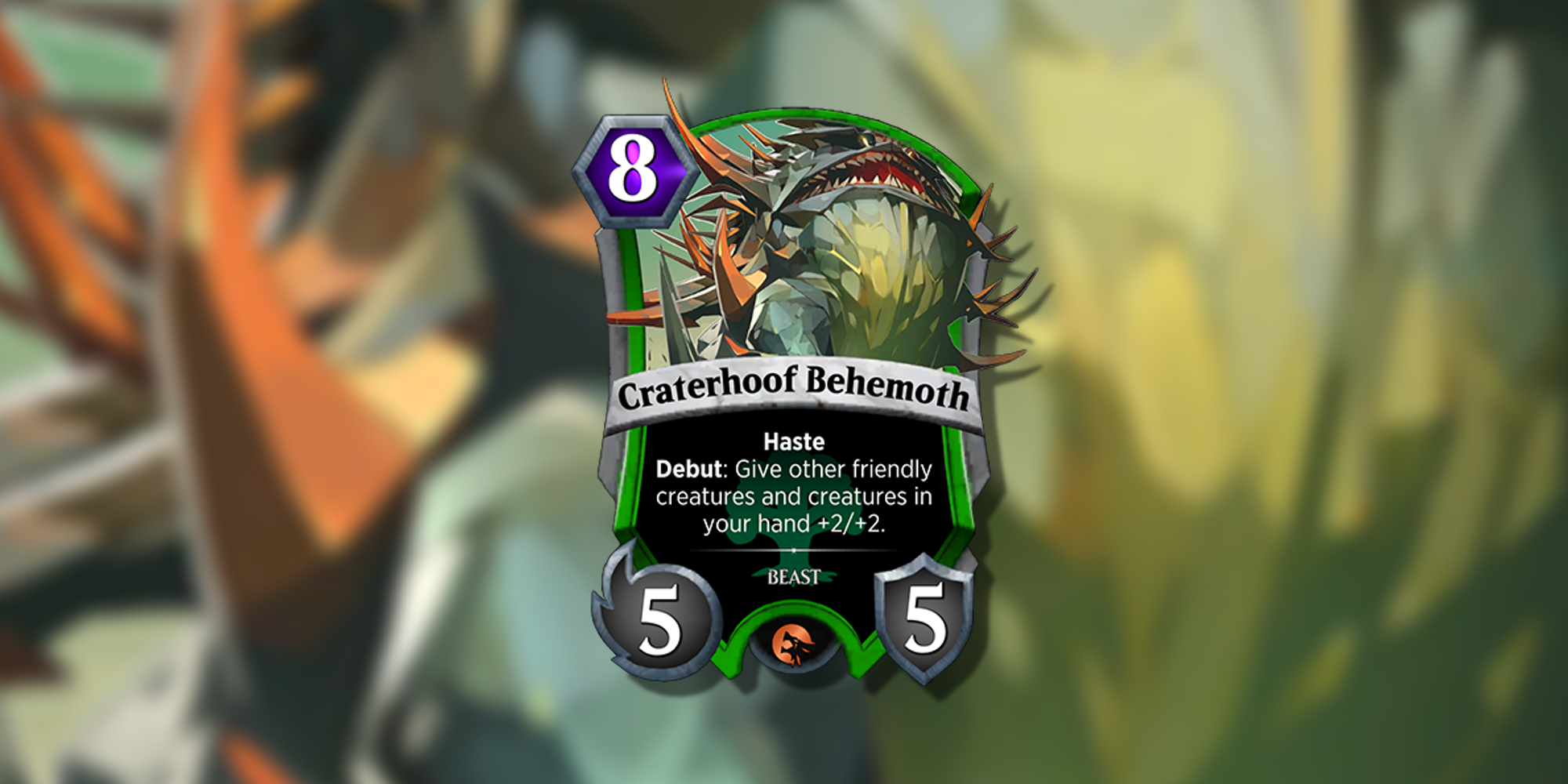 The dreaded Craterhoof Behemoth seems to have taken a bit of a nerf coming to Spellslingers, but the fact that it boosts your creatures in hand as well is pretty interesting. Pair it with a Restoration Angel and you can double up on debut triggers. 
Daybreak Ranger // Nightfall Predator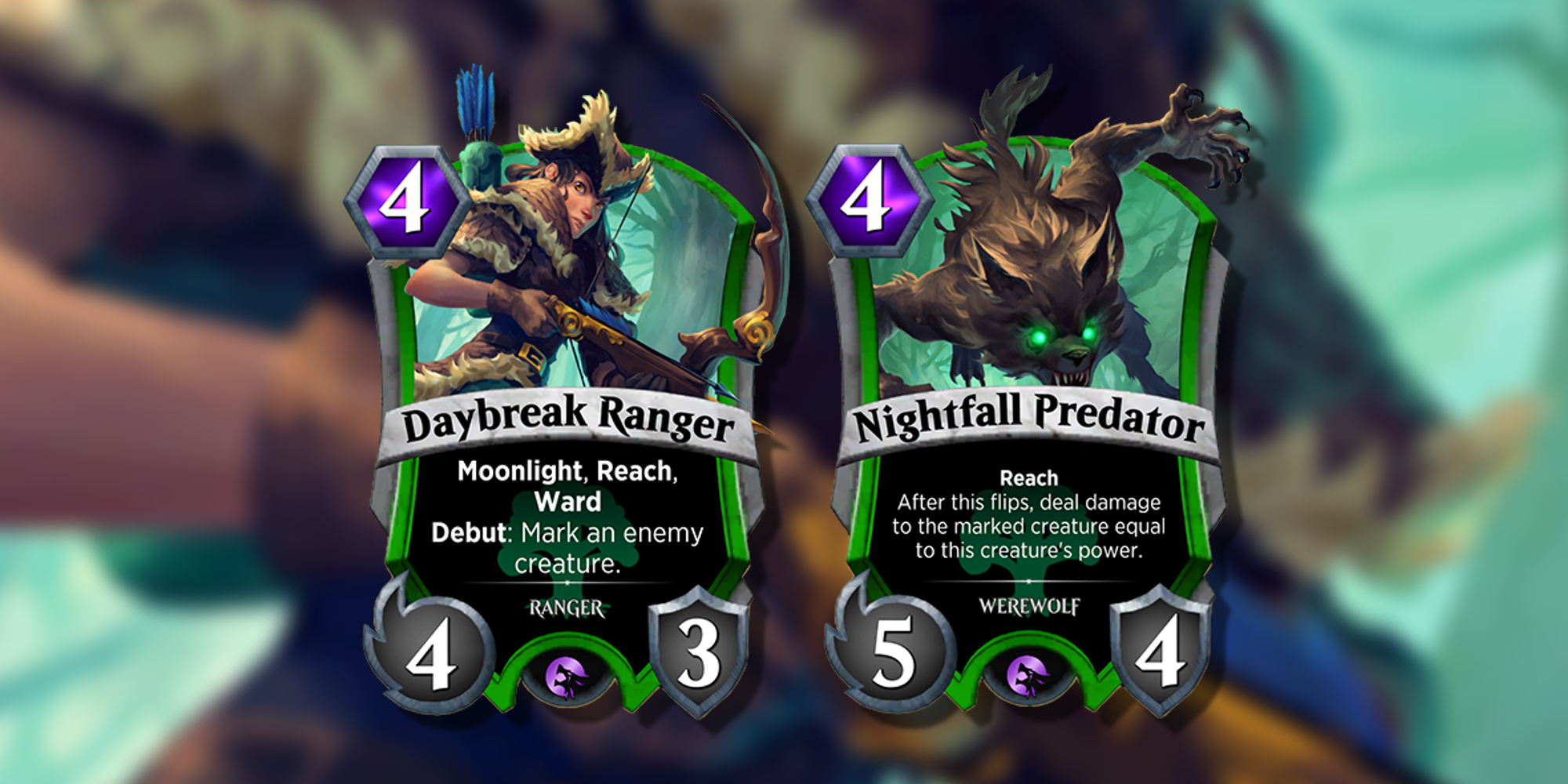 Another werewolf that this time comes with a fairly unique ability called mark. When it enters as a Daybreak Ranger it marks another creature, and when it flips over it damages that creature equal to its new power. 
Hermit of the Flock // Protector of the Meek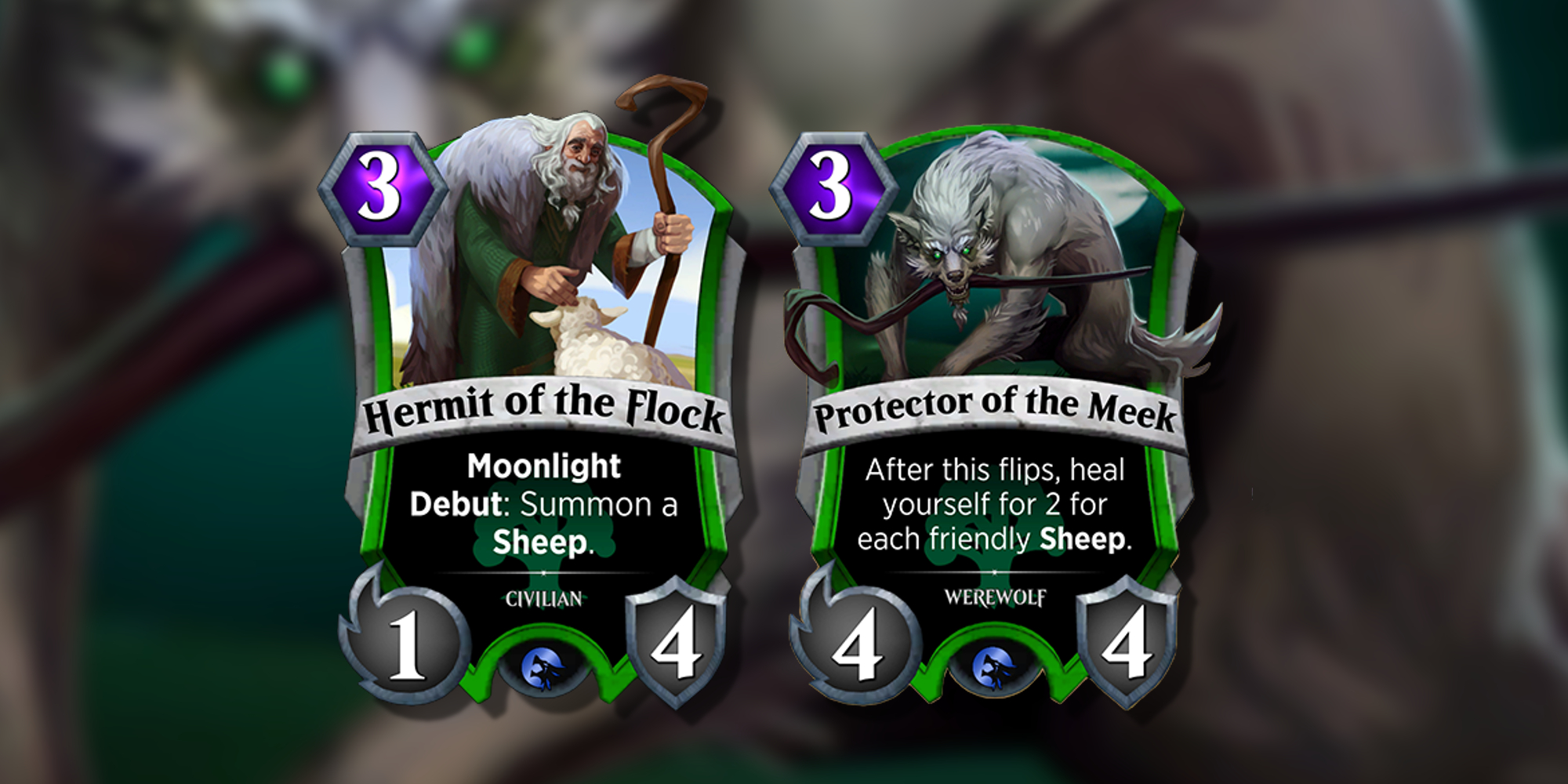 A fun card that can help fill the board with Sheep. Once it transforms, you gain life equal to the number of Sheep you control. A fun and flavorful card with an adorable upside. 
Sheep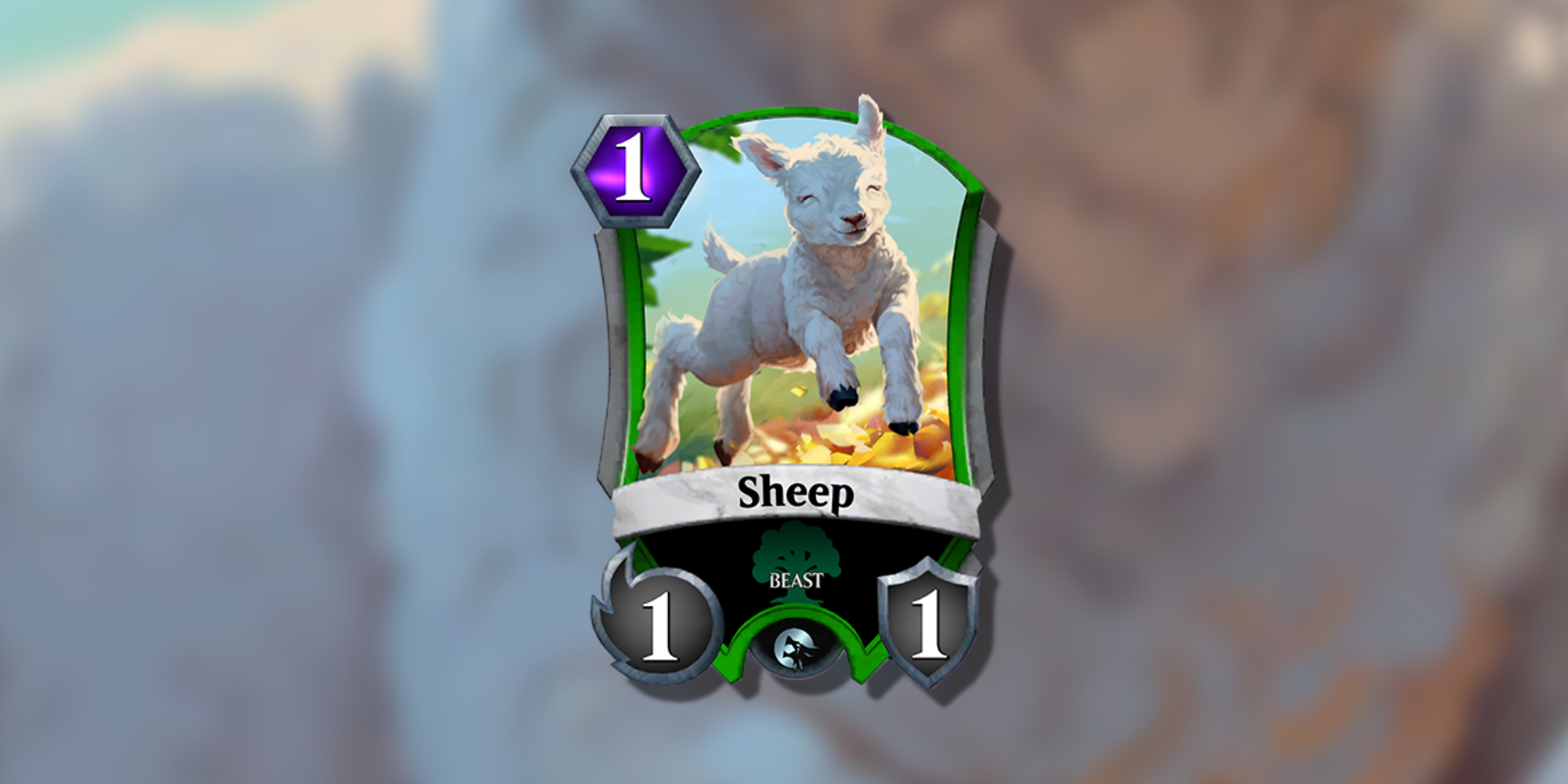 Look at this little cutie. While it doesn't do much on its own, it can be a good blocker in a pinch.
(Strictly better than MTG's Goat tokens with a staggering 1 power. Sheep Deck Wins, here we come!)
Tree of Redemption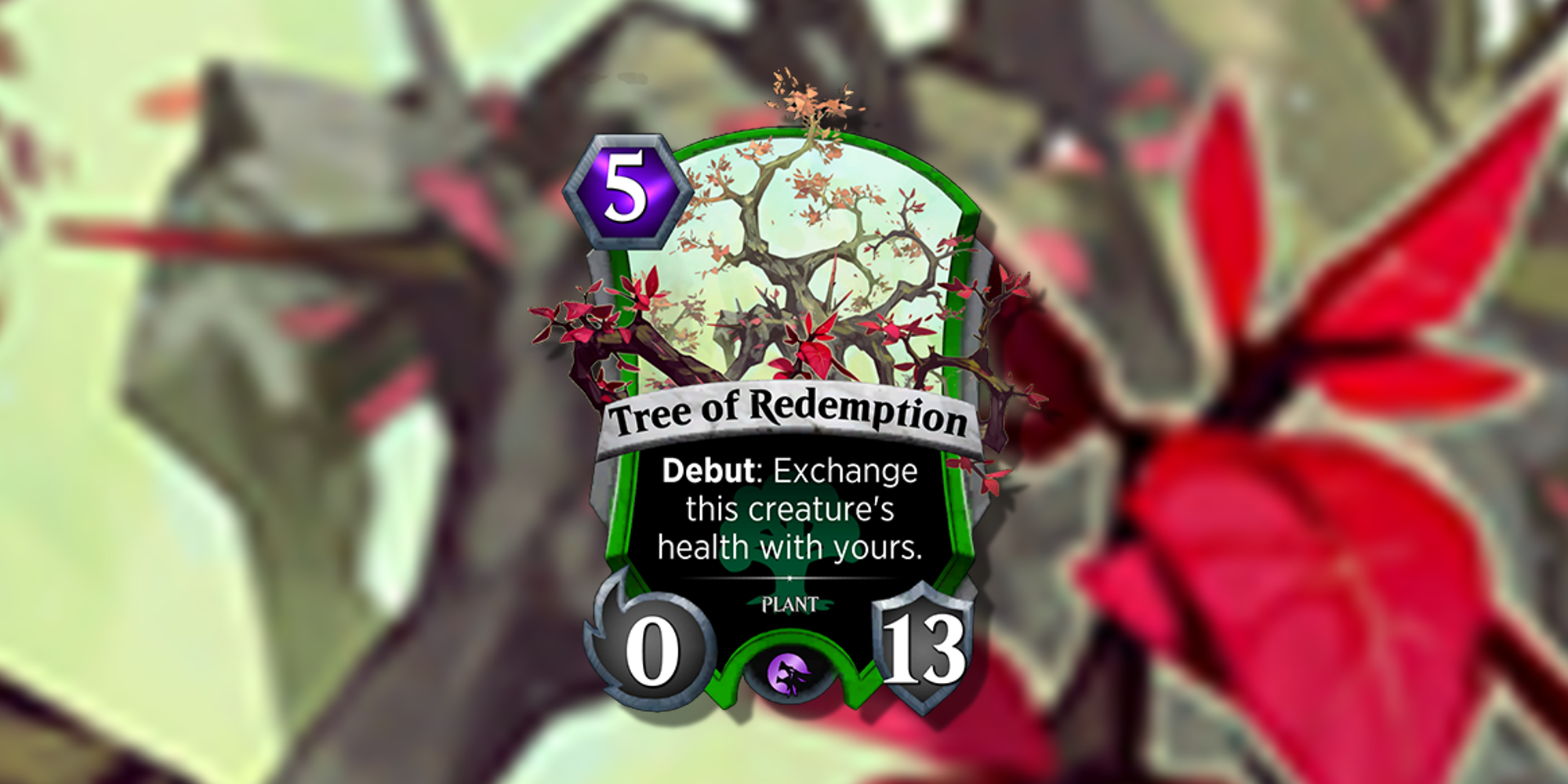 This is a card that will require careful consideration before playing, since Tree of Redemption exchanges your life total with its toughness.
---
Multicolor
Goldnight Harbinger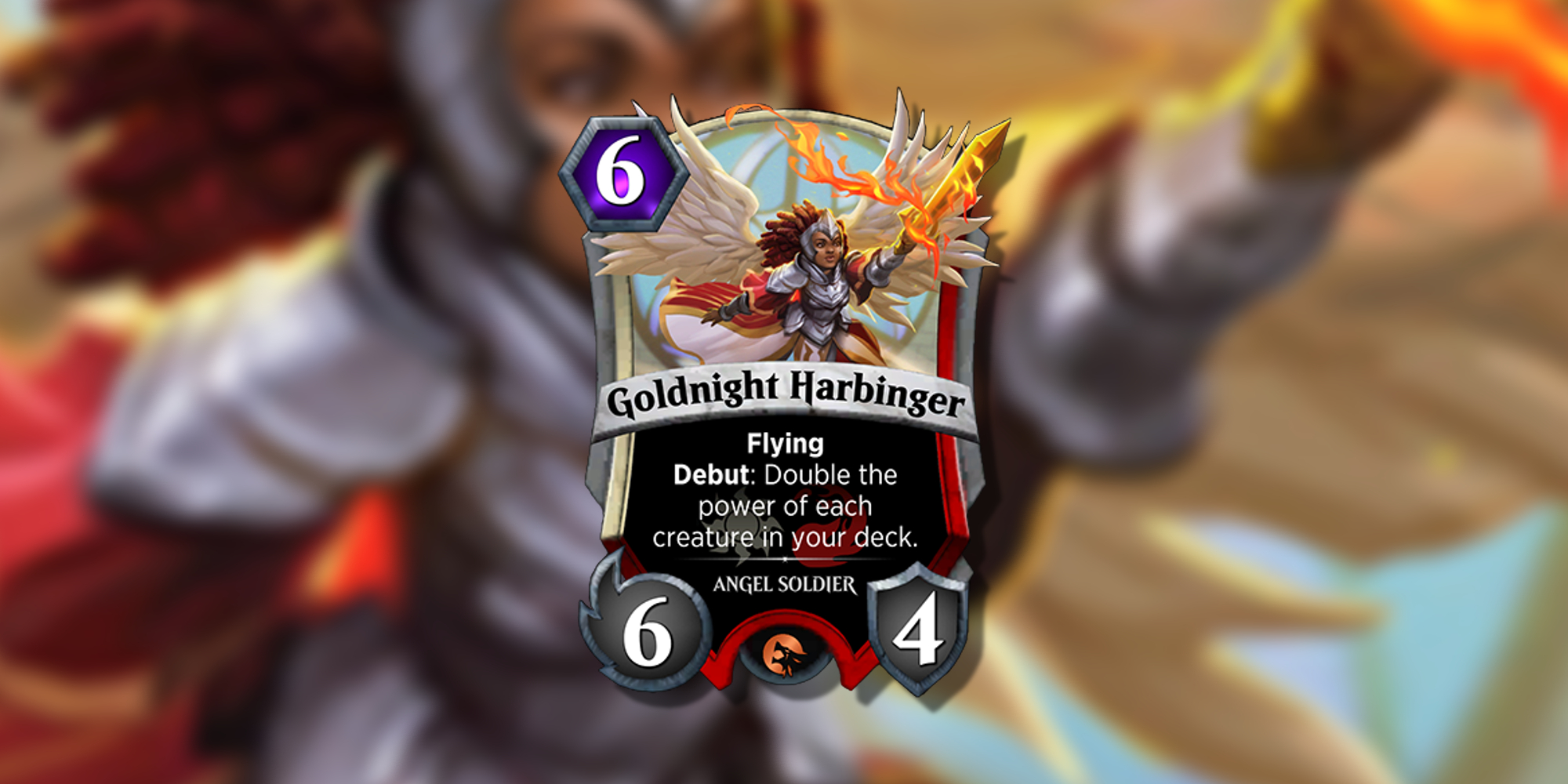 A 6-mana 6/4 with flying is pretty good, and one that has a Debut trigger to double the power of everything in your deck is absolutely wild. Pair it with a Restoration Angel to gain multiple activations and see how quickly you win.
Grim Echoes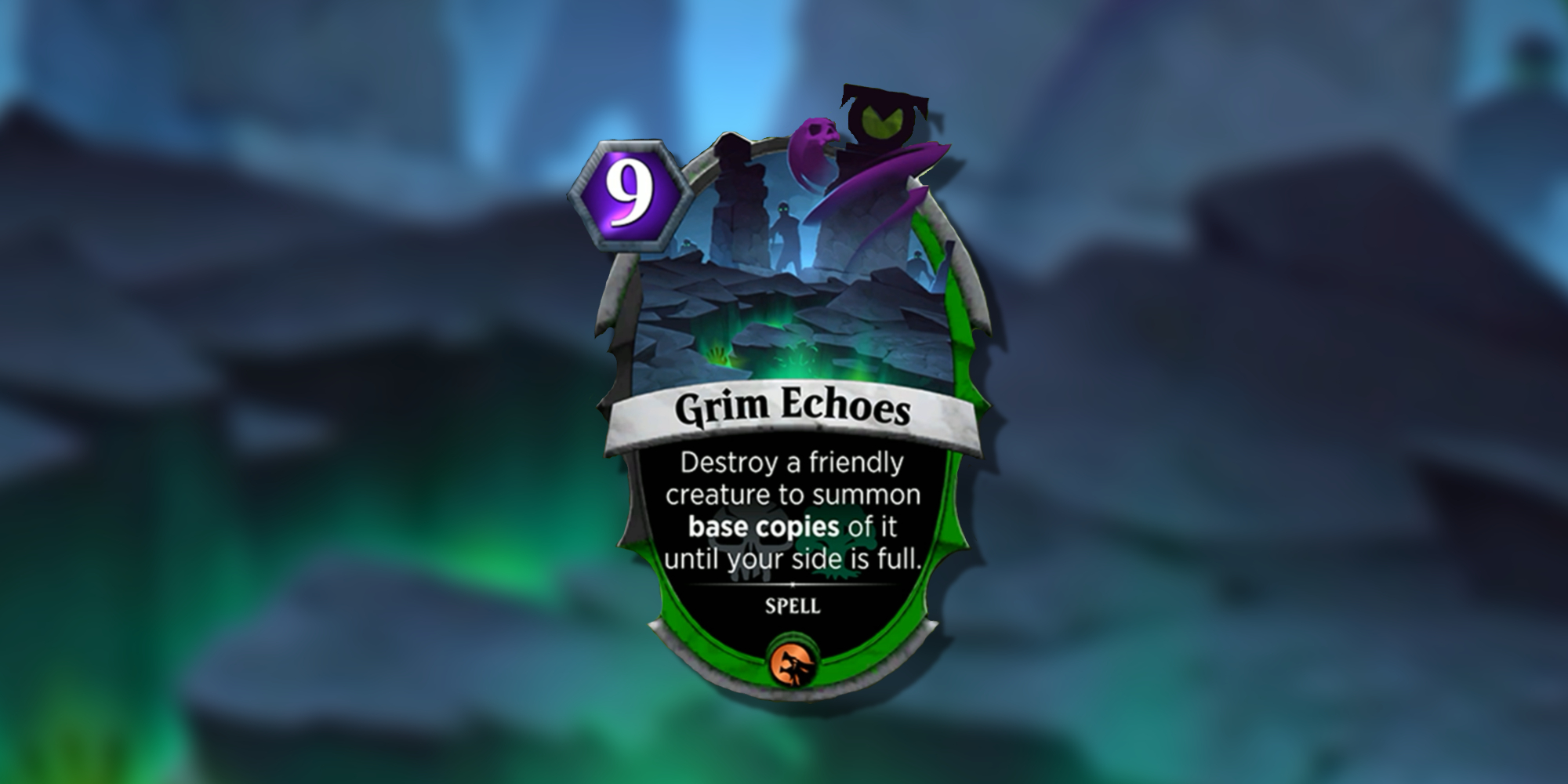 One of the most expensive spells in Spellslingers destroys one of your own creatures to fill the board with base copies of it. We can assume "base copies" means they're unmodified from their "printed" version and lose any upgrades, buffs, damage, etc. accrued by the original.
Hunter's Moon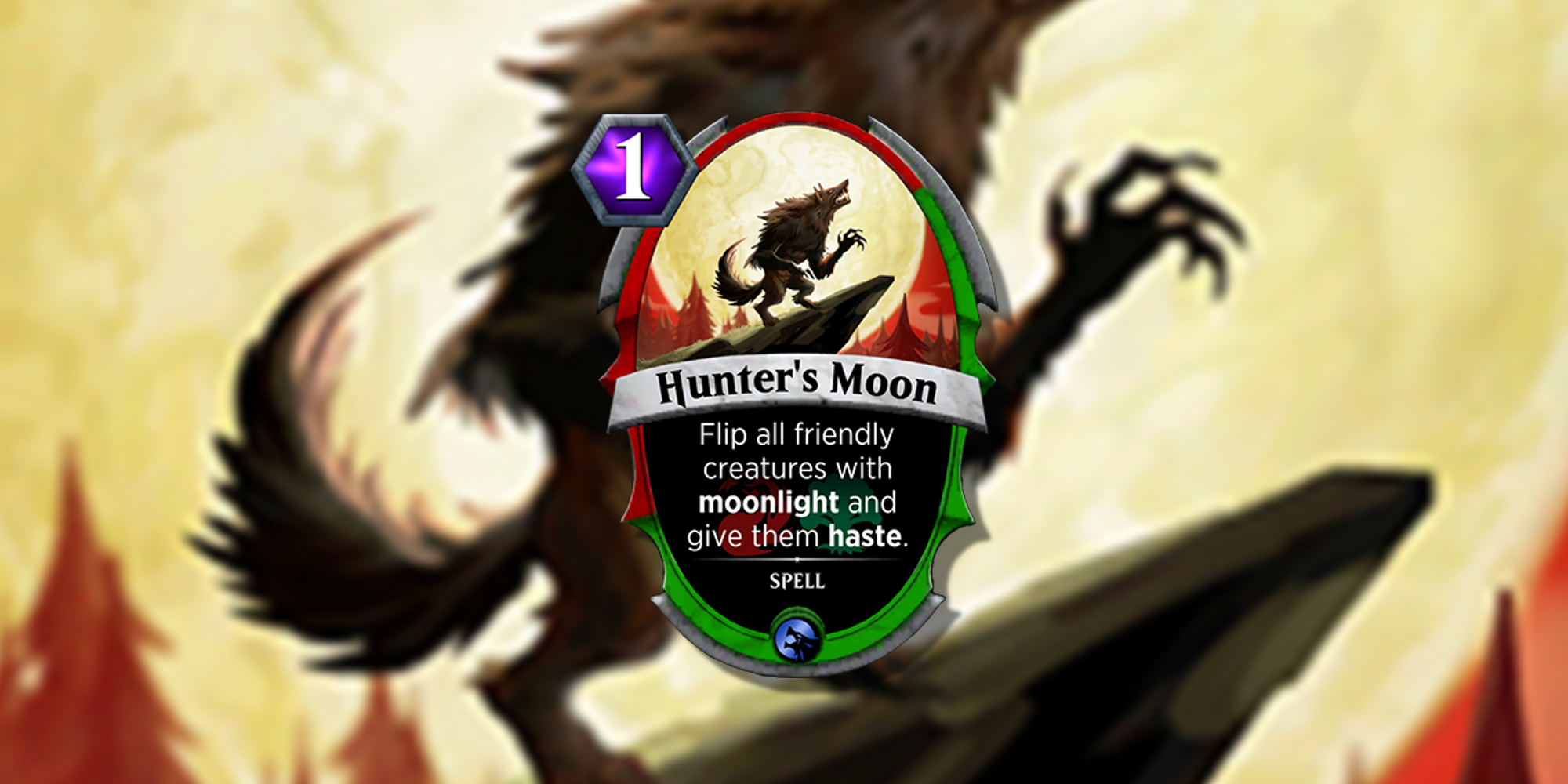 Depending on how relevant werewolves are going to be will determine how powerful Hunter's Moon is. It is interesting and unfortunate to note that it will only trigger a creature's Moonlight ability, so any other non-creature cards with Moonlight can't flip via Hunter's Moon.
Mind Magnifier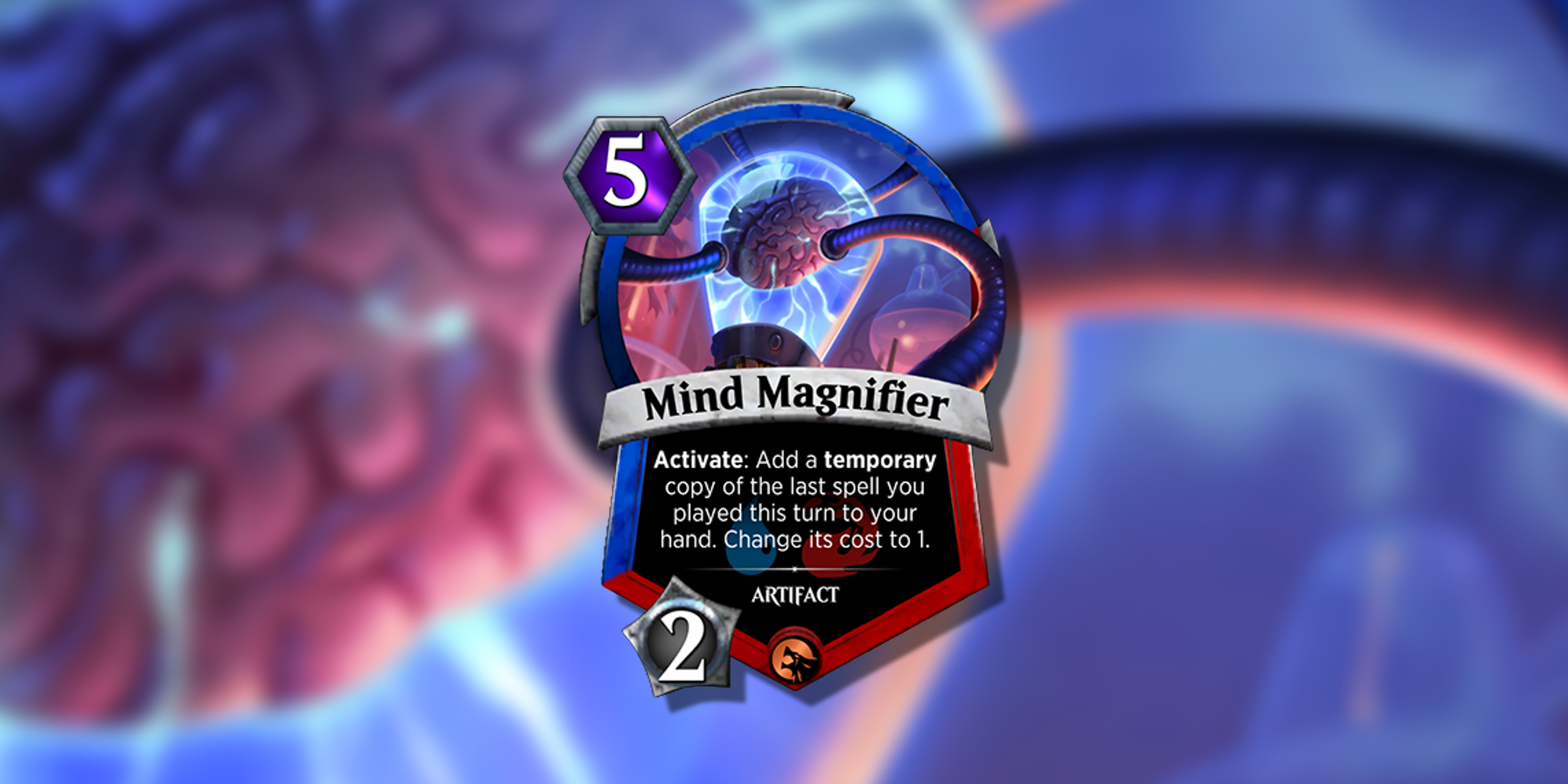 There's some potential power with Mind Magnifier, though it might take some theorycrafting before a home is found for it. A funny interaction is with Second Sun's Dawn and Second Sun to either gain a bunch of life or potentially deal 20 damage to each enemy in one turn.
(This card could put Ral back on the map. Not only does it do amazing work with his Signatures Magnum Opus and Chaos Lightning, but it can also double up impactful Spells created by your Class card — like Elemental Mastery, the "ultimate" of School of the Wizard.)
Olivia Voldaren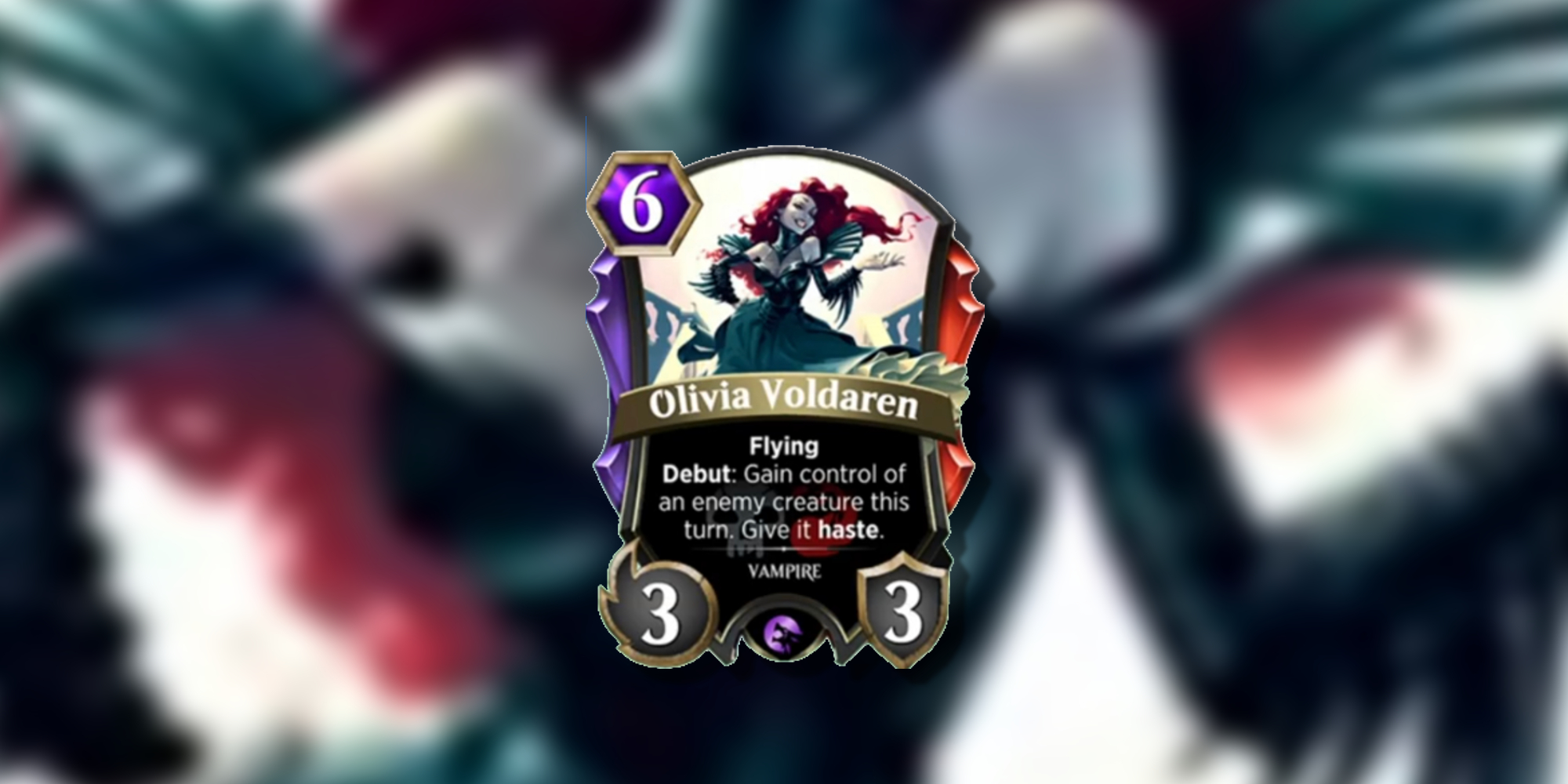 A solid body with this game's first Act of Treason ability slapped onto it as a Debut. Olivia can steal your opponent's best creature to use it against them, this turn only.
Sanguine Bond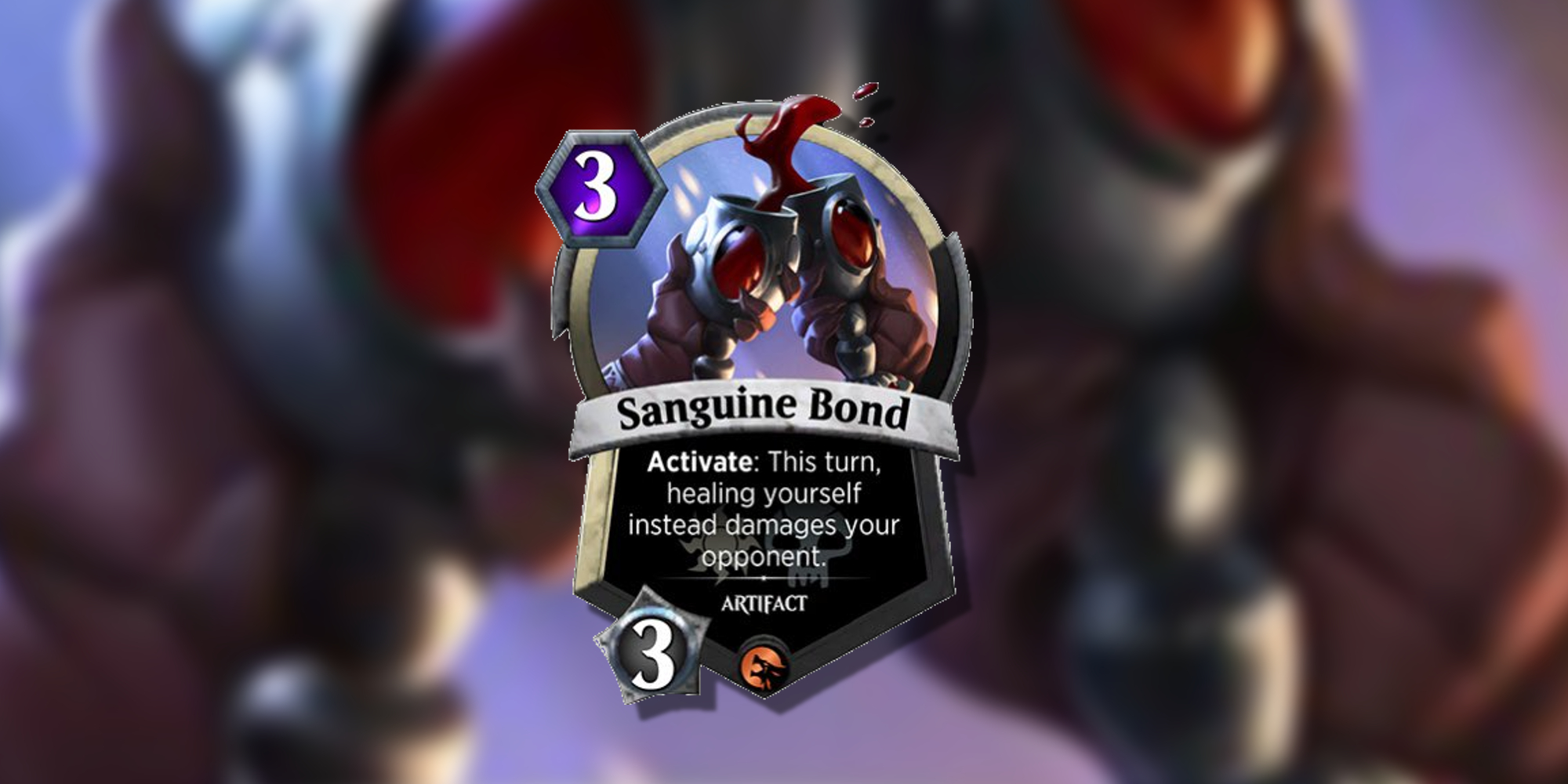 Sanguine Bond plays a weird role in Spellslingers, one that has not yet been filled reliably by anything else. If there's a consistent way to heal yourself in white and black, then Sanguine Bond could be really powerful.
(This makes all your Drain effects deal double damage instead of Draining — including a virtual extra Shock per Drain when paired with Voldaren Drainlord above!)
Sigarda, Heron's Grace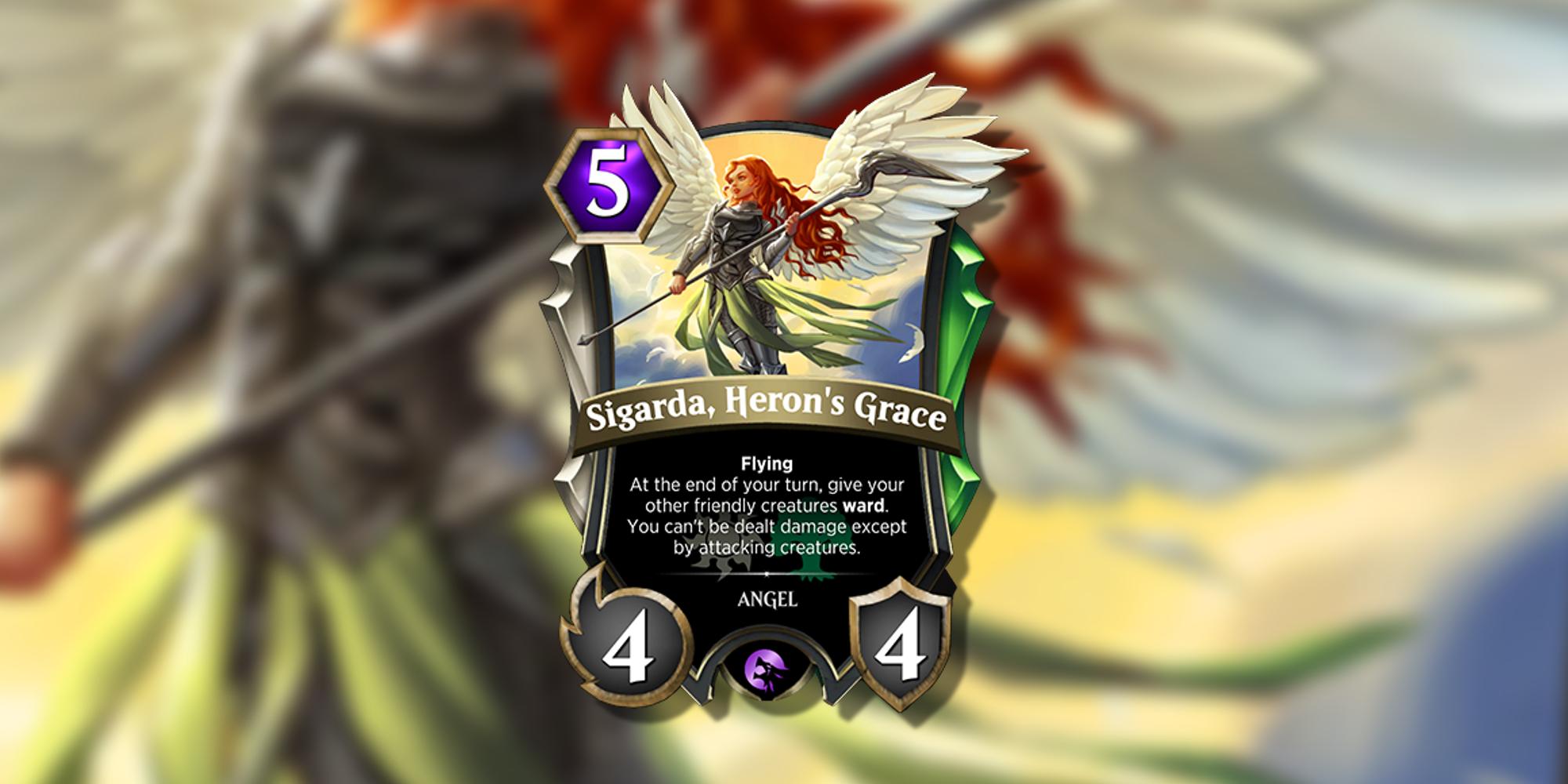 Sigarda gives almost perpetual Ward to creatures you control, other than herself. It also protects you from all non-combat damage, which could be surprisingly powerful.
(Seems like a metagame failsafe against both red decks and the emerging Drain deck. I'm a little concerned about the power level of perma-Ward, given how it flies in the face of the devs' previous balancing insights.)
Ulrich the Outlander // Ulrich the Huntmaster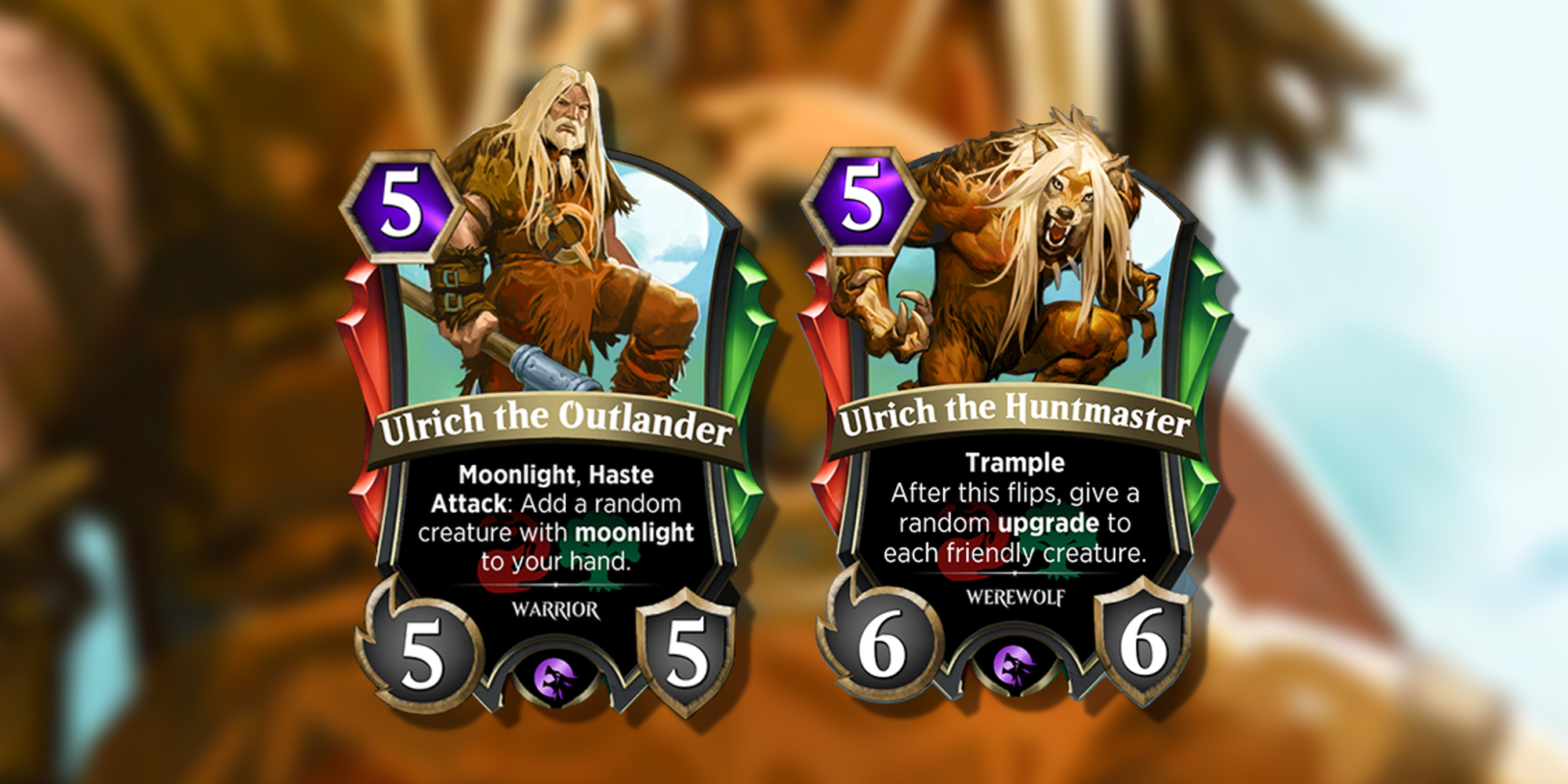 A beefy werewolf that creates more werewolves in your hand whenever it attacks. After it flips, you'll get to power up your whole board with free upgrades.
(Big Vivien's new favorite splash card.)
Unstable Mutagens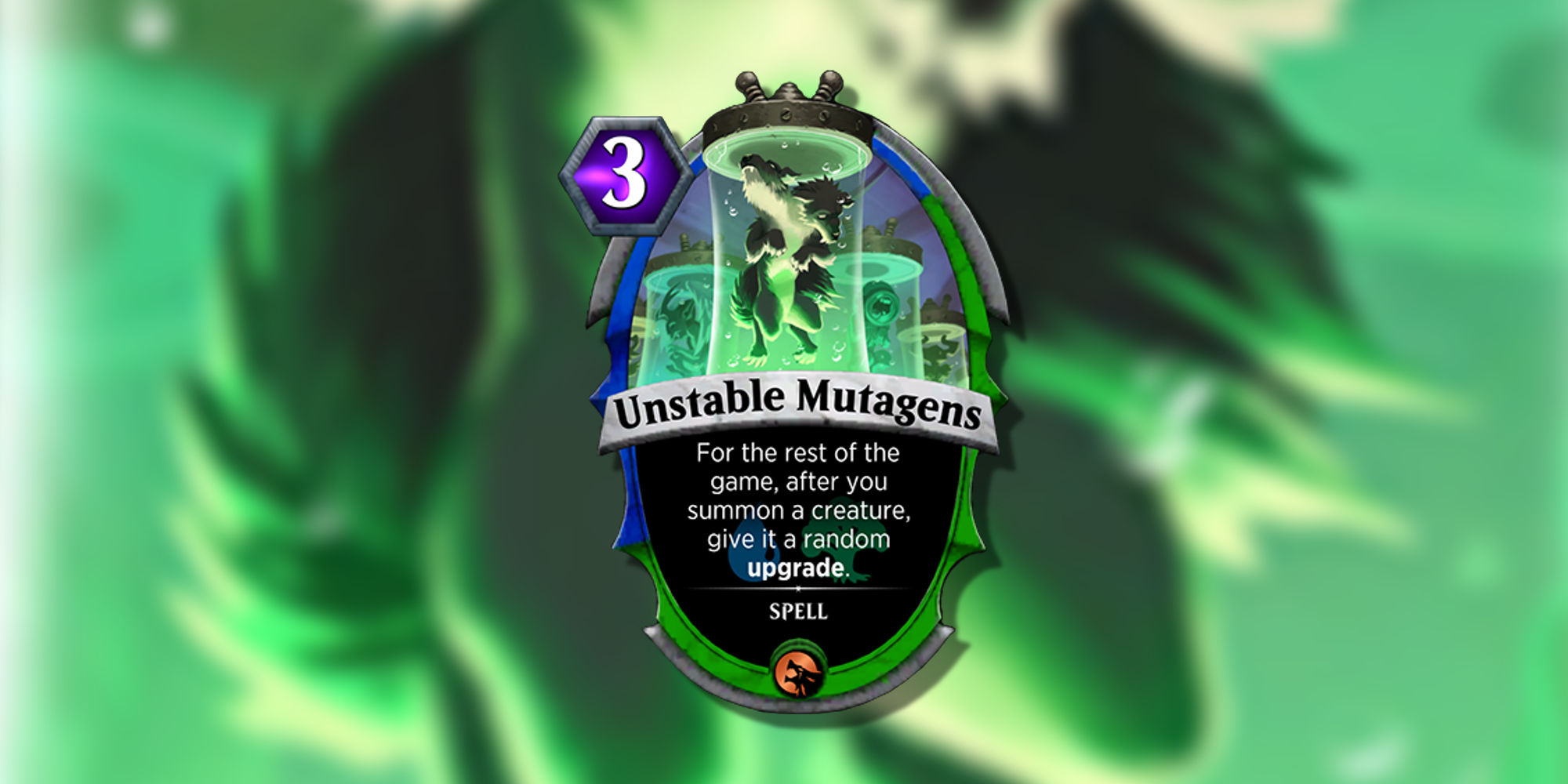 This little spell would be incredibly powerful in a Vivien deck, but unfortunately, it is blue-green and not a creature. As of now, the best space for Unstable Mutagens might be a Kiora or Nissa deck.
---
Artifact
The Helvault
The Helvault creates a "sealed" creature with every activation and then reduces the cost of all sealed cards by one when it is destroyed. What are sealed creatures? No one knows quite yet!
(Though this isn't the most exciting guess, it's possible that "sealed" works like "marked" above, simply an arbitrary designation tying cards together for Helvault's Finale. I hope it's spicier than that!)
Land
Westvale Abbey // Profane Palace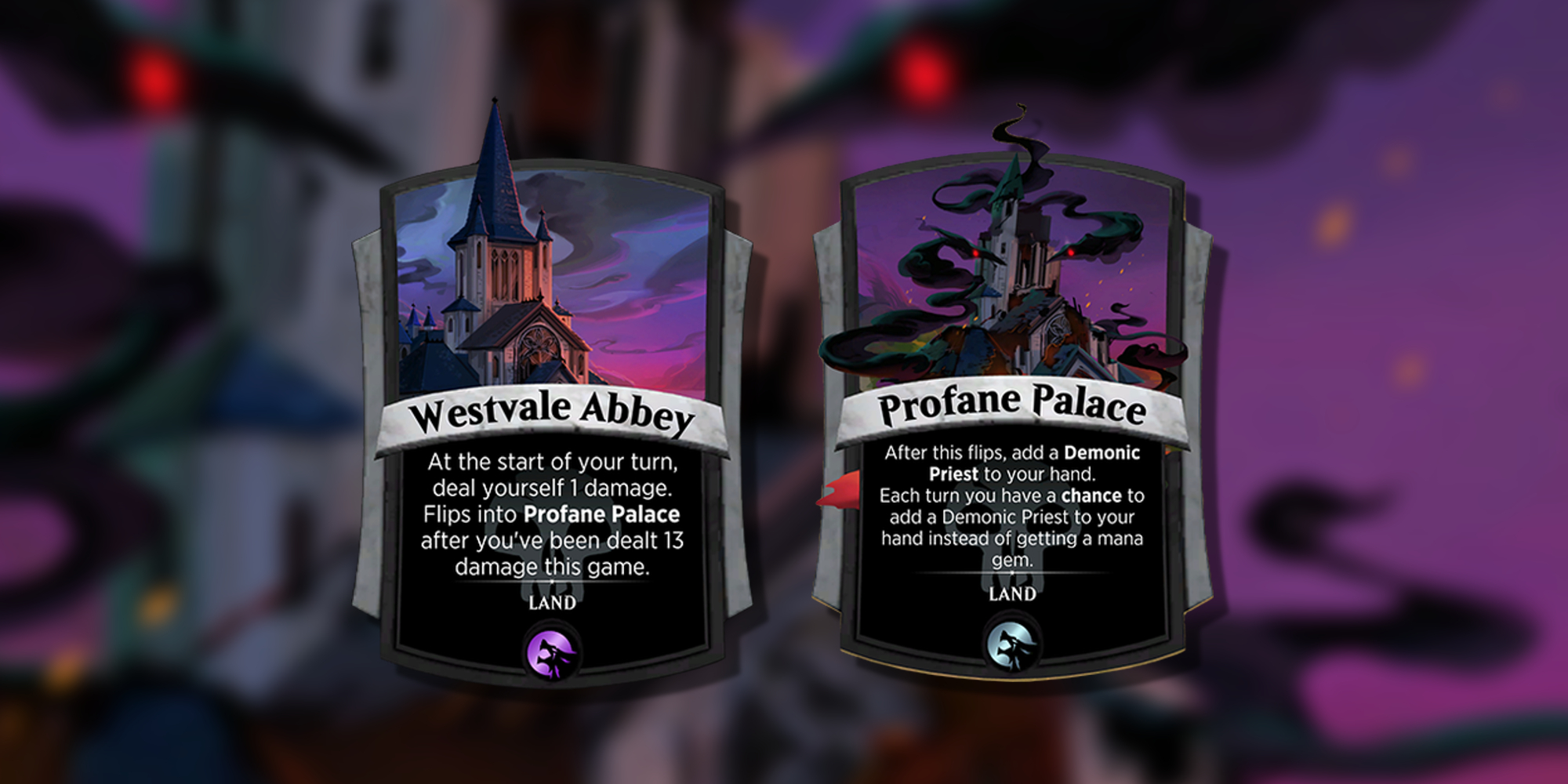 Westvale Abbey could be interesting in a Death's Shadow-focused deck, dealing damage every turn and helping to accelerate your Death's Shadow. The creature that Profane Palace creates has a functional form of lifelink to help you recover.
(Note that like Death's Shadow above, this card counts damage across the game, not current life total. Feel encouraged to heal up freely without fear of losing Westvale Abbey flip progress.)
---
Ryan Hay (he/him) has been writing about Magic: The Gathering and video games for years, and loves absolutely terrible games. Send him your bad game takes over on Twitter where he occasionally rants about everything from cats to Lord of the Rings.