On Thursday February 10th, 2022, a pair of paintings by Kieran Yanner from Kamigawa: Neon Dynasty sold on the MTG Art Market for a combined $19,300. O-Kagachi Made Manifest was sold first for $8,300, and a few hours later, The Kami War was sold for $11,000.
O-Kagachi Made Manifest and The Kami War by Kieran Yanner are traditional paintings of oil on paper on panel, measuring 18 inches by 24 inches and 15 inches by 35 inches, respectively. Together they make up two sides of one of the new saga enchantment cards that are at the core of Magic's newest set Kamigawa: Neon Dynasty. This card tells the story of Old Kamigawa, the reemergence of the dragon spirit O-Kagachi, and the war between the human and spirit world that changed the plane forever.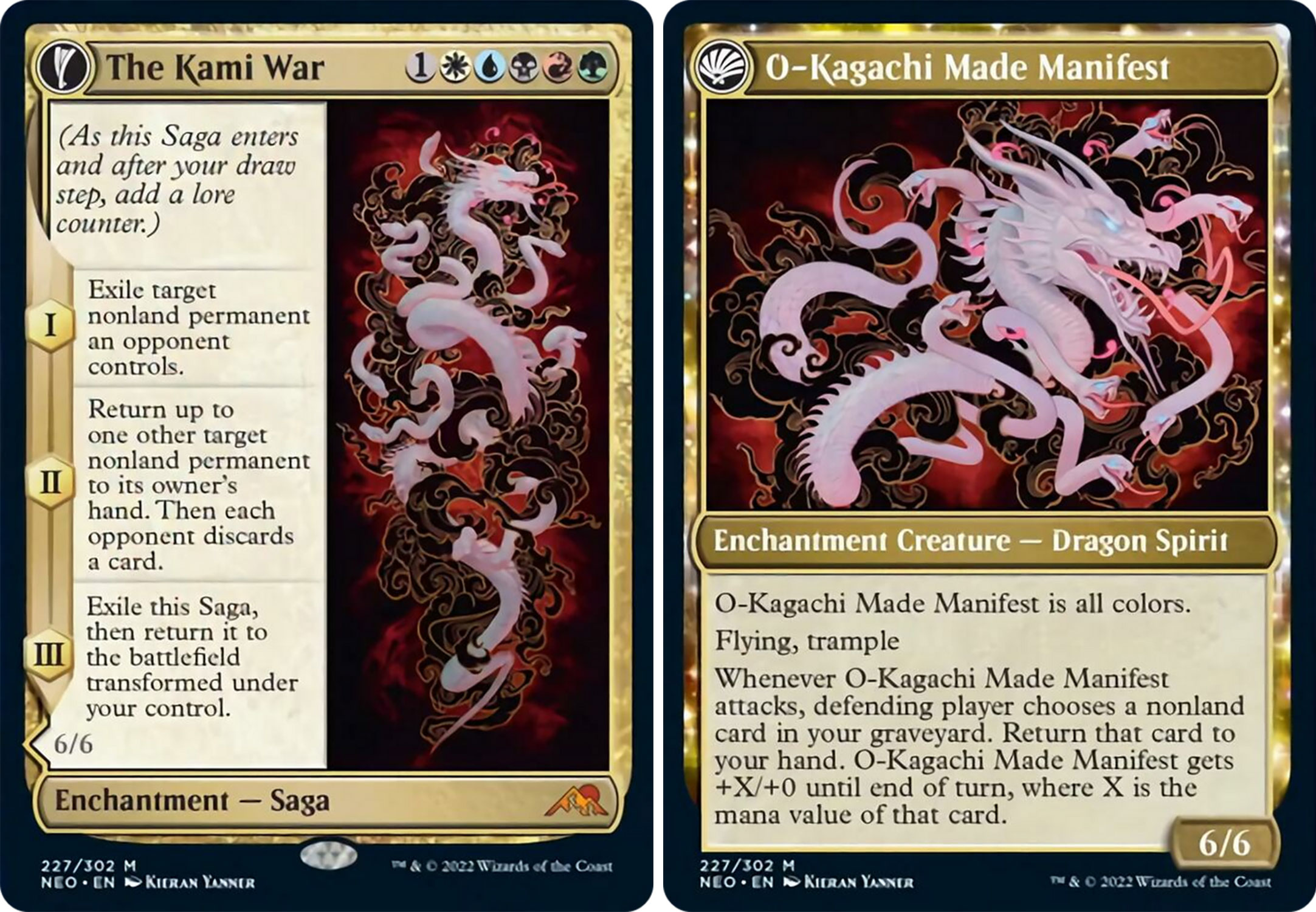 Both auctions were run on the MTG Art Market by Mark Aronowtiz acting as agent for the artist. The first work sold was the Dragon Spirit Enchantment Creature O-Kagachi Made Manifest, which after a $4,000 opening bid, saw action from more than a half dozen collectors before finally being sold to a private bidder at $8,300.
The elongated flip side entitled The Kami War was sold second, beginning at $5,000 and moving almost immediately to $10,000. A single further advance to $11,000 from a bidder in the comments would win the day, and it's currently unknown whether the initial private bidder from the first sale and later public bidder in the second sale are the same person. The MTG Art Market will be looking forward to a hopeful eventual reveal.
About the Artist:
Kieran Yanner is closing in on 200 commissioned Magic: the Gathering cards as an illustrator, and is now on his second tenure as an Art Director for the very same game. He has illustrated and commissioned some of the most important cards and artworks of the last decade, and is both a core part of the game's past and present, as well as a key part of the game's future.