On Tuesday February 1st, 2021, two traditional paintings by Alex Branwyn for the double sided card The Dragon-Kami Reborn and Dragon-Kami's Egg sold for a combined $40,000.
The Dragon Kami-Reborn saga realized a final price of $25,000 and Dragon Kami's Egg went for $15,000. They are the first traditional paintings for Magic to be sold for the artist.
The Dragon-Kami Reborn and Dragon-Kami Egg by Alix Branwyn are both works of oil and 24K gold leaf on cradled board, sized 18 inches by 36 inches for the vertical Saga card and 18 inches by 24 inches for the creature card. The pair make up one of the new Enchantment-Saga/Enchantment Creature double-sided cards that debut in Kamigawa: Neon Dynasty for the first time. Note, the shoji screen frame on the Saga side of the card has been added digitally.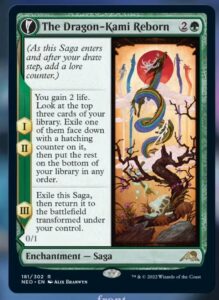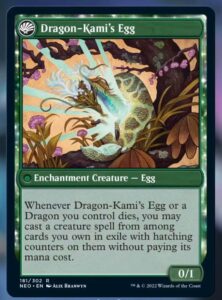 The auction was run on the MTG Art Market with Mark Aronowitz acting as agent for the artist. Both auctions began shortly after the conclusion of the Light It Up with Kamigawa: Neon Dynasty Twitch Stream that kicked off the set, with the Saga beginning at $2,000 and the Creature at $1,000. These would be but a drop in the proverbial bucket, as bidding began in earnest immediately.
This slideshow requires JavaScript.
Considerable public and private bidding was consistent throughout the auction, including action at the end on both pieces. Both works were sold to private bidders, but It is unknown at this time whether or not both pieces were sold to the same collector.
This slideshow requires JavaScript.
These two paintings are Branwyn's first published traditional finals for Magic, and her 11th and 12th cards for the game overall. She has become one of the most exciting new artists to watch in Magic, and I think we can look forward to a career of brilliant original work in the future. Congrats on these landmark first sales Alix; we'll be waiting for what's next.