Good morning folks, and welcome back to another Secret Layers of Secret Lair here in the Mirror Gallery on Hipsters of the Coast! I started this little series last month with the October Super Drop as a way to explore the vastly different art and artists found within this product, and introduce them to our little art-centric corner of the Multiverse. Today's article will pick up where that one left off with a brand new offering, and a deep dive into the nine new drops that are live now on the MTG Secret Lair website.
Let's see what's in store this go around:
Secret Lair x Arcane & Secret Lair x Arcane: Lands by Riot Games
This slideshow requires JavaScript.
Path to Exile, Rhystic Study as "Unstable Harmonics", Counterflux , Thran Dynamo as "The Hexcore" , Duress, Seize the Day as "Round Two" , Krosan Grip as "Denting Blows". Each by Riot Games, Digital.
This slideshow requires JavaScript.
Plains, Island, Swamp, Mountain, and Forest. Each by Riot Games, Digital.
The next Installment of Universes Beyond is here with Riot Games' Arcane, a brand new Netflix show based on the ever-popular League of Legends—now a part of the world of Magic for the first time. There are two separate drops here: one featuring characters and scenes reskinned into their very own Magic cards, and another that brings different locations of Pilover and Zaun to their Basic Land counterparts.
I'm largely unfamiliar with League and have yet to watch the show from which this set takes its name, but I can only imagine for their fan-eternals that this is an absolute dream come true. Even as an outsider these cards capture this world beautifully and begin to tell a much larger story. It would seem that Magic has finally found their stride in these offerings, the balance between worlds, and from here the sky's the limit.
Welcome to Dracula's Castle
This slideshow requires JavaScript.
Exquisite Blood as "Hunger of the Ancient One" by Nils Hamm; Night's Whisper as "Nightfeeder's Visitation" by Tomas Duchek, Phyrexian Tower as "Dracula's Tomb" by Nicholas Gregory. Digital.
The first of two extensions of the Dracula series found within Innistrad: Crimson Vow, these three cards invite us to dine with the Count himself. These three artists have each created a different sort of prelude to the terror one would experience at a Draculan dinner, and each card features corresponding flavor text from original text of Dracula by Bram Stoker. The Nils Hamm work in particular is fascinatingly haunting, capturing Dracula somewhere between old and young, life and death, and I can't wait to see it in foil!
The Dracula Lands
This slideshow requires JavaScript.
Plains by Donato Giancola, Traditional; Island by Yeong-Hao Ha, Digital; Swamp by Jonas De Ro, Digital; Mountain by Grzegorz Rutkowski, Digital; Forest by Andreas Rocha, Digital.
Part II of the Dracula meets Secret Lair includes one of each basic land, showing the caped cadaver on location somewhere different in Transylvania. These landscapes tell Dracula's story one by one, as each artist projects their own interpretation by way of dramatic lighting, from lantern light to lightning bolt to the rising sun that spells his doom. Pay special attention to the background (these are lands after all): Giancola's misty alleyway and Rutkowski's vast Mountain range; these are fabulous paintings.
Fblthp: Completely, Utterly, Totally Lost by Marija Tiurina

This slideshow requires JavaScript.
Path to Exile, Well of Lost Dreams, Frantic Search, Intruder Alarm, Shelldock Isle by Marija Tiurina. Digital.
If you were a child of the 1990s, your grade school Book Fair days were assuredly graced by the red-striped sweater wearing hide and seek master known as Waldo. Well scoot over Wally, because London-based artist Marija Tiurina has created an incredible five card panorama where our favorite magical homunculus Fblthp is now the one completely, utterly, and Totally Lost! This is a first for Magic, and an absolutely brilliant piece of artistic wizardry and chaotic fun.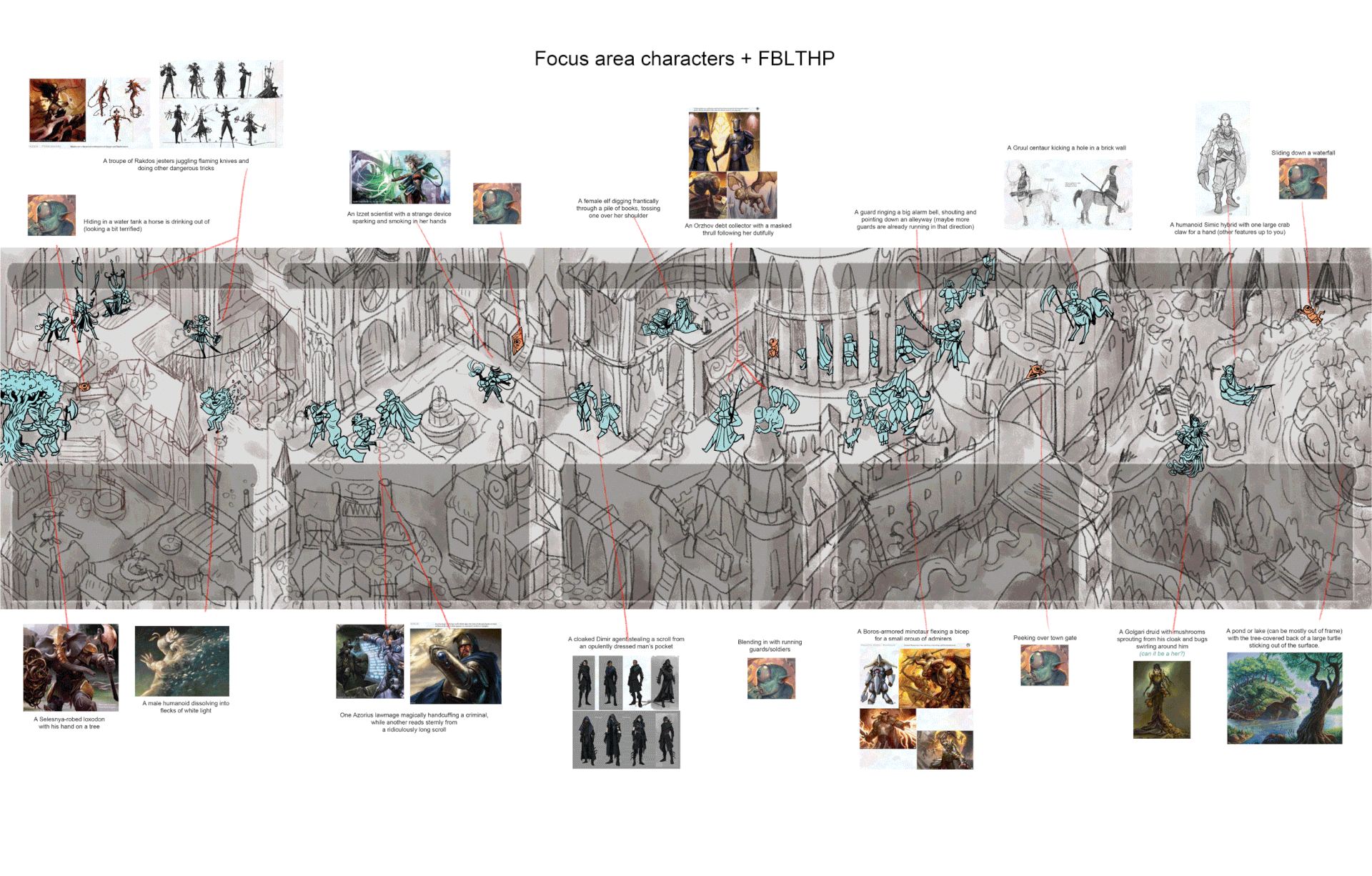 Look close at the images above, and you'll recognize a lot of places and characters from throughout Magic's history woven into the images. You can check out the entire scene, as well as sketches, concepts, and all the hidden Magic Easter Eggs (seen above) on their website here. You MUST go take a look, and make sure to grab a print while you're there!
Crocodile Jackson's Monstrous Menagerie
This slideshow requires JavaScript.
Ravenous Chupacabra, Managorger Hydra, Pathbreaker Ibex, Temur Sabertooth, and Winding Constrictor by Crocodile Jackson. Digital.
Crikey! If you like weird, wild, and wacky, then these five works by Crocodile Jackson are exactly what you've been waiting for. Bonkers bright colors and the funnest of forms gives new life to these five creatures, all from various times and places in Magic now transported to their very own Croc J universe. And I'm not mistaken, I think the cowboy himself makes a cameo in Winding Constrictor!
Jackson, along with Mama Croc and sister Abigator, run a webshop where you can grab these guys in print form, and check out some of his past work too!
Far Out, Man by Mateus Manhanini
This slideshow requires JavaScript.
Aether Gust, Counterspell, Fabricate, Fact or Fiction, Mystical Tutor by Mateus Manhanini. Digital.
There is always one Secret Lair set that strikes my soft spot, and for the Secretversary, this is it. Brazilian Afro-Latino artist Mateus Manhanini has created these visionary interpretations of some of Magic's most classic blue spells, now contemporized in the full art frame. I keep looking at each of these paintings, from the fantastic figures to the dynamic, dreamlike depictions of these spells in full splendor, and each time I find myself transported, and looking at something new.
I cannot wait to see these in person and find a home for them amongst my collection, and I implore you to check out his other work. It's absolutely breathtaking, and I really hope he's here to stay in Magic.
Pixelsnowlands.jpg by Jubilee
This slideshow requires JavaScript.
Snow-Covered Plains, Snow-Covered Island, Snow-Covered Swamp, Snow-Covered Mountain, Snow-Covered Forest by Jubilee. Digital.
Magic's newest foray into pixelated art comes from the fingers of Pacific Northwest artist Jubilee, who has created each on of the Snow Basics in their signature style, exclusive to the Secret Lair Secretversary. These cards have slowly blown up on the Twitterverse and for good reason; Jubilee has taken something recognizably Magic, and recreated it perfectly as an extension of their personal artistic aesthetic. It's everything Secret Lair is about, and we see it realized fully within these inventive explorations of style and space.
Heads I Win, Tails You Lose
This slideshow requires JavaScript.
Zndrsplt, Eye of Wisdom by Alexis Ziritt; Zndrsplt, Eye of Wisdom by Alexis Ziritt; Okaun, Eye of Chaos by Alexis Ziritt; Okaun, Eye of Chaos by Alexis Ziritt; Propaganda by Scott Balmer; Propaganda by Scott Balmer; Stitch in Time by Micha Huigen; Stitch in Time by Micha Huigen; Krark's Thumb by Wooden Cyclops; Krark's Thumb by Wooden Cyclops. Digital.
The final drop is much more than the traditional sets we've seen in the past; it's a full Commander deck! And even more exciting, it features reversible cards that each have two brand new pieces of artwork. Alexis Ziritt returns to Secret Lair with their first legendary cards, in the dynamic coin-clipping duo of Zndrsplt and Okuan. They are joined by UK artist Scott Balmer, Netherlands-based Micha Hugen, and wildly psychedelic Wooden Cyclops who have all brought their unique touches of whimsy and wonder to create one of the most unique yet cohesive offerings this little niche has ever seen.
Bright and bold colors mixed with frivolity and fun, and all packaged up nicely in a playable deck designed by Senior Magic Designer Gavin Verhey, It's the epitome of "complete package" and you can bet your britches I'll be taking this for a test drive when it arrives.
Wrapping Up
Secret Lair turns two years old with this Secretversary drop; after its unexpected and unannounced origins at the beginning of January 2020, it's made a name for itself within the world of Magic. The product has become one of the most important artistic additions to the game, giving new artists a chance to join the ranks and returning artists an opportunity to flex a different muscle, and as I've said before, it is the vehicle for alternate art in Magic: the Gathering.
Secret Lair has honestly been my favorite thing to follow over the last 24 months, but if it feels like I just did one of these Secret Layers, that's because it was less than 45 days ago that we looked at the October Super Drop. I think it's unendingly important that Secret Lair continues to expand Magic's artistic vision outside of convention and to Universes Beyond, but as both the target audience for the product and as someone who gets a lot of joy about writing about new art and artists, I'm just a bit worried Secret Lair could be running the risk of losing its specialness. I'm tuned into everything that comes out, all the time. It's what I do. But for someone that isn't, it must be overwhelming to try and backtrack to see what you might have missed.
I love this product, and don't want to see Secret Lair lose its luster, replacing the shine of artistic spotlight with that of the golden coin. I want new Lairs several times a year, but I also want to be able to catch my breath.
Next time in the Mirror Gallery will be my long-awaited two-part Magic Artist Wishlist 2021, looking at folks whose art I love and who I hope find their way into the game over the next year, just as many of these folks have this year. We're only two articles away from the end of the year, so make sure you keep your browser set to Hipsters of the Coast, and we'll talk more soon. Thanks for reading.
Donny Caltrider has been playing Magic since 2002 and collecting original Magic art since 2017. He has an M.A. in Museum Studies from Johns Hopkins University and enjoys telling stories about art, objects, and the intersection of fantasy with real-life. You can find him on Twitter talking about #mtgart, museums, and other #vorthos related goodness. Follow along and continue the conversation!