Magic: The Gathering artist Seb McKinnon launched his Limited Edition Magic Kickstarter #4 today, just shy of a year since his last Kickstarter, a fourth and once again exclusive opportunity for players and collectors to acquire his art as a playmat or print. This campaign focuses on his newly released work from his Secret Lair Artist Series and it all four images from that drop are avaialble as rewards.
This slideshow requires JavaScript.
Each work has been extended by the artist in order to full the entire playmat, and this Kickstarter is the only way to acquire his work created in this fashion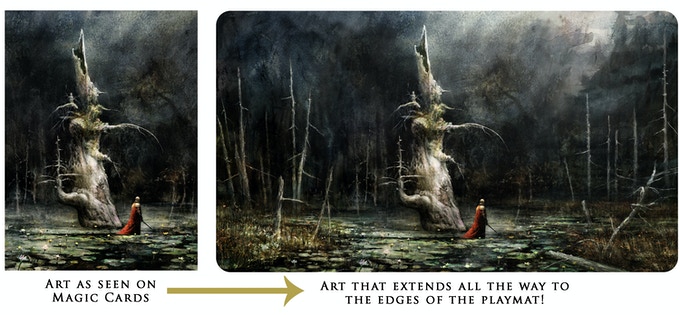 McKinnon Kickstarters: A Legacy
Seb McKinnon's new Kickstarter builds upon a trifecta of smash hit campaigns. His first Kickstarter began in May 2018 and raised CA$395,648, or approximately $298,971 USD from 3,450 backers, and was followed by another in February 2019 that totaled an unheard of CA$971,575 ($726,417) from 7,246 backers. He followed suit in pre-pandemic February 2020 with Kickstarter #3 that came in on the heels of #2 at $879,303 CAD ($628,053 USD) over 60 days from 6,375 backers. By my count, 50 artworks total were unlocked as a part of these previous iterations, and they will never to be offered again. This newest project will be the same in that regard, and as with previous projects all money raised goes straight to the production of his first feature length film.
Limited Edition Kickstarter 4 will begin with the option of these four different Secret Lair artworks available as playmats or prints, with options to add Certificates of Authenticity or exclusive KIN Fables merchandise.

And once again, the first 1000 backers will have artist proofs of Seb's catalog of work included with their order once the campaign reaches $100,000 CAD

He has several stretch goals (as seen above) planned to unlock the preliminary or sketched versions of these four artworks, as well as voting rounds to add even more options from his not-yet-printed catalog of card art.
Perhaps the most exciting bit of this campaign is the $500K stretch goal of a collaboration with freelance illustrator Erin Vest.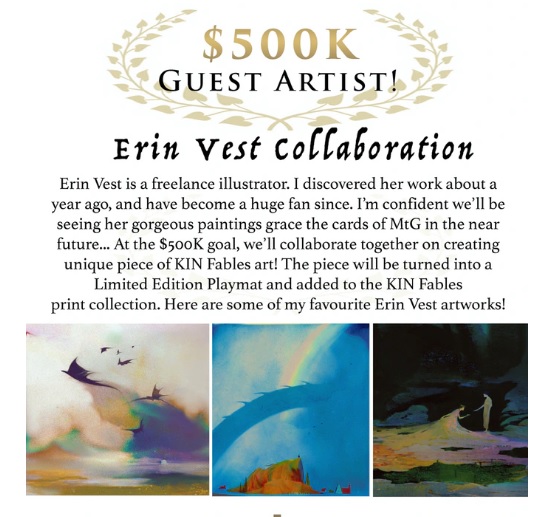 Vest is an artistic star rising in meteoric fashion in the realm of imaginative realism and is one of my favorite new artists working today. I cannot wait to see what these two brilliant creatives dream up together within the KIN Fables universe.
About KIN Fables
As mentioned previously, illustration is but one facet of McKinnon's work, and all proceeds from this campaign are going to fund his first feature length film, KIN Fables: The Stolen Child. Seb has been building the world of KIN Fables for several years now, and although currently on hold because of the global pandemic, he inches ever closer with each one of these Kickstarters. He says in the introduction video that this may very well be the effort that pushes him over the top to full funding.
In case you haven't seen it, take a few minutes and watch the teaser for the movie, shot in 2018:
Wrapping Up
Big-time Kickstarters are now all but standard operating procedure for McKinnon, and I have no reason to believe this campaign, even in the midst of today's upside-down world, won't be just as successful as those that came before it.
This is a rare opportunity not only to collect his published work but his process work as well; this sort of thing almost never gets approved by Wizards and Ultra Pro. An opportunity to go Behind the Brush of the artist in playmat form is unprecedented, and allows you to follow the incredible story he's told through these four pieces of artwork. McKinnon is a master storyteller, he deeply believes in his work, and pours every bit of himself into it. I've said it before, but as both fan and friend, I can't wait to see this dream of his realized.
You can still become a part of Seb McKinnon's Limited Edition Kickstarter #4, and if you'd like to read more about the story behind these Secret Lair artworks, you can find the Mirror Gallery deep-dive on the narrative.
Stay tuned to Hipsters of the Coast for updates regarding this campaign.