Author's Note: This article is in no way an endorsement of Mythic Markets, their product or platform, either now or in the future. It is a critical look of their past activity as it relates to Magic: the Gathering artwork, their current offering of an MTG Alpha painting, and my opinion of fractional investment as an art collector, critic, and connoisseur.
On Wednesday November 18, 2020, Mythic Markets opened fractional investment for the original painting of Benalish Hero by Douglas Shuler from Magic: the Gathering's first set, Limited Edition Alpha. It is the first "initial public offering" of a Magic artwork.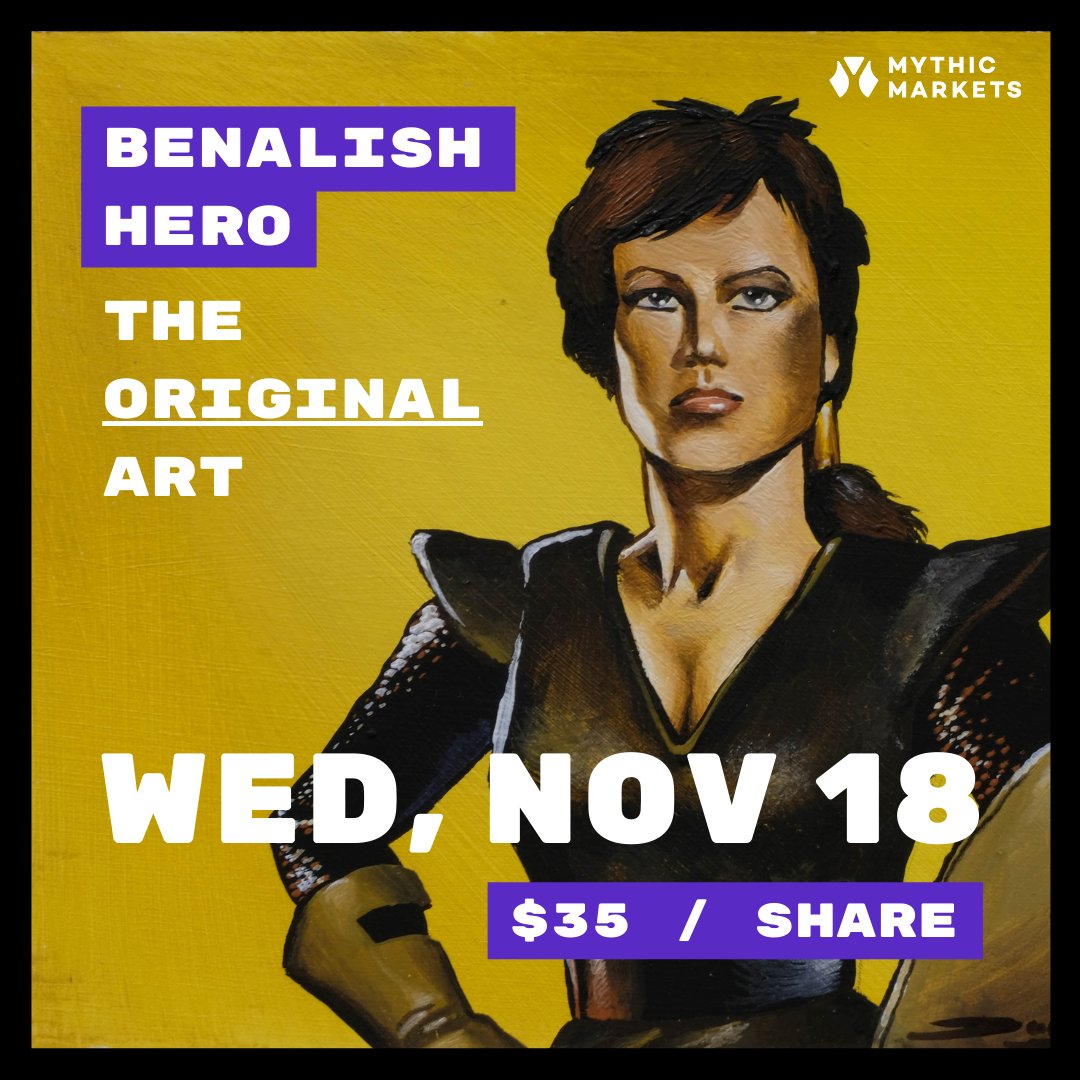 The offering price of $42,000 was broken in 1,200 separate $35 shares, and investors are able to purchase up to 10% (or 120) shares during the initial investment period. According to their FAQ, this can be increased after a certain amount of time to a maximum of 19.99% of the total asset.
361 of the 1200 shares were claimed on launch day, and as of the writing of this article, the total share count stands at 454 sold, just over 30% of the total.
What is Mythic Markets?
Mythic Markets is a fractional investment platform that allows investors to buy shares of high-value pop-culture memorabilia and geek-related collectibles. However, there is no trading marketplace available for shares purchased at this time; and according to a disclaimer on their website, such a market is still undergoing approval and may not ever exist.
This is stated on their site as:
Important note: There is currently no public trading market for our Interests, and an active market may not develop or be sustained. There is no guarantee that appropriate regulatory approval to permit such secondary trading will ever be obtained. If an active public trading market for our securities does not develop or is not sustained, it may be difficult or impossible for you to resell your shares at any price.
During the course of writing this article, I was informed that trading features are intended to be released during the first quarter of 2021. I recently spoke with co-founder and CEO Joe Mahavuthivanij over email, and he confirmed that Mythic Markets intends to launch trading features early next year.
"In Q1 2021, we intend to open a fully functional alternative trading system (ATS) after a beta testing period with early investors," he told me. "Key launch features will include the live order book of bids and asks, and order matching and execution when bids and asks meet. At least at launch, the marketplace will be available during monthly trading windows."
Past Offerings
Mythic Markets' past investment opportunities have thus far consisted of both comic books and Magic: the Gathering-related items.
In terms of Magic, fractional shares of Sandra Everingham's Giant Growth original artwork, also from Alpha, was their first intended offering announced in 2019. It's availability is still listed as "TBA" and was last seen on display at MagicFest Portland last December.
The other two items that have been "dropped" did successfully sell out of shares: a group of five 1994 Booster Boxes offered at $55,000 and an Alpha Black Lotus at $90,000.
The Black Lotus offering raised questions among members of the art community, as Mythic Markets offered an unlicensed Black Lotus pin as a part of the investment for "founding members." The Black Lotus pin was created with no authorization or permission from the family or estate of the late Christopher Rush, who owns the rights to this image to this day. Mythic Markets was notified of this oversight shortly thereafter, but no public statement had been made until my conversation with the company's CEO.
I asked Mahavuthivanij if he would now like to make a statement regarding the pin, to which he responded:
"We did not realize that the pin would negatively impact the Rush family and I've reached out to Sierra [Rush, Christopher Rush's daughter] directly to make things right. Going forward, we aim to partner with artists (as we have with Douglas Shuler) so that all parties benefit. Our intention was never malicious and we will work to ensure something like this doesn't happen again."
As someone observing from inside of the art community, acknowledging their previous error is a huge step forward for Mythic Markets. If they were to continue to play fast and loose with copyright, they will never gain the support of the larger art world (niche as it is) and will most likely find themselves on the bad side of not only the art-collecting community, but Wizards of the Coast and their parent company, Hasbro. Understanding the importance of an image's IP and being willing to partner directly with artists is exactly what should be happening for these types of offerings.
This was not the only controversy from their initial launches, one of which even included a retraction of endorsement from ChannelFireball's Luis Scott-Vargas. These few events alongside the continued absence of a trading marketplace has made Mythic Markets first introduction to Magic a bit uneven as they headed into their first art offering.
Benalish Hero: What Could be Different?
Based on everything we've seen so far, it's fair to ask: has Mythic Markets learned from their past mistakes? Will this offering of Benalish Hero be any different from past offerings? Is it something the larger market should be aware of?
In a word: Maybe.
Ultimately, Mythic Markets' actions will have to speak louder than words, and there is quite a road to haul to make up for some past missteps when they were first entering the market. But reaching out to the Rush family and working directly with artists are a big step, and it does seem they are at least attempting to do right by the art community moving forward.
Ahead of the release of Benalish Hero, Mythic Markets published an interview with the work's creator, Doug Shuler. I love artist's interviews, and having conducted a fair few myself, I know that folks really enjoy going behind the brush especially when it comes to important artworks. This is a great addition to this latest drop and something I think should accompany their art offerings in the future.
There is Benalish Hero-related merchandise forthcoming, namely another pin and a limited edition print for certain involvement levels, planned for this offering as it was in the past. The difference here, as I confirmed by Mahavuthivani, is that Mythic Markets is working directly with Shuler on both items. This should (in theory) alleviate the copyright infringement issues of the past as I would assume they are using the proper channels for approval. You need both: keeping copyright in check while being able to provide something exclusive that the artist was directly involved with.
So if Mythic Markets is back on track, does all this mean this type of art ownership makes sense? Well, that's up to you.
Fractional Investing and Original Art
In my very first article entitled Welcome to the Mirror Gallery, written in the halcyon days of 2017, I laid out my Five Things to Consider when buying original Magic artwork. I talk about the relevance of the work, the art itself, the artist, the card and the environment in which the art exists, both in terms of story and the competitive card game.
But none of them are as important as the first rule:
Rule #1: Do You Love It?
Owning artwork is a very personal thing. Whether it's an original painting, a pencil sketch, a painted artist proof, or a Kickstarter print, buying a piece of artwork because you love it is the best advice I could ever give someone. You can hold it in your hands, look at it every day next to your desk, lend it to an institution or gallery, and pass it down through your family. In many cases it's the physical extension of a particular memory or associated nugget of nostalgia. That's how owning art is for me—each painting has its own tale to tell that then becomes a part of my larger story.
Fractional investment as a form of art ownership removes most of these things, because at its core, it's mostly that: an investment, and one that might never be realized. I'm not an expert on investing and can provide no advice to that here; it's up to the individual to decide if that's where they would like to put their money, and especially in terms of art. Mythic Markets is trying to fill in this gap, so far in the form of related merchandise and opportunities to see and experience what you own a part of, and for some folks that makes the investment opportunity worthwhile. That's okay.
Now, if Benalish Hero is one of your favorite Magic: the Gathering illustrations, and it holds wonderful memories from your childhood of cracking packs and paying early games of Magic, then I see no fault in buying shares enough to get the certificate of ownership, plus a pin and limited edition print, even if there's no way to ever sell the shares. At this point it's as close as you could come to actually hanging the original on your wall, and you can confidently exclaim that you own a piece of your favorite Magic artwork. You have become part of an event or experience, and that sort of thing has meaning; that's what art is all about after all.
But before I go I ask you to consider the following: a white-backed Beta Artist Proof with a miniature oil painting, commissioned directly from Doug, costs $400. That's about half of the investment it takes to own the yet-to-be-seen limited edition print offered when buying 20 shares. And if you didn't want to spend quite as much, later editions of the proof are available for $15, and sketches from Doug are only $50. Again, you're less than half the investment it takes to buy five shares to get the collectible pin.
Or maybe you want to go bigger? Shuler offers repainted versions of his Magic cards, limited to one per year, for around $2,500. It's not the original, but it is the only one that could be painted in a given year, and that's something in its own right. In all of these scenarios, you're putting money directly into the artist's pocket.
The ways you can collect art is ultimately up to you, but I ask you to always remember two things. Ask yourself: do you love it? And support your artists.
It seems that Mythic Markets intends to continue to be a part of the arena for original Magic: the Gathering artwork moving into 2021, and I'll be watching closely as their future offerings unfold. Stay tuned.
Donny Caltrider has been playing Magic since 2002 and collecting original Magic art since 2017. He has an M.A. in Museum Studies from Johns Hopkins University and enjoys telling stories about art, objects, and the intersection of fantasy with real-life. You can find him on Twitter talking about #mtgart, museums, and other #vorthos related goodness. Follow along and continue the conversation!