On Wednesday November 11, 2020, the magnificent original oil painting for Chris Rahn's Akroma, Vision of Ixidor sold for $20,100 on eBay.
Akroma, Vision of Ixidor is a work of oil cradled board and measures a monumental 18 inches by 24 inches, an all but standard size and mediu, for legendary commissions from the artist. It was commissioned for Magic's newest set Commander Legends, a collection more than two years in the making, and the piece was art directed by Andrew Vallas.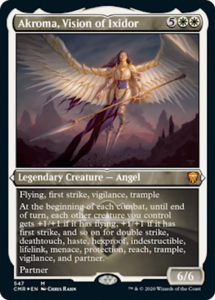 Rahn sells his work exclusively on eBay, and Akroma was put up for a seven day auction shortly after the card was officially previewed as a part of the set. Starting at $999.99, the price rose dramatically to $14,100 in the first 45 minutes. That bidder appears to have placed a maximum bid of $20,000 at that time, and it wouldn't be until the closing day that another bidder pushed the price to that number. It would ultimately be a third and different bidder that would win the day at the very end, coming in at the wire as we often see with these high profile auctions. Nearly forty bids from eight unique bidders were placed in total, resulting in the price realized of $20,100.
It is unknown at this time whether a sketch exists, and if so, if and when it will be sold. Rahn began publicly offering his preliminary pencil sketches this year; but with this work being completed so far in the past, the sketch may not be available.
This slideshow requires JavaScript.
Rahn's Akroma is the sixth Legendary Creature depiction of the embattled angel. Her story harkens back all the way to 2002, the same year when a thirteen year old boy opened his first pack of Magic cards, a set called Onslaught, and began reading a book of the same name. She was a part of the first major storyline I ever experienced in Magic, and holds a special place in my history and nostalgia within the game.
If you'd like to read more about how Akroma came to be and what she's done over the last two decades, you can begin here, and to go a little deeper here. You can also read more about Chris Rahn in our coverage over the years; his work is as legendary as the cards he illustrates.
Stay tuned to the Art Market Minute for more Rahn Recaps; we'll be seeing more of him soon, of that you can be sure.