The painting for Demonic Tutor by Douglas Shuler from Magic: the Gathering's first set, Limited Edition Alpha, sold for a record $168,000 yesterday at Heritage Auctions Comics and Comic Art Signature Auction.
Four other pieces of art from the same set—Jayemdae Tome, Contract from Below, Mana Flare, and Fear—were also sold for an additional $315,600, combining for a total of $483,600 for all five. All prices include the 20% buyer's premium.
The five works came from the collection of Len Osborne, one of the early collectors of original Magic: the Gathering art in the 1990s. The five works had all been offered within various Magic-related groups on Facebook for anywhere from $50,000 for Fear up to $250,000 Demonic Tutor earlier this year. While several offers were made, both public and private, none of the works were sold and were then sent to Heritage.
Heritage Auction "Wantlists" were triggered at the beginning of October when proxy bidding began on the five card illustrations. News spread quickly online and through the Magic art dedicated Facebook groups like the MTG Art Market, where a majority of collectors congregate.
The rising pre-bid proxies made news ahead of the sale. As the date neared, the Magic art enthusiasts and collectors alike wondered if they would stall where they started, or if any or all would take off once the live auction was underway. A Thursday afternoon, 2 PM EST auction time is perhaps a bit unorthodox, but with items of this quality and importance those collectors in the running will have made arrangements. This is not something you miss because your flight was late, or you overslept.
At 2:20 PM, it was finally time. Let's look at what happened.
Fear Sells for $45,600
The group of five began with Fear by Mark Poole, an artist who is still working for the game today.
This piece opened at $25,000 and climbed steadily with a Heritage Live! bidder actively pushing an internet proxy bid. The internet bid would win the day at $38,000 for a total of $45,600 after buyer's premium.
Mana Flare Sells for $78,000
Next onto the block was Mana Flare by Christopher Rush, the legendary artist behind the game's signature Black Lotus.
This work opened at $46,000 as a Heritage Live! battle sparked off. A half dozen bid exchanges pushed the piece to $65,000, meaning a final price of $78,000 after premium.
Demonic Tutor Sells for $168,000
The third painting sold was perhaps the choice piece of the group: Douglas Shuler's Demonic Tutor. One of the most popular and powerful cards in the game, it's also one of Magic's most iconic images, invoking nostalgia from all who have played over the last three decades.
Its final public proxy bid was $97,500, but when the auction opened the bid shot to $130,000, well over the $120,000 internet proxy. One more live bid would win the day, and Demonic Tutor was hammered sold at $140,000, which translates to $168,000 including buyer's premium.
This is by all records the highest public price paid for a piece of Magic: the Gathering original artwork.
Contract from Below Sells for $78,000
The penultimate piece was another by Shuler, Contract from Below.
This work opened at $41,000 as another battle erupted, with near a dozen bids until a final bid sealed the deal and it was sold for $65,000, or $78,000 with buyer's premium.
Jayemdae Tome Sells for $114,000
The final work to be sold was by another of Magic's earliest illustrators who is still working for the game, Mark Tedin's Jayemdae Tome.
With a quiet $55,000 proxy bid open, the bidding skyrocketed once the live sale was engaged to $90,000. One further advance to $95,000 would close this chapter and bookmark this work sold for $95,000 with a final buyer's premium inclusive total of $114,000.
So, What Does It All Mean?
This is a landmark sale, of that there is no doubt. In fact, four of today's five sales—Demonic Tutor at $168,000, Jayemdae Tome at $114,000, Contract from Below at $78,000, and Mana Flare at $78,000—broke the previous record for a Magic art sale. And Demonic Tutor more than doubled the previous mark!
But Heritage, with the eye-popping numbers their auctions bring, is no stranger to Magic: the Gathering original artwork.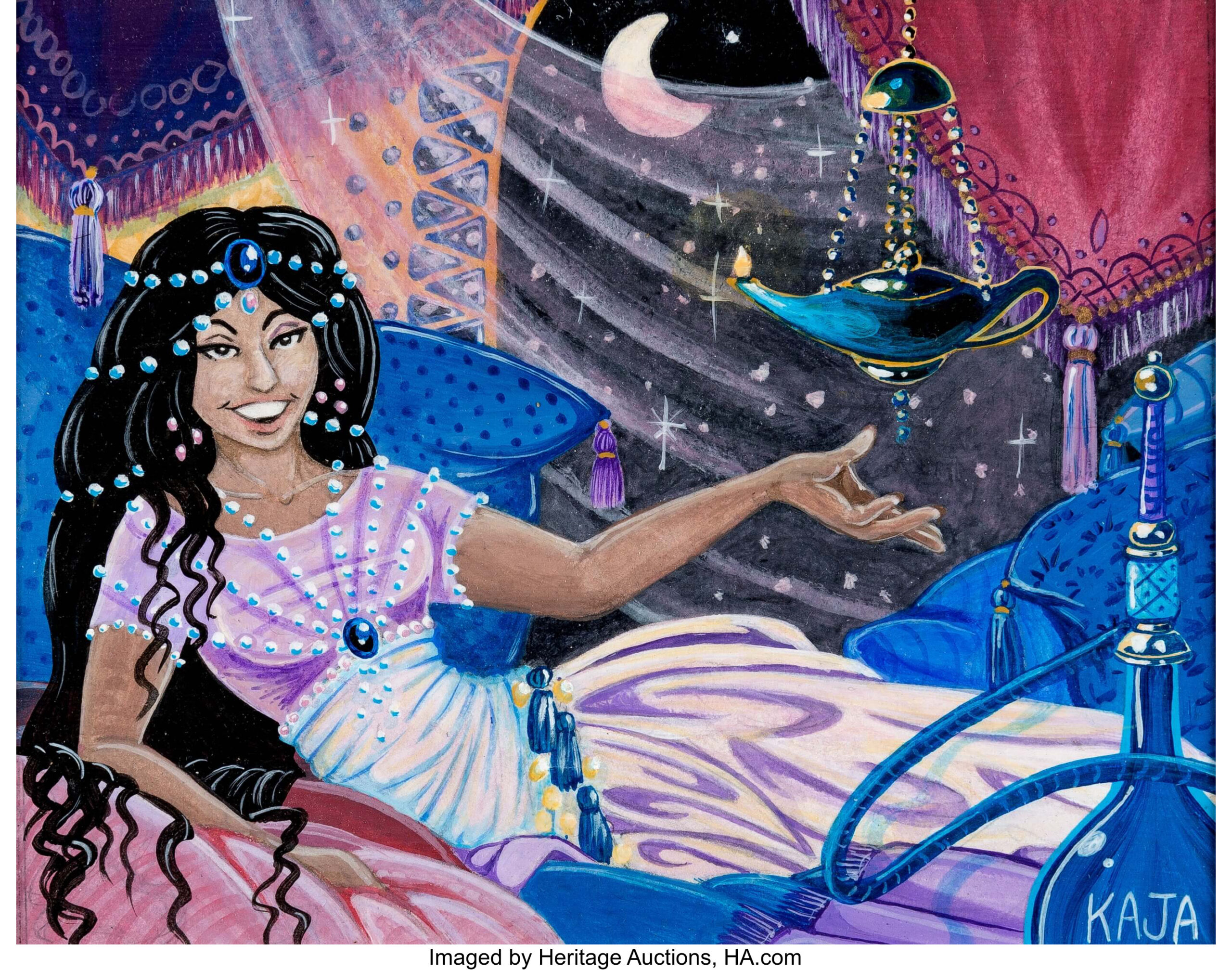 In July of 2018, they shocked both the collecting community and the larger art world when the original painting for Shahrazad was sold for $72,000 at auction. This was at the time one of the highest public prices for a piece of Magic artwork, and would unknowingly set the stage for the market explosion that's taken place over the last two years.
Paintings from Magic's earliest set are among the most coveted in the collector community, and are infrequently—if ever—available to the open market. In 2019, some of the signature pieces of the game's history, including two Moxen and the Black Lotus were made temporarily available for sale. The Black Lotus asking was $6.5 million.
This slideshow requires JavaScript.
Earlier this year, two original artworks from Alpha were sold publicly within one month of each other: Anson Maddocks's Living Wall for $45,000 and Doug Shuler's Uthden Troll for $40,000. Even an Alpha sketch, that for Consecrate Land by Jeff Menges, surpassed $5,000 at auction just a few short months ago.
And earlier this week, Mythic Markets opened their fractional share model for another Alpha work, Benalish Hero by Doug Shuler. More information on this work and "sale" will be forthcoming.
This was an incredible sale to witness. Some sold for more than I expected, and some for perhaps a bit less. But in the end, the auction of these five works has put Heritage firmly in the conversation of a viable outlet for the sale of the best and brightest lots of Magic: the Gathering artwork. As has happened in year's past, I expect these prices realized to spark the emergence and sale of more artwork of this caliber in the very near future. Stay tuned.