On Monday September 7th, 2020 Riverglide Pathway, Kieran Yanner's first fully traditional Magic: the Gathering illustration sold on the MTG Art Market for $7,550.
Riverglide Pathway by Kieran Yanner is a work of oil on panel measuring 12 inches by 16 inches. It was commissioned for Magic's latest expansion Zendikar Rising, and is a part of the brand new modal DFCs, double-faced cards that let you choose which side to play, as you play them. This painting is for one side of the base set version of card; the other side does not have a fully finished traditional component; the extended version by Johan Grenier is digital.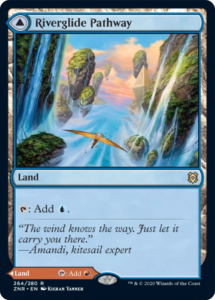 The original artwork was brought to market by Mark Aronowitz acting as agent for the artist. Aronowitz has offered a handful of Yanner's traditional works in the last few weeks, including his first pencil sketch and first color study from past cards. It was only a matter of time before we got to witness a full oil painting.
The artwork opened at $3,000, and before you could say "Hold on tight!" had risen to $6,000. Here it would remain for the rest of the week until the final evening, when a private bidder battle pushed the final price to $7,550 and sent this work gliding home to a new collection.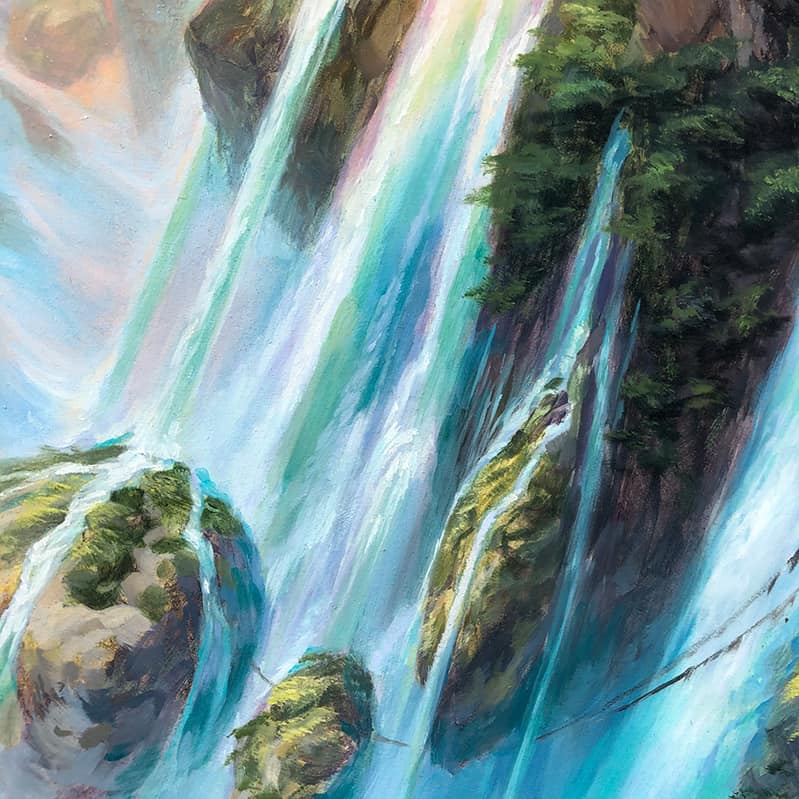 This painting is yet another exclamation point on the timeline that is once fully digital artists making the traditional transition for certain Magic commissions. Yanner, who studied under master Donato Giancola (and was responsible for pulling him back into Magic as an Art Director for Magic) has all the skill and ability to create these works traditionally. It's awesome to see a fully finished oil painting by his hand. Traditional illustrations are not always possible for artists under deadline due to time and other constraints, but the rising market for Magic originals is absolutely having a hand in their continuing creation.
I'm fairly certain I'm foreshadowing, but hopefully this is the first of many more traditional works to come from Kieran Yanner.
About the Artist:
Kieran Yanner has created more than 150 illustrations for Magic since 2009 including almost 20 planeswalkers among a plethora of other high profile and important cards. He worked on a few sets as a Senior Art Director for Magic beginning in 2017, and has recently returned to freelance illustration full-time, appearing in almost every Magic expansion and product in the last few years.