On Thursday July 23, 2020, the original painting for Scott Murphy's Expedition Map sold for $6,100 on the MTG Art Market. The original sketch, as well as an actual map created as a reference for the map within the work also sold for $1,100 and $3,275 respectively.
Expedition Map by Scott Murphy is a work of oil on panel measuring 16 inches by 20 inches, oriented vertically to fit the Borderless frame of the Double Masters Showcase cards. It was commissioned for the aforementioned set as a special box topper version of this card featuring this new and extended artwork treatment.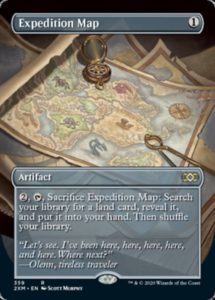 In addition to the final painting, Murphy also created a pencil sketch of charcoal and white ink measuring 12.5 inches by 15 inches on 14 inch by 17 inch Bristol paper, as well as a 12 inch by 16 inch reference map of the map found within the final, a work of ink, coffee, and watercolor on watercolor paper.
The three artworks were auctioned concurrently for four days on the MTG Art Market by Vorthos Mike operating as agent for the artist. Bidding began immediately, and continued for almost the entirety of Monday. Tuesday, Wednesday, and the majority of Thursday remained quiet as other works from Double Masters were revealed and sold, many by private offer. But yet, there is still nothing like a good auction. With about three hours to go, the bids stood at $5,100 for the painting, $950 for the pencil sketch, and $1,650 for the reference map, and the pace began to quicken.
This slideshow requires JavaScript.
Bids on all three works came in with such speed I can only imagine Vorthos Mike's frenzied typing. The first piece to sell was the sketch, hammered at $1,100 and heading to a fabulous collection in the Midwest, sold to a collector bidding publicly in the comments.
This slideshow requires JavaScript.
Meanwhile, the final painting continued to creep up towards $6,000 and the auction for the "Map Map" surged past $3,000, a considerable result for an unpublished, although fantastic, associated work. It took about twenty minutes of soft close overtime, but when the dust settled, the final painting was sold for $6,100 after a single (or single public) bid from a well-known collector, and the Map Reference Illustration for $3,275 to a private bidder, one of thirteen participating in the sale.
This slideshow requires JavaScript.
While we often get figure work from Scott Murphy, his artifacts are at the top of my list; here are a few of my favorites from his body of work:
Expedition Map is now the crown jewel among them, and a shining example of masterful artistic process, full circle from start to finish, into one fantastic illustration.