On May 6, 2020, four original ink illustrations by Daniel Warren Johnson for Magic: The Gathering's Ikoria: Lair of Behemoths set were sold via his agent, Felix Comic Art, for $3,750 to an anonymous collector.
This slideshow requires JavaScript.
Each of these four pieces is a work of pencil and ink on paper measuring 8.5 inches by 11 inches, and was commissioned for Magic's latest major expansion Ikoria: Lair of Behemoths as Showcase Alternate art. The Showcase series of Ikoria is meant to evoke a highly graphical, comicbook and movie poster-esque style, and several first time Magic artists were included to create fitting works such as these.
Three of these four works were used in the final set, the exception being the Narset planeswalker illustration above.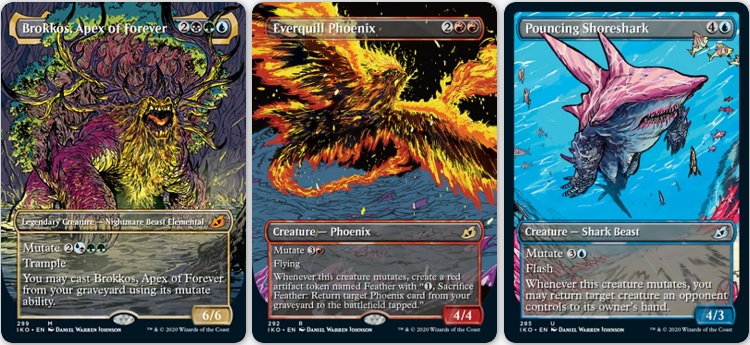 The sale was atypical for what is usually seen in Magic, as their availability went mostly unknown until the offer was already accepted. A PSA post on the MTG Art Market at 4:23pm alerted the Magic art collecting majority, and this came about an hour after Johnson's agent, Felix Comic Art, posted the suite's offering on Twitter and Facebook.
An inquiry through the site received an email noting that offers were being fielded for both individual pieces and the group of four, that this was not an auction, and that it would end once the artist was satisfied with an incoming offer. It encouraged interested parties to respond ASAP with their best offer the first time, as they may not have time to make a counter offer if it was insufficient.
By 6pm, just three hours after its initial posting and only an hour and a half after the MTG Art Market post, the works were sold. An email from the agent was sent to previously interested parties indicating an offer of $3,750 had been accepted for all four works. The winning collector is still unknown to the public.
The Showcase art from Ikoria has proven to be incredibly popular with Magic art collectors, as this is one of the only times that these primarily ink illustrations have been a core part of the look and feel for a given set. While it's hard to tell exactly what these may have sold for individually at auction, the price realized does seem to be largely in line with the other similar works from the set that have been sold over the last few weeks.