On, Sunday, March 1, 2020, the original painting for Anson Maddocks's Living Wall from the first Magic: The Gatheing set, Limited Editon Alpha, was sold on the MTG Art Market for $45,000!
Living Wall by Anson Maddocks is a mixed media work measuring approximately 5 inches by 7 inches on slightly larger board. The small size is almost standard to Alpha paintings and a physical representation of their time, as they needed to be able to fit on Wizards of the Coast very primitive, early-1990s scanner.
It is one of the original 295 cards from Magic: The Gathering's very first release, which debuted at Gen Con in 1993 called Limited Edition Alpha. It is one of 30 cards painted by Maddocks for this first set, an astonishing contribution in its own right both then and today.
It was also the first work in Magic's history to be censored via cropping; take a look at the card below and the scan above to see the differences.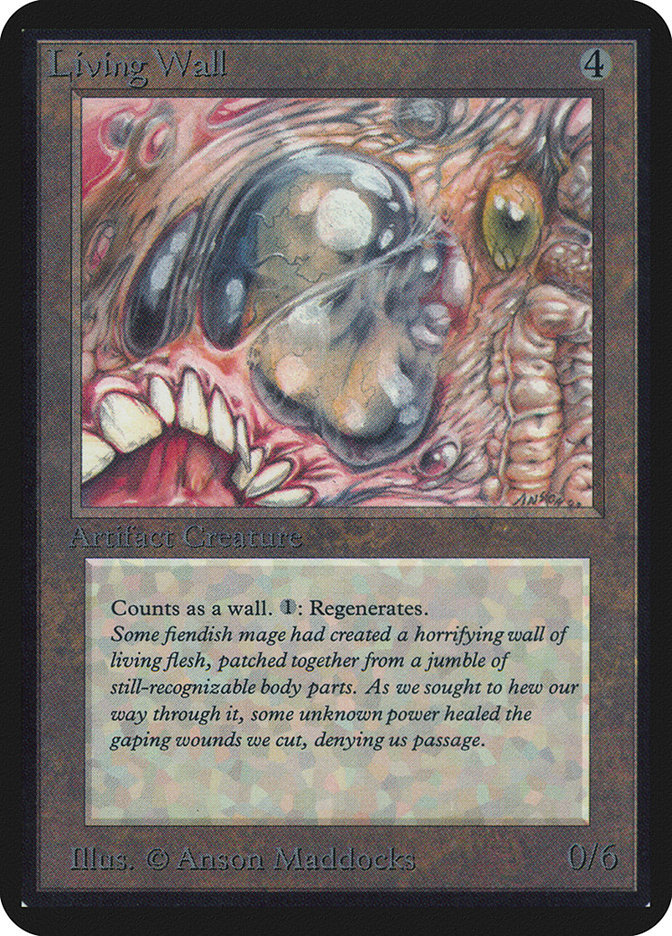 As with any Alpha artwork, this was a rare chance to own an original piece of this now storied game and set. The auction was run on the MTG Art Market by Jack Lewis Stanton operating as agent for the artist. It began with an opening bid ask of $35,000, which was met by a private bid the morning after the work was listed. The $35,000 start has become the customary open for the last several Alpha auctions, and with Douglas Shuler's Uthden Troll selling for $40,000 just a month prior, it did not seem unreasonable. As I mentioned in that article, over the past year both interest and public offers for Alpha artworks have risen drastically in the market for Magic originals, and in combination with the recent sale of that work, primed this auction for blockbuster success.
Just as in the sale of Uthden Troll, after the opening bid was placed the auction remained quiet not only until the last day, but until the final five minutes. Three private bidders exchanged $10,000 worth of paddle raises over twenty minutes until the bidding ceased at $45,000, and one of the highest totals paid for an original Magic: The Gathering painting at public auction was hammered final.
It's always special to see an Alpha work sold on the open market, as you never known when the next one might become available. This painting is truly a piece of Magic's history, and it's sale will be a high note and topic of conversation for the foreseeable future.