In January 2020, the three original paintings for Chris Rahn's legendary creatures from the new Magic: The Gathering expansion Theros Beyond Death were all sold on eBay to exceptional results.
On January 10th, Nylea, Keen-Eyed was sold for $8,390. On January 17th, Polukranos, Unchained achieved an end result of $9,900. And, on January 25, Renata, Called to the Hunt fetched a final price of $4,650.
Each of these three legendary creatures by Chris Rahn is a work of oil on cradled board measuring 18 x 24 inches. This is the size the artist uses to paint his legendary creatures and other important but non-Planeswalker commissions (which are instead painted 24" x 36"). Each was commissioned for Magic's new winter expansion Theros Beyond Death that released on January 24, 2020 and is available in stores now.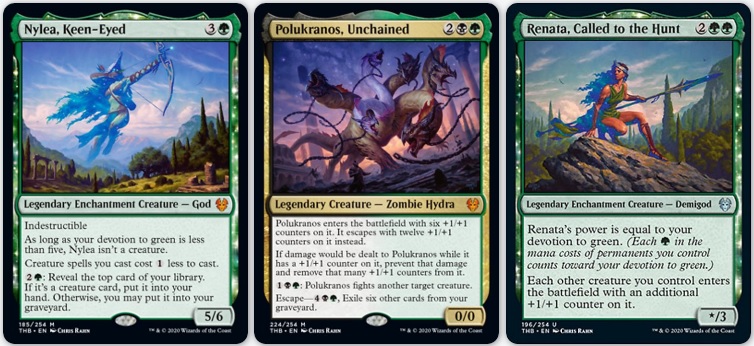 The auctions each started at Rahn's standard $599.99 opening bid. The first listing for Nylea climbed slowly and incrementally over the seven days. Bid by bid, hundred by hundred, Nylea's auction ascended until summiting at the final price realized of $8,390.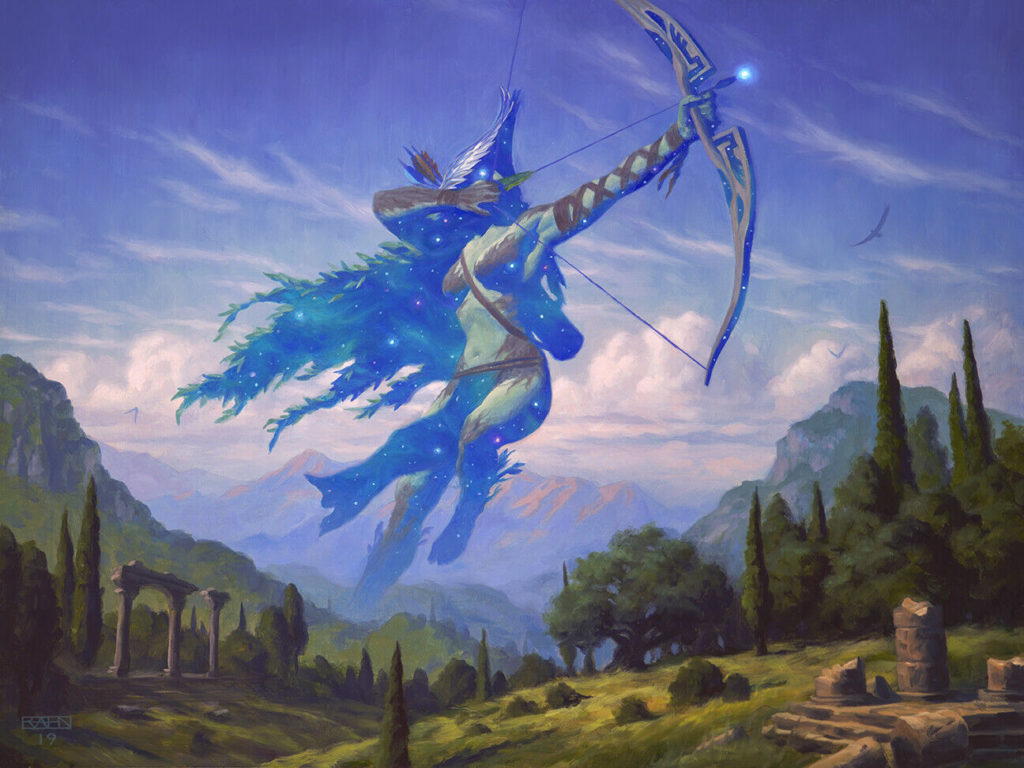 Rahn's Nylea, Keen–Eyed is the only traditional, non-alternate art of the five major Gods from Theros Beyond Death, and a collector's only opportunity to own a fully traditional final painting of a Theros God from this expansion.
The other four major deities are all digital paintings.
Nylea, Keen-Eyed marks Rahn's second iteration of Nylea. He was commissioned her first card for the original Theros set back in Fall 2013, when he completed Nylea, God of the Hunt, also a traditional painting.
Her great bow is still drawn and she still looms larger than life over Setessa, the Nessian Wilds, and the Nistos Forest.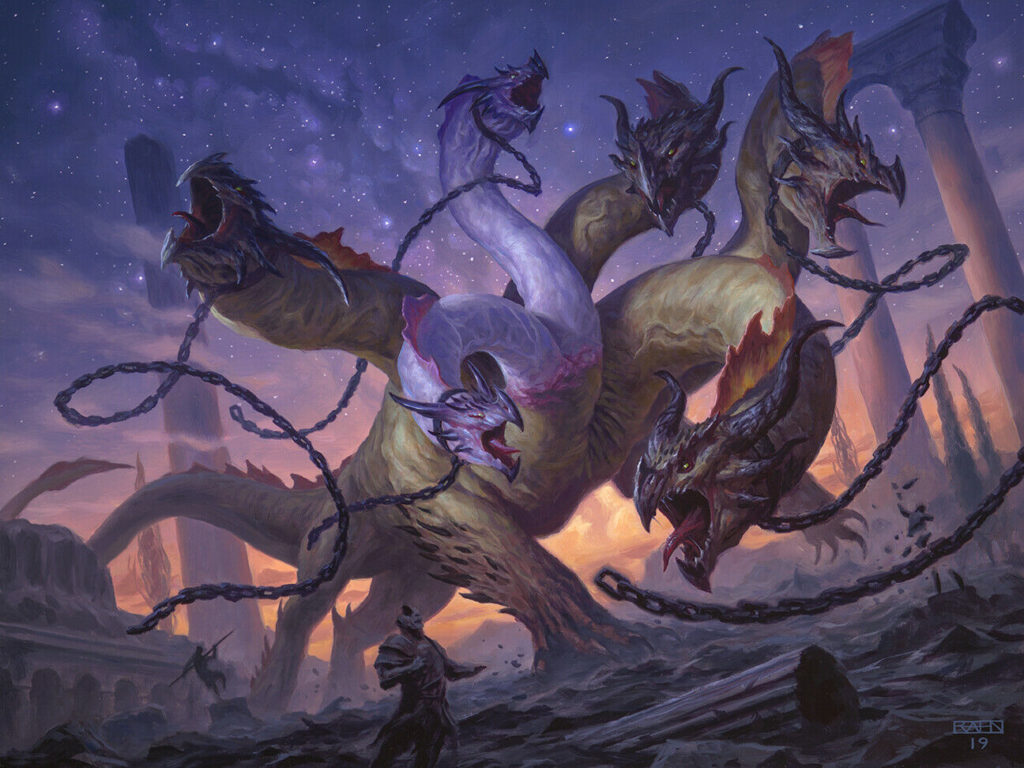 The next to be sold was Polukranos, Unchained, the second coming of a monster first seen in the original Theros back in 2013 who is now trapped (but escaping) the Underworld.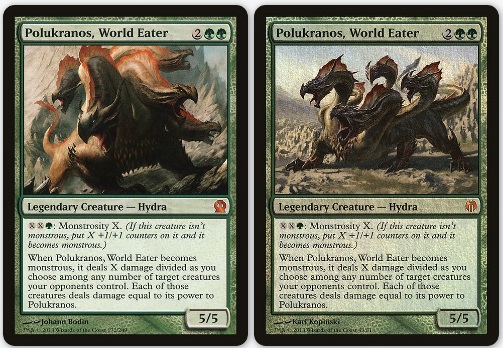 Polukranos, World Eater had two depictions in 2013, in both Theros and the Duel Deck: Heroes vs. Monsters. This auction was out of the gate quickly, and climbed to the mid-$5K mark where it would remain until near the end. 41 bids between 13 bidders, including several vying at the end, would push Polukranos to a price realized of $9,900. This would be the strongest of the three prices.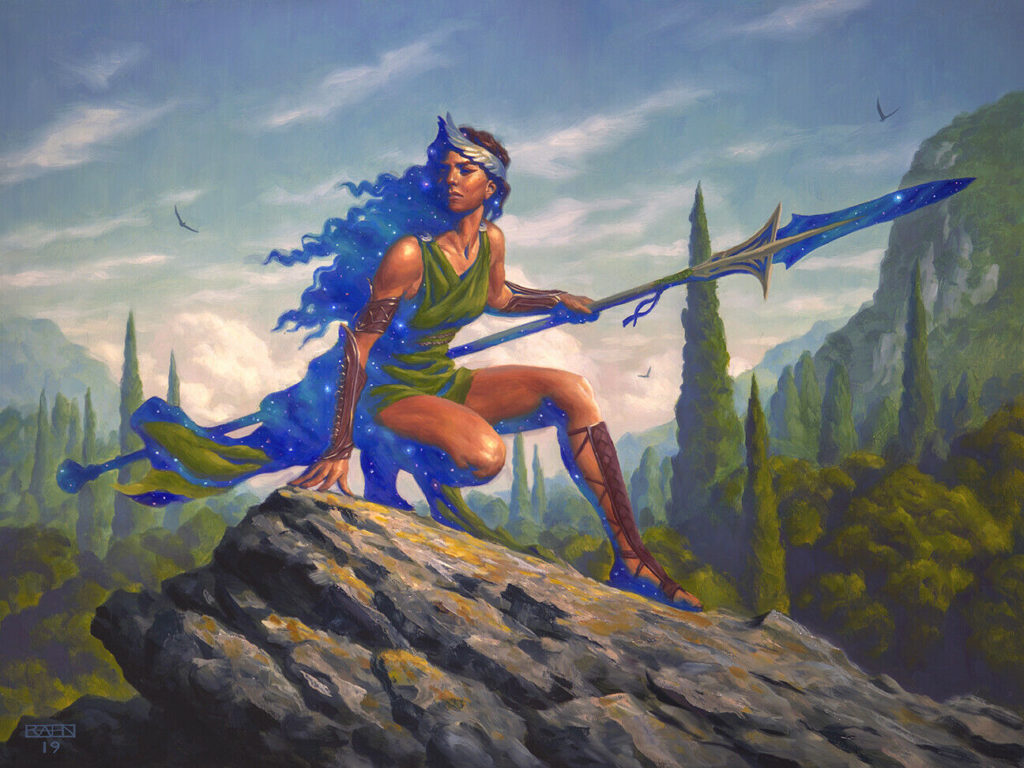 The last sold was the demigod Renata, Called to the Hunt. This was again the only traditional, non-alternate art of the five demigods of Theros: Beyond Death, making Rahn's two pieces, the matched God and Demigod of the Hunt, the sole opportunities for non-alternate art traditional paintings of the Divine Beings of this plane. Like the Gods, the other four demigods are digital artworks.

Renata sold for $4650, which compared to previous records of artist's sold works, is a more than fair price for a collector looking to add a Rahn Legend to their collection.
I've said it before and I'm sure I'll be saying it again, but Chris Rahn is one of the best in the business within this world of Magic: The Gathering artwork. He is one of a select few go-to artists for commissions of this caliber, and as we've seen here, he delivers every single time when it comes to Magic's most important Legends.