Wizards of the Coast has unveiled the full contents of the upcoming Unsanctioned product, including full-art lands, new legends, and more.
Unsanctioned is a box set with five 30-card un-decks, one for each of Magic's five colors. It is intended to be played by two players who each take two of the mono-colored decks and shuffle them together, creating two 60-card, two-color decks, and will release in local game stores, mass market stores, and online stores on Leap Day, February 29, 2020.
The box will include 16 brand new un-cards, all of which were revealed today, plenty of reprints, and 10 new full-art basic lands (a foil and non-foil of each basic land) in the style of the original un-lands from Unglued. It will also come with two six-sided dice and 10 double-sided tokens.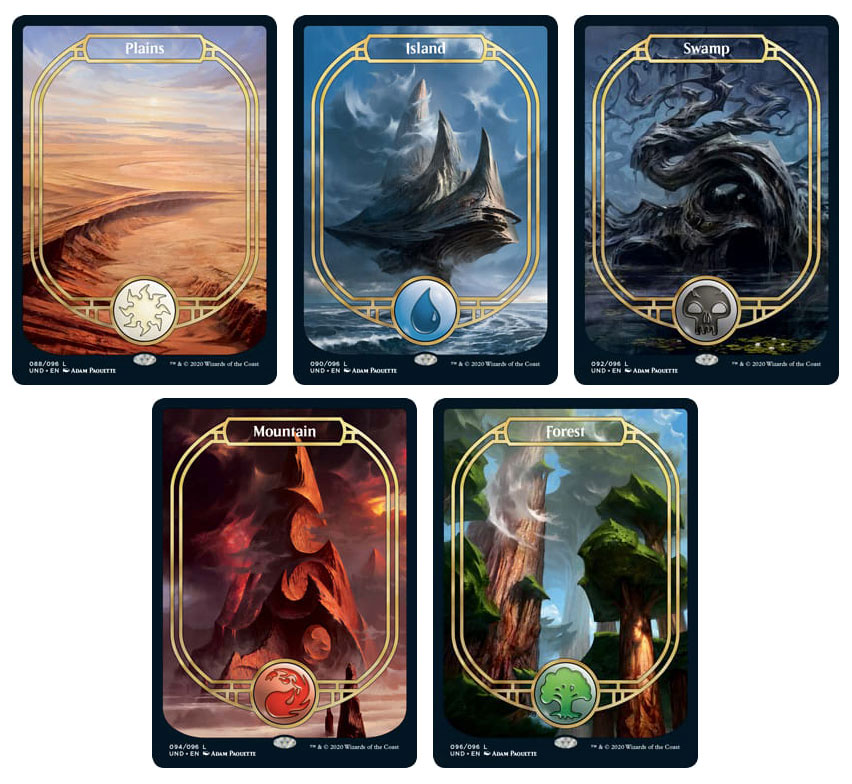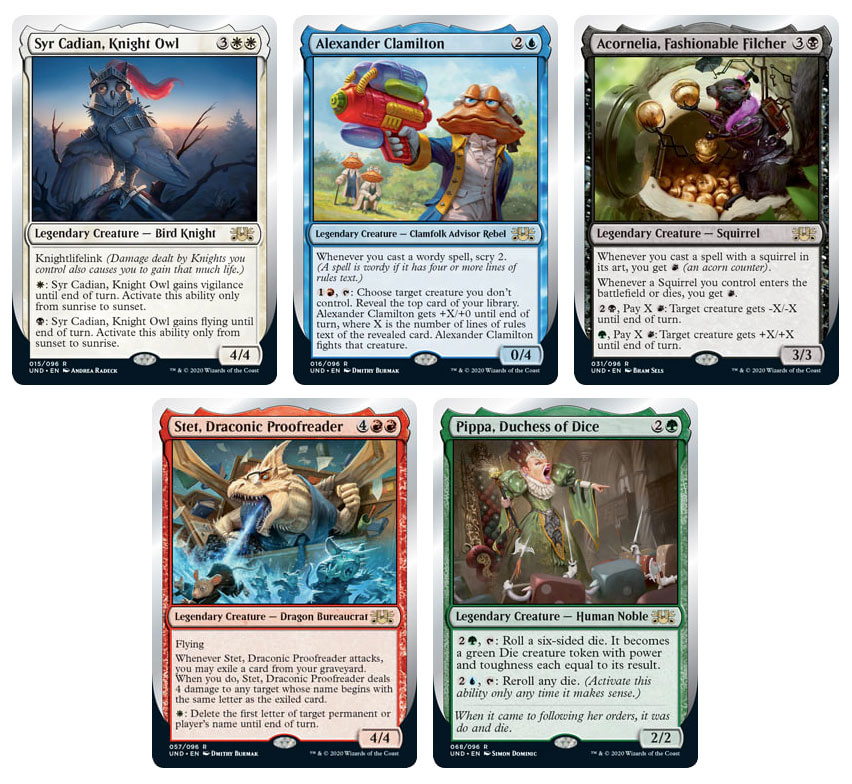 One of the most intriguing parts of Unsanctioned is the seven of new legendary un-cards in the set. First is the cycle of five legends with enemy-colored activated abilities (all with appropriately punny names). Then there is also a new un-Planeswalker, B.O.B. (Bevy of Beebles), whose loyalty is equal to the number of Beebles you control and creates/sacrifices Beebles to activate its abilities, as well as Surgeon ~General~ Commander, which mentions the currently unknown mechanic "mutate"—perhaps a preview of Magic's upcoming set, Ikoria Lair of Behemoths?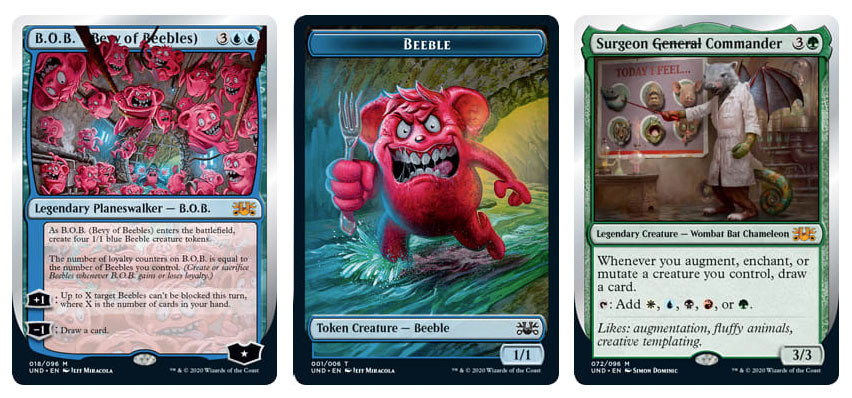 The full deck lists for each of the five 30-card decks are below.
White Deck List
New cards: Flavor Judge, Syr Cadian, Knight Owl, Strutting|Turkey, Underdome
Notable reprint: Sword of Dungeons & Dragons (previously a Hascon exclusive)
The White Deck from Unsanctioned
Blue Deck List
New cards: Alexander Clamilton, B.O.B. (Bevy of Beebles), Rings a Bell, Underdome
Notable reprint: Cheatyface
The Blue Deck from Unsanctioned
Black Deck List
New cards: Acornelia, Fashionable Filcher, Infernius Spawnington III, Esq., Bat-, Underdome
Notable reprint: Booster Tutor
The Black Deck from Unsanctioned
Red Deck List
New cards: Boomstacker, Stet, Draconic Proofreader, Abstract Iguanart, Underdome
Notable reprint: Goblin Tutor
The Red Deck from Unsanctioned
Green Deck List
New cards: Pippa, Duchess of Dice, Surgeon ~General~ Commander, Spirit of the Season, Underdome
Notable reprint: Timmy, Power Gamer (with new art)
The Green Deck from Unsanctioned