Theros Beyond Death spoilers are well underway, and I've seen a few cards with real potential to heat up Modern. The one that I'm most excited for is Heliod, Sun-Crowned. If you haven't yet heard, there's a combo with Heliod and Walking Ballista that plays a lot like the now-banned Splinter Twin plus Deceiver Exarch combo.
I've been digging into that, and wanted to go over my thoughts on Heliod Twin, where it might fit in Modern, and share a couple of brews I've been working on.
Here Comes the Sun
So, White is getting Splinter Twin. Kind of. To be specific, if you have Heliod, Sun-Crowned and a Walking Ballista with two counters in play, you can use Heliod to give the Ballista lifelink, then shoot your opponent with it. Each Ballista activation triggers Heliod, so the Ballista will get a replacement counter. This is an arbitrarily large amount of damage to any target, and in almost every circumstance, an instant game win.
Frightening as that is, it is disruptable. Even if your devotion to white is low enough that Heliod can dodge Oko, Thief of Crowns and Path to Exile, instant-speed creature removal aimed at Walking Ballista in response to Heliod's lifelink activation will stop the combo. Pithing Needle and similar effects also work. This is all, so far, similar to Splinter Twin. There are a few differences—Ensnaring Bridge stops Splinter Twin, Stony Silence stops Heliod Twin—but overall, they're similarly sensitive to hate.
Heliod Twin is more expensive than Splinter Twin. Old Twin was three, four, game. Now, you have to cast a 3-drop, then have six more mana for an X=2 Ballista and a Heliod activation. The more turns you spread this over, the more vulnerable you are to disruption. If you cast the Ballista first, your cadence becomes four (Ballista X=2) then five (Heliod and activate), but you're exposing your more fragile combo piece for a turn. Every way you slice it, Heliod Twin is more mana-intensive, which makes it much more reasonable for Modern.
Heliod Twin is also getting a lot of discussion in Pioneer, and because of that, less attention is being paid to an alternative combo that is specific to Modern: I'm very excited about the interaction between Heliod and Spike Feeder. Removing a counter from Feeder to gain life triggers Heliod for a replacement counter. Repeat this and gain however much life you'd like.
Though not a lethal combo, this one is cheaper (two installments of three mana), and it dodges removal. Because you do not need to give Spike Feeder lifelink to make this work, having Soul Warden or the equivalent in play means you can go off in response to an attempt to kill Feeder. Your opponent will need two removal spells to stop you.
The biggest downside to these Twin-like Heliod combos is that you have to play White, the color with the weakest card selection. However, with Theros on the horizon, maybe we'll see a new dawn for white—I know I and many others have our fingers crossed.
Let the Sun Shine In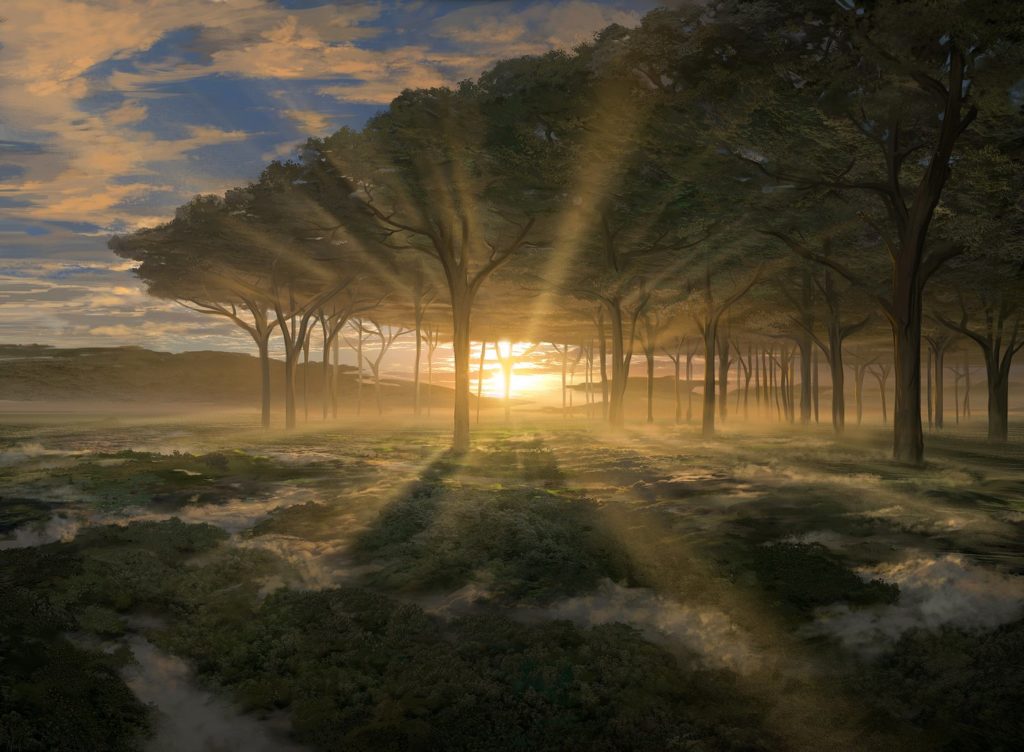 My first thought with Heliod Twin was to look for where it could fit into existing Modern decks. The obvious home is in Druid Combo. That deck already has an infrastructure of creature tutoring, and already plays Walking Ballista as a payoff for its infinite mana generation.
Modern Hardened Scales is another deck that could adopt Heliod. It already manipulates +1/+1 counters and Walking Ballista. The namesake enchantment is effectively a two-mana discount on the combo, since you can cast an X=1 Ballista that comes into play with two counters. Metallic Mimic accomplishes the same with an anthem effect. Squeezing another color into Hardened Scales and adding a card that Ancient Stirrings can't find is difficult, but there's potential here.
I also spared some thought about how it might fit into UWx Control the way that Splinter Twin fit into URx shells. Neither Twin nor Exarch did much of meaning in those lists unless they were together. The same would be true in current UWx lists, but Heliod doesn't have flash, so tapping out is a much bigger hazard.
In general, I strongly prefer to include combos in decks where the components are still good on their own.
Hey Sister, Soul Sister
So, that got me thinking. I wanted to look at builds where Heliod was good outside of the twin combo. If you ignore Walking Ballista, Heliod rewards you for two things: White devotion and life gain. So that's where I started.
Sun Sisters, Urchin Colley Test Deck
Sun Sisters is a take on the existing Soul Sisters archetype, but much more aggressive. Heliod on his own functions as smaller, cheaper Archangel of Thune. It's not difficult to hit five white devotion the turn after you play him and smash your opponent with an indestructible beatdown God. Linden, the Steadfast Queen is a welcome addition from Throne of Eldraine that gives you piles of lifegain triggers (and counters!) when you're on the offensive.
Of course, sometimes you're just "in it to Twin it." The Heliod Twin combo is especially good in this list. If you have a soul sister in play with Heliod, you only need four mana to complete the combo, not six. Cast Ballista for X=1 and the sister it triggers will in turn trigger Heliod. Drop the second counter on your Ballista, give it lifelink, and win the game. That puts you right back into Splinter Twin's three-four cadence.
We're running Once Upon a Time and eleven sisters, so this is not difficult to pull off. We're also running Ranger-Captain of Eos to fetch Ballista and protect your combo. What I love so much about Heliod Twin in this list, though, is the fact that everything supporting and accelerating it is good on its own.
White always struggles for card advantage, but with all the sources of lifegain, this list can tolerate six Horizon lands to compensate. Because you aren't packing extreme levels of Devotion, there are only two Nykthos. Nykthos is a ramp card in this deck, but you do have Ballista and Secure the Wastes to soak up extra mana in the late game.
Sun Scales, Urchin Colley Test Deck
Hardened Scales is another way to turn Heliod Twin into a three-four mana combo by letting a Ballista X=1 enter the battlefield with two counters. This list runs six sisters for more chances at fast Twin, as well as one Llanowar Reborn tucked into the landbase.
Here you have Once Upon a Time to dig for combo pieces, and Spike Feeder for another angle. Archangel of Thune can also take Heliod's role in the Feeder combo. Spike Feeder's life gain will trigger a replacement counter from Thune, and you can repeat this for infinite life and +1/+1 counters.
Hardened Scales and Spike Feeder both bolster you aggressive plan with Ajani's Pridemate, Heliod, and Thune. This gives Sun Scales a strong aggro plan, while still being more combo-oriented than Sun Sisters. It remains to be seen what the sweet spot will be between those approaches, and I'm sure there are many other strategies possible using Heliod with Hardened Scales.
Sun Company, Urchin Colley Test Deck
Finally, I've pulled together another list that incorporates the Spike Feeder combo I'm so excited about. Here, Feeder gives you the capacity to win the game with one lucky Collected Company. While Ballista falls straight into the graveyard if you select it with Company, Spike Feeder and Heliod hit the battlefield just fine. Ranger-Captain is another line to victory that you can hit with CoCo.
Sun Company is the most combo-oriented list of these three, and likely the strongest. It goes off fast with redundancy, has a decent fair plan, and can leverage end of turn CoCos and Ranger-Captain activations to navigate around disruption.
In my testing so far, it often wins on turn three or four. It can outrace other combo decks reasonably well, and its life gain gives it a cushion against aggressive opponents. When your devotion to white is kept low, you can play around Oko. The fair plan is good enough to demand answers that draw reactive opponents away from dealing with your combos.
I have more matchups to test, but I think this is a very good direction to take Heliod Twin. The Soul Sisters interaction, Spike Feeder angle, and Collected Company's instant speed matter a lot.
Overall, I think Heliod is an exciting addition to Modern. He promotes a lot of creative deckbuilding and some very new strategies. There's a real possibility that, as builds are developed and tuned, some Heliod Twin deck climbs to tier one. I'll certainly be brewing with Heliod, and I hope some of the ideas I've laid out here inspire you to follow the sun.