As part of a new weekly series, I will be climbing to Mythic on Arena. The Standard season has reset after rotation, making this a good time to climb the ranks.
For this challenge, I will be starting in the best-of-one queues. My rank begins at Silver IV after the reset. These are my three guiding goals for the grind:
To see if I can reach the top tier of players in MTG Arena.
To understand the Standard metagame as it quickly evolves.
To prove to players that you can reach Mythic with a day job.
With this in mind, lets take a look at the deck I chose for the beginning of my climb:
Gruul Aggro
Typically, decks in the Best of One queues focus on aggression or comboes that have an advantage without sideboards. Gruul should go bigger than the aggressive mono-red and black aggro decks, but also be the aggressor in games against decks such as Bant Golos.
The big draw to this deck is Questing Beast. Questing Beast has a unique set of abilities that make it a fantastic card against most of the field. It can ignore the 2/2 zombies created by Field of the Dead, pressuring their life totals or forcing them to block with Golos. It can also remove planeswalkers (which is relevant versus Jeskai Fires) and blocks well against most threats.
Targeting Golos and the Jeskai Fires decks—a large proportion of the Standard metagame at the moment—makes Gruul seems like a great choice. The list above is not perfect because I did not have enough wildcards to create everything I had intended, like a second Embercleave and the fourth Bonecrusher Giant.
Starting on 7th October, I began my challenge at Silver IV rank. My first goal is to reach Gold IV, a fair target for end-of-season rewards but a step to my Mythic goal. As expected, the ladder was rife with aggro, with mono-red Cavalcade and mono-black aggro making up the majority of decks. Within a day, I had climbed into Gold IV. As soon as i had reached Gold IV, I met my first Golos match up. And lost. And lost again.
It turns out that my plan to beat Golos wasn't working, so it was back to the drawing board!
The idea of out-aggroing Golos wasn't working, with hordes of Zombies being able to defeat my team of small attackers.
Ultimately, to get a better idea of how the deck works, i decided to play Golos for a few games. Playing a deck that you are struggling against is a great way to learn how to improve your matchup, so I ran it out against a variety of the field to close to a 50% win rate. While your ability to go long is unparalleled, I was losing in consistent ways. Aggression, evasive threats, and early planeswalkers.
With this new information, i found a decklist from VTCLA that looked to combine my thoughts with a more streamlined approach.
Been workin on Gruul variants, this is the list I've come to. This is the best way to beat up on golos and still have a reasonable deck against everyone else pic.twitter.com/jqQQPyPy66

— VTCLA (@VTCLA1) October 8, 2019
With wildcard adjustments and a small bit of theorycrafting, I landed on this list:
Gruul Aggro 2.0
From my experience playing the first Gruul aggro list, Once Upon a Time was not good enough to include. While casting the card for free is a great upside, paying mana for this effect in an aggressive deck is not where you want to be. Paying full price can erase a full turn of momentum deployng threats, which can ultimately mean the difference between victory and defeat.
I am testing one copy of Chandra, Fire Artisan from War of the Spark. As a threat that can be a card advantage engine, it was something worth experimenting with versus Golos variants. It is a card that has been forgotten and can catch opponents off guard. I would not advise this unless your metagame leans heavily toward control or Golos, but can be swapped out for a second Embercleave.
Skarrgan Hellkite may be one of the weaker dragons in Standard of recent years, compared to Glorybringer, Stormbreath Dragon, and Thundermaw Hellkite. But a hasty 4/4 flier on curve is still a good rate and is worth bumping up to the full four copies. Many decks lack answers to flying threats outside of Hydroid Krasis, Arboreal Grazer, or a timely removal spell. That means the Hellkite goes relatively uncontested and provides a great answer to opposing planeswalkers.
As of time of writing (Sunday), I've reached Gold 1 with a 66% win rate playing the new Gruul deck, winning 36 out of 54 best-of-one games. Most of these wins have come against Golos and Jeskai Fires as expected. Gruul struggles against decks with repeated value engines such as Priest of Forgotten Gods, the G/B adventures deck, or the Esper Doom Foretold deck. These matchups aren't unwinnable by any means, but if your opponents can get repeated value from their cards then you will fall increasingly behind.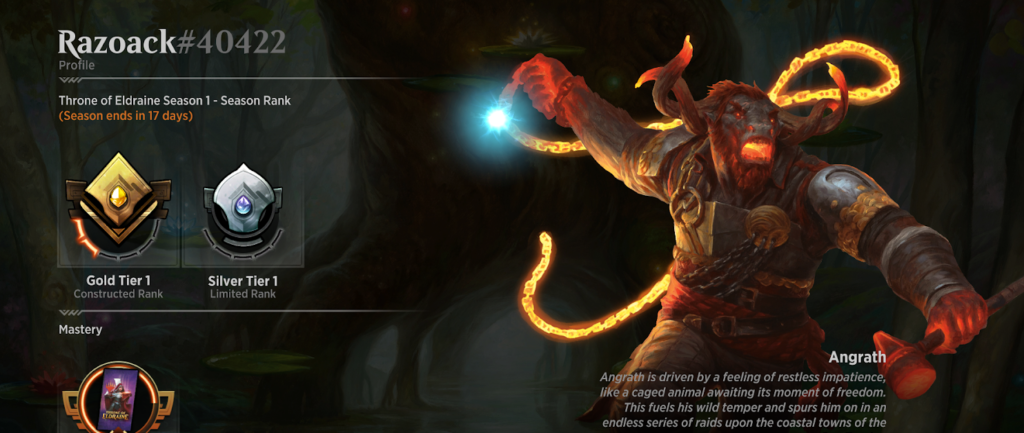 So that's it for my first week of my push to Mythic. Can I get there? We'll find out on October 31st! After this week's progress, I'm optimistic I can reach that elusive rank.
Is there anything that you would like to see going forward? Let me know!
Daniel Roberts (@Razoack) is a UK based player writing about all things Standard. Playing since the release of Gatecrash, he loves nothing better than travelling to European GPs with friends and losing in the feature match area. His best record is 12-3 at GP Barcelona 2017, but he's aiming for that one more win.