Hi everyone, and welcome back to another edition of the Mirror Gallery. We're taking a short reprieve from what has been a Ravnica-related content marathon to look at an interesting set of color studies: the top three "pieces" of Ralph Horsley's S.N.E.A.K. Contraption commissioned for 2017's Unstable expansion.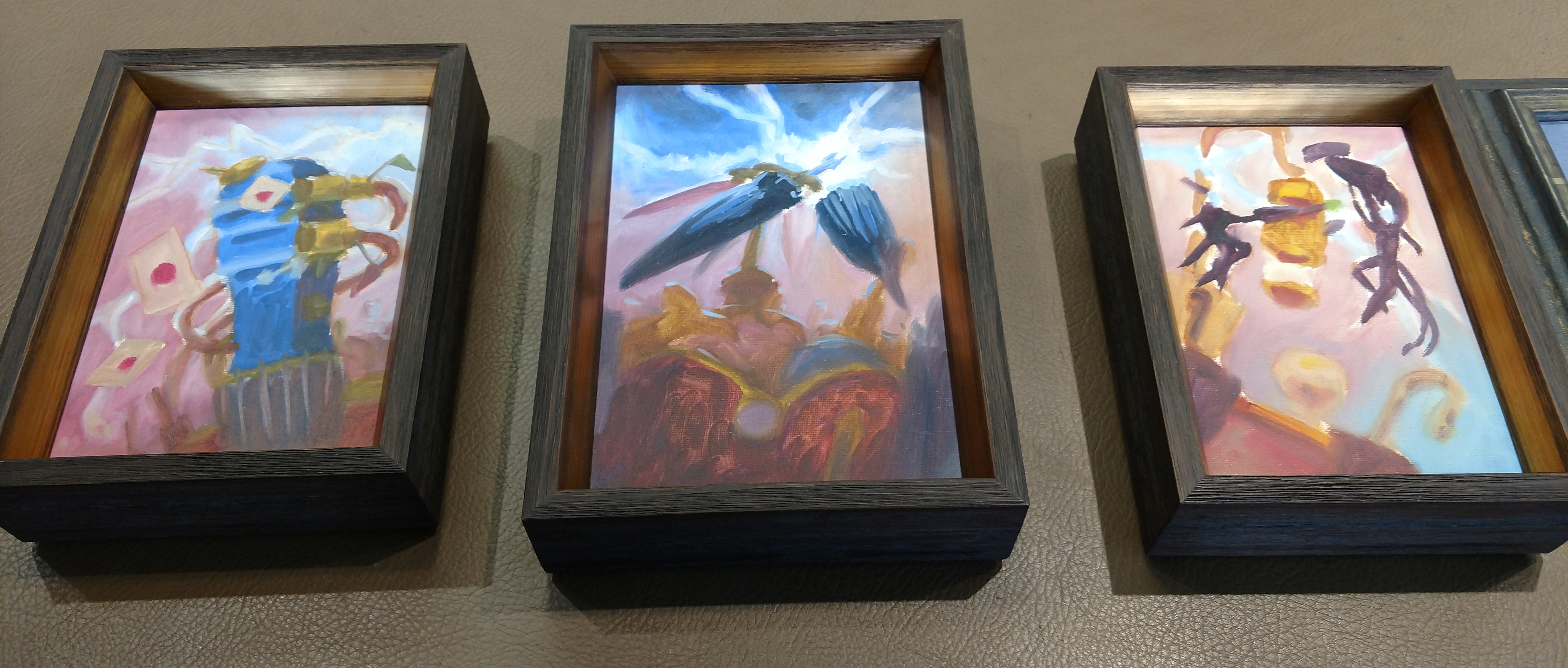 The Unstable contraptions were an entirely new creation for Magic, and their art was a significant departure from even the most unusual panoramas and polyptychs previously seen in the game. It came as no surprise when Horsley posted on Facebook that his Contraption had been included in the art book Spectrum 25: The Best in Contemporary Fantastic Art.
Upon seeing this, I thought it the perfect time to show these few related pieces of art from my collection. This article will introduce the artist responsible for assembling this Contraption, as well as what Spectrum is and why it's important. I'll also explain where these Contraptions fit in the larger picture of multi-piece works in Magic, and my motivations behind the collecting of these three color studies. It's a long way from Ralph's UK studio to the wall of my office, so let's get started!
The Artist & The Contraption
Ralph Horsley hails from Leeds in the UK, and has worked for an incredibly wide variety of clients, from Magic: the Gathering and D&D to Games Workshop and the UK Games Expo. He has been illustrating for Magic since 2004, with his three-card debut in Champions of Kamigawa leading to a catalog of 73 cards over the last fifteen years. While he may not paint for each and every set, Ralph has painted some very important places and phenomena in Magic, including the MTGO Urza Lands:
And the 2018 Asia Vintage Champion Grand Prize Timetwister:
He was perhaps most active illustrating the game during the Lorwyn and Shadowmoor blocks, creating art for seventeen cards over four sets, or almost 25% of his overall Magic cards. His next highest concentration of art is our subject today, or the nine cards that make up the Contraption for the Agents of S.N.E.A.K. on Bablovia.
There are nine separate paintings that make up this single work, and in terms of preliminary work one large sketch and five color studies exist. Ralph only created five traditional color studies: the three you see below of Dispatch Dispensary, Twiddlestick Charger, & Faerie Aerie:
As well as an alternate for Faerie Aerie and Dictation Quillograph that can be seen at the end of this article. Ralph began his typical color study process traditionally but ultimately completed the rest digitally, and so the set is incomplete. This crowning trio forms a super fun scene and reads complete with everything you'd expect from an Unstable set: a possessed mailbox, lightning-rod umbrellas, and downright mischievous faeries. The pinks and purples are warm yet dangerous and provide a feeling of serenity and at the same time unease. There is so much going on in the final piece, and the roughness of these three color studies reduces the work down to its core: whimsy.
This Contraption was Horsley's triumphant return to Magic after a short break. It highlights the fanciful bounds of Magic. He seems to always have new work coming out, be it a huge oil painting, lively book cover, or small brush and ink interior sketches. To follow along with what he's up to and see his new art as it's released, your best bet is to follow him on Facebook. It was on this Facebook page I learned of his inclusion in Spectrum 25, and I'd like to take a bit and explain why exactly this is such a big deal.
Spectrum: The Best in Contemporary Fantastic Art
What is it?
Way back in my first article about Matt Stewart's Gilded Cerodon, I introduced Spectrum and Infected by Art, two artist-submitted and juried volumes of contemporary art that feature the "best of the best" from the previous year's work in the genre of Imaginative Realism. For Spectrum, artists and works are chosen every February, with awards above and beyond publication inclusion announced in March at Spectrum Fantastic Art Live in Kansas City.
Is Magic art in Spectrum?
This is Vorthos Mike Linnemann's realm and something he talks about often, writing every year on which pieces were included in the volume and which were up for Gold and Silver awards in their categories. More Magic art is included every year, and Magic illustrations are becoming regular nominations in the Institutional Category for these Gold and Silver awards.
Spectrum 25
According to Mike's February 2019 article, 31 total pieces of Magic art were included in 2018's Spectrum 25, with four pieces up for Gold or Silver award recognition (there are only five nominations in each category). Click on the link above to see our title Contraption as the first work on his list.
For the first time ever Magic art won both awards in the Institutional category, with Seb McKinnon's Stasis taking Gold and Piotr Jablonski's Moaning Wall taking Silver. Dinosaur Hunter by Tianhua X and Vraska, Relic Seeker by Chris Rahn were also nominated.
Spectrum 26
As a future sneak peek, the current Spectrum (for work done in 2018) has posted the list of included artists and award nominations, though in many cases we still don't know for which work. Three Magic illustrations are in the award running in the Institutional category yet again: they are Bastien Lecouffe Deharme's Etrata, the Silencer, Jesper Ejsing's Slippery Bogle, and Tyler Jacobson's Opt. You can read more about them here. We'll see if one of these three or one of the two non-Magic nominated works takes Gold and/or Silver yet again.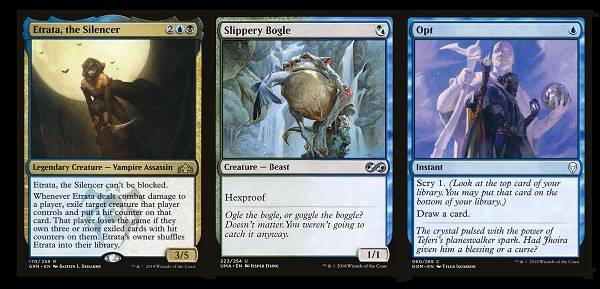 Why Does It Matter?
I meant what I said in the introduction when describing Spectrum as "the best of the best." To have your work included sets it apart and gives it an accolade that becomes part of its provenance, following it indefinitely. It's where artists, products, and companies alike aspire to have their work published. To have a painting in the volume can mean many things: it can make original paintings more desirable for collectors (and in turn more valuable), land artist's new commissions based on exemplary work, or simply expose new talent to the Art Director eye that needed to see it most.
To have Magic illustration included in Spectrum raises the bar for the art of the entire game, as well as further solidifying the increasing space Magic occupies within the larger genre of Imaginative Realism.
Of Panorama's and Polyptychs, Part II
Back in December I wrote about my acquisition of Donato Giancola's Grand Prix Basic Land Panorama, and one of the sections of that article looked closely, via Reddit and Imgur, at a visual collection of the multi-piece works found throughout the history of Magic. Donato's panorama is a single painting, broken into the five basic lands.
Mostly basic lands are created as polyptych and panorama. You can also find diptychs, where two works are joined to create on cohesive piece of art like in the Lorwyn and Shadowmoor Basic Lands, and other groups of four and five pieces of art on cards derivative of one painting.
But what hadn't been done before was to create a nine-card contraption, and that's exactly what we were given in Unstable. In the Unending Saga, Part II, Mark Rosewater explains the genesis of these Contraption illustrations:
We originally had 50 Contraptions, ten per faction, but Dawn Murin, Unstable's art director, came up with a cool idea of how to illustrate the cards. Each faction's Contraptions were given to an artist, who made a giant illustration combining nine different Contraptions into a three-by-three grid, meaning if you lay out all the cards correctly, they connect to make a giant picture. Note that like the basic lands in Unstable, the Contraptions are borderless. This required us to go down from ten Contraptions per guild to nine.
These polyptychs are now a piece of history for Magic, having never been done before and most likely to never be done again. When the opportunity to arose to add even this sliver of them to my collection, I knew it was something I had to have.
Why These Pieces?
Normally this section picks a few highlights from my usual categories on what motivates me to collect certain pieces of art: Do You Love It, The Work, The Artist, The Card, and/or The Set or Play Environment. However these three pieces are different, as they touch on each inclination in a way quite different from other art. Of the five nine-card contraption artworks, only three were traditionally painted. Of those three, two were single paintings: one sold with its color study included for approximately $10,000, and the other went unsold with an asking price of near that amount.
The opportunities to collect a piece of these Contraptions were all but non-existent, and none of the other Contraptions resonated with me more than these. I love the opportunity to be able to own something unique to the history of the game, so when I was able to acquire these color studies—a medium I already have a particular affection for—it was an instant match. Ralph is a legendary artist in the world of fantasy and gaming-related illustration, and his older work is largely unavailable and his new work sells instantly upon release.
I consider myself lucky to have inquired about these when I did. It's a rare case of being able to own a piece of something that hasn't happened before and won't happen again, entirely unique to its setting and time and place in the history of Magic.
Put it on the Wall!
I thoroughly enjoy writing this section of my articles, and finding the perfect frame for these works is becoming almost as fun as searching them out and adding them to my collection. These three pieces were framed quite a while ago with a couple other artworks you've already seen (look at the pile to the left), but the process is a familiar one.
As much as I like to use the ready-made frames at Ain't That a Frame, finding three matching mouldings and having one be just slightly bigger would be near impossible. When this happens it's "In Lou I Trust," and she did not disappoint. Her first option was once again the one that became the final: these deep, shadowbox-esque frames:
Each frame became a tiny window, as if viewing the color study contraption from a secret, covert base as any good Agent of S.N.E.A.K would be. Regular readers will already know I love when a frame can act as a window into another world, and these exactly and perfectly that.
Build Your Collection
For his most recent Magic pieces, Ralph has been selling his works soon after release, using Mike Linnemann as an agent and auctioning them in the MTG Art Market. That said, there are several pieces related to his S.N.E.A.K contraption still available, as well as one of his older Magic paintings and a ton of other work from a variety of fantasy games and publications. These can all be found in his Etsy store, and he is constantly making new original pieces of art available.
This is just a snapshot of Ralph's available work, so do yourself a favor and check out his other 200+ items for more fabulous oil paintings, color studies, sketches, and Artist Proofs!
Wrapping Up
I hope you enjoyed this little break from Ravnica, even if it was a bit unstable. It's always fun to explore when Magic art pushes boundaries. Good things often come from these adventures in art, whether it is the innovative gameplay like was the case with Unstable, or the art's recognition as some of the best in the year it was produced. Ralph Horsley is a master of whimsy and wonder, and I'm very happy I could add these fun little paintings to my wall.
Looking forward we will probably take one more article's worth of vacation from Ravnica before jumping into War of the Spark with both feet. I've got some fun and interesting interviews and art process pieces in the works that I think you'll all enjoy, and let's not forget we have a lot of new art headed our way with multiple sets releasing in the next few months. There will be much to see and talk about, of that I'm certain.
Remember, to see original #mtgart and other #vorthos related things, follow me on Twitter. Feel free to ask questions or retweet to continue the conversation. Thanks and see you next time!
Donny Caltrider has been playing Magic since 2002 and collecting original Magic art since 2017. He has an M.A. in Museum Studies from Johns Hopkins University and enjoys telling stories about art, objects, and the intersection of fantasy with real-life. You can find him on Twitter talking about #mtgart, museums, and other #vorthos related goodness. Follow along and continue the conversation!