On Thursday September 12, 2019, the original painting of the Food Token by Randy Gallegos was sold on the MTG Art Market for a delicious $3,000. This followed an earlier auction for the associated sketch, which realized a final price of $400.
This Throne of Eldraine Food Token by Randy Gallegos is a work of oil on panel measuring 11" x 14" and is the first of four Food tokens from the set (all traditionally painted) to be sold.
Cooking Up a Food Token
Randy shared a very cool story about his commission for this work as a part of the auction:
A year ago in late October, I scheduled a week of time during which I would work on some Still Life painting. I had a guest staying for a few days from out of state that we wanted to spend some time with, so Still Life was a good way of being able to stay productive without requiring long studio days, and I wouldn't have to leave problems unresolved one day to the next.
In any case, on the Monday that I began doing those, I received an email asking about my availability for an upcoming Magic set. I responded back indicating my interest and my schedule availability, and continued working on the still life pieces. There are usually a few days during which the Art Directors collate responses then figure out who is going to do what in a given set.
Each day in the meanwhile, I was live streaming my still life painting on Facebook (the videos are still up and you can find them in my photo albums). It was a lot of fun and I was happy with what I'd produced. Each day I streamed one painting, done alla prima, in one sitting.
Well, imagine my surprise when I was assigned a "Food Token" illustration for what would eventually become the Throne of Eldraine expansion set. It was really out of left field as a type of illustration, and I sat wondering if my prior week's work had influenced Art Director Cynthia Sheppard assigning it to me. I know she's active on Facebook, after all, and being an artist of considerable skill and talent herself, it did not seem odd that she might see me enjoying those paintings of fruits and vegetables, have a particular assignment requiring similar, and so hand it to me. I don't know if that was the case, but bravo if so.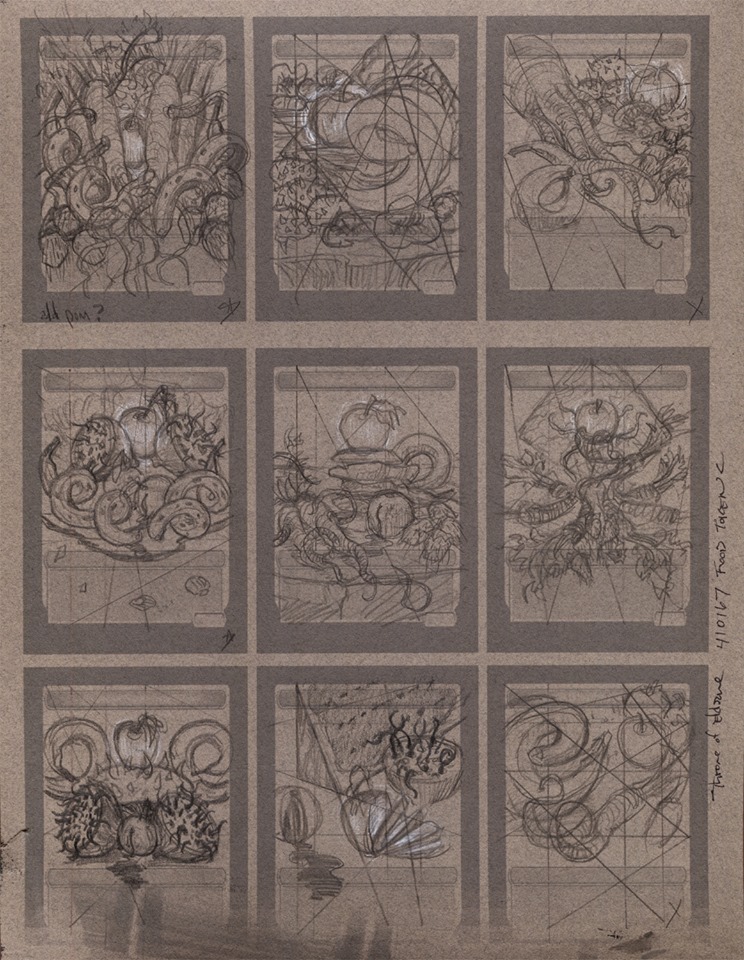 The commission was indeed for fruits, but all with some kind of magical twist, and in the case of the bananas, maybe an actual twist! For this commission I actually did a couple of really unusual things, as my illustration work goes, including painting from life, exactly as I did for the small paintings I'd done earlier. I went and purchased some fruit, split a pomegranate, and used some unfortunately mundane bananas. I did this after thumbnailing my composition out, and then laid out my setup next to me.
Initial Sketch
I did a black and white study for submission and submitted it. I was only asked to remove the tendril-y bits from the pomegranate seeds so the food wouldn't look harmful; I opted to make seeds glow instead. I left the setup in place while I awaited approval. Eventually I had to swap the pomegranate (what I shame, I had to eat the first one!).
I utilized my 'tight-but-loose' method of painting I incorporate in those paintings and largely handled this just like a traditional still life painting. For the watermelon, wanting it pyramidal, I printed out large color sheets of watermelon skin texture and glued them to a foam core pyramid, then placed that behind the other fruits.
In the live streams the week before, I mentioned that a few of them had been painted in various limited palettes. Because Throne of Eldraine was supposed to call back to classical paintings—including 19th century works—in terms of its color space, I opted for a Zorn palette of White, Yellow Ochre, Cadmium Red, and Ivory Black. These colors stayed on my palette for a bit and I ended up doing a few paintings in a row using them, or with maybe single color modifications.
I'm not gonna lie, this was as much fun to paint as it looked. Because the Zorn palette does have a rather limited chroma, and the glowing apple was supposed to be a bit punchy, I did add a bit of Photoshop sweetening to it. In the end, it sat next to other Food illustrations in the same set by Steven Belledin, Donato Giancola, and Lucas Graciano, excellent painters I am honored to stand side-by-side with, who handled other types of food still life pieces for the same set.
I said it didn't matter too much if I was wrong about the speculation above: if it was totally by chance that I got this commission when I did, it still remains that having spent a week on still life paintings the week before, I was ready for this in a very unique way, making it a great prelude to working on this.
Update: I learned from Cynthia that she did indeed assign me this on the basis of having seen my still life work the week before!
Selling like Hot Cakes
What a fascinating story, and it's so cool to hear that Randy's speculation about what led to his commission was correct!
The Food Tokens from Throne of Eldraine are a brand new token type and mechanic; and provide an unusual opportunity to add traditional still life illustrations, albeit with a fantastical twist, to the game. Two of them are now sold (Gallegos and Graciano) and two are still available (Belledin and Giancola). If you're interested in a 'piece' of the action, you best get to the table!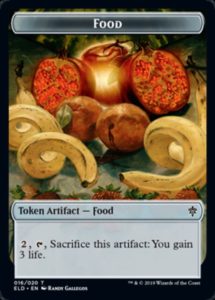 About the Artist:
Randy Gallegos has been illustrating for Magic since 1995 (yes, he might be an actual vampire), and in that time has illustrated more than 160 cards for the game. He is wildly talented and can paint quite literally anything, be it landscape, creature, dynamic battle scene, or the serene still life like we see here.