On August 27th, 2019, fantasy illustrator and Magic artist Joseph Meehan launched a brand new Kickstarter for his own line of hand-made metal tokens for Magic: the Gathering gameplay.
At the campaign's outset, Meehan offered five different choices of tokens, including some of Magic's more difficult creature combinations to find. They are a 5/5 Demon, 1/1 Goblin, 1/1 Harpy, 1/1 Soldier, and 1/1 Bird Illusion.
This slideshow requires JavaScript.
Each token is slightly smaller than a standard Magic card, measuring 2 1/8 inches by 3 3/8 inches, made of black anodized aluminum, and then ink-washed by hand. Each individual piece is a unique work of art by the artist's hand.
While Meehan doesn't have any formal stretch goals announced, there are five more tokens in the works that will be included as a part of the initial campaign once funded: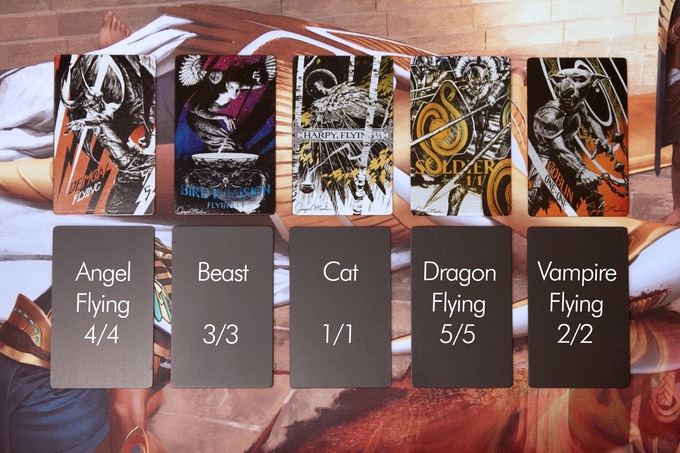 The funding the project allows for their full completion and backers will have the option choose from these 10 tokens at their desired backing level.
The Kickstarter is off to a great start, being over 50% funded through Labor Day weekend, not yet a week old. If the project continues at this pace, might we see even more token options? Only time will tell.
About the Artist
Joseph Meehan has illustrated 58 cards for Magic as of the writing of this article, and works both digitally or traditionally depending on assignment. His notable cards include the Masterpiece Pithing Needle, four Amonkhet Masterpiece Invocations, and several artifact-related Legendary Creatures. He has worked on Magic for the last five years, and is routinely commissioned as new sets are released.

Meehan is a master of metal in his illustration, and now brings that talent beyond the border of the card and into your hands. Don't miss this opportunity for some of the most unique tokens ever made available for Magic! Clink Clink!