This morning, Wizards of the Coast announced that they will replace Magic: the Gathering's Pro Tour (or tabletop Mythic Championships, as they've been called in 2019) with a new regional Players Tour. In doing so, Wizards has officially separated tabletop Magic and digital Magic's Organized Players structures, though both culminate in the World Championship.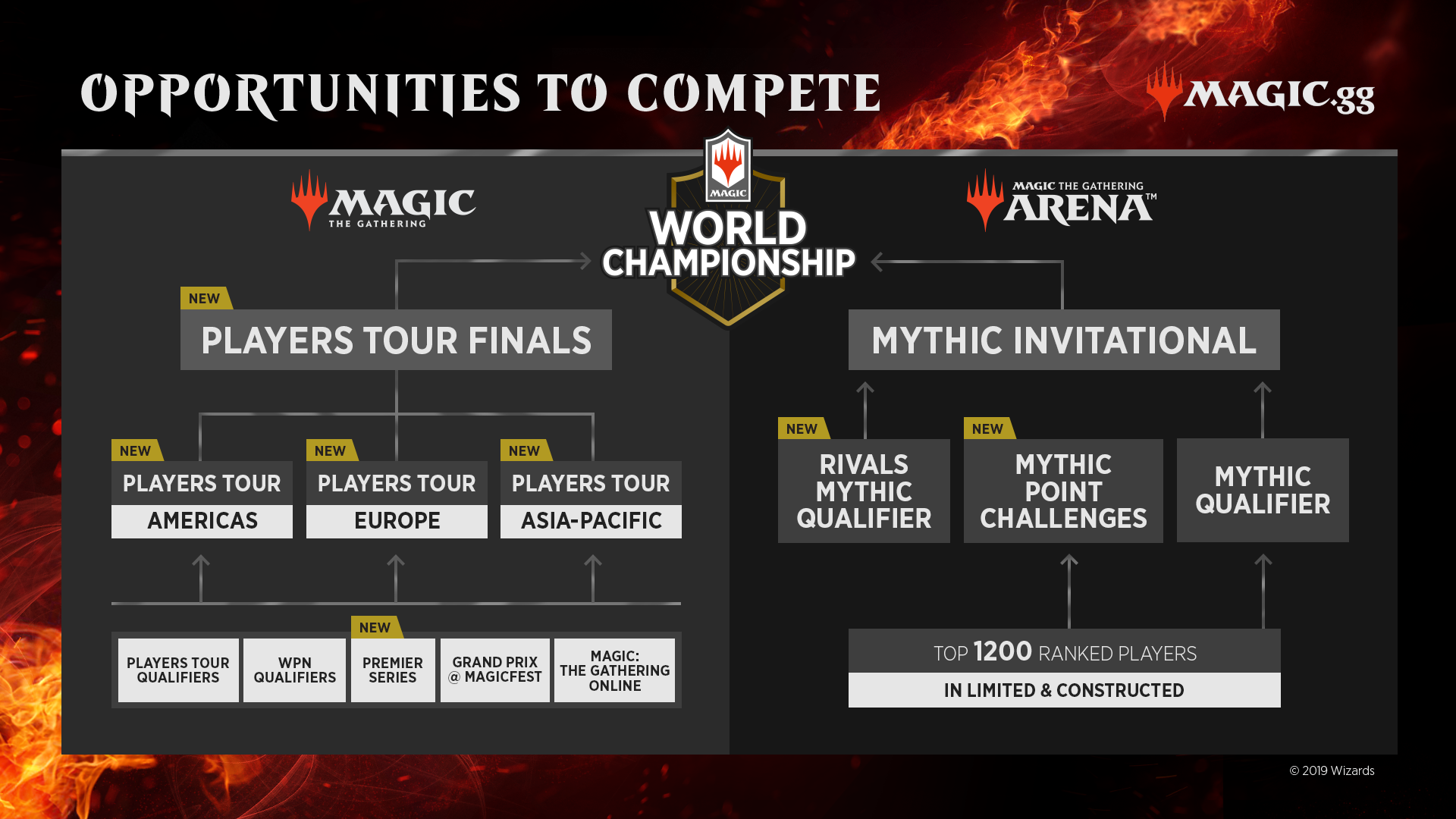 The Players Tour
The new Players Tour will be split into three regions: the Americas, Europe, and Asia-Pacific. There will three events in each region in each season for a total of nine events. Additionally, there will be one Players Tour Finals in per region at the end of each season.
The prize pools, as well as the number of invited players, of the nine Players Tour events will differ by region. In the Americas, the Players Tour events will invite approximately 500 players and award $250,000; in Europe, approximately 400 players and $200,000 in prizes; and in Asia-Pacific, approximately 250 payers and $150,000 in prizes.
The new Players Tour very much resembles the classic Pro Tour in terms of how aspiring Planeswalkers can qualify for events. Here are all of the paths to qualify for a regional Players Tour event:
All players from that region's previous Players Tour Finals event
Top Finishers from previous Players Tour event (by record)
All members of the Magic Pro League
All members of the Rivals League
Top 8 finishers, plus players with at least 39 match points, at individual Grand Prix events
Top 4 teams, plus teams with at least 36 match points, at team Grand Prix events
Last Chance Qualifier winners held the day before the Players Tour event
Players Tour Qualifiers
MTGO Qualifiers
WPN Qualifiers
Premier Series Events
Hall of Fame Status
Discretionary Invitations
That looks very much like the old Pro Tour qualification system, which should be a relief to players who were missing the old structure. With three Players Tour events per year, plus a Players Tour Finals, we are back at the same level of tabletop support as the Pro Tour had through the 2017-18 season with four events per season.
The Players Tour Finals is a new event that will be fed from Players Tour events. There will be three Players Tour Finals throughout the season that will award $250,000 in prizes, with each being fed from three regional Players Tour events—one from each region. This means that each Players Tour Finals will include players from all three regions.
There will be multiple ways to qualify for your region's Players Tour Finals, though most have to do with performances in that season's Players Tour events:
Top Finishers from the season's Players Tour events (by record)
Top Finishers from previous season's Players Tour Finals event
All members of the Magic Pro League
All Grand Prix Winners from the qualifying season
Wizards also said that all Players Tour and Players Tour Finals events will have video coverage.
MTG Arena's Mythic Invitationals
The flip side of the tabletop Players Tour for digital Magic will be MTG Arena Mythic Invitationals.
In 2019, digital Magic had four major tournaments: three MTG Arena Mythic Championships and the Mythic Invitational. Starting in 2020, these events will be condensed into three Mythic Invitationals per season, each awarding $750,000 in prizes.
These new Mythic Invitationals will be closer to 2019's MTG Arena Mythic Championships than the 2019 Mythic Invitational. They will invite:
Some members of Magic Pro League
Some members of the new Magic Rivals League
The Top 16 players from the Mythic Qualifier Tournaments
Aa number of discretionary invites
Similar to 2019's Mythic Qualifiers, the new Mythic Qualifiers will invite the top 1,200 players on MTG Arena in both Constructed and Limited at the end of each qualifying month.
There will also be a new kind MTG Arena tournament: Mythic Point Challenges. These will be available to the top 1,200 players on MTG Arena in both Constructed and Limited at the end of each qualifying month, like Mythic Qualifiers, and will be a chance for players to earn Mythic Points. These tournaments will not feed into any other events.
The World Championship
Each season's Players Tour and the Mythic Invitationals will culminate in a World Championship.
The 2020-2021 World Championship will award $1 million in prizes and take place near the end of the season. It will feature the winners of each Players Tour Finals and Mythic Invitational from that season, and additional slots will be announced before that season starts.
(Note: the 2019 World Championship has been delayed until February 2020.)
uThe New Organized Play Hierarchy
Ever since the original announcement of the 2019 Magic Pro League, the future of tabletop Magic has been hazy. The Pro Tour was replaced by the Mythic Championship series, a confusing hybrid of tabletop and digital events. Now, the Pro Tour has returned in all of its glory, rebranded as the Players Tour, and it has been enhanced with strong regional support and a clear path to move past the Players Tour to the new Magic Rivals League or the Magic Pro League.
This helps clarify the hierarchy of Magic's new Organized Play system. The Players Tour and Mythic Invitationals will help qualify players for the World Championship, all of which award points that help players enter the Magic Rivals League, which in turn will allow players to qualify for the Magic Pro League.
Points!
To cement the separation of tabletop and digital Organized Play, Wizards of the Coast is also separating the points that awarded at tabletop and digital events. Digital events on MTG Arena (Mythic Invitationals, Mythic Qualifiers, Mythic Point Challenges) will award Mythic Points, while tabletop events (the Players Tour, Players Tour Finals) will award Players Points.
Previously, tabletop Organized Play used to award Pro Points, which were used to qualify for Pro Players Club levels, and were changed to Mythic Points for the 2019 season and were awarded at both tabletop and digital events.
No True Players Club Replacement
Obviously, the big piece of the Pro Tour puzzle that is missing from the new Players Tour and Mythic Invitational structure is a Pro Players club.
The Pro Players Club used to provide appearance fees and guaranteed invitations to Pro Tours based on how many Pro Points a player earned in the current or previous season. However, both Pro Points and the Pro Players Club were phased out in 2019 as part of the new Mythic Championship system.
Unfortunately, neither the new Players Tour or Mythic Invitational systems will provide anything quite like the Pro Players Club. Instead, it has been replaced by the Magic Pro League and the Magic Rivals League in the new incarnation of esports competition for Magic, both of which pay $50,000 and $20,000 in appearance fees per season, respectively. This new league play tier sits above the Players Tour and serves as a sort of cross-platform reincarnation Pro Players Club that supports both tabletop and digital Magic players, but only for the 24 members of the Magic Pro League and 46 players of the Magic Rivals League.
Addressing Some Issues with the Old Pro Tour System
The old Pro Tour was not without its failings. Wizards of the Coast is trying to address a core issue, travel, by creating the regional play tracks for the Players Tour.
The biggest expense of being a competitive tabletop player has always been the cost of travel. No longer forcing players to fly all over the world to compete—and hopefully not all over the country or region either—should keep costs down for players and increase the value of competing even for those who do not qualify for league play.
We won't have the full picture of just how regional the Players Tour will be until we see the actual schedule of events, though. In the past, there have been concerns about support for smaller regions like Latin America, which may not be addressed since it has been lumped together with North America for the Players Tour.
A Step in the Right Direction?
The new Players Tour and its move to regional qualification will hopefully give tabletop Magic a clear and improved Organized Play structure. It creates a funnel from the Players Tour to the Magic Rivals League and then the Magic Pro League, which should give grinders a clear picture of where the goalposts are as they plan for the upcoming seasons of competitive play.
While some may still lament the loss of the old Pro Tour, the new Players Tour is a clear path forward that rewards tabletop players and integrates with the brave new world of Magic esports.
Correction: An earlier version of this article misunderstood the relationship between regional Players Tour events Players Tour Finals. It has been updated to reflect that each Player Tour Finals is fed by a single Players Tour event from each of the three regions.