Today, Wizards of the Coast announced that the Magic Pro League's Core Split would begin on August 10, 2019 with significant changes to how its divisions and coverage will work.
New Weekly Divisional Play Structure
The biggest changes to the Magic Pro League's Core Split is to how each week of the Split is structured and how each division winner will be determined.
The Core Split will be four weeks long, down from five weeks for the Spark Split, with each week featuring one of the four eight-player divisions. During their dedicated week, each division will play a round robin tournament from Monday to Wednesday with players using the same deck the whole time. Then, the Top 4 players will be able to switch decks and compete in a double-elimination bracket on Thursday and Friday to determine the division winner.
The division winners will receive byes into Day 2 of the upcoming Mythic Championship V Long Beach on October 18-20, 2019.
This new structure is a huge change from the Magic Pro League's inaugural Spark Split. Previously, each division of eight players played a full round robin tournament spread out over five weeks to determine the division winners, with players being allowed to switch decks each week.
Updates to MPL Weekly
Official coverage of the Magic Pro League will still take place on the MPL Weekly show on Saturdays. However, MPL Weekly will no longer serve as a recap show.
Instead, all Magic Pro League members will be able to talk about and post videos of all of their round robin matches from Monday through Wednesday as soon as they are done. The Top 4 bracket will be played on Thursday and Friday, and those matches will be broadcast on MPL Weekly every Saturday at 3 PM Eastern.
MPL Weekly will be made up of a familiar group of casters but will feature a Magic Pro League member every week during the Core Split. Ben Stark will join Becca Scott, Marshall Sutcliffe, and Cedric Phillips for the first week of the Core Split, and Brad Nelson will cast a later week. Wizards also said that a greater emphasis will be placed on player interviews during the stream.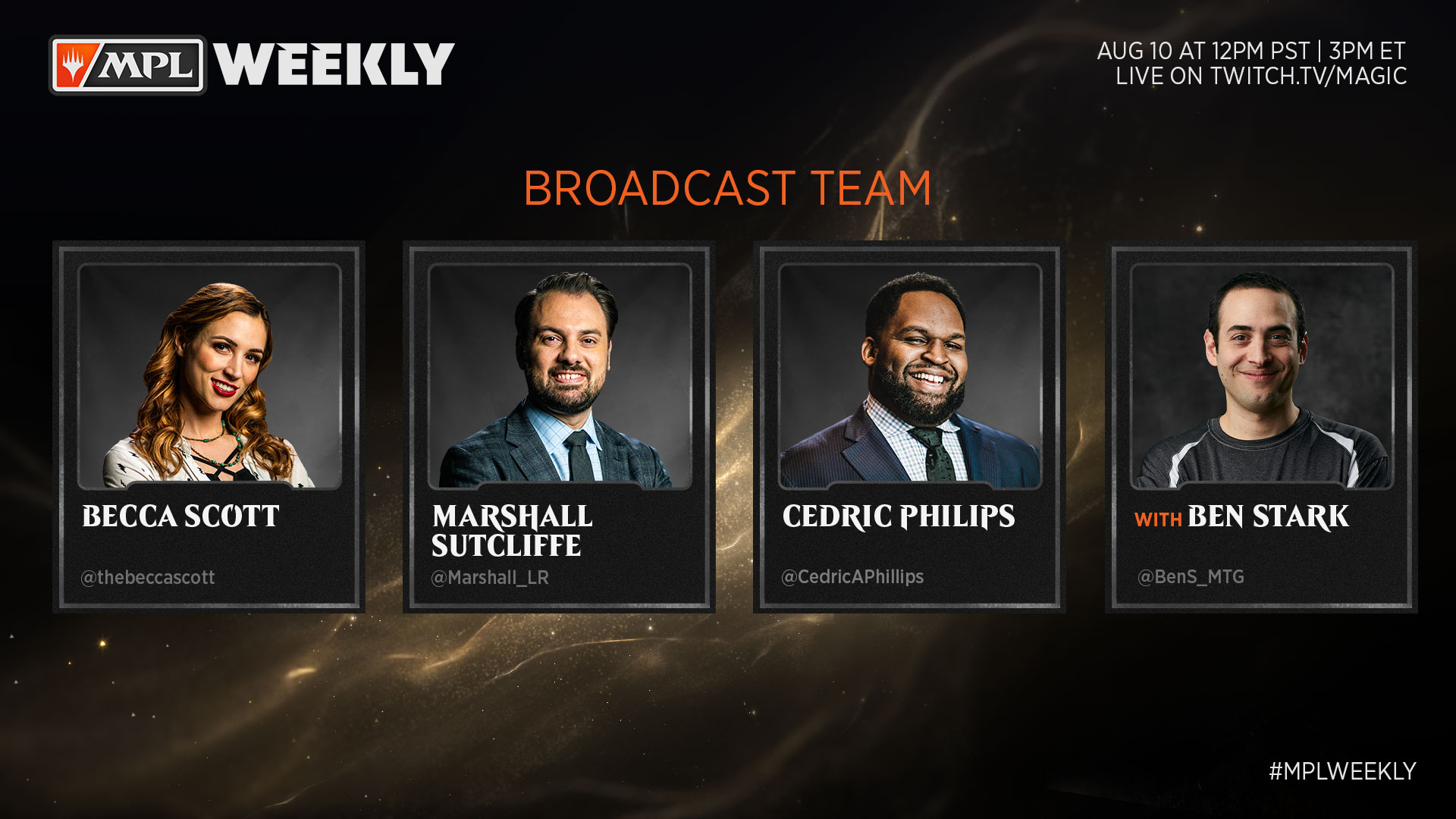 Coverage of the Magic Pro League's Core Split begins on August 10, 2019 on twitch.tv/magic with the Pearl Division, followed by the Emerald Division on August 17, then two weeks off for Grand Prix Vegas and Labor Day Weekend, and return with the Sapphire Division on September 7, and finish with the Ruby Division on September 14.
The Core Split Divisions
"Brad Nelson headlines the Pearl Division as the only player to go 7-0 in Spark Split play. Christian Hauck and Grzegorz Kowalski are coming off Top 16 finishes at Mythic Championship IV. Autumn Burchett, Márcio Carvalho, and Piotr Głogowski are near the top of the MPL Mythic Points standings, while Andrew Cuneo and Carlos Romão are starting to see the gap widen between them and the top of the standings."
"Five Magic Hall of Famers are in the Emerald Division. Seth Manfield and Martin Jůza excelled in the Spark Split–they just had the misfortune of being in the same division as Nelson. Eric Froehlich and Paulo Vitor Damo da Rosa were contenders in their Spark Split divisions too. Shota Yasooka, Jessica Estephan, Luis Salvatto, and Alexander Hayne round out the division."
"Due to the seeding system, two Spark Split division champs ended up in one division–Brian Braun-Duin and Ken Yukuhiro. Both are forces in Standard, so this could be a real dog fight in the Ruby Division. Javier Dominguez and Shahar Shenhar are well-positioned in the MPL standings, but Janne Mikkonen, Lee Shi Tian, John Rolf, and Matthew Nass all are looking to bounce back with strong performances this split."
"Teammates and good friends William Jensen and Reid Duke find themselves in the same division again, along with Ben Stark and Lucas Esper Berthoud. Rei Sato carries the target of Spark Split division winner on his back. Andrea Mengucci and Jean-Emmanuel Depraz can reinforce strong starts in the season standings with a good run this split, while Mike Sigrist is looking to make up a lot of ground after a slow start to his year."