Mythic Championship IV kicks off this Friday in Barcelona, Spain. Here's everything you need to know about upcoming Modern Mythic Championship.
This is an excerpt from this week's Hipsters Weekly MTG Newsletter. Every Monday, we tell you know what you need to know about the week's most important Magic news. Subscribe here! And don't forget to join our Mythic Championship IV fantasy leagues over on Thousand Leagues!
The Event
Mythic Championship IV Barcelona starts on Friday, July 26 at 9 AM local time (3 AM Eastern) and will end on Sunday, July 28. The tournament will take place at the Gran Via de Fira de Barcelona and will be streamed live on twitch.tv/magic.
The winner of the Mythic Championship will take home $50,000, while second place will be awarded $20,000, third and fourth places $15,000, and fifth through eighth places $10,000. Players that finish in the Top 16 will receive $6,000 and the tournament will pay all the way down to $500 to anyone placing lower than 180th.
The Players
492 players are invited to Mythic Championship IV Barcelona, including the 32 members of the Magic Pro League.
The Format
Mythic Championship IV will feature two formats: three rounds of Modern Horizons Limited and five rounds of Modern Constructed on Days 1 and 2, and Modern Constructed for the Top 8 single-elimination bracket.
The Modern metagame is in flux after the banning of Bridge from Below two weeks ago. Izzet Phoenix and Humans have been format mainstays for nearly a year (longer for Humans), but the rest of the field is scrambling to adapt now that the Hogaak Bridgevine is no longer the oppressive combo deck in the format.
Decklists for the Modern portion will be published the morning of Friday, July 26 with all maindeck cards and the card names of sideboard cards (but not card quantities—though the quantities will be added on Sunday, July 28). Those decklists will be available to all players before their matches starting in Round 4 (the first Modern Constructed round of the tournament).
The Limited format will be Modern Horizons, which was released on June 14, 2019, rather than Core Set 2020, the latest expansion released on July 12, 2019. This is a departure from previous Pro Tours/Mythic Championships, where the tournament always used the latest Standard-legal expansion set. The logic appears to be that Mythic Championship IV is a Modern event so using the Modern-specific Modern Horizons set, rather than the traditionally low-interest Core Set, makes more sense.
The Commentary Team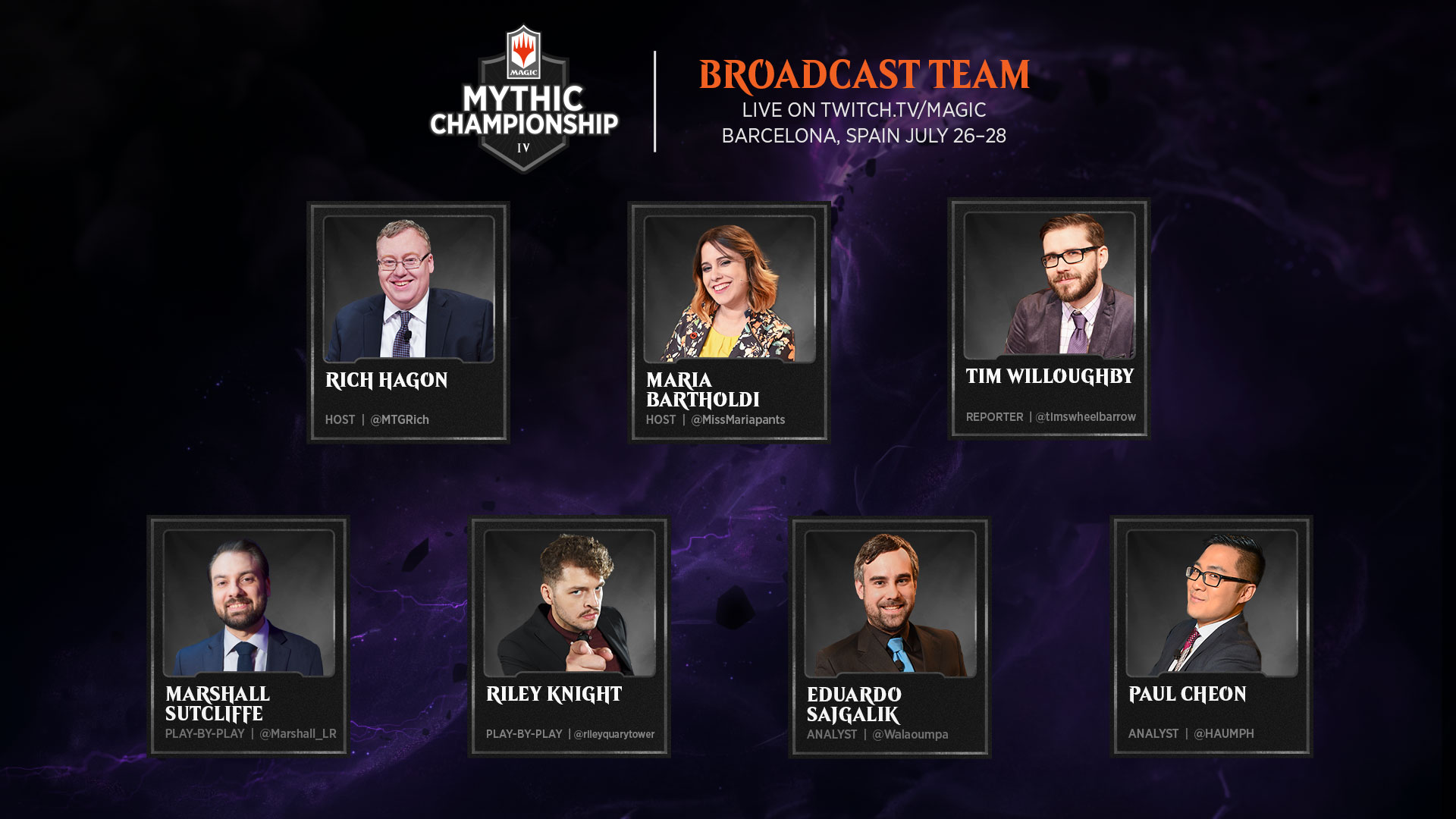 Mythic Championship IV Barcelona will be covered by a lot of familiar faces. Rich Hagon and Maria Bartholdi will be hosting from the News Desk with Tim Willoughby serving as the floor reporter, while Marshall Sutcliffe, Riley Knight, Eduardo Sajkalik, and Paul Cheon will be commentating matches.
The Fantasy Leagues
As usual, we're running plenty of Mythic Championship fantasy leagues over on Thousand Leagues! You can enter one of our public leagues for the chance to win a sealed Japanese War of the Spark booster box or some sweet Hipsters gear—or you can start your own league and invite your friends!