American Magic Pro League member Brad Nelson announced via Twitter today that he would not be able to attend Mythic Championship IV in Barcelona, Spain due to the fact that his passport will be expiring within 90 days. This will be the first Mythic Championship or Pro Tour event that Nelson has not attended since Pro Tour Gatecrash in February of 2013.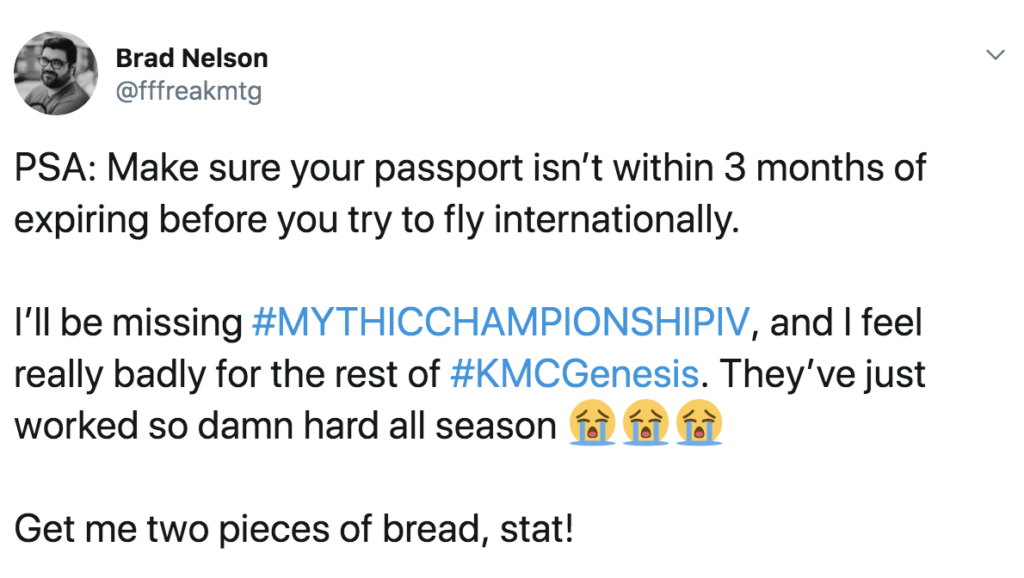 Spain, like most countries, requires visitors to have at least three months of valid time left on their passports from their expected date of departure in order to be issued a travel visa upon arrival.
Nelson's inability to participate in the Mythic Championship means he will not earn any Mythic Points, which will affect his position in the Magic Pro League standings, where he is currently in 7th place. Tabletop Mythic Championship events award a minimum of five Mythic Points and as many as 50 for finishing in first place. Only 10 points separate the top 10 players in the standings and with so few points available from the season splits, the Mythic Championships have an enormous impact on the standings.
The top four members of the Magic Pro League standings at the end of the year, which is determined by the number of Mythic Points earned, will secure seats at the Magic World Championship.
Additionally, Nelson's Mythic Championship Team Series team, KMC Genesis, currently sits in fifth place in the Mythic Championship Team Series standings. The are three points behind the fourth place Ultimate Guard Pro Team, nine points away from the second place Team ChannelFireball, and 19 points separate them from first overall Hareruya Sword. The Top 4 teams will win a share of over $200,000, while the Top 2 teams will also be invited to participate in the Team Series Champioinship. There is only one more event on the schedule that will contribute to the Team Series standings, which is Mythic Championship VI in Richmond, VA in November.
Nelson is taking the news in stride, acknowledging that Modern isn't his strongest format (he's best known for Standard) and looking forward to coverage of the event from the fan's perspective.