Today, Mage announced a new way to buy and sell Magic: the Gathering cards that they are likening to a "stock market" for Magic cards, which will launch later this year.
The German company, founded by Peer Oke Richelsen (CEO) and Malte Delfs (CTO), are planning to launch the new product in the United States and the European Union after they close their second round of funding by the end of the year. It will add three major features to their existing ecommerce platform: centralized fulfillment, verification of authenticity, and new bid and ask functionality.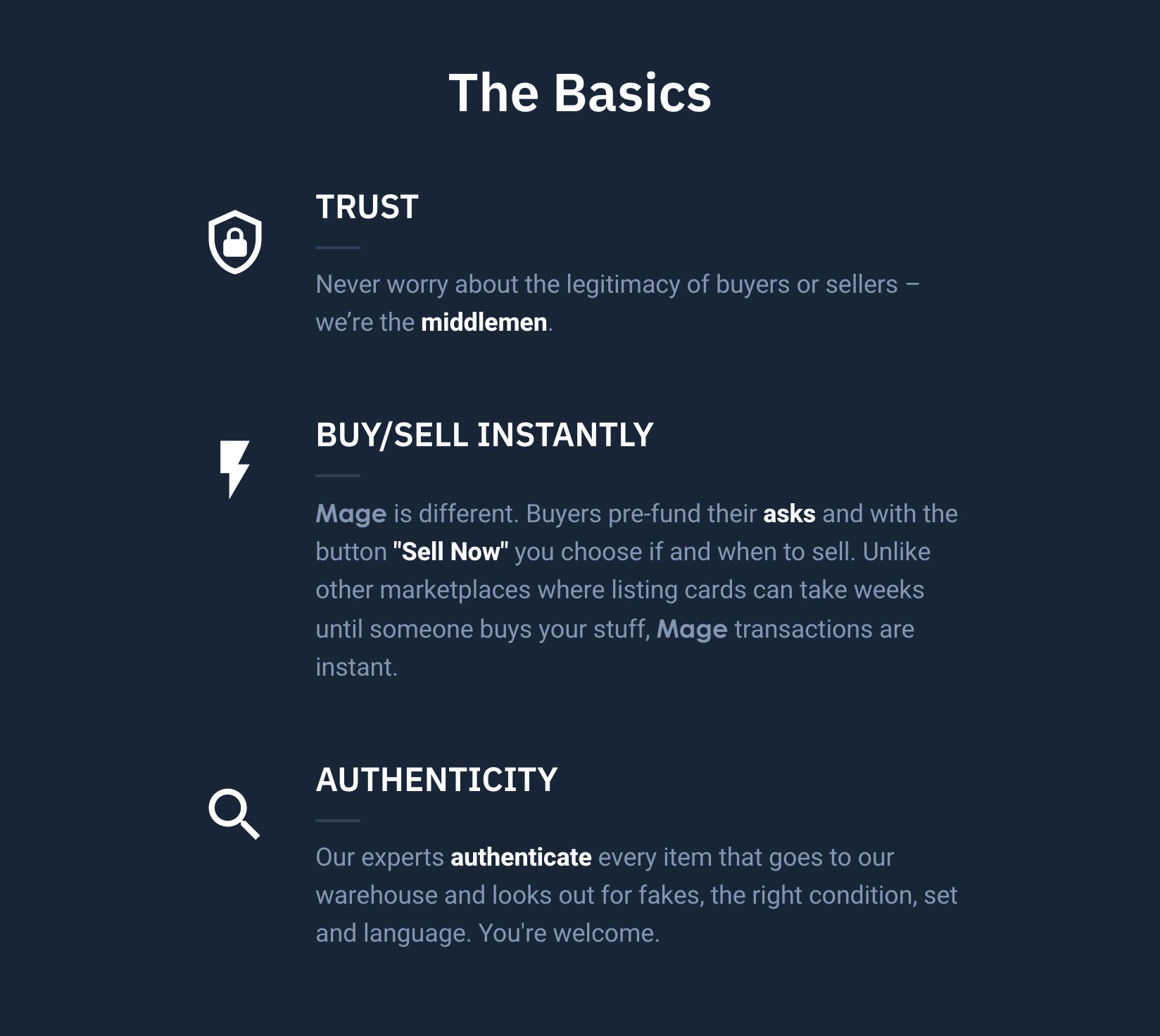 Currently, Mage allows third party sellers to list their products on its platform and fulfill those orders themselves. In Mage's next iteration, "We will become the active middleman for the orders to validate the card and fight fakes," Richelsen says. This means that those third parties will still list their products on the platform but, instead of sending the cards directly to the buyer, they will ship them to one of Mage's warehouses. Mage will then verify the card's authenticity and ship the card to the buyer. If that same card—in the same condition—is already in one of Mage's warehouses, they will ship the existing copy of the card to the buyer, instead.
The new bid and ask feature is what results in the comparison of Mage's new product to a stock market. The feature will allow buyers to set the price they'd like to buy a card for (a bid), which Mage will then try to match to a seller that has set a similar sell price (an ask) for that same card. If the bid and the ask match, Mage will automatically execute the transaction. Otherwise, sellers will have the opportunity to manually accept bids that differ from their asks.
This bid and ask system isn't dissimilar to how stocks and commodities are traded on exchanges—however, Mage will not actually be offering any stock or commodity trading. "We are not in the space to offer any financially regulated products," Richelsen says. In the end, Mage is still a platform for buying and selling Magic cards. "The cards are still being sent by mail and we do not any fragmentation or securitization."
The closest the new service will come to some kind of exchange is that Mage will let customers to purchase cards on the platform and choose not to have those cards shipped. Instead, Mage will continue to store the cards in their warehouses. The customer is free to re-list the cards for sale on the platform while it's still stored at a warehouse, or even have the cards shipped to them at a later date.
The First Magic Company to Graduate from Y Combinator
Mage was part of the Winter 2019 cohort of Y Combinator, a Silicon Valley-based accelerator program that invests in and advises small companies.
"Y Combinator had multiple events per week and offered private 1-to-1 meetings with the partners," Richelsen says. "These partners have decades of experience building and scaling startups and had an incredible impact on the product and idea. We had to redefine our pitch, rephrase our marketing, and rethink our whole product from scratch."
"At the end of the day," he continues, "Our biggest takeaway was simplicity. The product needs to be simple. The value proposition for the user needs to be simple: 'NO FAKES!' The language pitching to investors needs to be simple."
Richelsen says that being the first Magic company to go through Y Combinator was an amazing experience and would recommend it to any Magic entrepreneur. "I would 100% encourage every founder [to apply] and actively help founders when applying . . . If you are a founder who wants to give Y Combinator a try—definitely take the chance! As long as the initial market is big enough ($1 billion-plus) and the team is 100% laser focused on their mission, it's a bet Y Combinator is willing to take."