Supplementary products have been adding new blood straight into Legacy and Vintage for a while. Some have managed to make a big impact on the format—cards like Shardless Agent, True-Name Nemesis, and Palace Jailer. Now with Modern Horizons, cards have been added directly to Modern for the first time.
We're already seeing the Modern metagame evolve with the infusion of Modern Horizons. It's hard to know what the format will look like once this all shakes out, but here are the possible inclusions and upgrades I see for my favorite deck, Amulet Titan.

Fundamentally these are the same card in the main matchup where you would want an untargetable beater. Amulet isn't a graveyard deck, so Nimble Mongoose is tough to turn on with threshold. Hex Drinker lends itself well to a deck that has the mana to level it up, which Amulet can do. I think something like this could see an inclusion if control becomes huge in the format with the printing of Force of Negation. But it's more likely that Thrun, the Last Troll or Carnage Tyrant will hold on to this spot.
Grade: C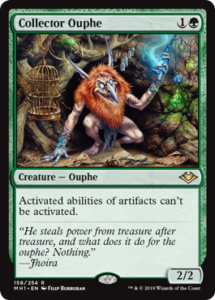 Artifacts are among the most powerful card types in this game, and especially in Modern. In addition, Mox Opal decks tend to be some of Amulet Titan's most difficult matchups. We have seen some builds of Amulet with Karn, the Great Creator really close the percentages in these matchups largely due to the static text. So it is really nice to have access to a pact target that shuts these decks down. Collector Ouphe is a really great card to have in the Amulet toolbox if those decks take over the format.
Grade: B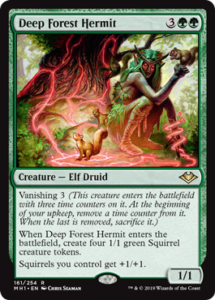 Deep Forest Hermit is a functional reprint of Deranged Hermit, offering eleven power over five bodies for only five mana. Five is a really important number because it's the number Sakura-Tribe Scout enables on turn three by itself. Because of that, powerful five-mana plays bridge the gap in the curve to Primeval Titan on turn four. You have seen cards like Thragtusk or Batterskull occupy this space in the past. The probably is nowadays we tend to use those slots to close that one-turn gap and get a turn three Titan rather than doing something less powerful. And Thragtusk would be better for this job anyway.
Grade: C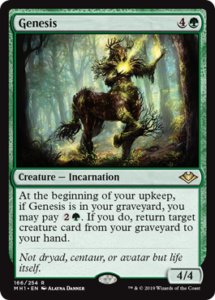 Here's a super sick grindy card that occupies the similar mana slot to Deep Forest Hermit. The problem with Genesis is that the deck is really good at getting creatures into your hand, but not the graveyard. If the text on this card was active on the battlefield and not just the graveyard, we might give it another look.
Grade: D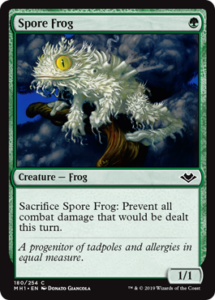 Pure racing situations are not that most common in this format, but Spore Frog definitely is a nice pact target to have access to do that. If only it prevented all damage, not just combat damage. Then it might have enough application to make the cut in some metagames, but as it stands it's merely a sweet card.
Grade: D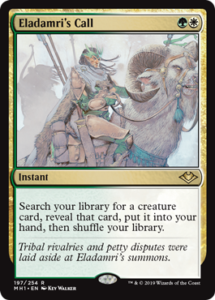 I found some time to play with Finale of Devastation and found it to be fine. The benefit of Eladamri's Call is that, similar to Pact or Tolaria West, it lets you split up the cost over multiple turns. The major disadvantage is the second color of mana. Even though the deck has access to all five colors of mana, outside of green and to a lesser extent blue no color is free and guaranteed. There is a real cost to focusing around these tertiary colors.  I ended up not going with Finale in my latest builds, so this would fall into similar space but could see some potential in the future.
Grade: B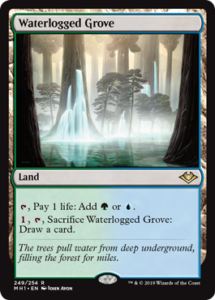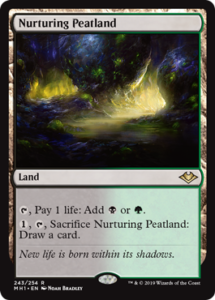 Now we have an additional two green Horizon Canopy lands. Horizon Canopy has seen some play in Amulet in the white builds. The pain land aspect of it tends to be a little too high in a mana hungry deck like this. There is no doubt that these lands are powerful, and Waterlogged Grove specifically is a great option because as I have mentioned the core of the deck is green/blue. This is a super powerful option when building manabases to get a little bit extra value.
Grade: B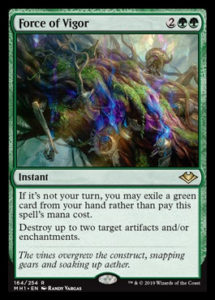 Saving the best for last, Force of Vigor is an absolute slam dunk in Amulet. Even more so than my last slam dunk, Karn, the Great Creator. This card destroys Blood Moon for no mana! In fact it can destroy two Blood Moons for zero mana. Blood Moon is the single best card against the Amulet deck, and being able to deal with it without having to draw one or two basic forests is a huge addition. So it being able to destroy multiple artifacts, surprise a lethal Inkmoth Nexus, or remove an Ensnaring Bridge. I can guarantee there will be multiple copies of this card in Amulet sideboards in the early stages of the new format.
Grade: A
I'm looking forward to see what happens to such an established format with the injection of so many card designed for it.  I'm just hoping Amulet is still great moving forward, or that I am one of the first people to break the new format.