The first wave of Modern Horizons spoilers are out, and it just wouldn't be spoiler season without throwing together a collection of first impressions and hot takes. With that in mind, Team Nova members Chad Harney and Drake Sasser lay down their opinions on the first dose of potential Modern players in Horizons.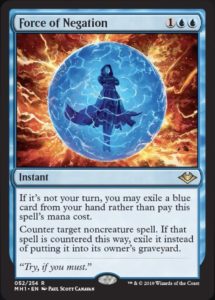 Chad
I'm actually really happy with their attempt to add a Force of Will-like card to Modern. I could definitely hear the argument that they should have just printed Force of Will. However, I like that this allows control decks to answer cards like Faithless Looting, Goryo's Vengeance, Neoform, and more while not being quite as potentially oppressive as a free counterspell. Maybe if this card works out, we could potentially see Force of Will in the future, but I like that they've settled on this middle ground for now.
Drake
Whoop there it is. There was a lot of buzz in the Magic community on the viability adding Force of Will to Modern. I personally stood on the side that it would be a perfectly reasonable add. Force of Negation solves the same problems, but is much a better design! Make no mistake, free spells are inherently broken, and this card will see play in both Modern and Legacy. Personally, I believe this card provides a huge boost to blue based fair decks while not providing any added counterspell insurance for blue based combo decks, which was a tough design to get right. The exile clause is also not irrelevant, given there are plenty of flashback cards being played in standard right now.
Potential Modern archetype inclusions: UWx Control and Grixis Shadow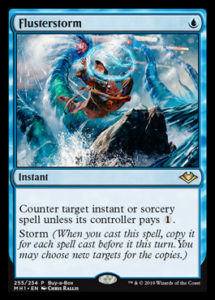 Chad
I'm not convinced that Flusterstorm will make any waves in Modern. Legacy is flush with cantrips and other powerful instants and sorceries. Countering Opt isn't quite as exciting as countering Brainstorm. I could maybe see one copy in sideboards, but not much beyond that.
Drake
A fantastic reprint! It is not secret that cards with the storm mechanic were far more powerful than was initially anticipated, and Flusterstorm ends counter wars as while being a generically high impact sideboard card in Legacy. I suspect the card will have a much lesser impact on Modern than it does in Legacy because Modern decks are generally much less interested in high numbers of specifically instants and sorceries than in Legacy due to the presence of Brainstorm. While regarded on the surface as another tool for fair blue decks, one of the places Flusterstorm could be most effective would be Modern Storm itself.
Potential Modern Archetypes: Izzet Phoenix, UWx Control, Grixis Shadow, Infect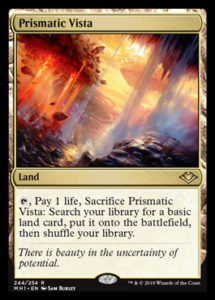 Chad
This card has a lot of applications in Legacy in basic-heavy Azorius decks. The same could be said for Azorius in Modern, but they rarely play more than the four Flooded Strand already. Even in a deck like Burn, this is strictly worse than another red fetch. Cool card, but I'm not seeing very many uses for it in Modern.
Drake
Fetchlands were not something I expected we would see iterations of ever again. I hold the opinion that fetchlands were one of the biggest format-warping mistakes that Wizards has ever deemed to be acceptable for Eternal formats, and they come with a slew of issues. One of which being they are very powerful. While fetching only basic lands is a little worse than previous versions, this still seems to be the kind of card that decks like Legacy Miracles would want. Other than some of the control decks, I don't expect this card to be widely played; but even searching only basics it will certainly see some amount of play.
Potential Modern Archetypes: ???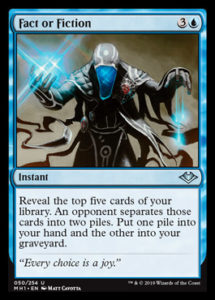 Chad
EOTFOFYL, a common acronym meaning "end of turn Fact or Fiction, you lose." However I think that acronym should be changed to YDWTCIYHBYDHFFDII, "you died with this card in your hand because your deck has fourteen four drops in it." Jace, Teferi, Cryptic Command, Supreme Verdict—now we're wanting to add another one? Don't get me wrong, Fact or Fiction is a great card, but this isn't Invasion Standard. You need to take off the rose colored glasses.
I say all this as I just bought four foils. Do as I say, not as I do.
Drake
A fan favorite and cube staple, people have been asking for Fact or Fiction for years. Overall I don't think Fact or Fiction will have any real impact on Modern, and does not currently see any Legacy play. Modern fair decks have no shortage of effective 4+ cost card-advantage engines already, and I expect this card to widely overplayed for the first few weeks of the new Modern format.
Potential Modern Archetypes: ???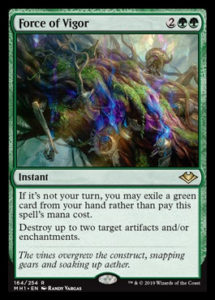 Chad
I like Force of Vigor a lot. Typically free cards are tempo-positive while being card-negative. This card has the potential to be a two-for-two. It can allow decks like Scapeshift to break out of Blood Moon locks even if they don't have access to green. It's not going to break Modern open, but I wouldn't be surprised if this sees some play.
Drake
The next of the cards in the new "Force" cycle is also a very high impact card—most notably against the card Blood Moon. This allows decks to not only be able to interact with Blood Moon without any mana available, it more importantly allows players to interact with Blood Moon without using any colors of mana. This card I believe will be very prevalent in Legacy as well due to how well it dispatches Chalice of the Void too. Once again, free cards are going to be powerful and this is no exception
Potential Modern Archetypes: Scapeshift, Infect,  Amulet Titan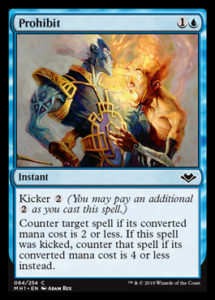 Chad
I appreciate the effort, but this card is no Counterspell. For the most part, Prohibit is worse than Logic Knot. I don't see this card seeing play.
Drake
Most of my experience with this card comes from the long-forgotten Tiny Leaders format. The card is reasonable on rate, but I do not believe makes the cutoff for Modern playability. I also hope that the spoiling of this card doesn't mean that we will be missing original Counterspell in this set, as I believe that card to be a fantastic add to Modern as well.
Potential Modern Archetypes: None.
Chad
Legacy Goblins and Modern Goblins are worlds apart when it comes to archetype. Legacy Goblins is almost an attrition prison deck at times, while the Modern variant is sleeving up Goblin Grenades. Modern Goblins is missing quite a few tools for it to port over to its Legacy counterpart. It's a nice reprint to see added to Modern, but this isn't what Modern Goblins wants.
Drake
They really want this Goblins thing to happen huh? Most of what Matron has to offer here is the hope that Goblin Lackey also make it way into the Modern format. Once we have more key pieces in Modern, I think there is some real legitimacy to Goblins as a contender in the format. Until then I will be passing on this one.
Potential Modern Archetypes: Goblins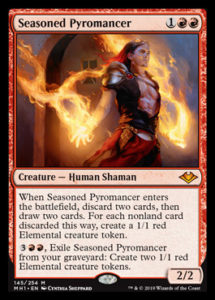 Chad
The best home for this card is Dredge, there I said it. I'm excited to try one or two copies of this card in Dredge as copies five and six of Cathartic Reunion. Dredge is the only place I see this card being played, even then I'm not sure it's good enough.
Drake
Seasoned Pyromancer looks like it was customed designed for Mardu Pyromancer. Not only does it pay homage to the card Young Pyromancer in flavor, it would also pair well with Lingering Souls and friends in the old iterations of the deck. This card does allow Mardu Pyromancer to have extra copies of a psuedo-Faithless Looting, but it also rewards you for discarding extra copies to the first copy that resolves since they can later be cashed out for more tokens. I think this card will be a day late and a dollar short, as Mardu Pyromancer has not been a serious contender in Modern for many months. This card also notable pairs well with Arclight Phoenix, but I think overall the effect may be too over-costed for the Phoenix deck.
Potential Archetypes: Izzet Phoenix, Mardu Pyromancer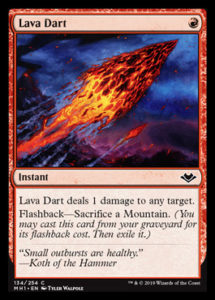 Chad
I've seen this card played occasionally in Legacy builds of Phoenix. In Modern, I think the free cards of choice should still be Surgical Extraction or Gut Shot. The upside is that this card can count as two spells. But being able to kill an X/1 on the draw with Gut Shot or take a key card with Surgical are much higher upsides a lot of the time.
Drake
"Shock with downside" as my friend calls it. Many veterans of the game have nostalgic memories of this card, but I find it to be incredibly underpowered for what Modern is about in 2019. There is a chance it could show up as a strange sideboard plan for Humans where Forked Bolt isn't acceptable for some reason. Realistically the most important thing about this card it allows you to easily cast two spells in a turn which gets you most of the way to returning Arclight Phoenixes to play. I think I would still pass on this though.
Potential Archetypes: Izzet Phoenix, Mono Red Phoenix
______________________
Where will you be trying out the new Modern Horizons cards? Be sure to share your thoughts with us on Twitter. Also be sure to check out our next impressions article where we go over the new Horizon Canopy cycle, Nimble Mongoose and more!