After eight rounds of Standard on MTG Arena, Pro Tour Dominaria champion Wyatt Darby won Week 2 of Fandom Legends' $4k MTG Arena tournament series, defeating Mythic Championship I Cleveland champion Autumn Burchett in the finals.
Darby was one of two players to bring Mono-Red Aggro to the tournament, the same archetype he piloted to victory at PT Dominaria a year ago. He went 4-1 in the Swiss rounds and advanced past streamers Allison "Skybilz" Maino in the quarterfinals and Kenji "Nummy" Egashira in the semifinals. In the finals, he soundly defeated Burchett's Mono-Blue Tempo deck…which was also the same archetype that Burchett won Mythic Championship I with.
Wyatt Darby's Standard Mono-Red Aggro
Autumn Burchett's Standard Mono-Blue Tempo
A Scattered Metagame
While Week 1 saw a large number of players choose to bring Esper Control and Mono-Blue Tempo, Week 2 saw a much more varied metagame, including the return of 5-Color Chromatic Black with four Mastermind's Acquisitions in the hands of Ali Aintrazi.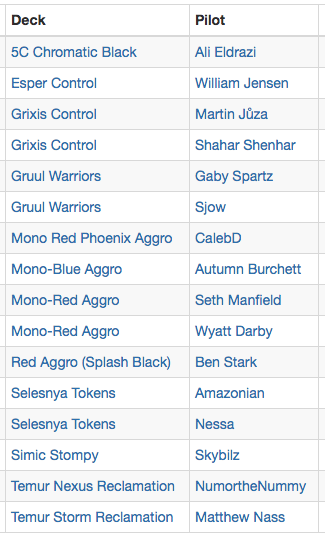 Fandom Legend's $4k MTG Arena tournament series will continue next Thursday at 2PM Easter on twitch.tv/fandom.