After eight rounds, Magic Pro League member Brad Nelson won Fandom Legends' first $4k MTG Arena tournament, defeating fellow MPL member Paulo Vitor Dama da Rosa in the finals.
Nelson was one of two players that brought Sultai Midrange to the tournament. Sultai Midrange was entirely absent from the Mythic Invitational and its Duo Standard format a few weeks ago due to most of the deck's staying power being in its ability to leverage powerful sideboard cards. But this tournament was a traditional Best-of-Three event, complete with sideboarding, making the deck a viable choice.
Nelson went 4-1 in the Swiss portion and defeated Jim Davis (Mono-Red) in the quarterfinals, Shahar Shenhar (Esper Control) in the semifinals, and Paulo Vitor Dama da Rosa (Esper Control) in the finals. His first place finish awarded $1,600 and the distinction of winning Fandom Legends' very first MTG Arena tournament.
The Return of Sultai and Mono-Blue
The Duo Standard format of the Mythic Invitational dramatically warped the event's metagame, resulting in Esper Control and Mono-White Aggro making up an astounding 28% and 21% of the field, respectively.
But with Fandom Legends using the traditional Best-of-Three format with sideboarding, the tournament saw the return of both Sultai Midrange and Mono-Blue. Both decks were largely absent at the Mythic Invitational due to their poor matchups against the event's aggressive metagame.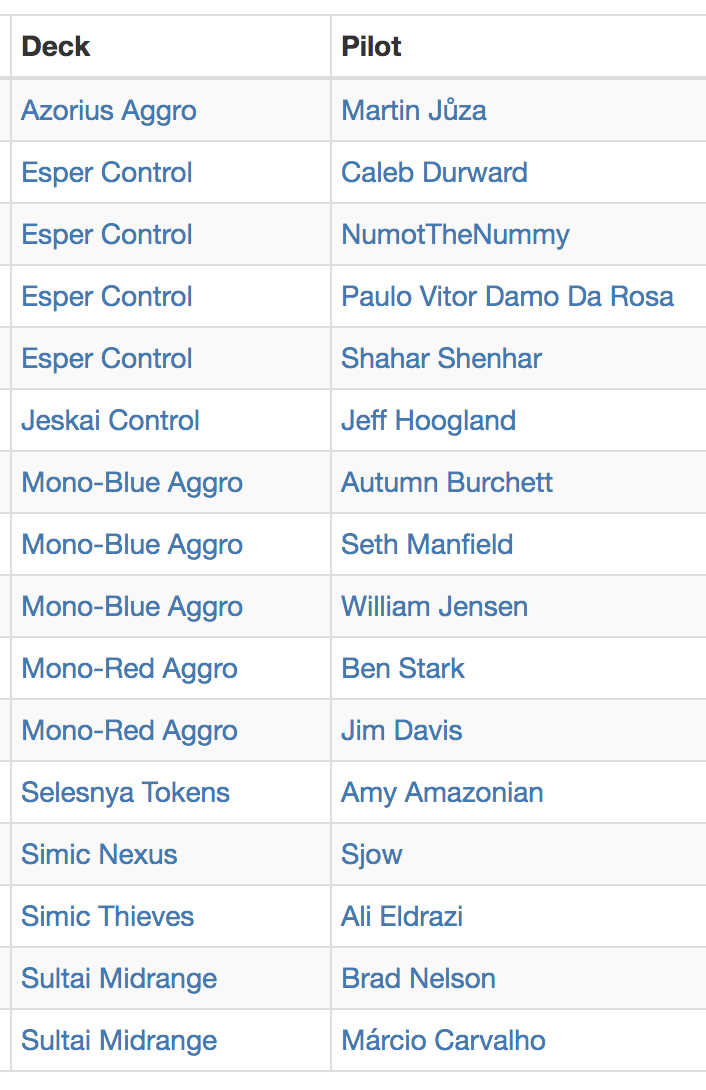 The tournament's metagame saw five players each choose Esper Control and Mono-Blue, while only one player brought a White aggressive deck. All in all, the Fandom Legends metagame was much closer to a normal Standard metagame than the Mythic Invitational's metagame.
The First Glimpse of MTG Arena's Community Esports Future
While the Mythic Invitational and its peak of 157,000 viewers was our first glimpse of Magic's high-stakes esports future, Fandom Legends was our first look at how the Magic community will use MTG Arena to organize a tournament series with substantial prize pools.
In December 2018 and February 2019, Twitch Rivals became the first major tournament organizer to run MTG Arena tournaments, awarding $20k in prizes between two events and reaching a peak of 24,785 viewers on Twitch. But Twitch Rivals doesn't have any known schedule for consistent MTG Arena tournaments, instead focusing on more traditional esports games like League of Legends, DOTA, PUBG, and Apex Legends.
Fandom, on the other hand, is the company that powers MTGSalvation, Gamepedia, and has a partnership with MTGGoldfish. Yesterday's Fandom Legends tournament is the first event in what Fandom says will be a weekly $4,000 tournament series that could eventually expand to include qualifier tournaments. While Fandom Legends' viewership is much smaller than Twitch Rivals, reaching a peak of 1,740 viewers, it was our clearest look yet at how community-organized MTG Arena tournaments will look.