After four days of intense double-elimination Magic, Andrea Mengucci won the Mythic Invitational at PAX East in Boston, Massachusetts. He defeated Piotr Glogowski 2-0 in the Grand Finals to win $250,000.
Smooth Sailing Through the Top 4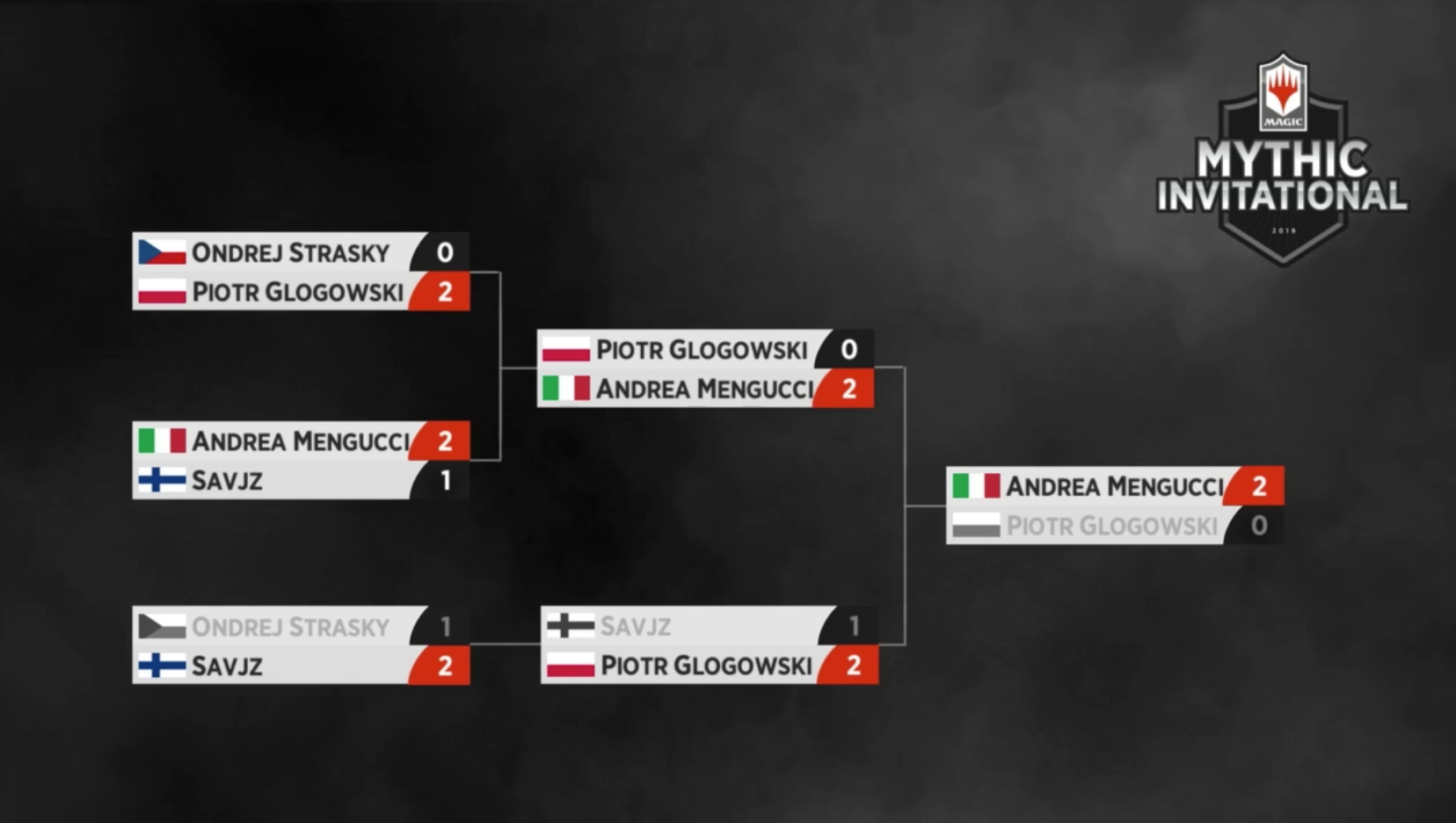 In his first match of the Top 4, Andrea Mengucci faced Janne "Savjz" Mikkonen, a former Hearthstone player for Team Liquid who defeated multiple Pro Tour Hall of Famers and Magic Pro League members on his way to the Top 4.
Both Mengucci and Savjz brought the most popular combination of decks to the Mythic Invitational: Esper Control and Mono-White Aggro, which made up an astounding 28% and 21% of the metagame, respectively. Mengucci was able to defeat Savjz on the back of an absurd Mono-White hand to win Game 1 and an early Kaya, Orzhov Usurper in Game 3 in the Esper Mirror to advance to the semifinals, where he met Piotr Glogowski.
Glogowski brought the third-most popular deck to the Mythic Invitational, Mono-Red Aggro, while also being the only player in the tournament to bring Mono-Blue Tempo, which has seen it's popularity skyrocket after Autumn Burchett won Mythic Championship I Cleveland with the deck.
In Game 1, Glogowski's Mono-Blue deck got its favorable matchup against Mengucci's Esper Control deck. But Glogowski chose not to counter Mengucci's Turn 4 Mastermind's Acquisition with his Spell Pierce, allowing Mengucci to search up a Cry of the Carnarium to cast with enough mana to pay for the Spell Pierce and wipe Glogowski's board. Glogowski was never able to recover, eventually conceding the game.
Game 2 saw Glogowski's Mono-Red deck against Mengucci's Mono-White deck. Mengucci had yet another absurd Mono-White draw, including a Venerated Loxodon to protect his creatures from Goblin Chainwhirler, absolutely steamrolling Glogowski and advancing to the Grand Finals.
With that loss, Piotr Glogowski dropped to the lower bracket, where he defeated Savjz to advance to the Grand Finals and a rematch against Andrea Mengucci.
Unfortunately for Glogowski, his rematch against Mengucci would would play out much the same way his semifinals loss did. He once again got the favorable matchup of Mono-Blue against Esper Control in Game 1, but missed his third land drop, allowing Mengucci to pull ahead with a flipped Azcanta, the Sunken Ruin and Teferi, Hero of Dominaria.
In Game 2, Mengucci drew his third straight absurd Mono-White hand. His two Tithe Takers and History of Benalia matched up extremely well against Glogowski's creature-light, burn-heavy hand. Mengucci eventually dropped a Venerated Loxodon and a massive Unbreakable Formation to win the the game, the match, and the Mythic Invitational.
Mengucci Wins His First Major
While Mengucci has been a fixture on the competitive Magic tournament circuit for a few years, he hadn't won a premiere event until his victory at the Mythic Invitational.
Mengucci represented the Italian team at the Magic World Cup in an unprecedented four year run from 2015 to 2018, winning the 2015 Magic World Cup and placing 3rd, 4th, and 4th over the following three years. He also has three Pro Tour Top 8s—at PT Journey into Nyx (2014), PT Shadows Over Innistrad (2016), and PT Rivals of Ixalan (2018).
In Magic's pre-esports era, Mengucci's resume would put him in the range of being a good Pro Tour Hall of Fame candidate. The future of the Hall of Fame is currently in doubt, but should it return in the future, Mengucci has almost certainly cemented his place in it.
The Mythic Invitational's Rocky Start
Just one day before the Mythic Invitational was set to begin, Wizards of the Coast announced that Magic Pro League member—and one of Magic's most popular players—Owen Turtenwald would not be playing in the event. On Friday evening, it came out that Turtenwald was accused of having "exhibited a pattern of predatory behavior toward female Magic players that spans several years," though Wizards wouldn't comment as to whether that was why he wouldn't be attending.
Turtenwald joined Rei Sato as the second member of the MPL to be disinvited from what was supposed to be the MPL's debut event. Sato's invite was revoked after being disqualified at Grand Prix Prague in January of this year for opportunistically cheating.
Brian David-Marshall, Pro Tour Historian and recently-retired Magic commentary legend, was chosen to take Turtenwald's place at the Mythic Invitational.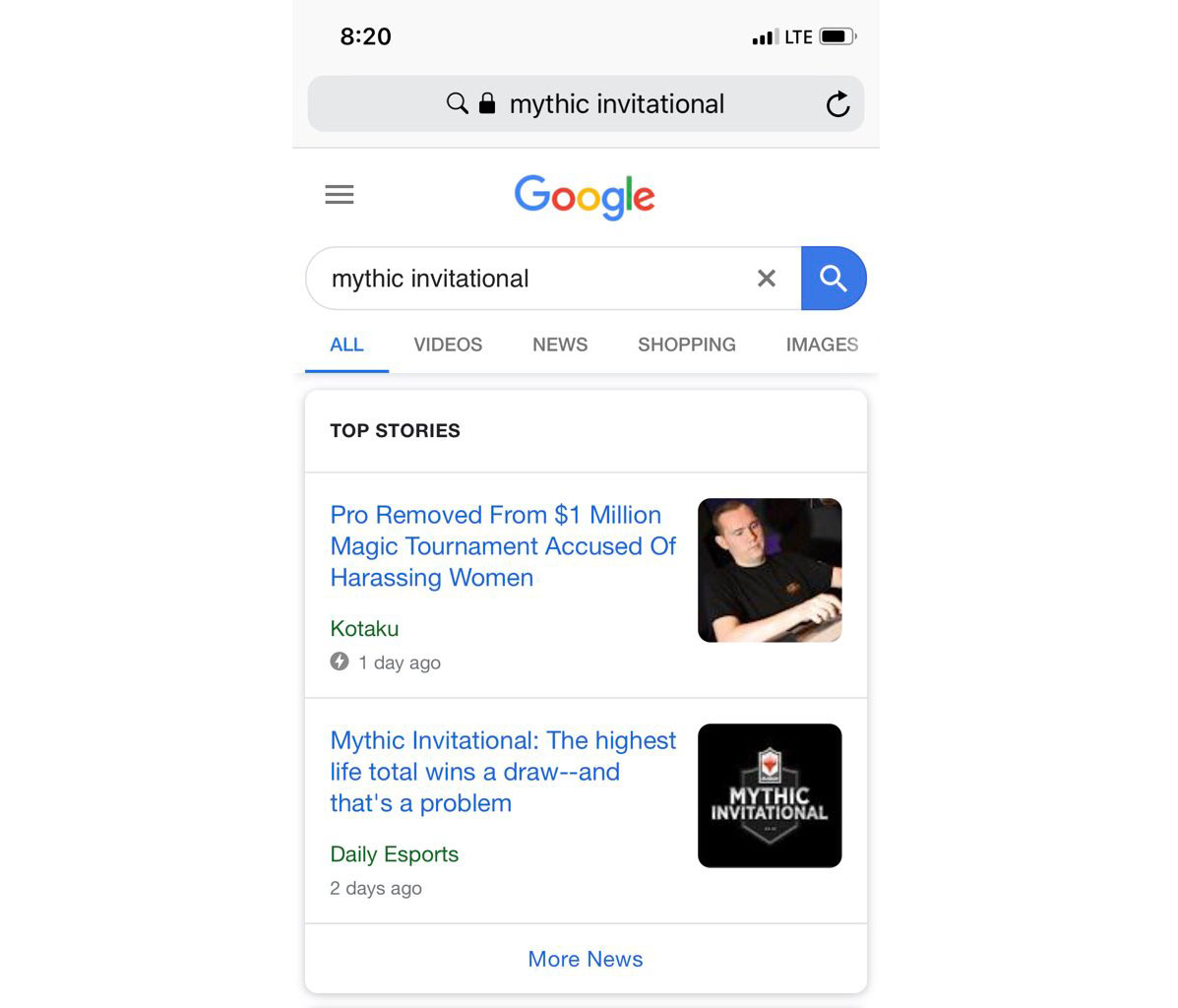 The beginning of the event wasn't without controversy, either. One of the very first matches shown on stream ended suddenly without explanation, leaving the commentators scrambling to figure out what happened. It turned out that the Mythic Invitational was using Magic's traditional sudden death rules to determine a winner if a match went to time, causing the community to react with confusion and dismay.
Despite the rocky start, the Mythic Invitational and its crew soldiered on and put on an impressive show, with Twitch reporting over 100k concurrent viewers at times on Saturday on Sunday.
War of the Spark Panel Recap
Wizards hosted the War of the Spark panel just before the Top 4 of the Mythic Invitational kicked off on Sunday. They revealed the War of the Spark trailer, some story beats, and cards from the upcoming set—don't forget to check out our recap of the event.