Welcome back to the Mirror Gallery on this wonderful Spring Thursday. We are taking one more holiday from Ravnica in preparation for what should be very exciting incoming War of the Spark information, and will be taking a look at something we've never talked about before: sleeves.
Sleeves come in all sorts of sizes, colors, and designs; everyone has their particular preference. Some sleeves are simple and solid colored, others cute and cheeky, and even more feature signature artwork from Magic, from Chritopher Rush's Black Lotus to Jesper Ejsing's Bitterblossom. My personal sleeves of choice are Arcane Tinman's Dragon Shield Art Sleeves. I've bought one box of each since they've come out, and my favorite go-to designs feature dragons by the infamous Drew Tucker and Ian Miller:
Recently, Dragon Shield took their art sleeves one step further, juxtaposing original art with art masterpieces, and that's our topic today: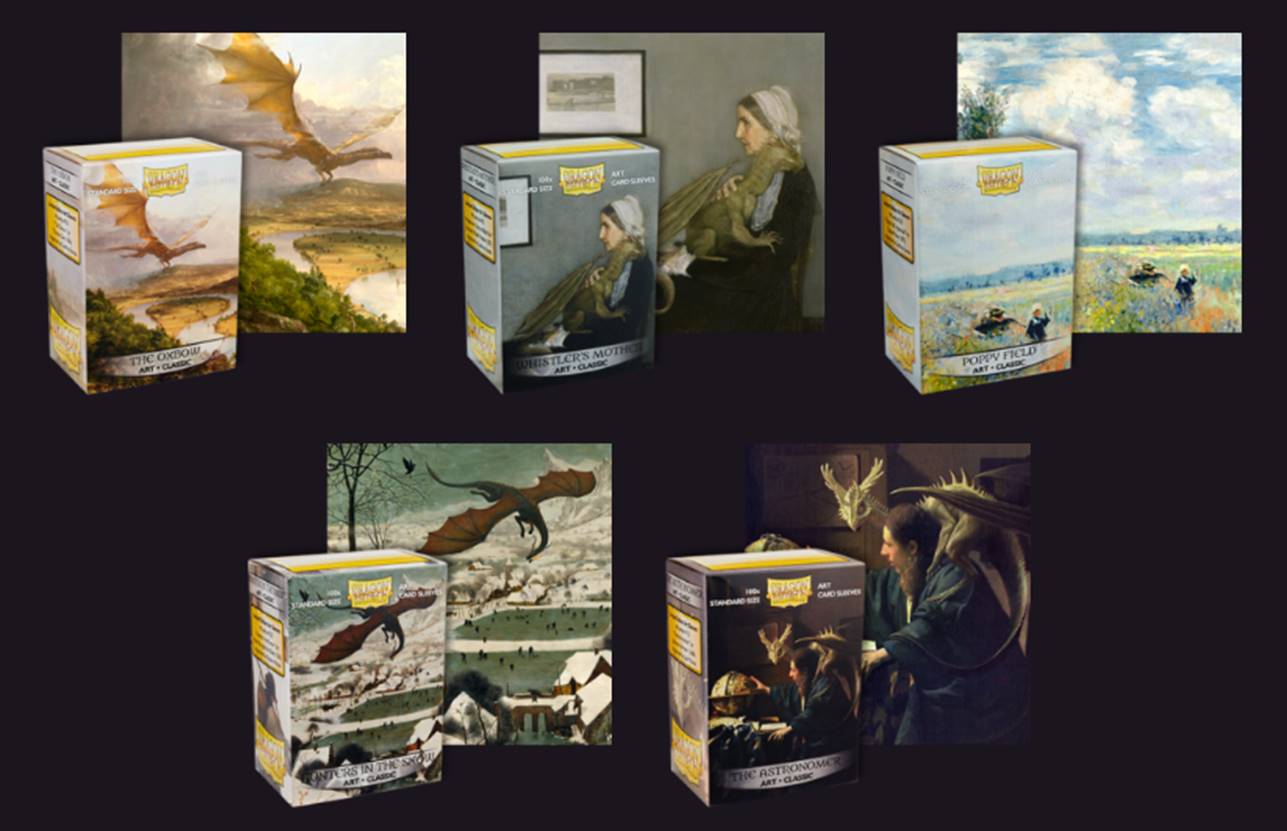 So far Dragon Shield has released five different versions of these Classic Art sleeves: an initial series of two featuring the works Whistler's Mother and Monet's Poppy Fields, and the other three releasing several months later after the incredible popularity of the first offering. Each of these sleeve sets features an art history masterpiece that has been "dragonized" by one of Dragon Shield's hired artists: Godfrey Escota, Robson Michel, and Jose Muñoz.
Each box also includes an original poem on the box reverse by Arcane Tinman in-house writer Ian Spiegel-Blum. According to the company's Marketing Assistant Ian Nielsen, these are Blum's own playful and original interpretations of what he sees in the sleeves, and follows suit with what we expect to see on the back of a box of Dragon Shields. They add an extra dimension of creativity to the overall package, and I've quite enjoyed thinking about them.

Before We Go Too Far
Let me mention that historically, parodies of famous art and especially parodies of works considered masterpieces are often ill-received. Art parodies just like these have been the subject of countless lawsuits and other associated copyright conflicts. The only reason these sleeves are legally able to be published is because these works have been dedicated to the public domain and their copyrights waived. The dragon additions and cropping puts them into the category of a derivative work, different enough from the original that it becomes acceptable.
When these first released they created a bit of a stir. There are valid arguments both for and against this type of recreation, from whether it infringes on copyright to simply a better option of commissioning artists for entirely new works instead of adding small elements to old ones. The nuances of the parody of famous artworks and the legal and ethical implications therein are an entirely different article, and one probably best suited to a law background. I am not the man for the job, and this will not be the direction of today's article.
My background in art history and museum studies is much better suited to a different end. These sleeves can also provide a great point of departure to learn about the original works and their artists, perhaps even spurring an unknown interest in some of the greatest art of the last few centuries. Today we'll take a closer look at each of these famous paintings and learn some fun facts, and at your next FNM you can drop a few art history knowledge bombs on your opponent before or after your match. Let's get started!
Arrangement in Grey & Black No. 1, or Portrait of the Artist's Mother, or Whistler's Mother by James Abbott McNeill Whistler, 1871
This painting is officially known by the first title, nicknamed in the period the second title, and known colloquially to history by the third title. No matter what you call it, it has become an icon of American art during the 20th century, even though in its own time it was less than well received. The painting happened by chance when a model was absent, and is considered a triumph of the artistic balancing act between palette and composition, tone and shape. It is Whistler's most important portrait and his most famous work.
The work is owned by the French state and was hung originally in the Luxembourg Museum before moving to the Louvre, and then permanently to the galleries of the Musée d'Orsay in Paris. The painting has been exhibited worldwide, and does travel from time to time. The last time it was exhibited in the United States was in 2015 at the Norton Simon Museum in Pasadena, CA. It is still today one of the most recognizable paintings in the history of art.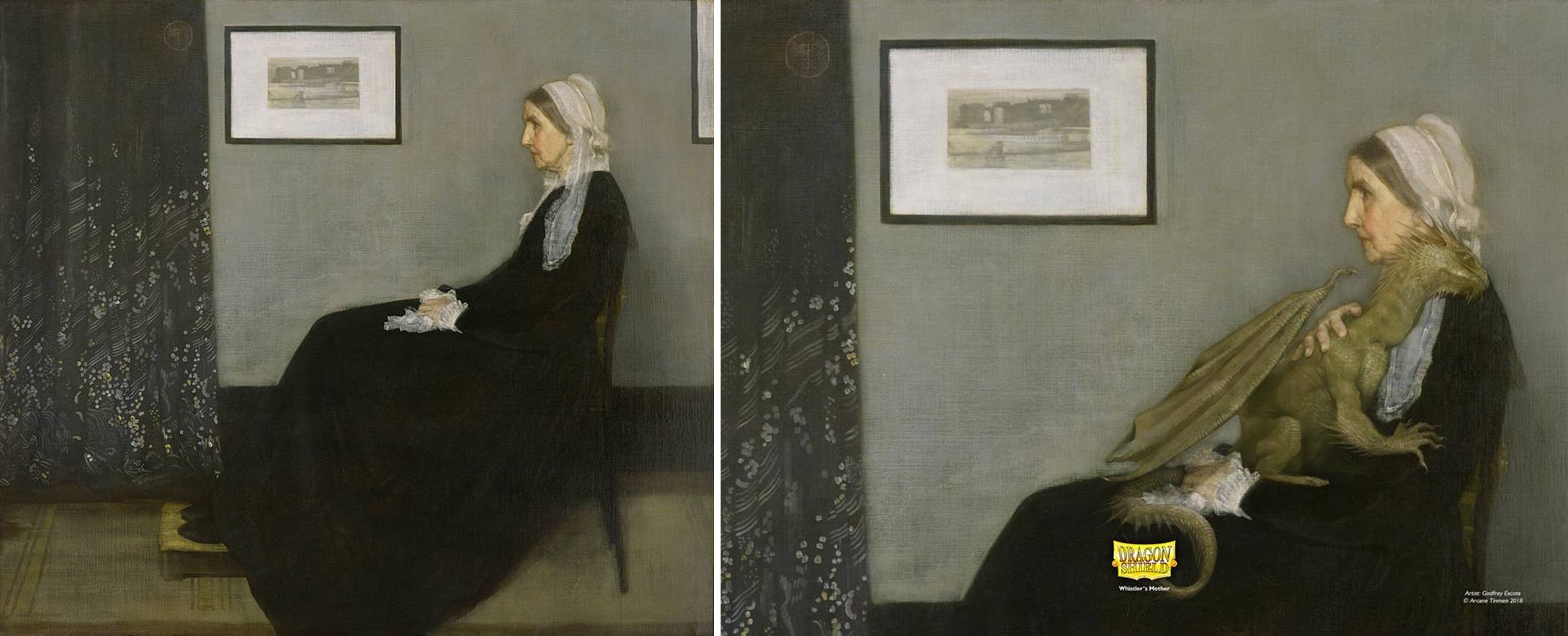 Poppy Fields near Argenteuil by Claude Monet, 1875
A father and founder of the French Impressionism, Claude Monet's plein air landscapes, meaning they were painted outside in front of the natural subject as opposed to in a studio, have become synonymous with the movement. The term "impressionism" is even itself derived from one of his work's titles. The poppy fields of the French countryside were one of Monet's most popular subjects, and history has remembered him fondly by his dozens of renderings of these landscapes.
The painting came to the Metropolitan Museum of Art as a part of the Annenberg Collection in 2001, and had been exhibited four times since 1989 as a part of this collection. By the terms of its most recent acquisition it cannot be lent to another institution, and must remain permanently within Gallery 821 of The Met Fifth Avenue. As such, it is currently on view and can be seen today.

View from Mount Holyoke, Northampton, Massachusetts, after a Thunderstorm- The Oxbow by Thomas Cole, 1856
The artist Thomas Cole was one of the foremost American landscape artists of the nineteenth century. He is regarded as the founder of the infamous Hudson River School, an aesthetic movement that married landscape art with Romanticism. This work, known to history as just The Oxbow, is as emblematic of the movement as any. Cole brings together unbridled wilderness mirrored to pastoral serenity, and if you look closely right in the middle, you can even see the artist with his canvas, painting amongst it all.
In Cole's words, this work and many others with it were a "union of the picturesque, the sublime, and the magnificent" and it's these three goals that the Hudson river School painters sought to and successfully realized. The Oxbow, sans dragon, is currently on view at the Met Fifth Avenue in Gallery 759. It has been on display since it's gifting in 1908.

Hunters in the Snow (Winter), or the Return of the Hunter by Pieter Brueghel the Elder, 1565
This painting is the earliest of the five, dating to the mid-sixteenth century and executed by the period's most important and foremost genre (or daily life) painter. Brueghel often painted scenes of the everyday, depicting peasants and their activities at the core of his work. From the hunters returning with a single fox to the ice skating community folk, the painting rewards close looking to explore the tiny details. It is a snapshot of a day in the life from near 450 years ago.
This work has maybe the most fun "dragonzing" interaction: look to the center to see a crow flying right over the ice skating peasantry. Now close your eyes and then re-open them looking at the Dragon Shield version. It's as if the crow is transformed at once into the mighty dragon, and all at once the scene moves from peaceful serenity to abject danger.
The Astronomer by Johannes Vermeer, 1668
Even if you don't recognize the name Vermeer, you probably know his most famous work, The Girl with the Pearl Earring (1665). Vermeer was a Dutch Baroque master painter of the 17th century and often painted interior scenes featuring middle and upper-middle class provincial life. The Astronomer and its partner painting The Geographer are no different, glorifying these newfound and growing studies and sciences. These subjects were hot-button topics in the mid-1600s, and this work especially exemplifies their importance to the time and period.
This physical painting has changed hands many times, from art dealers to bankers to collectors to even being seized by Nazi forces (and stamped on the back with a small swastika) in 1940. It was acquired by the French state in 1983 as payment of inheritance tax, and has been on exhibit at the Louvre ever since where it can still be viewed today.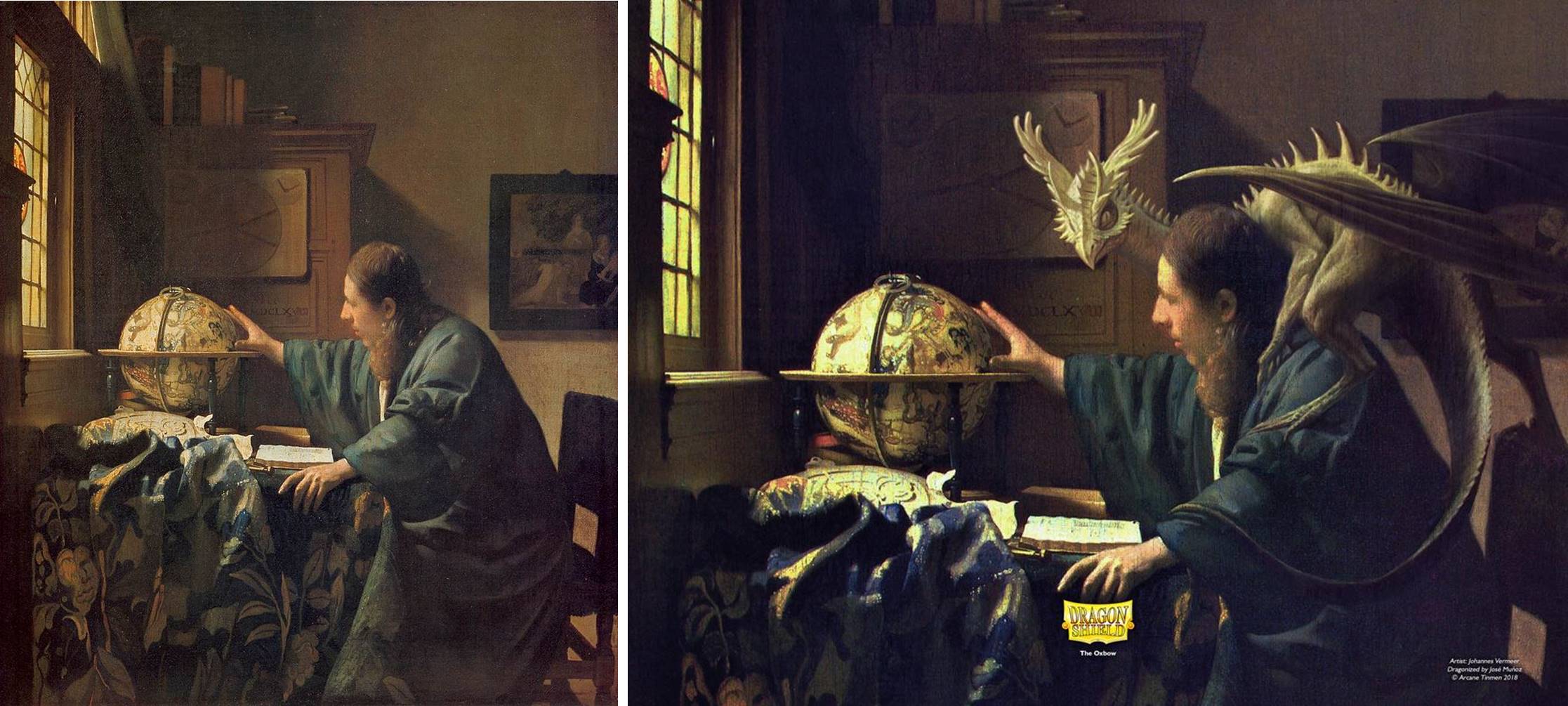 Wrapping Up
Will we see even more of these "classic" art sleeves by Dragon Shield? It ultimately depends on their reception and sales, but based on their availability at my local LGS they seem to be doing quite well. Will we see them in a matte variety? Or perhaps art featuring the "dragonizing" of a piece of modern or contemporary art? Or maybe these five will just be left to history as an example of what comes with the blending of masterpieces with imaginative realism?
I own a box of each myself, and will be waiting for the right Commander deck to use each one. Just as I often do with the art on the cards, these will be a conversation starter. They provide an opportunity to see and learn about some of the greatest works of art created during our modern world, and in a way less intimidating than an artist history lecture hall. For me, these become a platform to extend the conversation past the cards they keep safe, and as you all well know that's one of my favorite parts of being involved in the Magic community.
We will soon begin to gear up towards the War of the Spark, and you'll see an increased focus on planeswalkers here in the Mirror Gallery as well as across many of my fellow Hipsters author's articles. The set is shaping up to create waves within Magic and be a very important part of both the game and larger storyline. We still don't know what's coming, but with at least 36 planeswalkers descending onto one plane, something certainly is. Ready yourselves folks: war is upon us.
Remember, to see original #mtgart and other #vorthos related things, follow me on Twitter. Feel free to ask questions or retweet to continue the conversation. Thanks and see you next time!
Donny Caltrider has been playing Magic since 2002 and collecting original Magic art since 2017. He has an M.A. in Museum Studies from Johns Hopkins University and enjoys telling stories about art, objects, and the intersection of fantasy with real-life. You can find him on Twitter talking about #mtgart, museums, and other #vorthos related goodness. Follow along and continue the conversation!