On January 9, 2019, the original paintings for both Orzhov Locket by Volkan Baga and Gruul Locket by Kev Walker were sold on the MTG Art Market. They sold for $3,100 and $1,500 respectively. This is a Tale of Two Lockets.

The Facts
Orzhov Locket by Volkan Baga is a work of oil on board measuring 12.2" by 16.6." It was sold exclusively on the MTG Art Market by artist agent Mark Aronowitz for a final bid price of $3,100.
Gruul Locket is a mixed media painting on illustration paper measuring 9" by 12.5." It was sold by the artist's agent Casey Petrillo on the MTG Art Market for $1,500.
Both works are from the series of guild lockets (a la signets, keyrunes, cluestones, etc.) found in both Guilds of Ravnica and Ravnica Allegiance. They are two of the three-and-a-half traditional Locket depictions over the two sets. Golgari Locket by Milivoj Ceran from Guilds of Ravnica is a traditional painting (with sketch and preliminaries), and a traditional sketch for Boros Locket by Aaron Miller was also offered last year. Both of those works were sold upon release.
Final and alternate sketches exist for Orzhov Locket, and both had been sold by the conclusion of the auction. No traditional sketch for Gruul Locket was created.
The Hammer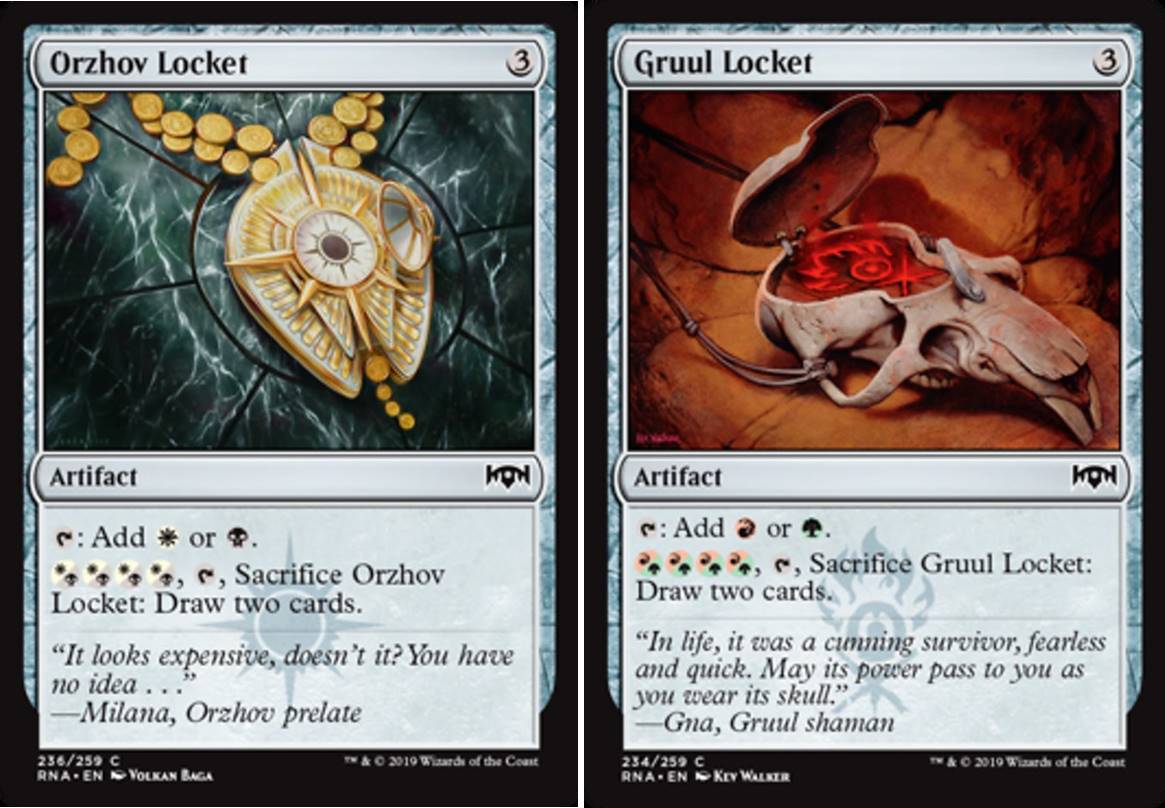 These two works come from the same set, and are of very similar subject and size. They sold on the same night, with both artists being well known pillars of Magic illustration. Both pieces are very representative of their guilds, and are an easy acquisition choice for any card-carrying member of the Orzhov Syndicate or Gruul Clan. Both were promoted equally. But why the gigantic disparity in price?
Gruul Locket began at $1,000, rose to $1,400, and closed with a bid in the closing minutes to finish at the final $1,500 figure. For the most part, the auction was business as usual, with no uncharacteristic twists, turns or advances.
Orzhov Locket, however, began at $1,600 and climbed slowly. That is, until a bidding war of sorts—let's call it an exchange—took place. Over the next hour, the bids between the two interested parties went as follows: $1,700, $1,750, $1,850, $2,000, $2,500, $3,000. This put Orzhov Locket into a collecting range beyond many of the everyday players, and it remained at this price until one further bid claimed the piece for art collector Sidney Blumenthal. Sid is a good friend of mine, and I know the collection it's going to is wonderfully fitting. As he said in a post-auction text, "It's home." Keep on the lookout for a forthcoming Mirror Gallery article on his collection of original Magic: the Gathering Orzhov art.
Simply put, the Orzhov as a Guild are much more popular and collectible than the Gruul, and we'll see this trend continue as we look at more art from this set. But even knowing this disconnect exists, the realized disparity is considerably wider than predicted. It is yet another example of why it is ever so important to auction a new work, letting the open market be your guide. That goes for both artists and collectors—you never know where the bidding might take you.