On Friday September 28, 2018, the original art for Howard Lyon's Narcomoeba sold for $4,600 on the MTG Art Market.
The Facts
Narcomoeba by the "Unstoppable" Howard Lyon is a work of oil on panel measuring 16 inches by 20 inches, and was painted for the upcoming Guilds of Ravnica expansion. The painting realized a final price of $4,600 after a few separate bidding exchanges.
The auction took place exclusively on the MTG Art Market on Facebook, and was facilitated by Magic art community member and artist agent Mark Aronowitz. This was not the first Lyon-Aronowitz auction, with Lyon's Serra Ascendant and Nissa, Steward of the Elements were also sold in this fashion.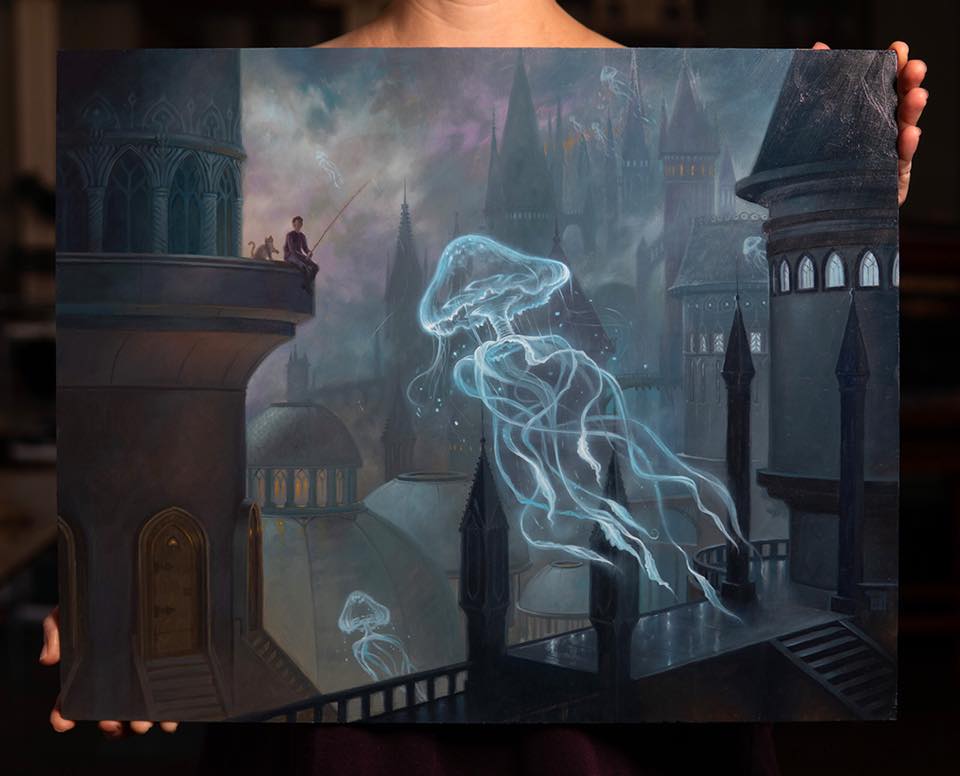 The Hammer
The auction opened at the asking bid of $2,500 almost immediately with the owner of the original Narcomeba art, by Matt Stewart, starting things off. Within a half an hour it found its way to $4,000, and would move only a bit more over the next few days until ending at its final price. There were five individual bidders, all of whom were bidding publicly. The winner has been a member of the MTG Art Market for only a month, and would appear a relative newcomer to the hobby.
Even though we are unsure of each bidder's specific motivations for this auction, we see a couple different things at work here. The traditional artwork available in Guilds of Ravnica is limited, with around 35 traditional final paintings and approximately a dozen more that have traditional components like sketches and color studies. This means there are limited opportunities for collectors to add a piece from this set specifically, and does impact how much someone may be willing to pay for a "piece" of this new autumnal Ravnica.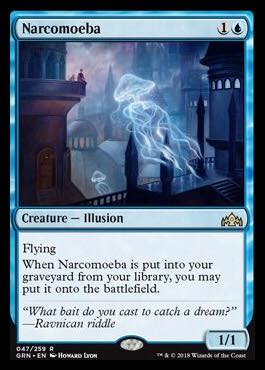 Narcomoeba is also a staple card for the ever popular Dredge archetype, drawing in an entirely different crowd looking to buy a piece of art from their favorite deck. We have seen in the past how card power and notoriety can influence auction results, and this could have been a driving force towards the final price, as well.
The Art
Howard Lyon's Narcomoeba is a hauntingly beautiful reimagining of the original creature, as first seen in Future Sight and illustrated by Matt Stewart.
Lyon has depicted the creature floating through the spires of Magic's most famous city-plane, and the jellyfish-esque being itself is the forefront focus, translucent amongst and incredible tower-filled backdrop. There is one other component I would like to highlight, one that you may have missed at card-size:
The card's flavor text reads. "'What bait do you cast to catch a dream?' —Ravnican riddle," and we see exactly this represented in the art. Just a boy and his cat, atop the highest tower, fishing rod at the ready. We never do find out what bait he used, nor do we know if this element was in the original art brief given to the artist. But what we do know is this dynamic duo adds a bit of whimsy to an overall ominous composition, and is a testament to vision and mastery of an unstoppable artist.
Donny Caltrider has been playing Magic since 2002 and collecting original Magic art since 2017. He has an M.A. in Museum Studies from Johns Hopkins University and enjoys telling stories about art, objects, and the intersection of fantasy with real-life. You can find him on Twitter talking about #mtgart, museums, and other #vorthos related goodness. Follow along and continue the conversation!