On Labor Day Sunday, September 2nd, 2018, the original painting for Underworld Dreams by Julie Baroh sold via Facebook auction for $31,000.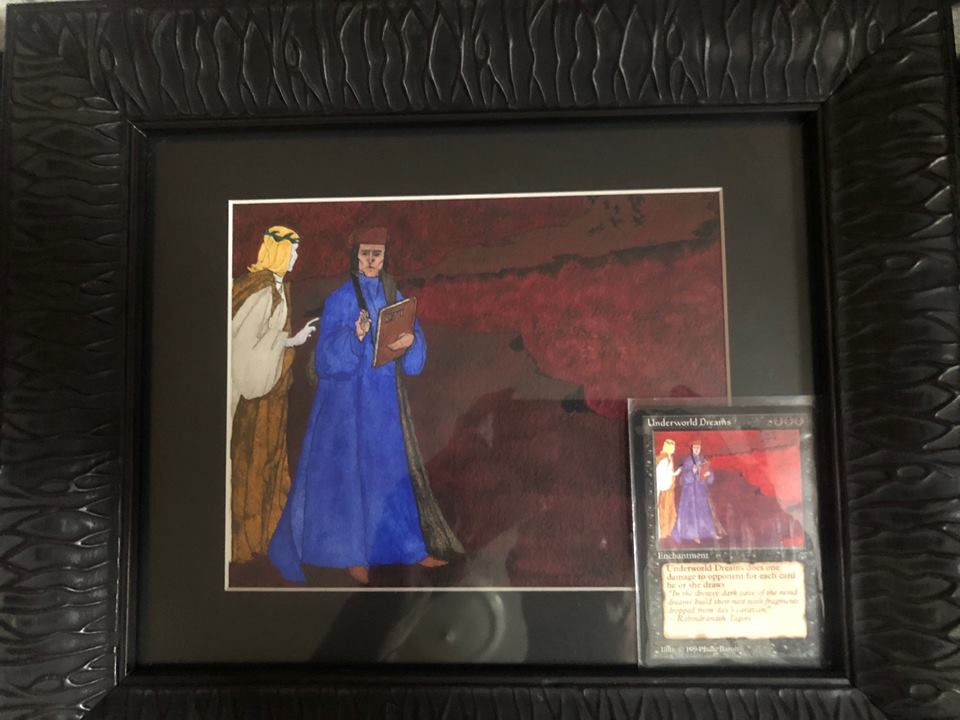 The Facts
Underworld Dreams by Julie Baroh, from Magic's Legends expansion, is a work of acryligouche and ink on paper measuring 7 inches by 8.75 inches. It was created in 1994 for Legends while she was still in art school. Its size is reflective of the time period, as early painted works for Magic were rendered at this size or smaller in order to fit on the scanners at Wizards of the Coast.
The auction was facilitated on the MTG Art Market on Facebook by Jack Lewis Stanton as a favor to the owner. Jack is well known within the signed cards and original Magic art communities, and compiled a wealth of information as a part of the auction. The quotes and historical information about the painting included below were a part of his research (as noted). All images have been pulled from the Facebook auction.
The Hammer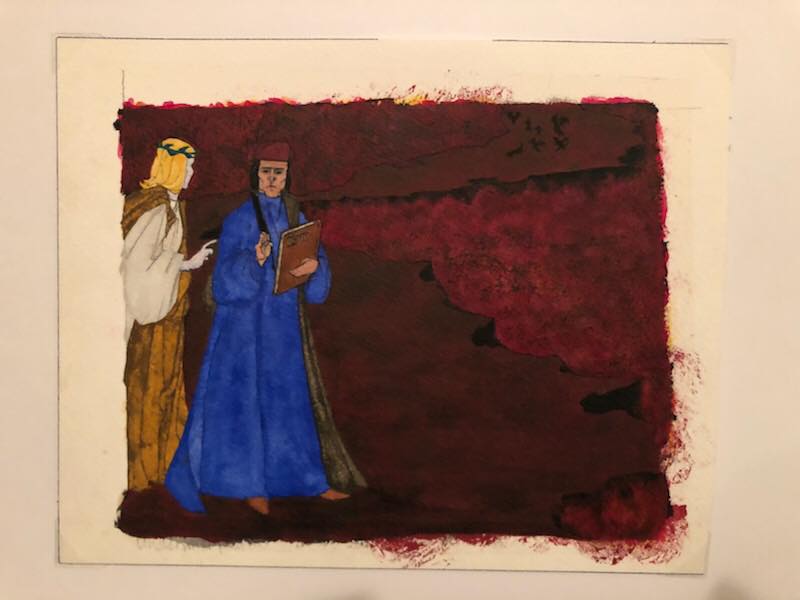 This auction was offered with minimal notice, and this is one of the thing's most exciting about the market for original Magic art; sometimes you just don't know what's going to show up on the market, and when it might hit.
The sale began with an advertised reserve of $20,000, and initial public and private bidding began immediately taking the piece to $25,000 where it would remain until the final day. The auction that was scheduled to end at 9pm EST continued on for 40 more minutes, each time letting time almost expire until an increasing bid was placed. This style of "soft close" auction is especially popular for Facebook auctions, as extending time for bids placed within five minutes of close prevent auction sniping and maximizes the final sale price.
It's worth mentioning this is apparently not the most expensive of Baroh's Magic work to ever be sold. Reacting to the sale of Underworld Dreams, Julie Baroh revealed that she had previously sold an original Magic painting for an astounding $120,000. A Twitter thread from Magic art guru Mike Linnemann asked which painting it was.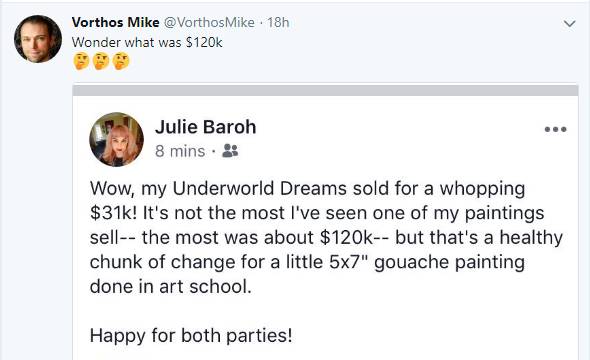 And a few hours later we had an answer: the original art for the Alpha Clone was the painting by Julie Baroh that had sold for $120,000.

We don't know the details of this other sale: when it was, the venue, or any other terms as far as price, payment, etc. But it's yet another example of the growing distance between prices realized for Alpha art, to other early Magic art like this, to everything else.
The Art
Jack Stanton spoke with Julie prior to the beginning of this auction, and was able to obtain a lens into exactly what we are seeing in the painting:
From Julie Baroh:
"When I was assigned the card, I was taking letterpress printing courses at Cornish College, per my printmaking major. I was really into book arts and wanted to do my own Divine Comedy etched series. I was inspired by Gustave Doré.

I don't recall the direction for the card at the time. I don't think the verbiage was developed yet, so I had free reign (on design). I don't remember the reason I chose Canto 23, but I think it was because Dante was imagining the hordes chasing them and that worked for the title of the card."
From Jack Lewis Stanton:
The 23 on the book carried by one of the people pictured in the painting refers to Canto 23 from Dante's Divine Comedy according to Julie.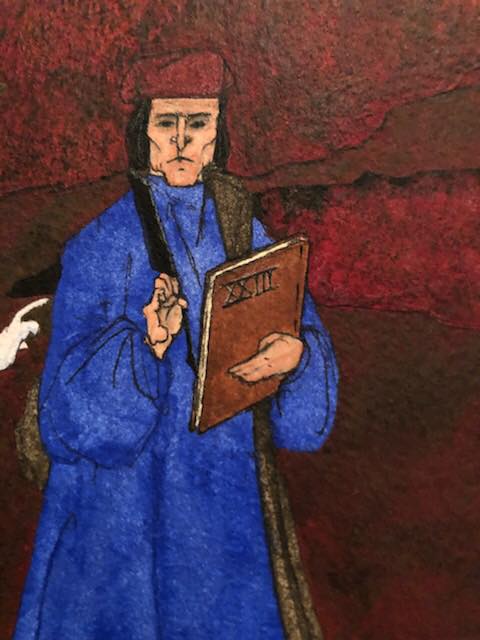 It begins as follows:
Canto 23
In silence and in solitude we went,
One first, the other following his steps,
As minor friars journeying on their road.
The present fray had turn'd my thoughts to muse
Upon old Aesop's fable, where he told
What fate unto the mouse and frog befell.
For language hath not sounds more like in sense,
Than are these chances, if the origin
And end of each be heedfully compar'd.
And as one thought bursts from another forth,
So afterward from that another sprang,
Which added doubly to my former fear.
For thus I reason'd: "These through us have been
So foil'd, with loss and mock'ry so complete,
As needs must sting them sore. If anger then
Be to their evil will conjoin'd, more fell
They shall pursue us, than the savage hound
Snatches the leveret, panting 'twixt his jaws."
Already I perceiv'd my hair stand all
On end with terror, and look'd eager back.
"Teacher," I thus began, "if speedily
Thyself and me thou hide not, much I dread
Those evil talons. Even now behind
They urge us: quick imagination works
So forcibly, that I already feel them."
—Dante's Divine Comedy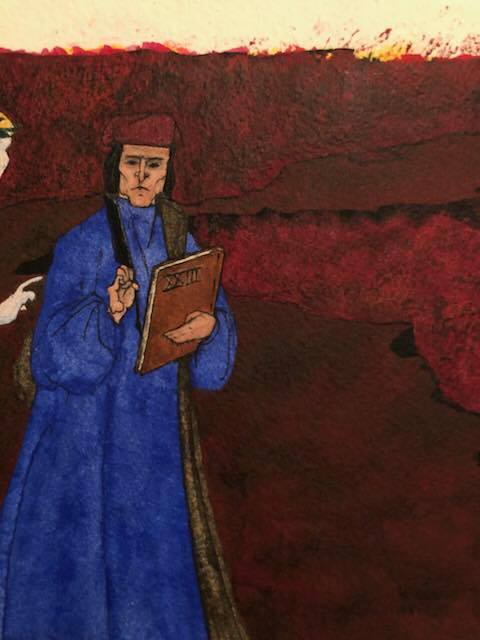 Wrapping Up
This painting is a beautiful example of the connection between Magic flavor and the real world in which we live, and a brilliant conception by the artist Julie Baroh. Stories like these are what shape Magic: the Gathering. When a work like this hits the market, it often encourages another to come forward. I wonder what we will see pop up next? What story will it have to tell?
Donny Caltrider has been playing Magic since 2002 and collecting original Magic art since 2017. He has an M.A. in Museum Studies from Johns Hopkins University and enjoys telling stories about art, objects, and the intersection of fantasy with real-life. You can find him on Twitter talking about #mtgart, museums, and other #vorthos related goodness. Follow along and continue the conversation!