On Tuesday evening, Tim Shields, the owner of Cascade Games, posted to his Facebook page announcing that the Magic Battle tournament at Dreamhack Atlanta would award the winner a trip to the Pro Tour. This announcement comes off the heels of the news earlier this year that Wizards of the Coast would be opening up the Pro Tour qualifying process to professional tournament organizers as well as best-in-class WPN member stores.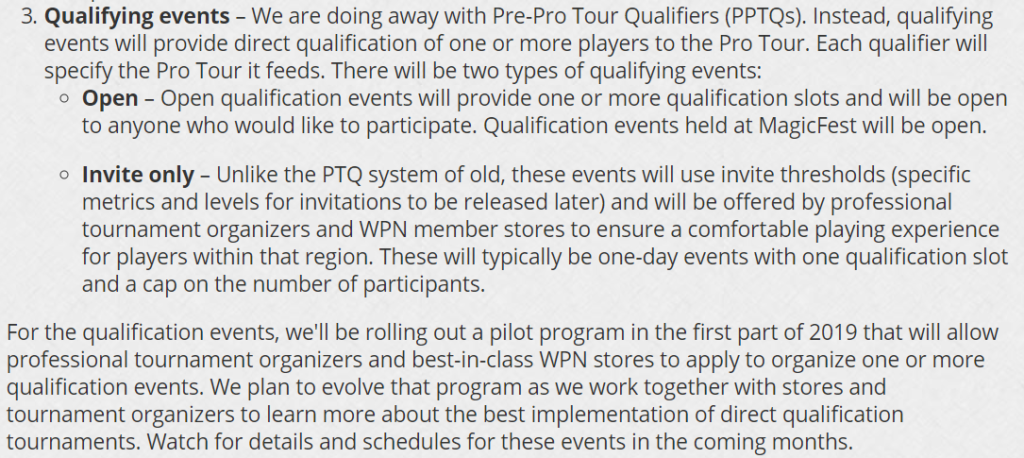 Cascade Games is running a full slate of Magic: the Gathering events throughout the weekend at Dreamhack Atlanta, similar to past Dreamhack events. Players who go 4-0 in events on Friday and Saturday will qualify for Sunday's 64-player, invitation-only event. The qualifying event will feature eight pods of eight-player drafts. The winner of each pod will then move on to the final top eight draft for their share of $5,000 in cash as well as the top prize: an invitation to the Pro Tour.
This is the first announced event run by a professional tournament organizer that will award a Pro Tour invitation, in-line with the announcement shown above where Wizards explained the roll-out of the new program. Tim Shields of Cascade Games was unavailable to talk about the announcement, but Wizards of the Coast's Blake Rasmussen was able to answer questions for us about the expansion of the Pro Tour Qualification system and the event at Dreamhack Atlanta.
Hipsters of the Coast: What led to the decision to open up the Pro Tour invitations system to professional tournament organizers?
Blake Rasmussen: Allowing professional tournament organizers to organize qualification events is a recognition of both the strong work and quality tournaments these organizers run as well as the changing landscape of competitive gaming. It opens up windows for professional tournament organizers to create some cool events and it grants greater flexibility in our qualification events system. We think this could open up some really interesting qualification paths and we're excited by the ideas we've already been hearing from tournament organizers.
Hipsters: What qualifies a tournament organizer for consideration for a qualifying event?
Blake: There is no strict set of criteria, but the key is that these are professionals. These are tournament organizers with a strong track record of putting on competitive gaming events who have shown they can create fun, positive experiences for players. From there it's a matter of pitching us an idea for a tournament and demonstrating you can deliver.
Hipsters: What's the process to award invitations to professional tournament organizers?
Blake: Any professional tournament organizer who would like to run a qualifying event or who would like to turn an event they're already running into a qualifying event should contact us and pitch their idea. From there, we'll work with them to make sure everything fits.
Hipsters: Are there still plans to award invitations to best-in-class WPN stores and has that program begun being rolled out yet?
Blake: Yes, this is still the plan! WPN is currently gathering interest from stores, and any stores interested in running a qualification event should contact their WPN representative for the next steps.
Hipsters: What about this event at Dreamhack made it appealing for the first experiment at a qualifying event?
Blake: It was more about timing for Dreamhack to be the first of these events, as we have a close working relationship with Tim Shields and Dreamhack is coming up soon.
Hipsters: Will there be a place where fans and competitors can see all the events that award Pro Tour invitations?
Blake: 2019 is a transition year for competitive Magic gaming, which means infrastructure changes might lag a bit behind structural changes as we move toward a more permanent, long-term state.
Hipsters: Have any other invitations been awarded to upcoming events that we haven't heard about yet?
Blake: We've been talking to a number of professional tournament organizers about some upcoming events, but nothing is set in stone. Once they are, they'll be announced!
Hipsters: Does Wizards of the Coast have a target for the number of invitations they expect to award during the Pro Tour season to professional tournament organizers?
Blake: We have a flexible internal number, but not one we're releasing publicly.
Hipsters: Last but not least, can you tell us which Pro Tour the winner of the Magic Battle at Dreamhack Atlanta 2018 will be going to?
Blake: Pro Tour Cleveland