In a surprise live stream on Thursday morning, Community Manager Nate Price and Sr. Communications Manager Blake Rasmussen fired up the coffee pot in the WeeklyMTG studios to bring the community a special announcement: the 2019 MTG Pro Tour Schedule had been finalized.
This is the first major announcement following August 16th's announcement of upcoming announcements which also included the coming formation of a Pro Player Advisory Board which we now know consists of Eduardo Sajgalik, Willy Edel, and Huey Jensen. With that board established more announcements were expected to be on the way.
The announcement of the Pro Tour schedule for the year is one of the hallmarks of the beginning of the new season. It was already known that the season would kick off with Pro Tour Guilds of Ravnica from November 9th to 11th in Atlanta, GA, and from the aforementioned announcement we knew that the first Pro Tour of 2019 would be February 22nd to 24th in Cleveland, OH, but the rest of the schedule was still up in the air.
Without further ado…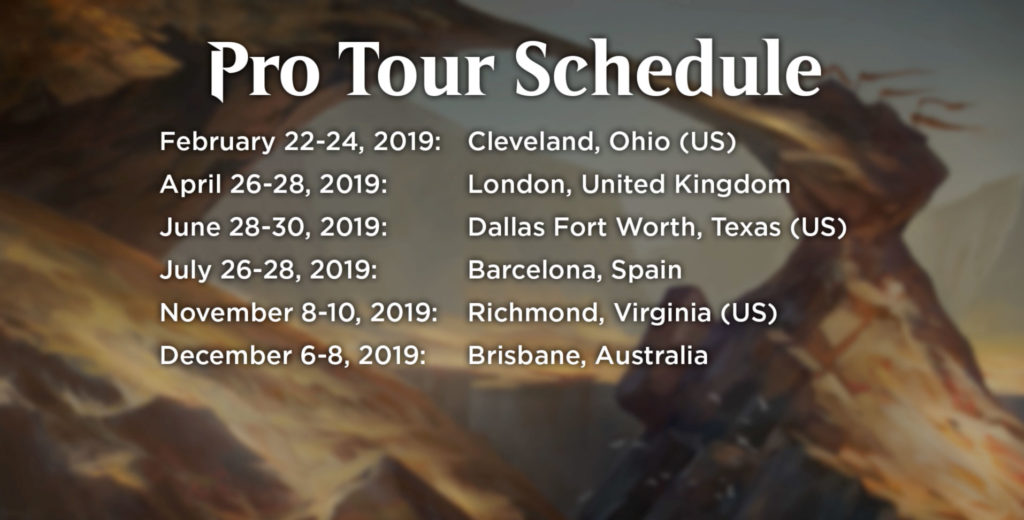 Yes, that's:
February 22nd – 24th in Cleveland
April 26th – 28th in London
June 28th – 30th in Dallas/Ft. Worth
July 26th – 28th in Barcelona
November 8th – 10th in Richmond
December 6th – 8th in Brisbane
Blake and Nate described 2019 as a "transition year" moving from the current system which covers Pro Tour Cleveland and London and then moves to a new system which covers Pro Tours Dallas/Ft. Worth, Barcelona, Richmond, and Brisbane.
There have only been two previous seasons with six Pro Tour events, 2003-04 and 2004-05. From 1999-2003 there were five Pro Tours in each season as well as in the 1996-97 season. Since the 2005-06 season there have either been three or four Pro Tours in each season, with recent seasons pegging each of four annual Pro Tours to set releases. Clearly that will no longer be the case.
The Pro Tour qualification system will be the same (PPTQ -> RPTQ, etc) for Pro Tours Cleveland and London, but will change for the rest of the year with an announcement coming in the future with more details. This is also why the Grand Prix schedule has not been announced yet.
The prize pool will still be $250k per Pro Tour for a grand total of $1.5M in the calendar year. Of note however is that the expectation is for attendance to be reduced from ~400 players to closer to ~300 players which means there will be fewer members of the pro club but a higher rate of players who travel to the Pro Tour will finish with a cash prize.
Last, but not least, the 2018-19 Pro Tour Team Series will kick off with Pro Tour Atlanta and include Pro Tours Cleveland, London, Dallas/Ft. Worth, and Barcelona. No other details have been provided at this time.
As a reminder, in the previous announcement it was revealed that Pro Tour tournament formats would not be announced until 8-12 weeks before the event. We know that Pro Tour Atlanta will be Standard and Draft but we don't know the format for any of 2019's Pro Tours.