This coming weekend, Card Kingdom is hosting a charity tournament called the Chalice to raise money for Big Brothers, Big Sisters of Puget Sound. We worked closely with Card Kingdom to build an awesome charity fantasy league on Fantasy Pro Tour—and we'll donate $1 to the charity campaign of the player of your choice when you join!
The Chalice
Eight players will compete in the Chalice on October 21-22: Kenji "NumotTheNummy" Egashira, Josh Lee Kwai, the Professor, Michelle Rapp, Ashlen Rose, Gerry Thompson, James Turner, and Chris VanMeter.
(Each player is raising money individually to see who can raise the most money for BBBS, so don't forget to donate to your favorite player's campaign!)
They will take part in three challenges over the weekend, including:
Guilds of Ravnica Booster Draft
Three rounds of gameplay; Swiss pairings.
Battle Deck "Auction of the People"
Players will bid on eight Battle Decks selected by the community by offering a reduced hand size or starting life total. Once decks are selected, the players will compete in three rounds of Swiss and will each have access to a Battle Deck sideboard.
Magic Block Party
Each player will build their own Magic block by drafting three sets from Magic's history (plus a Core Set of their choice). Drafts took place live on Twitter, and draft order was determined by funds raised. Here's what each player ended up with: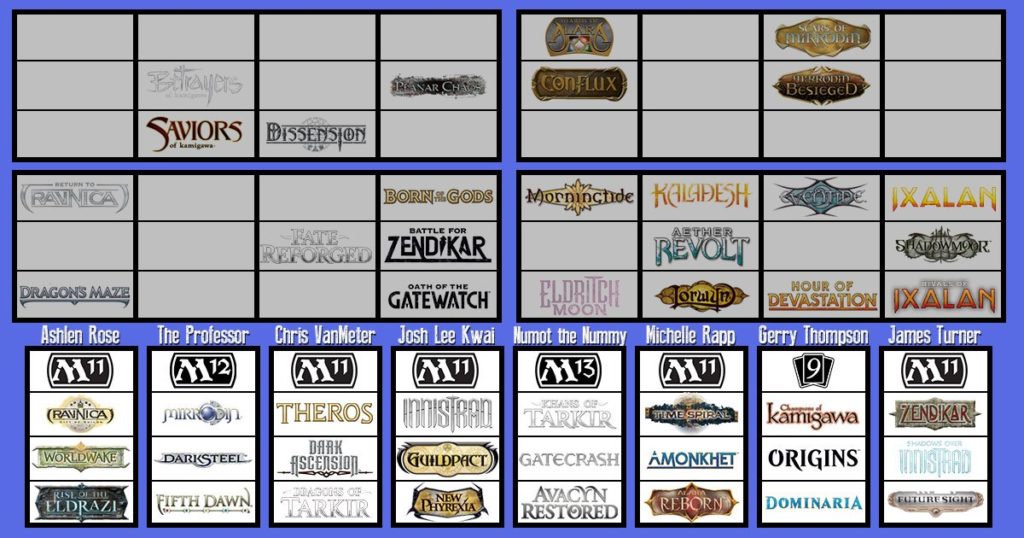 Unique Fantasy Draft Structure
Due to the uniqueness of the Chalice tournament structure, Fantasy Pro Tour is splitting each player up by format, meaning you can draft your favorite player three times—once for each format! Each fantasy team will have four players and two Battle Decks, all of which will score three points per win, so choose wisely!
Join our public league for the Chalice now, choose a player to support, and we'll donate $1 to that player's charity campaign!