In a Twitch Q&A this afternoon, Wizards of the Coast announced that MTG Arena will not include any trading features and that the MTG Arena closed Beta will begin in November.
No Trading
On the stream, Chris Clay, Principle Game Designer for Magic: the Gathering Arena, stated that MTG Arena will not include any trading features. This is because MTG Arena is a collectible card game (CCG), not a trading card game (TCG), similar to other digital-only games like Hearthstone. While this answers one huge question the Magic community has about how MTG Arena will work, it makes other (unanswered) questions about how the card acquisition economy will work even more important.
Beta Access Begins in November
Nate Price, the MTG Arena community manager, also announced that the closed Beta for MTG Arena will open sometime in November to a small number of users. They will then add waves of users throughout the Beta. Price also said that the MTG Arena Beta will only launch with cards from Ixalan, but that older sets from the Kaladesh and Amonkhet blocks will be added throughout the Beta period.
Finally, Wizards confirmed that users of the MTG Arena Beta will be prevented from streaming the game by an NDA. However, Price said on stream that the NDA would be lifted sometime at the beginning of next year, allowing for the game to be streamed, recorded, and discussed much more broadly.
Sign up for the MTG Arena Beta here.
Upcoming MTG Arena Streams
Here's the upcoming streaming schedule for further MTG Arena news, culminating with a final developer Q&A before the launch of the closed Beta.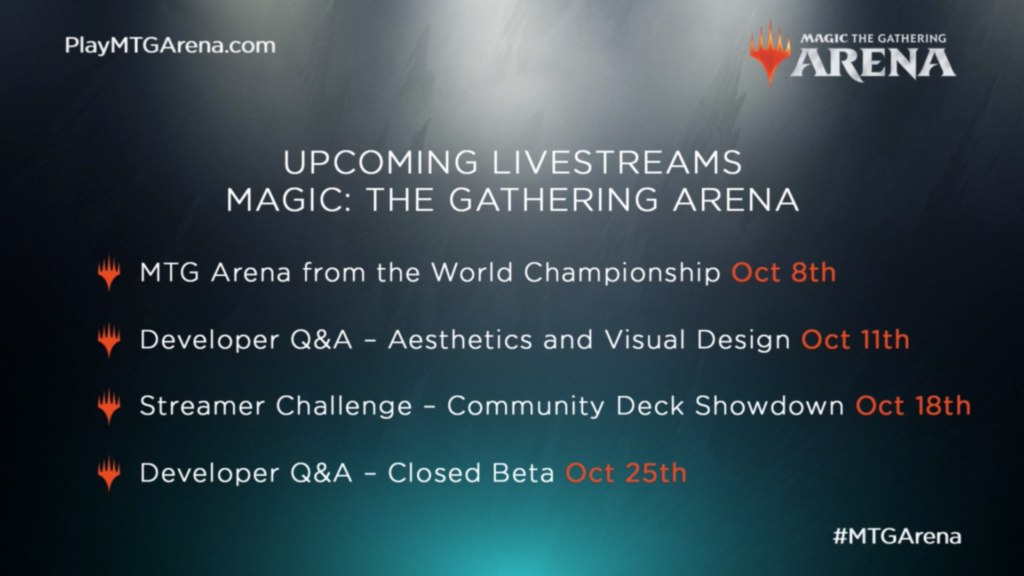 More on MTG Arena
Read Hipsters' coverage of the MTG Arena announcement here.
Listen to the Magic Minute's coverage of the MTG Arena Beta and the fact that MTG Arena will not having trading here.
Watch Hipsters' video breakdown of the MTG Arena reveal below.
Watch Katie Bates' interview with Elaine Chase about MTG Arena below.