Alright, enough about Pro Tour Hour of Devastation and Paulo Vitor Damo da Rosa's incredible run to win the Pro Tour and the Player of the Year race. Now it's time to talk about the 2017-18 Pro Tour Season which kicks off this weekend at Grand Prix Minneapolis! If you're already a pro player or looking to become one or you're a fan who wants to follow along with all the action, this is where you want to begin!
The new season began yesterday, July 31st, and will run all the way through September 16, 2018. That's a whopping 13.5 months of competitive Magic that includes Pro Tours Ixalan, Rivals of Ixalan, Dominaria, and 25th Anniversary! At least 52 Grand Prix across 33 different weekends (the schedule for July through December next year is still pending) means there will be a lot of opportunities to rack up pro points.
To give you a preview we're going to quickly outline the types of major events taking place this season, how to qualify for them, and how many points you can earn at them before running down the pro club levels for this year. Hopefully altogether this will give you an idea of which events to try to play in (if you're a pro or aspiring pro) and which events you'll want to watch (if you're a fan).
Professional Events in the 2017-18 Season
Grand Prix – Individual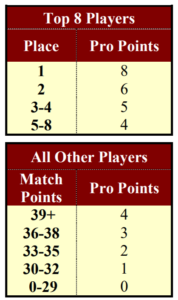 Grand Prix make up the bulk of the professional event season and individual Grand Prix make up more than 50% of the overall total. Whether you're an amateur player or a fan or an aspiring pro or a hall of fame member, odds are you'll be going to at least one of these events in the 2017-18 season, and you might even pick up some pro points along the way.
Grand Prix are open to the public meaning anyone can enter regardless of their standing either via pro points or planeswalker points. However, you can get byes to up to three rounds at a Grand Prix based on your standing. 1,300 planeswalker points will get you one bye, while 2,250 will get you two. If you're a Silver-level pro you can get two byes and if you're a Gold or Platinum-level pro (or a member of the Pro Tour Hall of Fame) you'll get three.
Performing well at a Grand Prix is a great way to rack up planeswalker points to help secure those two byes which can eventually propel you into day two of competition and ultimately to the ranks you see to the left here which will get you pro points. It's a solid entry point to the pro circuit.
Just remember that you can only count your top six Grand Prix performances for accumulating pro points in the 2017-18 season, and that the cutoff for that accumulation for things like the World Championship in 2018 is the end of July (not the middle of September). This means you'll want to pace yourself and once you pick up six top-eights (good luck) you can probably stop trying to fly to every Grand Prix in the world.
Grand Prix – Team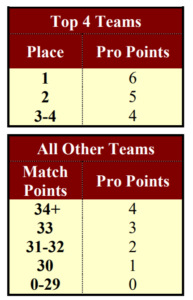 In addition to individual Grand Prix events there are plenty of team Grand Prix events from which to choose. Beginning in 2018, all team events award invitations to the 25th Anniversary Pro Tour which will be a team constructed event. So if you have two friends you really enjoy playing with, look up some team events and maybe pick up some pro points as well.
There are no byes awarded at team Grand Prix so you'll have to slog it out for the entire tournament. On the other hand there are fewer rounds of competition and the field might be easier to plow through. Personally I enjoy team tournaments immensely and I think you will too.
The limit of six Grand Prix events mentioned above includes individual and team format combined. Individual events award marginally more points, so keep that in mind when planning your schedule if you're trying to maximize the points you earn from Grand Prix.
National Championships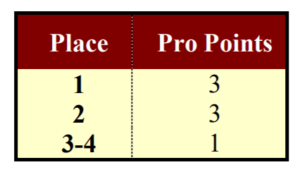 Nationals are more about prestige and representing your country than they are about accumulating pro points, as evidenced by the fact that only 8 are given out at each event (compared to at least 40 at a Grand Prix). But points are points and these are points that can be accumulated without using up any of the six Grand Prix slots you're limited to.
You can play at Nationals if you've accumulated enough planeswalker or pro points but the threshold depends on your home country. You'll have to refer to the official invitation policy to find out. If you meet an even higher threshold of planeswalker points (4,000 in the US for example) you'll be awarded a one-round bye. Certain levels of the pro player club also get byes at Nationals.
World Magic Cup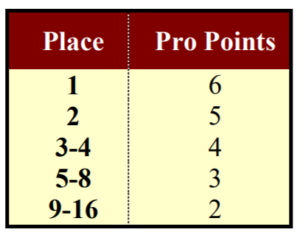 The World Cup is the natural extension of the National Championships. Each National team is made up of the top two finishers at the National Championship as well as the player who accumulated the most pro points last season (2016-17) from that country. These three brave souls will represent their home country at the World Cup.
While the team captains are now established there's still time (as mentioned above) to win your National championship if you want access to another event that awards pro points that aren't capped by the Grand Prix limit. The World Cup awards points comparable to a Team Grand Prix, which isn't a ton but it's basically a way to add a seventh GP to your limit (and win way more cash than you could at a Grand Prix).
The Pro Tour

We finally come to the cream of the crop: the Pro Tour itself. These four events will award the most points this year and it isn't even close. If you want to cement yourself a place in the pro player clubs you'll want to attend one of these events.
For starters, you get 3 points just for attending. If you attend all four events you'll get Bronze status just for showing up! From there it gets a bit trickier. You need 27 match points, which is 9 wins, to get more points than that. However, it quickly escalates. 10 wins nets you 6 points while 12 wins will net you 15 points. If you make the top 8 then you're going to go home with at least 16 points, and possibly much more.
There are many ways to qualify for the Pro Tour, several of which are mentioned above. The only ones not mentioned above, because they don't directly award pro points, are PPTQ/RPTQ/PTQ events held around the globe and on Magic Online. If getting to the Pro Tour is your goal, you'll want to start getting on it by playing in those events.
The Magic World Championship
Last but not least is the World Championship. All 24 slots for this year's event are filled and those players stand to accumulate an enormous amount of points right at the start of the new pro season. The best ways to qualify for this event, if you want to secure Platinum ASAP in the 2018-19 season, is to accumulate a ton of pro points, or win a pro tour. So, if you want to go to the World Championship, start re-reading everything I wrote above!
Pro Player Clubs in the 2017-18 Season
Last but not least, I put together a quick slide show that highlights what you're actually playing for (or what your favorite pro players are playing for). Check out the benefits for this season as well as a list of everyone who made the cut at the end of the 2016-17 season. Enjoy!